Follow Steve Martin's Advice. "Be so good they can't ignore you."
Originally published on www.careercafeslc.com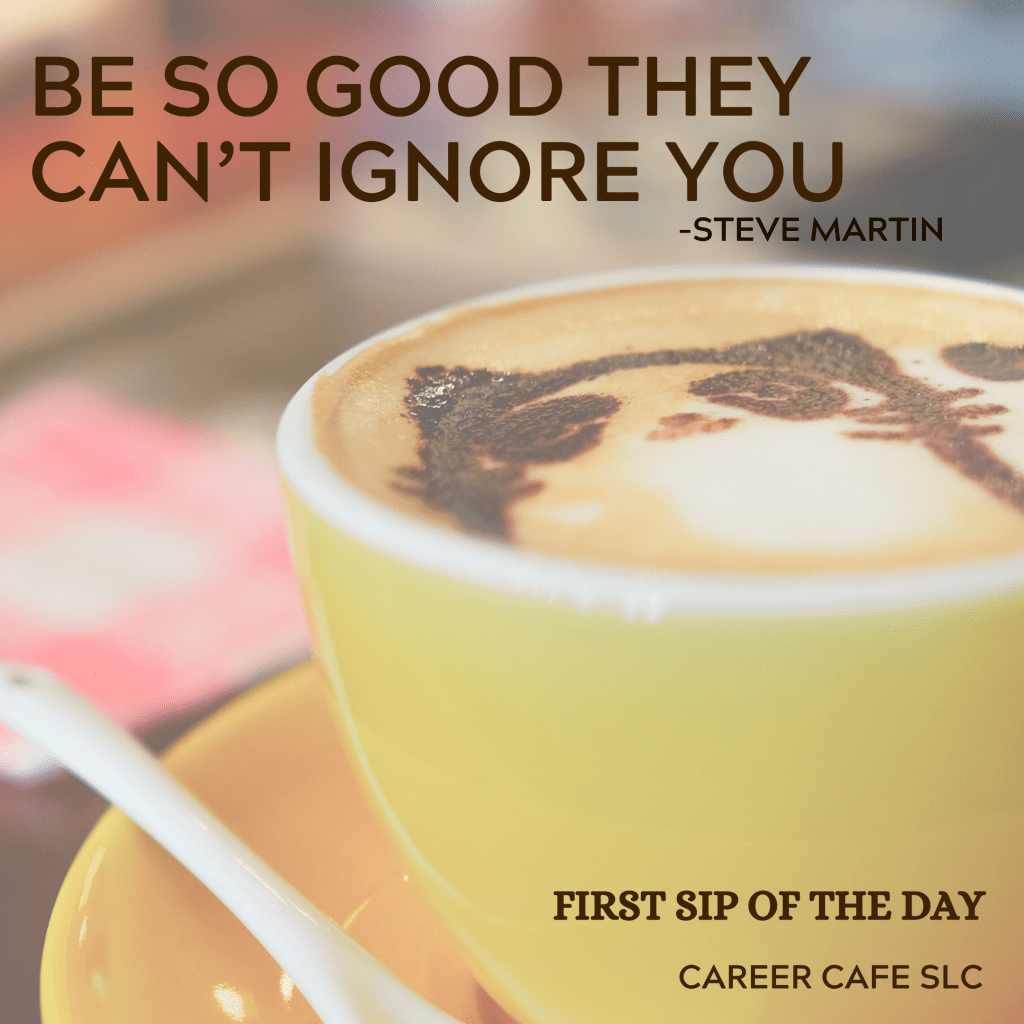 When I was in college, I used to call my brother every Sunday evening. We would talk about the week, things going on, classes, etc. He had graduated from college as was working for a .com company that was starting up. It was the year 2000. He would tell me about the platform and how they would be able to help models and agents. It sounded like a great idea. I didn't understand anything he would tell me about the technology because it was hard to grasp. It was all so new and exciting.
Over time our phone calls changed to where he would tell me about how the company was running low on money and the future of the company and their employees was uncertain. I asked him what he was going to do. He said very confidently that he was just going to work so hard and make himself so necessary that no matter what happens, they will feel like they need to keep him.
My brother has taught me a lot in my lifetime. This is one message that has stuck with me in every job I have ever had and every move I have ever made in my career. The work I do, the things I create, the relationships I build are all around being important to whatever it is that I am doing. Now, I fully understand that every team and every organization can be successful without me, but while I work there, or while I am involved, that is my motivation. I strive to be indispensable.
Many years later I wanted to talk about the concept in a workshop I was preparing. In my research I stumbled upon a video of Steve Martin being interviewed.
The question was how can you be successful in Hollywood? Steve Martin said, "Be so good they can't ignore you."
That was my brother's message all of those years ago, summed up in what seems like a simple response, but to me is so profound.
It's a very simple statement but figuring out how to get really good can be a challenge. For someone, like myself, who is changing course in their career, or for someone starting out, we might not know how we can be good at what we do. I have given this a lot of thought. I have read a lot of articles and blogs. There are many podcasts on the topic and a lot of influencers talking about it. This is a summary of the three things that are in every message, every blog, every course. They are all things we can do and they are things we can start right now. As you grow in yourself and your career you will figure out more things that you can do and more ways you can build your skills. If you ever lose your way, you can come back to these three things.
1. Be yourself
2. Stay in touch
3. Share what you know
Be yourself. That is tough advice when you aren't always sure who you are. This has been my struggle for the last few years. My career includes managing a household and trying to raise a happy healthy child. I wrote a children's book which I am now learning how to market and promote so I can sell it. I'm reselling clothes and shoes, writing a blog, managing two Instagram accounts and a Facebook page. From day to day I struggle with which to prioritize, what I am actually hoping to accomplish with Instagram and Facebook and why I am not enjoying a lot of it. This month has been educational, with some solid breaks for self reflection. I am not enjoying it because I am doing what I think I should be doing rather than what I want to be doing. I am posting what I think I should rather than what I want to post.
There are plenty of people out there who will be interested in who you are and what you want to talk about on social media or in person. Stick to what you know and like and what aligns with your interests and values. Today's post is me taking my own advice. Your message, however it is delivered, will be well received if it's a reflection of who you are. Be yourself
Stay in touch. Be visible, present, involved. Getting really good happens from engagement with your peers, mentors, friends and yes, even through social media. Find people doing what you are interested in and learn from them. Comment on their messages, ask questions. Do the same for your offline relationships. Reach out and get together. Call someone instead of text. Send an article you think they might like. Introduce people to your friends and colleagues. Build community however you can in whatever way it makes you comfortable. Stay in touch.
Share what you know. A great way to be valuable to others is to share what you know. Teach something, offer something to your community without expecting anything in return. Many people out there offer free resources or educational podcasts. Some individuals will come back to their alma mater for alumni events. Conferences, books, TedTalks, Information Sessions, blogs are all ways people share what they know and the list goes on and on.
Think of someone you admire or follow. Why do you spend your valuable time listening to them? How do they keep your attention? My guess is that they are teaching you something or helping you understand something that is valuable to you. If so, think about what you know and invest yourself in regularly. This step ties well with staying authentic and being yourself. Don't worry about learning something just to teach it. Teach what you already know. I am very confident there is someone out there who would be interested in learning from you. If not, give it time and a little patience. They are out there. Share what you know.
There are many ways to follow Steve Martin's message. As he says in the video, it's not popular advice. He didn't say it specifically but my guess is that people aren't excited to hear they have to put in work to get good and time to wait for the right opportunities to demonstrate how good they have become. Be excited about it. Enjoy the process. Try a few of the things above and then try a couple of other approaches. Make it yours. No matter what you do, if you can master working hard and being patient, it will be very hard to ignore you.