Do I Love and Accept Myself?
Here's one easy way to start.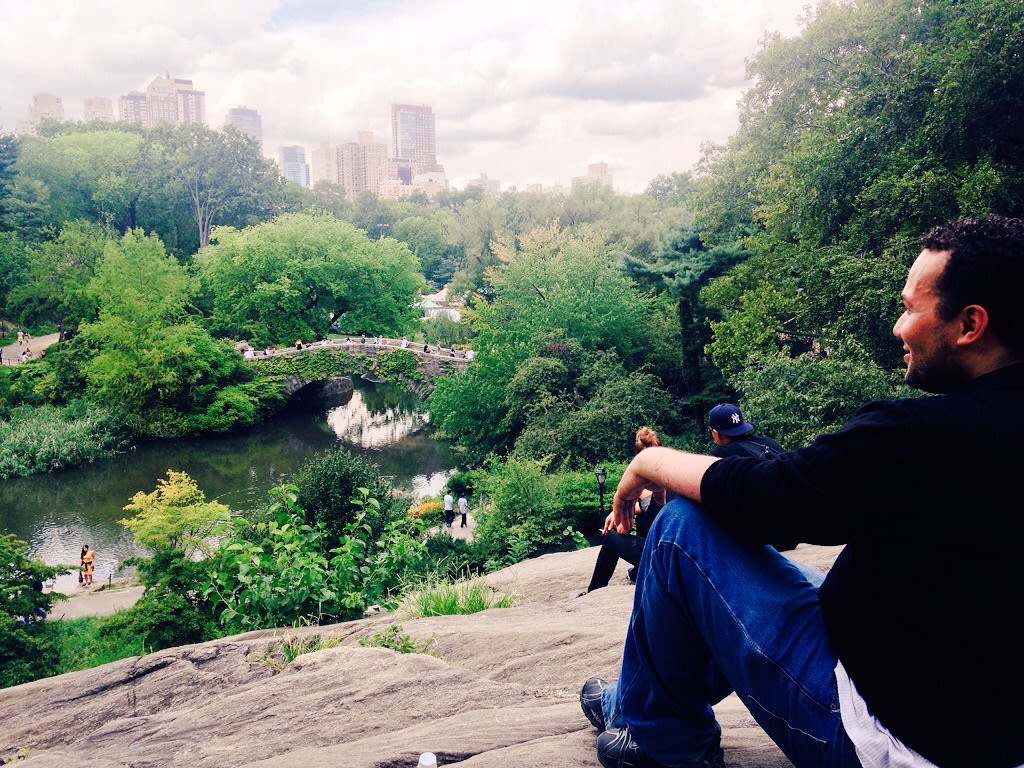 Central Park, New York City. Just taking a moment to really relax. @2015
I love myself.
I enjoy being me and my own company.
I accept all that I have done and will do, good or bad.
These are all very powerful sayings and many people repeat them incessantly. How many of us speak them, do you really believe them? I think that all humans will always battle against the sense of truly loving ourselves and accepting ourselves genuinely. All of us are called to enjoy being with ourselves, to love all of the parts of our lives. Do we truly believe it will be easy to accept oneself and not be seen as a prideful individual? Now as all things in life, we must be cautious on one hand and not so much on the other end.
First, you must learn about yourself; you must do some introspecting, discover what you find negative about yourself as well as the positives. Do not be overly critical about yourself, and do not skim on the positives either.
It is important that you recognize what are the areas that need to be improved and what areas do you excel in. As a human being, our brains are hardwired to think negatively about ourselves. You must not succumb to this desire; you must accept all the good and the bad about you.
Once you have written down—yes, you should be writing down your thoughts on paper of course! It is the only real way to truly see who you are. Write it down, look at that list and meditate on it. This will be a perfect beginning to a journal about loving YOU, once you do all these things.
You must work on accepting yourself, accepting those things that are amazing about you but also the not so amazing. It is who you are. Accepting past mistakes and wrong attitudes are the roadmap to truly getting to know who you are. Accepting is one of the first steps to changing any negative thing about you. Remember, self-introspection is not just about learning but also about growing! Learning how to love yourself will lead you to better yourself.
The list may be long and arduous; you might have gotten a two-page document, but all those words only mean one thing. All these positive and negative attributes are a part of one amazing human being. YOU.
Start by looking at all the positives and appreciate them; are you supportive, reliable and extremely funny? That is amazing! Then look at the negatives; are you a little bit pessimistic, always running late and tend to negative self-talk? Accept those things as well. As you accept them, you will ultimately start trying to change who you are.
But first you must:
Accept yourself.
Love yourself.
Give yourself a big hug and appreciate who you are.
The world will always try to bring you down, but if you decide to truly be honest with yourself thru the self-introspection you have done. You can better yourself, you can learn to love yourself and accept yourself. It will be a long journey to self-acceptance and self-love but believe me It will all be worth it in the end.
This is my first article on Vocal. I hope you start appreciating yourself and learning how to love yourself. I will be developing this topic by speaking a little bit with how to deal with regret, and how to deal with negative self talk. Most of my articles will deal with self improvement. I believe that we all must learn more about ourselves and how to improve ourselves. Only through self acceptance and self love can we really begin this journey. Together we can change; together we can learn to better ourselves. I hope you will share this small article on your social media, as well as follow my personal page.
This is Efrain Robles Sanchez.
Signing off!
happiness
A 32 year old man with a simple knowledge of life love and everything else. I am of Puerto Rican descent but raised in Wisconsin. I love to read, write and I do believe I will be enjoying this first venture into freelance writing.
Receive stories by Efrain Robles-Sanchez in

your feed