Diary Of A Lazy Kid
I've become a lazy kid alright!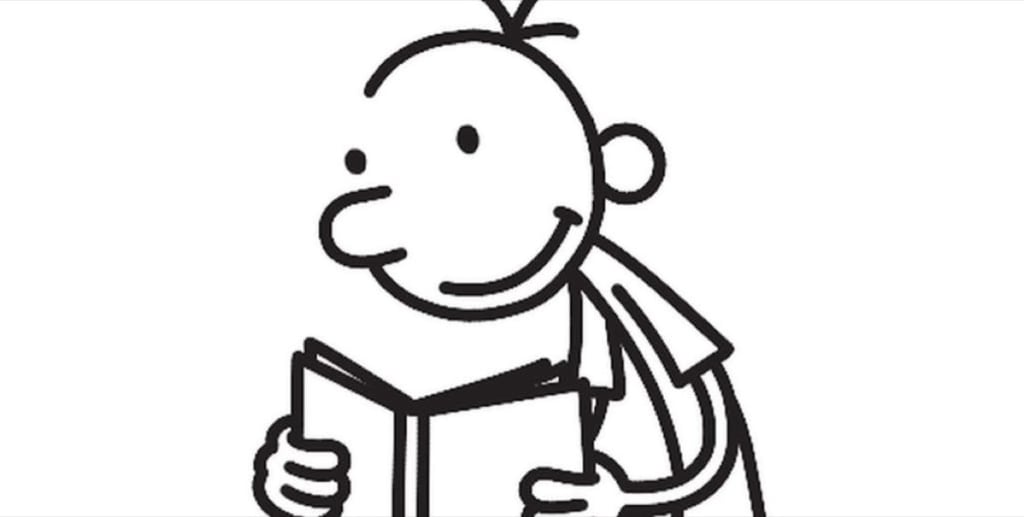 Dear Journal,
It's March! I can't believe we've spent one year in this pandemic but we're surviving. Despite winter being an absolute pain due to the second lockdown, I'm getting back on track to how I used to be. Fun, free-spirited and productive person.
The year got off to a great start, I made a commitment to go for runs every morning so I can have constructive days ahead. I also started eating very clean and began making time to see family that I haven't seen in a while. However, I was expecting to return back to my course for culinary school on Janary 8th but that's been postponed until the beginning of May. My workplace is also undergoing refurbishment until April which means I haven't been back to work since December. So for the past two months I've been at home waiting for the world to open back up again but it's been very hard to stay positive and be productive whilst being at home 24/7.
When February came around, I got back into my old habits of waking up at 11am and watching Netflix all day as my morning runs were getting very exhausting to do. Plus the weather was being a b*tch as well. With gloomy, murky skies and waking up late in the mornings without any form of exercise lead me on to consuming junk food almost every day. I had no structured routine of how I would spend my days and I most definitely gained a pound over the last month of February due to my unproductive days that were wasted. Yes, I'd become a lazy kid.
So it's fair to say that I can't continue on being a lazy kid into the new blooming season. May seems very far away until I start my second semester for the course, but it will come in a blink of an eye then I will be questioning "where did the time go?". It's frustrating that I've been stuck at home for all this time, but it's more frustrating that I'm letting all this time go to waste. So I've created a timetable of how I would spend my days at home for every week until May. As the weather is getting warmer and restrictions are slowly easing, it's time I make the most out of being at home before I go back to my reality of working and studying non-stop. I'm using this time in this moment as a gift from the universe to do activities that I may not be able to do in five months. When I reflect upon this year in December, I don't want to look back and regret the idea of not using this time wisely.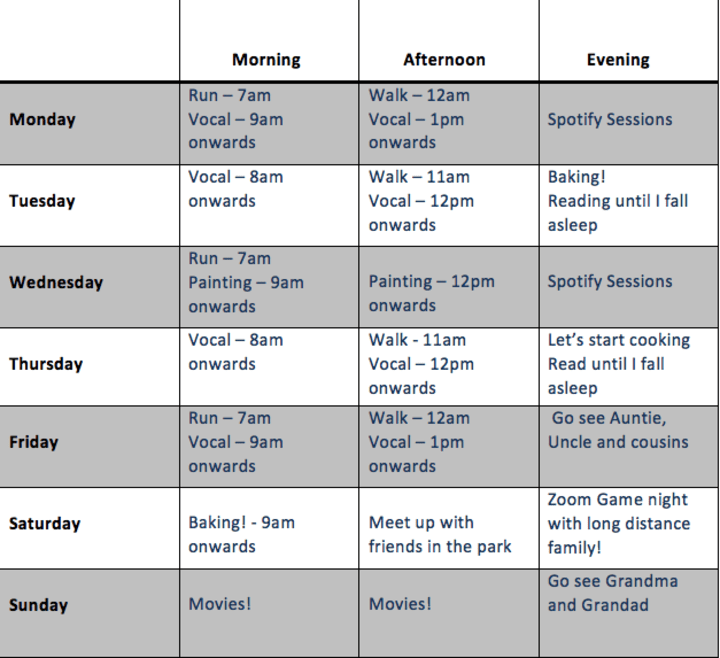 Monday
Run - 7am
It's best to start off the week with my body and mind fully functional and there's no better way to do this than by going for a thirty minute run around my neighbourhood. Doing this early in the morning will prepare me for the day ahead as I will have the mentality to get more things done during the day. It will also be really good exercise for me to burn off those calories from dinner at my grandparents the night before.
Vocal writing - 9am onwards
The most productive activity that I can possibly do with my time at home is writing on Vocal. I've been on and off the platform since I discovered it through an Instagram ad three years ago and I don't know why. I truly do love writing on Vocal as it's a place where I can let my creativity flow and share a little side of my personality through my bizarre stories to my small audience. It's the best place where I can be awarded for expressing my inner me, whether it's receiving bonuses or getting compliments from one person about my stories.
Without Vocal I don't know how else I could spend my time indoors, so I figured it would be best to make writing on Vocal weekly thing as if it's my actual job. The goal is to hit the "Submit for Review" button at least twice a week then progress on further to publish more stories over a seven day period. It takes me on average two days to write a story, so for a couple of weeks I'm going to spend on average four days a week writing on Vocal (which really is nothing in comparison to others creators). Hopefully I will be able to keep this routine for writing on Vocal so the laziness in me will eventually disappear if I'm able to be strict on myself for writing more stories.
Walk- 12pm
It's fair to say that after three hours of typing on a computer screen, my eyes are definitely going to need a break. Taking a ten minute walk down to the shops to buy some healthy snacks for Vocal writing in the afternoon will be a good way to keep my body moving. Plus the sun is shining more often and the pink blossoms trees have just been flourished, so it's perfect to take a relaxed walk through my neighbourhood whilst admiring the beauty of mother nature.
Vocal - 1pm onwards
Continuation from my vocal writing session in the morning.
Spotify Sessions - Evening
After a creative well-focused day of writing, there's no better way to unwind in the evenings and listen to my favourite songs on spotify. The first day of the week will be completed, so I'll be celebrating this achievement with my spotify playlist and a nice relaxing bubble bath to put my mind at ease.
Tuesday
Vocal - 8am
Second half of writing my story that I will have started on Monday.
Walk - 11am
Repeat of Mondays walk.
Vocal- 12pm onwards
Editing, pictures, GIF's and finalizing. The aim is to hit the "Submit for Review" button by the end of the afternoon for a story that I will have worked on for the past two days.
Baking - Evening
The evenings' are for 'chilling out', and my version of 'chilling out' is baking. Nothing wrong with a bit of kitchen therapy after spending two full days looking at a computer screen. Bedtime cookies, cake for the next day or making sourdough bread for breakfast in the morning are easy recipes for me to bake in the evening. The complicated bakes such as a Genoise sponge or a Mango Charlotte we'll be saved for Saturday mornings.
Read Until I fall asleep - Evening
I'm embarrassed to say this but I don't think I've ever finished reading a book. Seriously! For someone that enjoys writing so much, it's surprising to know that I've never finished an entire novel. So I'm going to challenge myself as I've recently bought a book from Amazon that I will be reading, then I'll make sure I finish the entire book. I've made a small commitment that I'm going to read at least two pages a day, then for Tuesdays and Thursdays I'm going to take time to read at least ten pages before I go to bed. Rather than scrolling through my phone before I close my eyes then getting a headache the next morning, I'm going to give my eyes a break from a bright screen and read the words through a good old fashion book. Not a kindle, a book!
NONE OF THIS ANYMORE BEFORE I GO TO BED
Wednesday
Run- 7am
So I've decided to space out my morning runs and only do them three days a week rather than every day. This is so my legs and arms don't ache constantly.
Painting - 9am onwards
The time has come. One of my hidden talents that no one knows about will be coming back to me. It's been a while since I put my fingers on a paint brush. To be honest I never really enjoyed painting because I had to do it for a course. But considering that I have all this time on my hands I might as well re-channel the artist in me and paint some spectacular portraits of myself. I have too many selfies on my phone that are not serving any purpose, so I might as well paint them and create a collage of my finish work and put it on my wall. It's something different to do at home, I could have music playing in the background to really enjoy my painting sessions. Who says you need to be sleeping all day to be relaxed when you can enjoy doing something crafty that can also be relaxing.
Painting - 12pm onwards
Continuation from the morning.
Spotify Sessions - Evening
Repeat of Monday Evening.
Thursday
Vocal – 8am onwards
It will be time to begin writing the second story of the week for the next two days.
Walk- 11am
Repeat of Monday and Tuesdays walk.
Vocal -12pm onwards
Continuation from Vocal writing
Let's start Cooking! - Evening
I've always been more of a baking person than cooking person. There's something about cooking that does not excite me. Maybe it's all the different ingredients and herbs that confuses me as there's too many of them that people use. However, it would be nice to know the basics of cooking as I can't be living on oven meals forever. My goal is to start making basic meals that can easily be made such as pasta bake or vegetable soup. Then hopefully progress on further to making more, well 'fancy' meals such as salmon wellington from scratch or Ravioli Pasta dough. I do believe it takes time to become a really good home cook, but if I start now then by the time I'm twenty-two in two years I'll be able to master my home cooked meals. Let's also not forget cooking homemade meals will be better for my health.
Read Until I fall asleep - Evening
Repeat of Tuesday evening.
Friyay!
Run - 7am
Repeat of Monday and Wednesday morning run.
Vocal - 9am onwards
Continuation from Thursdays Vocal writing.
Walk - 12pm
Repeat of Mondays, Tuesdays and Thursdays walk.
Vocal - 1pm onwards
Editing, pictures, GIF's and finalizing the second Vocal story of the week.
Go See Auntie, Uncle and Cousins - Evening
"Surprise! I'm here." This is what I'll be saying to my little cousins this friday. My family from my mum's side lives down the road from me and I haven't seen them since Christmas. With all this time at my fingertips, I thought it would be best to make time see family and friends on the weekends. So to kick off the next few weekends ahead I'm going to make an effort to see Aunt T, Uncle J and my little cousins so we can spend good family time together. Playing hide and seek, baking a messy cake or building a fort in the garden when they come home from school will be a great bonding experience for my cousins and I. This is so we can be close family members rather than family members who only see each other on special occasions.
Saturday (It's officially the weekend)
Baking! - 9am onwards
It will be time to do the real baking. The hard, intricate baking where you have to stay focused at all times. Just because I'm not doing my patisserie course now, doesn't mean I won't stop practicing at home. Skills that I've learned in the first semester such as tempering chocolate and isomalt sculpting are techniques that I've completely forgotten how to do. Why? Because I've become a lazy kid. It's better to refresh my memory before I return in May so I can be ready for the next stage. It would also be nice to make something for my friends that I plan to see every saturday afternoon so they can get an insight into what I've been doing at culinary school.
Meet up with friends in the park - Afternoon
If the weather is great then every saturday I'll meet up with friends that I haven't seen in a while and do a good friendly catch up.
Zoom Game Night with long distance family! - Evening
Fun fact about me that's very boring. I have family in Canada, US, Australia, Zimbabwe, Bahamas, Jamaica and Trinidad. How does one stay in touch with all those relatives from different countries? Zoom game night is the answer.
My Saturday nights for the past two months have been Netflix and Disney Plus. It does get very boring at times so I've decided to switch things up and make time for family once again. But this time it's with family from overseas that I haven't seen in a couple of years. On March 13th, me and my family from the UK did a Zoom quiz night with my relatives in Canada and I must say it was the most fun I had in two months. We did trivial questions that my cousin organised and played charades which was a nightmare as we were shouting and screeching at each other through the screen as if we were playing a five hour game of Monopoly. So the upcoming weeks we've planned several Zoom game nights with relatives that are in Australia and Bahamas, and should hopefully do more with other relatives that are miles away from me.
Sunday
Movies! - All day
After six days of hard work, pleasure, and fun activities it's good to have Sundays as the day where I do nothing except eat food and watch movies all day. There will be no alarm clock at 6am, no brushing and styling my hair for an outing, just me in my pajamas and laptop in front of me watching whatever I want.
Go see Grandma and Grandad - Evening
There's no better way to end the week than to see my two favourite people. Grandma is always cooking up an traditional Bahamian meal whilst my Grandad is always watching CNN. So yes, we spend time around the dinner table every sunday and watch politics. But my grandparents will always say to me whenever they see is to stay positive and be hopeful for the future, but at the same time work hard. This is the type of advice that I will need before I start a new week so I can continue to be productive with my time and to always be joyous, whether I'm at home or not.
The past two months have been mentally draining, but everyday is a new day to start fresh and to be open minded to whatever life throws at you. I've become a lazy kid because I wasn't seeing any good around me, with a second national lockdown and having absolutely nothing to do just made me feel hopeless in what this year has in store for me. But life is what you make it and everyday is new day to do something incredible. By doing this timetable for the new season will allow me to make the most out of everyday at home so I can continue to enjoy what's in front me of me. Whether it's the joy I have for writing on Vocal or spending quality time family through a screen or in person, I've learned to make the most out of everyday and to always to see the positive in situations.
Okay, bye Journal.
____________________________________________________
Thank you so much for reading. One thing that I hope you take away from this is to make the most out of everyday. If your country is still in lockdown it doesn't mean your daily routine has to be on lockdown too. Find activities that you will enjoy doing, have a Zoom game night with friends or family, keep writing on Vocal, get creative and start drawing the view from your window, read a book not a kindle. There are so many activities that you can do to enjoy your time at home.
Be sure to give a love heart and tip if you can and I will be posting more very soon. Oh and don't become lazy kid or adult in the same way I did. I love you for reading and have a awesome day!
Bethany Gordon xoxo