Determination Gives Birth to Success
My Story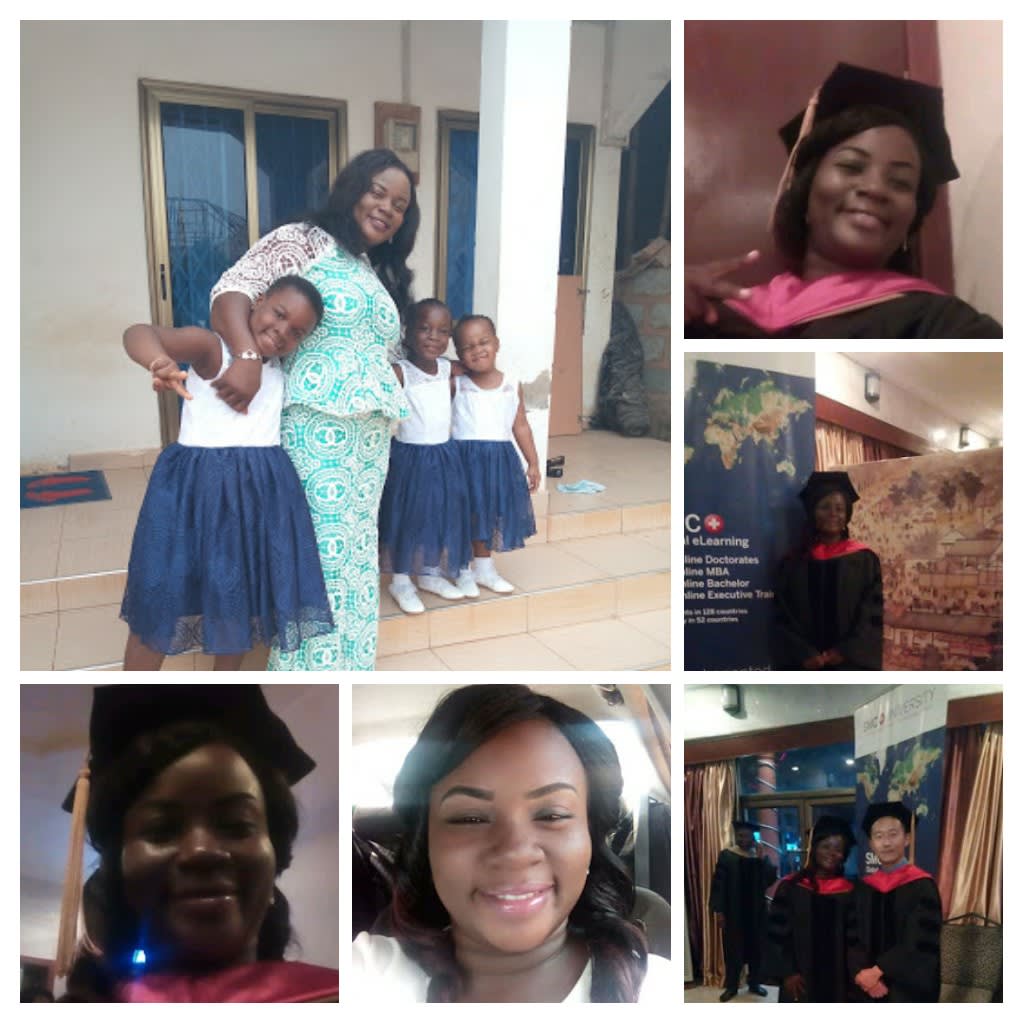 In the year 2012, I started an educational journey to get me to the top. It was for a doctorate of finance degree. I had secured the admission and I needed funding. Luck was on my side as I got the Ghana education trust fund to accept the funding of my degree. Accepting to pay was one thing and transferring the money to the school was another. It took the fund almost to two years to finally make the payment even though my course was for a four year term.
As at the time I got my admission, I was a little over a year in marriage with an eight month old daughter. My program was a distant one and so I had all my programs via the internet. My program consisted of six course works plus my thesis.
By the time my fees were paid, I was pregnant with my second daughter and that meant extra work on my part. I was taking care of my first daughter, pregnant and taking care of my home, a church leader with the women's ministry and finally my education which I was determined to complete on time.
I delivered my second daughter via a caesarian section for the second time and it wasn't easy. I have had to study at midnight when everyone was asleep since that was the only time I could concentrate and that also meant forgoing my sleep. That was my life pattern for close to three years.
As fate, destiny, or nature would have it I got pregnant with my third daughter when the second one was only nine months and still breastfeeding. This was the toughest news I could take as I was not prepared at all. I however, encouraged myself to keep going and trust God to see me through. Nine months later I had my third daughter through a caesarian section and life continued with three daughters below the age of five, a home to run, my church duties coupled with other extended family responsibilities and then my school work.
By the grace of God, I managed to complete my course work in record time below one year making it three years and being left with a year for my thesis. That was the most difficult part of the entire educational journey as getting information and data in our part of the world did not come easy. I started and got to chapter three and all seemed to be going well until armed robbers broke into our home on the March 15, 2017 (a date I will never forget) and made away with so much including my laptop where I had saved my work. Sure by now you are getting the direction of my story and journey. That meant all the work I had done was gone and I practically had to start from scratch except for the bits and pieces from the ones I had sent to my supervisor.
I almost "died" at the thought of having to start all over again. At a point, I told myself to give up and leave it at that but then again I asked myself, should all the sleepless nights and sacrifices before the incident go waste? The answer to this question alone brought me back on track to enable me continue. My four year elapsed and I was on chapter four and this meant I had to pay for another year, an amount of €1500 which was not readily available and I had to borrow. About a week to the deadline of my submission, my computer started freezing at the least touch. I had not finished even though I was proof reading and editing for final submission. I spent 48-hours without a wink of sleep to be able to finally complete the thesis and submit.
I finally made it and graduated on the March 30, 2018 and only heaven knew my joy when after my defense I was given a pass. At the end of my entire journey, I graduated with a GPA of 3.7 only 0.3 shot of a perfect score of 4.0.
No matter what you go through in life, keep your eyes on the final prize and never give up for when determination meets preparation, success is inevitable. We only win when we don't give up.
success