Cleopatra
Raising Royalty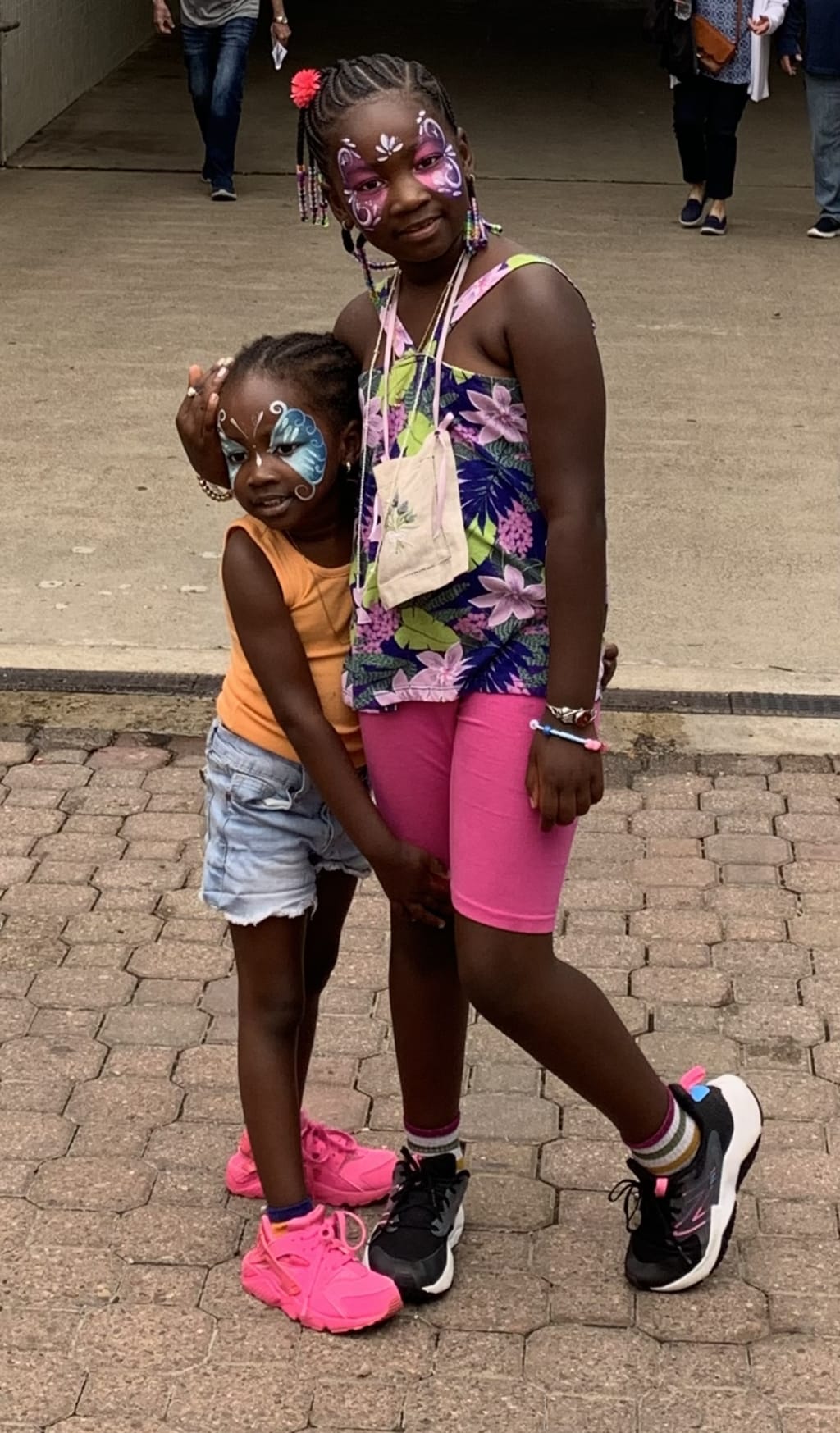 I had the opportunity to spend a lot time with my daughter and her girls this summer. I see so much of our family history in them. I see some of my mom, Kathryn, and their great-grandmother Charlotte. I see my grandmothers in them as well. I see myself and their mother too. Our female ancestry is strongly represented by these two fiercely independent young people.
During my junior year in high school I wrote a paper about Cleopatra. Mrs Cunningham, my English teacher, gave me a C on the paper. I could have easily cranked out a B+ or better paper but I chose not to do that. We had to write about a historic figure and I chose Cleopatra. Egyptology has always fascinated me but particularly her story. I had read quite a bit about her that wasn't conducive to the rhetoric of the times or what we were being taught about her, and other historical figures in school. What I had read did not reflect the televised images that we had come to know. Her story had been white washed and dumbed down to fit the narrative of this time period. Actually all of the time periods preceding the 70s and currently as well. It was taught to us as history and also in American history. So much of the truth was skipped over or just erased. It was frustrating to me because I liked to dig deeper into historical facts. I love history. Cleo was my idol and 1977 America wasn't prepared to know about an extremely intelligent, highly educated, sexually free, female that was ruling a kingdom. Several kingdoms actually if you count her influence on the men in her circle. Certain demographics of America still may not be ready. But I sure was. I wrote my paper boldly knowing it would push a few buttons. And it did just that. I have never shied away from speaking up on the agenda of equality and inclusion. I wanted my teachers to know that I knew the truth. It was not well received. I was not at all surprised by the reaction. Being 1 of only 3 Black students in our junior class of an almost exclusively white school was already controversial. We were all scholarship students, and some of us on a very lucrative stipend. I was proud of the fact that I was smart enough to have a school willing to pay for my attendance. Many of the students' parents looked down on us. Not the students themselves. Teenagers rarely have time for such nonsense, or at least they didn't then. We were a new phenomenon for them but there wasn't enough time to indoctrinate their hate into their children. Not every parent felt that way, but I definitely felt it from some of them. As teenagers without an agenda, we went about the business of being young women. There's enough to navigate as a female without throwing prejudice into the mix. However, somehow, I knew that stirring the pot was definitely something that needed to happen. I wanted to give the adults and educators a gentle reminder that I was still a Black girl and not ashamed of my heritage. I was not going to get caught hiding my light under the proverbial bushel. I dressed boldly on campus. I've never been one to conform. I'll follow the rules but I will always have my own voice. I joined clubs and groups and acted in plays. I played sports and created works of art that were often hung on the schools' walls. I wanted to let the school know that I was there. That they had chosen ME. So writing an essay about someone like Cleopatra was a given in my head. I admire her still. I am fascinated by her story to this day. I continue to read about her or study her amazing life whenever possible. She was the original bad a@&! So, I took the C. It was a small price to pay. I still managed to get an A- in the class. I didn't hold back truth for the sake of an A. I expected nothing less than the grade I was given on that paper. I was a straight A student regardless, but I was willing to take one for the team if it meant I got to shake things up a bit. Yes, I was quite cheeky, albeit respectfully so, for a 16 year old.
I recall some years later, after we had graduated and became adults, during a school reunion, one of the grandparents of a classmate hosted a reception party at their home which used to be a plantation. I went to school in Virginia. There are a lot of old plantations around that now have become homes or something else. At the end of the gathering, the grandfather showed up to say goodbye. I could see that my brown face surprised him and not in a pleasant way. It had probably only been a few generations since his family owned people that looked like me. As the other ladies lined up to say thank you and offer a handshake, I jumped in line. Me, being me, decided to not only shake his hand but offer a small peck on the cheek. I'm fairly certain he went into cardiac arrest that same evening. I suppose I was still that cheeky 16 year old then and I suspect not much has changed decades later.
My hope is that I was able to open Mrs. Cunningham's eyes a tiny bit. I hope that as she moved forward in her teaching career she was able to encounter more students like me. More young ladies that were willing to sacrifice a few grade points to make sure they got to be seen. Even if that moment was brief. I hope she had the opportunity to teach more women like me whom in turn taught her about her bias and about herself. I never felt that her bias was intentional. Frankly, I don't think it usually is. I do believe that it is a natural reaction that is so deeply indoctrinated that it's pervasive. If it goes unchecked, then things never change. I hope that my strongly opinionated opus stirred something inside of her to do better by us marginalized students. But even if it did none of that, it pleased me to speak out. I was able to give a nod to one of my ancient sisters that was fierce in her own right. I know that I made the correct choice. I would do it again for sure but perhaps even better given the chance.
I see this part of me in my granddaughters and I absolutely love it. Go forth little beings and conquer the world!
About the Creator
Karolyn lives in Paris and Pittsburgh. She loves travel and has travelled most of the world, she enjoys time at home with family. Whether it's cooking, painting, designing or writing, creativity is her passion. @karolynd88 @maxineandbeanie
Reader insights
Be the first to share your insights about this piece.
Add your insights