Bukowski's Perseverance
The hard truth about the writing life and how to keep at it regardless.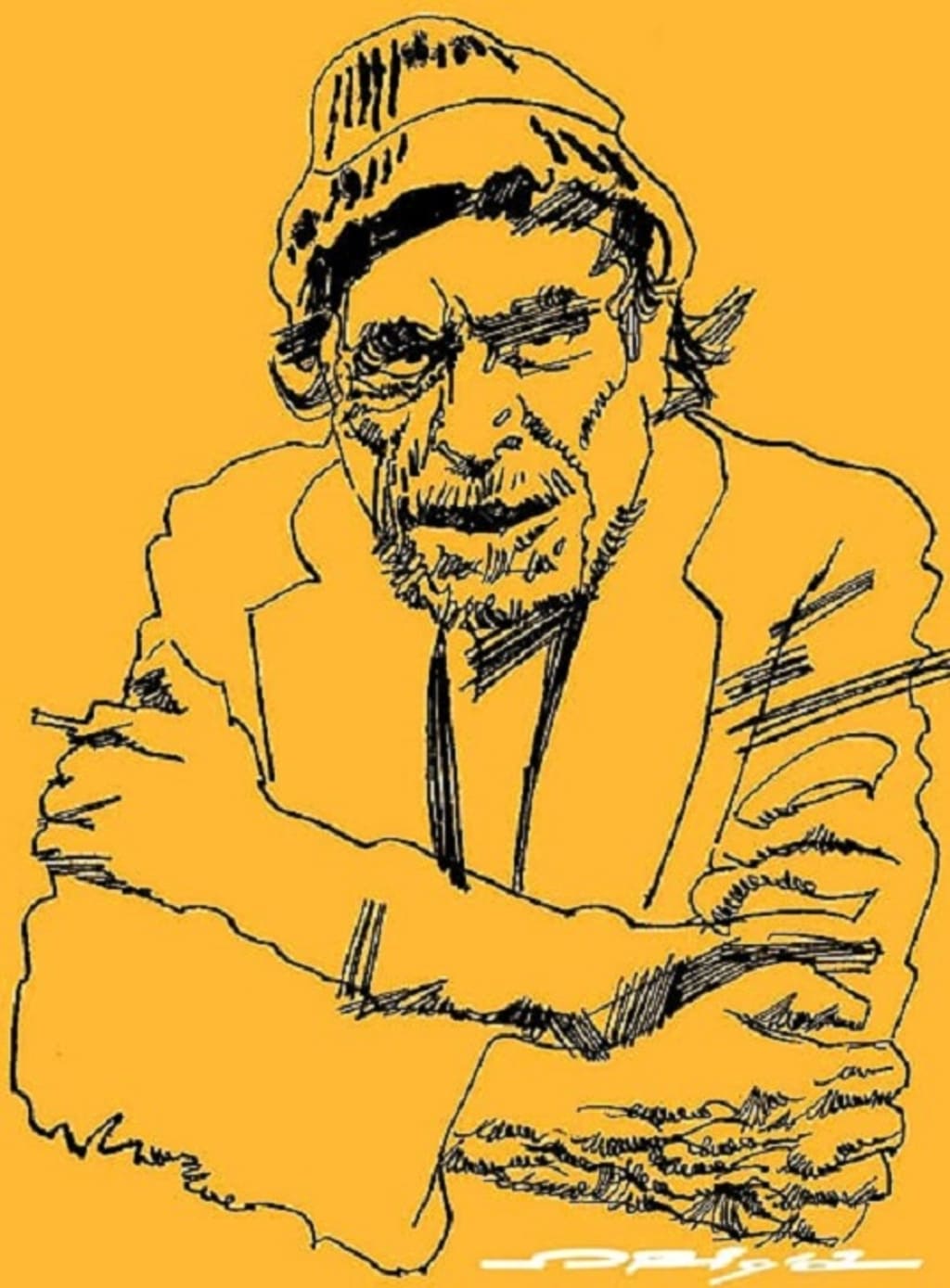 It is easy to write old Charles (Hank Chinanski) Bukowski off as a mean drunk and amateur poet that got really lucky. He was a bar brawler, a pretty horrible guy to most of the women in his life, and the type of drunk that would drink until he passed out most of the time. He started drinking at 16 and didn't stop until he died at 73. For most of his adult life he held a string of low paying jobs with a couple of longer stints as a mail man in Los Angeles. Considering how brutal his childhood was, his dad beat him with a razor strap once a week until he was ten years old, it is amazing that he didn't commit suicide or end up a serial killer.
If John Martin hadn't of taken a chance on Bukowski and started Black Sparrow Press to publish his writing, there is a very good chance Buk would have died as an unknown alcoholic writer with a handful of published short stories and poems to his name.
He did get one thing right though. He wrote and wrote. Almost nonstop for 35 long lonely years. He had a few things published here and there in small lit mags and zines, but for the most part his writing and writing career went almost nowhere until he was 50 years old.
Buk is a great gauge of just how hard writing can be and how long it might take to see any rewards, if you ever do.
When most of us think of successful writers, at least in terms of novelists of course we think of the Stephen King(s) and JK Rowling(s). For the poets maybe it's the Robert Frost(s) or more contemporary poets like Rupi Kaur and Atticus. Regardless, the hard truth is they make up the infinitesimal .0001% of all writers.
Even your basic "pays the bills every month with their writing" types only make up about 2% of us.
Hell, even if your goal is to just write a novel you should know that only about 7% of writers that set out to write one ever even finish the first draft.
Reading this might depress you. It did me when I first learned these ugly truths. It might make writing seem like a futile endeavor. You might be asking yourself why I even told you all this.
The reason why is so you'll know what your up against. So you can look that dragon right in the ugly mug and not look away. So, you can stare it down knowing what it is you really face.
I see writing as nothing short of heroic. When someone asks me what I do I say, "I'm a writer." If they ask if I've made any money at it I say, "Not much, but I've written a lot and I write everyday."
I often see the same questions or similar ones asked over and over in writing groups on Facebook. "Am a writer?" "How do you know if your really a writer?" "What's the difference between a writer and author?"
The answer to those questions is simple. If you are compelled to write and you sit down and write then you are a writer. That's it.
I've written and published a novella, written and Indie published six short story collections and one collection of poetry. Since 1998 I've probably published a few hundred short stories and poems in literary magazines. I have three unpublished novels right this minute that I'm fence sitting on because I'm not sure if I should go through the purgatory of sending query letters out to literary agents or the trackless void of the "no sales" Indie publishing game. Either way, they represent about 150,000 words that I have written since 2013.
And that ain't nothing. I'm a writer.
I still teach English though and I am a very long way away from ever writing full time for a living. But I can say I'm a good writer. It took four years of college studying English Lit and many years of writing and getting published before I could say that without feeling like a fraud. I know it simply because I sit down every day and joust that dragon of a blank page. And I slay it most of the time with at least 500 words. I like to think I'm the type of writer that old Buk would have liked to have sat down and had a beer or two with. That and writing a lot both feel like success to me!
Whatever your personal dragon is do your best to attack it. If you are writing call yourself a writer. Call yourself a heroic writer even. Persevere like Buk did whether it takes two, ten, twenty three (like me, so far), or thirty five years, keep at it. Doing something with passion is winning in itself.
About the Creator
Steve Howard's self-published collection of short stories Satori in the Slip Stream, Something Gaijin This Way Comes, and others were released in 2018. His poetry collection Diet of a Piss Poor Poet was released in 2019.
Reader insights
Be the first to share your insights about this piece.
Add your insights