Better Than This
Even during your worse struggle you are better than this.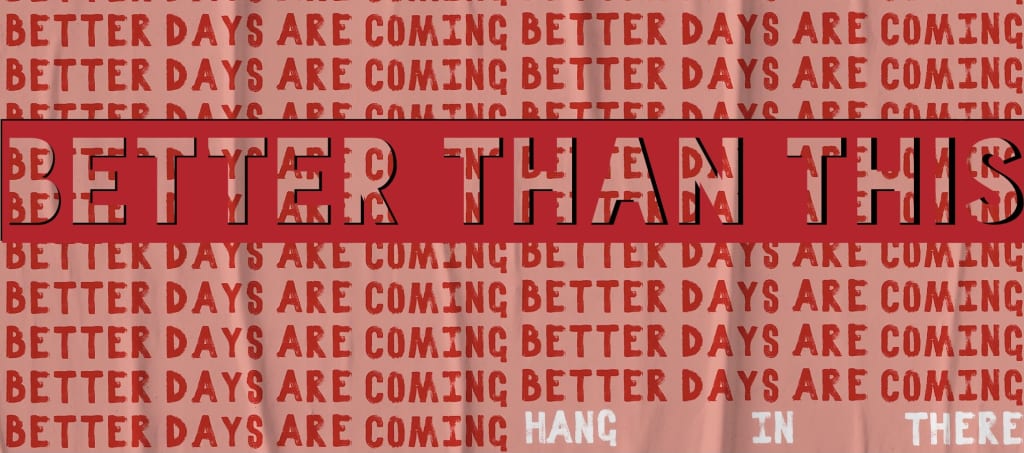 Photo credit WordSwag App
Better Than This
Right now, it is safe to say that there are people out there that wish their life in this world was a little different. We are all facing different struggles, some big, some small. Either way they are holding us back from life, and moving forward. It might be a personal struggle that you are facing, it might be a work issue, family matters, legal issues, whatever it maybe it's your struggle. Something about the state of the world, or even just struggling to cope with the isolation of quarantine. The struggle is real. At the end of the day, everyone has their own struggles, and it is a challenge to overcome those struggles for those of us enduring them. Right now, it might not definitely feel like it is going to be that easy to overcome. That's why you have to dig deep inside yourself, and find that positive part of you. I'm f you are going to rise above this struggle, and everything else that life throws at you. You need to remember one thing: you are better than this. You are better than this struggle and Now, we are going to have some real talk surrounding what this means.
The truth is that most of us will spend a good portion of our lives fighting our own battles, produced by our own demons, that for some of us haunt us. It will not be a constant, and It won't happen all the time. But, eventually, we will find ourselves coping with some really awful circumstances that try us. Those demons will try us, to a point, far beyond what we could ever possibly fathom being tried with in that very moment. It will feel horrible, and dark, with no sign of light at the end of the tunnel. At this point you will feel as if you don't even have a pot to piss in, meanwhile you may have plenty, you will think you don't. It may take us to the darkest part of our being. Which is why it is so important to remember that it isn't permanent, and this to shall pass. No one can promise you a so called "easy" life. Because what is a "easy" life, after all. Plus your life, is your life, not another's to promise you how it is supposed to be. You are the creator of your life. And without any struggles, how do you learn? But it doesn't mean that you have to live a life full of hardships, struggles, and go to war with your demons: There will be good, great, happy, wonderful, joyous times that awesome memories are created, which should outweigh those other ones.

For most of us, when something goes truly wrong in our lives, we feel trapped, alone, you know the feelings I'm sure. We can't see that light. We may even feel helpless. It is easy to feel like you are stuck underwater without no way out. In the middle of the ocean on a row boat with no paddles. But the reality is that you will find your way out. I encourage you to find it, never give up on yourself. I know it's easy to say, but it is the truth, you can not give up on yourself no matter what. The first step to walking through the bad moments that life throws at you is to remember that you have what it takes. Instead of telling yourself that you won't get through it, and giving up. Giving up isn't a option. STOP! And remind yourself that you have exactly what it takes to walk through hell on fire. Don't question yourself. You are stronger than you realize. Guess what? Believing in yourself will help make everything else more manageable.
You Deserve The Life You Fight For
A major part of reminding yourself that you are better than the circumstances at hand is to fight for something better. When life throws crappy times at you, don't just take it bent over with your ass in air, waiting for the strike. Stand up, stand tall, stand proud, and take active steps to make your life better. It won't be easy at first, but it is possible. You deserve a life that is better than where your worst moments lead you. Which is why you should fight to get to that better life. When you push forward and take active steps to get that better life, you will realize just how much you deserve it.
Life can be so hard, and the majority of us wish we didn't have to face darker times. Even if you are feeling lost or struggling to keep your head above water, you must keep going. Keep pushing. Keep fighting. Reach for that bigger and better life that you deserve. You will be so glad when you finally get there. Remember, anything good in your life is worth fighting for, and no matter what you are facing right now, you are better than this.
Want to find out more about me? Follow me on Twitter @TheTarynThomas
success
About the author
From the bedroom to the art room I create :) 1st Ever Dirtiest Girl in Porn Retired Adult Film Star on her journey through life.
Reader insights
Be the first to share your insights about this piece.
Add your insights