Adapting to Our New Surroundings is Essential for Happiness & Enjoyment. .
Costa Rica gives us all a chance to make a change for the better. . with a PURA VIDA theme!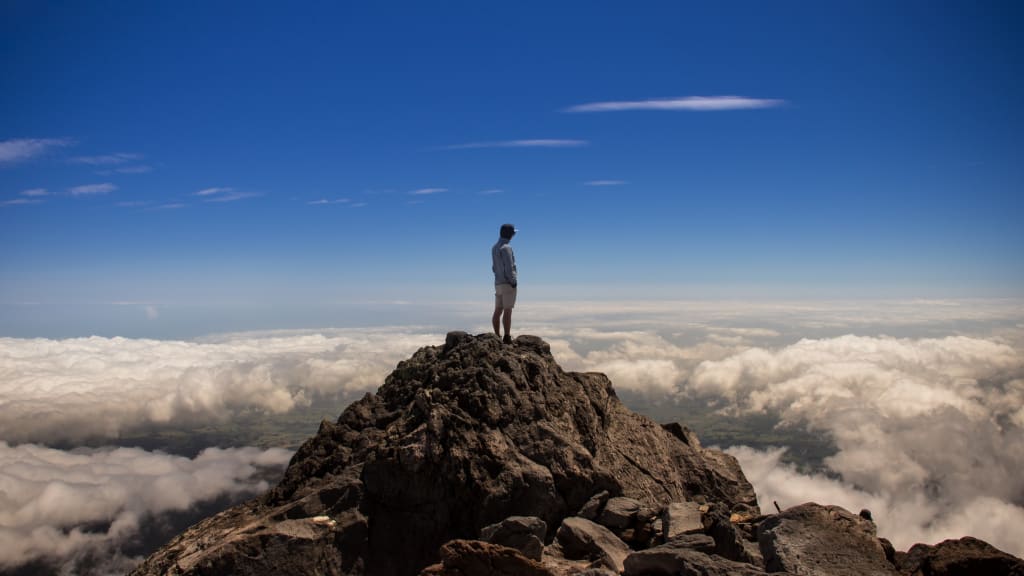 From the highest peak, you're able to see your potential from a different perspective. .
The New Experiences of Many Come with Excitement & Exhilaration! A Total Reinvention of Your Life Includes Many Experiences That You Never Thought You'd Have!
​ We see it all the time. . James & Janette. . two professors moved here to Costa Rica from Columbus, Ohio. In their pre-Costa-Rican lives, they loved to shop, stop at Starbucks for coffee every Saturday morning. . they loved to fish in the stream behind their house. They loved to watch movies on Netflix! Then, they move here to paradise and spend their weekends white water-rafting. They took up scuba diving and all of a sudden, they are deep-sea fishing for sailfish!
​ Or how about Sammy and Sheri. . they're from just outside of New York City. Three years ago, they moved to the Dominical area. They both worked for the city in their pre-Costa-Rican lives. They were administrators for the public school system. Their hobbies included Friday night bar hopping. . poetry readings. . weekend afternoons at the city museums. And, of course, they loved the theater! Now, after 3 years here, they have both jumped out of an airplane and soared like eagles. They love to hike in the jungle. . and even are doing some nightime tours! They are learning how to rapel waterfalls and have both taken mudbaths up at Arenal! Talk about drastic changes in one's life! They feel alive again!
​ There's something about living in one of the happiest countries on the planet with 5% of the world's biodiversity! It goes hand in hand with living on the edge and stepping out of one's comfort zone.
​ I almost forgot to tell you about Gordon. He is from Vancouver, BC. He was in the theater business and produced a lot of plays locally. He loves to sing and dance and finds happiness in making others happy through the arts! What a creative guy he is. When he moved to Costa Rica with Geraldine, his wife, both of them started a little Saturday morning neighborhood theater. They built a 15-foot-wide stage in back of their outbuilding and the neighborhood families come over to watch their productions. They are both learning Spanish and they actually get the kids involved in the acting as well! They know that what they do is a catalyst for the neighbors to learn English and to interact positively among the Expats who come to this country to live wonderful lives.
​ Adapting to one's new surroundings is essential for happiness and enjoyment of all that is here for us! When you put yourself in a place where the view is much different from what you are used to, then life will change for the better. All of a sudden, there's many new pathways that are uncovered for you to explore. The opportunities to make those necessary changes in one's life are mapped out and are ready to be implemented. Now, your goals seem at an arm's length rather than from a impossible distance. Life comes into laser focus and it's time to get busy!
We hope you visit soon!
You're invited to visit our websites at: www.costaricagoodnewsreport.com & www.costaricaimmigrationandmovingexperts.com
Also, please enjoy our over 2,000 episodes of our "Costa Rica Pura Vida Lifestyle Podcast Series". We are found on all major podcast venues, including iHeartRADIO, Spotify, Apple Podcasts, Google Podcasts, Radio FM, Anchor & many more. Here's our link: www.anchor.fm/costa-rica-pura-vida
If you like what you've read here, please share the link with others in your social media! We would appreciate your support and PROMISE to continue to bring you LOTS OF GOOD NEWS about one of the happiest countries on the planet, Costa Rica!
About the Creator
Costa Rica is a magical place. Since November, 2002, when I first visited this country, I have been in love with the people, the culture, its biodiversity, the food. . everything about it makes me happy! Now I share my excitement with you!
Reader insights
Be the first to share your insights about this piece.
Add your insights