A Question of Balance
Is your life unbalanced?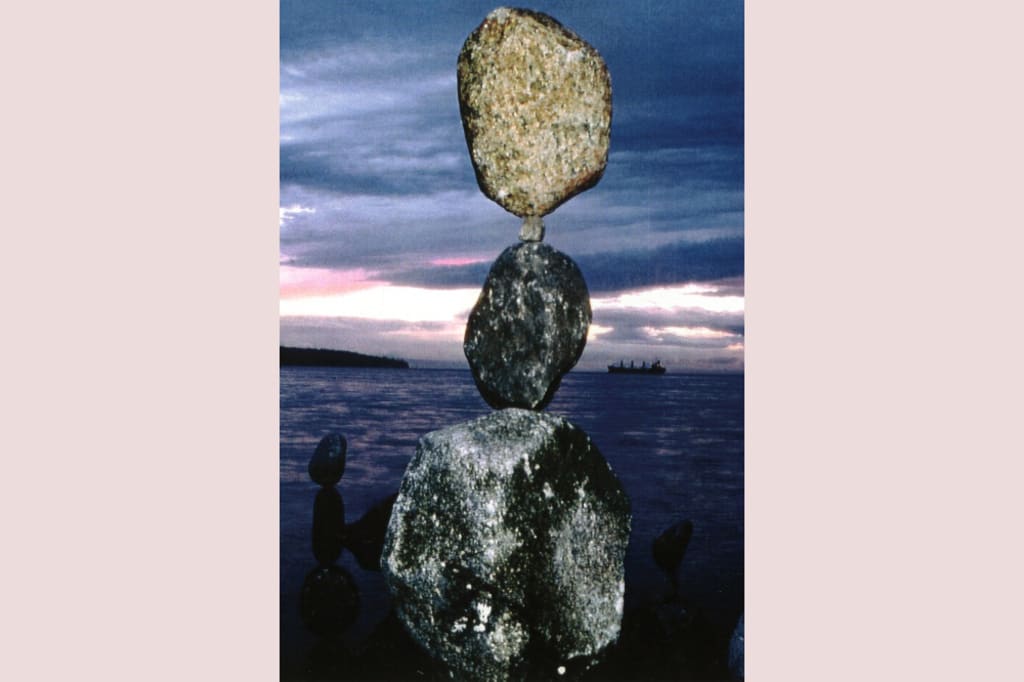 Rock on Rock at English Bay, Vancouver, 1999
Have you ever strolled along the beach and seen piles of rocks balanced on top of each other? They're quite common now. People are doing it everywhere. But the phenomenon started back in Vancouver's Stanley Park in the late 1990s. I wrote the following article for About.com and it was published August 5, 1999.
Is your life in balance? Daryl Maddeaux's is.
Last night our family parked ourselves on Vancouver's First Beach to take in one of the Symphony of Fire fireworks spectacles. We arrived early, around 5:30 PM, chose our vantage point, spread our towels, and set out to amuse ourselves while we waited.
While the kids frolicked in the sand and surf, my wife and I took a walk along the seawall. That's where we met Daryl Maddeaux.
Actually, it wasn't Daryl that caught our eye but his creations - his art. About fifteen improbable spires of rocks balanced one on top of the other.
Most of them featured a large stone on the bottom, a small stone in the middle and a large stone on top. Some had three rocks, others four or more.
The most amazing aspect of these columns was the large boulder on top balanced on the tiny stone beneath it. It often struck an odd pose – like a brick balanced on one of its points. (I'm sure Daryl can do that too!) Apparently Daryl Maddeaux is the only person to have mastered this unusual technique.
The first question I asked him was "Are they glued in place?"
No. They are not. And to prove it he immediately set about creating another spire. His unerringly steady hands and intense concentration had the column standing in a few minutes.
One wag with no imagination proffered "There's someone with too much time on his hands."
Daryl quickly asked him what he did for a living, then explained that his living was creating his art.
But Daryl Maddeaux is more than an artist. He is a philosopher. He uses the effect of his rock obelisks to expound on creativity, balance, and the idea that nothing is impossible.
I perused his brochure and discovered he uses his talent to talk to school children on creativity and the art of the possible. He teaches children to turn to their imagination, not to drugs or gangs. His Rock on Rock art/philosophy has also been featured at business events sponsored by some of the largest corporations in America.
He explained that people get trapped in what they have been taught. One day they find themselves in a job they've done for years and ask "What am I doing here?" They get bored, fail to see possibilities.
He inspires the employees at his business seminars to "think outside the box". His displays are used to foster discussions on how such concepts as "impossible" are self-limiting barriers to problem solving.
A Canadian from New Brunswick, Daryl Maddeaux learned his art as a boy playing with the rocks along the banks of the Nashwaaksis River building forts and even stone "snowmen". He brought his art to the public at English Bay in 1989 - possibly at the very spot my wife and I saw him demonstrating the "impossible" yesterday.
Today he has his office in Lake Oswego, Oregon but travels around North America building spires and inspiration. He's performed at locations as diverse as the San Diego Convention Centre and the Calgary Stampede. Next year he will tour Europe for the first time.
Why is he based in Orgeon? Lower taxes. Not only a savvy artist, but also a savvy businessman! He said creative people not tied down to a nine-to-five job have the freedom to relocate and will. Government of Canada take note!
Recently a man in Georgia bludgeoned his wife and children to death, then set out on a shooting rampage in two Atlanta brokerages, killing nine more people before killing himself. The notes he left behind indicated he had lost considerable sums of money day trading and considered his life hopeless.
He was profoundly disturbed, angry and, it seems, embarrassed by his situation. He claims to have killed his children to spare them shame.
Theories abound about the man. He was a nutcase. He was a loose cannon who would have been triggered by some other event if not by his financial troubles. To put not too fine a point on it, he was unbalanced.
But I can't help but wonder whether thirteen people would be alive today if he had met Daryl Maddeaux and learned that "hopeless" is a state of mind. That there is no such thing as an "impossible" situation. And that there is great beauty in having balance in your life.
Note: If you enjoyed this story, why not click the heart symbol below. I earn six tenths of a penny per page view but if you'd like to leave a tip, that would be much appreciated. If you'd like to check out more of my stories on philosophy, politics, music, travel and investing, or read some of my short stories and poems, check out my profile page for a complete listing.
self help
About the author
Marco is the published author of two books on investing in the stock market. Since retiring in 2014 after forty years in broadcast journalism, Marco has become an avid blogger on philosophy, travel, and music He also writes short stories.
Reader insights
Be the first to share your insights about this piece.
Add your insights