A CRAFT THAT CHANGES LIVES....LITERALLY
LIFECASTING is a craft that has not only created profound happiness but has changed the lives of many...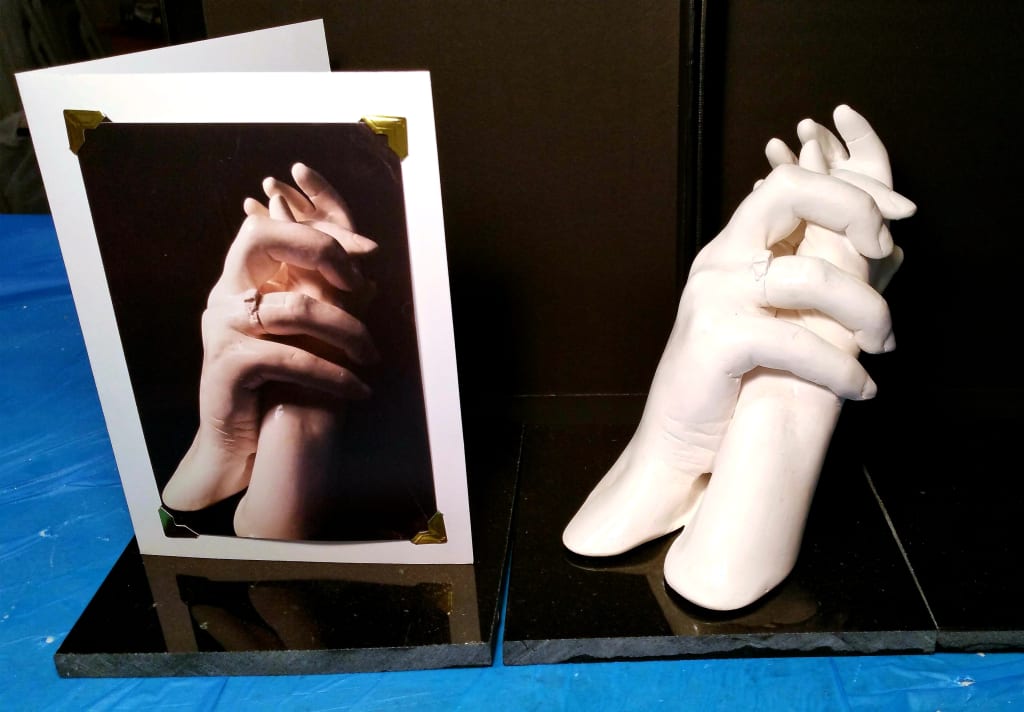 "Hands of Love"
I would never have imagined that a craft could literally change lives...but it has.
A few years ago, I saw a beautiful sculpture of a mother holding a child's hand which was so lifelike that it moved me to tears. The incredible detail that was replicated in each of their hands looked so lifelike that it was amazing. I could actually feel the love they shared just by looking at the sculpture. I couldn't help but think how special this art piece must have been to both of them and how cherished it would be when the day came that this mother and child were no longer together on this earth. I also couldn't help but think about my own mother whose beautiful hands I only got to hold for 18 short years before she lost her courageous battle with cancer at age 46. The sculpture I saw had such a profound impact on me that it motivated me to want to learn more about how it was created and to see if there was any way I could duplicate the process. Although I would never be able to create such a cherished memory with my own mother, I thought about what an amazing gift sculptures like these could be for others. I also thought that if I was able to create these beautiful pieces of art it would be a great way to honor my beautiful mom's memory.
I was determined to find out all I could and after doing some research I learned that the sculptures are called "LIFECASTS" which is a craft that dates all the way back to ancient Egyptian times when remains of Pharaohs were cast to honor them. Lifecasts are made by creating a three-dimensional copy of a living human body part through the use of molding and casting techniques. Molds of body parts are made and then filled with a fine white porcelain cement which hardens to create an exact replica of the area being "cast". I spent several weeks locating the specialized materials needed for this unique craft as well as the everyday tools I would need (INCLUDING MY "FISKARS" SCISSORS AND KNIFE WHICH WORK GREAT TO CUT AWAY THE MOLDS...REALLY!). I also built a small sort of "studio" area in my basement and attended a training seminar in a nearby state that focused on casting for Hollywood special effects. I then spent several more weeks practicing my new craft and learning all of the specialized techniques involved. When I created my first Lifecast sculpture I knew right away how special they would be...but even I could NEVER have imagined what was to follow.
In the beginning, I made Lifecasts of friends and family but it didn't take long until I got that first life-changing call. It was from a local woman who had seen a picture of one of my sculptures on social media. She was reaching out because she was heartbreakingly going through the absolute worst thing anyone could EVER go through. Her precious little 10-year-old son (whom I'll call "D") had been diagnosed with terminal cancer and she was reaching out to see if I might be willing to make a Lifecast of her with her son "so she could hold onto him after he was gone". To say I was overwhelmed and scared to death would be a gross understatement but I agreed, knowing that however uncomfortable I might be, it would pale in comparison to what this poor family was going through. I also agreed because I knew how proud my mom would be of me and I knew just how much this sculpture would mean to this heartbroken mom in the years to come. When the day came to make the mold, "D" was too weak to come to my house (as scheduled) so I agreed to pack up all of my tools & supplies and go to him. I've never been so scared in my life. I am 58 years old and I can honestly say I have never had a more profound experience in my entire life than watching this heartbroken mom and her brave little man join hands and place them into my mold bucket. I swear I think it was the longest 5 minutes of my life as I looked into the eyes of this beautiful little boy who literally had just days left on this earth and as I felt the pain of a mom whose heart was about to be shattered. As I was packing up and getting ready to head out, I found myself at a loss for words. To be standing there knowing that it would be the last time I would see this brave little boy and the next time I saw his mom her heart would be broken, was just too much. I had no idea what to say, what the right words were, or if I could even get them out. I turned around to at least try and almost as if "D"s mom knew how difficult it was, she came over, wrapped her arms around me and thanked me for what she said would be "the greatest gift she could ever get". As I felt a tear coming down my cheek, I turned to say goodbye to "D" and with more fortitude and wisdom than most adults I know, he looked me in the eyes and said "it's ok, don't be sad, I'll be OK, I'm going to heaven." I'm still not sure how I didn't completely lose it at that moment, but for some reason I didn't. I went over, hugged this unbelievable little man, thanked him for being such an awesome "model" and whispered into his ear "When I pray tonight, I'll tell my mom to find you when you get to heaven so you can play with my puppies cuz they're all up there with her".
I sobbed all the way home and got a call the very next day to tell me that "D" had gone "to play with my puppies". The following week I attended a memorial service held at his school and gave his mom the sculpture which I told her "she should probably wait until she gets home to open". My phone rang that night and in between her sobs she said "Oh my god Lisa, this is the most beautiful thing I have EVER seen. I'm still in shock. I have no words to thank you or tell you how much this means to me. It's the greatest gift I've ever received". And you know what, I believed her.
I have made quite a few more Lifecasts since then, most of which have involved seriously (or terminally) ill children and/or adults. I have always done so, whenever asked, knowing the profound impact they would have. I've done so without ever charging anyone for them because I thought it would be a great way to honor my mom. The cost of making the sculptures isn't cheap as the specialized materials which are needed can be a bit pricey, but I was happy to cover the costs not just to honor my mom but because this craft has brought me so much happiness. Doing so wasn't a problem until I unfortunately lost my job of 22+ years. As a result, I was forced to take a break from making sculptures...until the next life changing event happened.
A local woman who knew me contacted me to tell me that her daughter was looking for someone to provide childcare and wondered if I might like to do so to hold me over while I was trying to find a new job. I honestly wasn't sure about caring for 2 small children (ages 2 and 4) having never been blessed with children of my own. But my financial situation was dire so I decided I would meet with the parents to discuss the opportunity and see if it was something that would work for both of us for the time being. That was 6 years ago and since then I have gone from being a "babysitter" to becoming, what according to the entire family, is "a member of the family". Caring for these two young children every day not only provided me with income to survive but more importantly gave me a sense of "family" like I have never known before. The love they have shared with me is indescribable and is quite literally the greatest gift I've ever received. As I said I was never fortunate enough to have children of my own but I could not love these children any more if they WERE my own. I've been included in family events, holidays, emergencies and just about everything in between. The love I have for this family is immeasurable and something I was looking forward to enjoying for many years...until a couple of years ago. Unbelievably and heartbreaking the mom of my "adopted family", who at the time was only 39, received news that no one should ever have to hear. She was diagnosed with colon cancer and given just 2 years to live. There really are no words to describe the feelings and heartbreak that I, her husband and children, and everyone who knew her were feeling. We were all beyond devastated. This mom (who I will call "A") had been given a diagnosis that would turn her, and her family's life, upside down. Upon receiving her diagnosis, "A" immediately went into overdrive. She began the fight of her life visiting the best doctors, having chemo and multiple surgeries, searching for "trials" and doing all she could to beat "it" and prove the doctors wrong. During that time, we became even closer and at one point I asked her about my making a Lifecast of her and the kids telling her it wasn't because I didn't believe she couldn't beat "it", but that "I just needed the practice". As much as I wanted to believe she would beat the odds I knew in my heart that wasn't likely. I also knew having lost my own mom when I was younger that I would have literally given anything to have something as realistic as a Lifecast to remind me of her. IT'S THE REASON I LEARNED THIS UNIQUE CRAFT IN THE FIRST PLACE!
My dear friend "A" agreed to pose with her 2 little angels and the result was a beautiful sculpture which I would end up giving her as a Christmas gift a few months later. The tears she shed when opening it were the first I've EVER seen from her, even throughout her unbelievably trying ordeal. But her tears were certainly not the first I've ever seen when giving one of my sculptures. In fact, I can honestly say that I have NEVER given one to anyone battling a life-threatening illness (and pretty much everyone else) who weren't moved to tears when opening them. Like I said previously, when I first saw a Lifecast of a mother and a child holding hands I was moved to tears and it wasn't even anyone I knew! The realism and detail in these sculptures is just overwhelming. I was hoping and praying that the special sculpture I had made of my dear friend holding the hands of her 2 beautiful children would be something they would all enjoy for many years...but heartbreakingly that was not the case.
My unbelievably brave friend lost her courageous battle a month ago...5 years after doctors told her she had only 2 years to live. Her loss is still palpable and we are all trying to figure out how to go forward from here. But as devastating and heartbreaking as this has all been, I also find myself wondering if my being introduced to this beautiful family was more than a "coincidence" and if maybe, just maybe, there was a "higher power" involved. The same "higher power" that lead me to learn the craft of Lifecasting. While I may not know the answer, what I DO know however is learning the art of Lifecasting has not only changed my life but the lives of many people...I just never would have imagined it would hit so close to home or mean so much.
*PLEASE NOTE: If I am lucky enough to be selected to win this contest, I would like you to know that I plan to donate any winnings to my "adopted family" so my 2 little angels and their dad can go on the Disney trip they have talked about taking for years before their beautiful mom got sick. They not only deserve some happiness in their lives but could also REALLY use a break away from here. I thank you, and Fiskars, for the opportunity to enter this contest and for the dream of possibly winning this amazing prize.