5 reasons I'm going back to education post-pandemic.
Times have changed.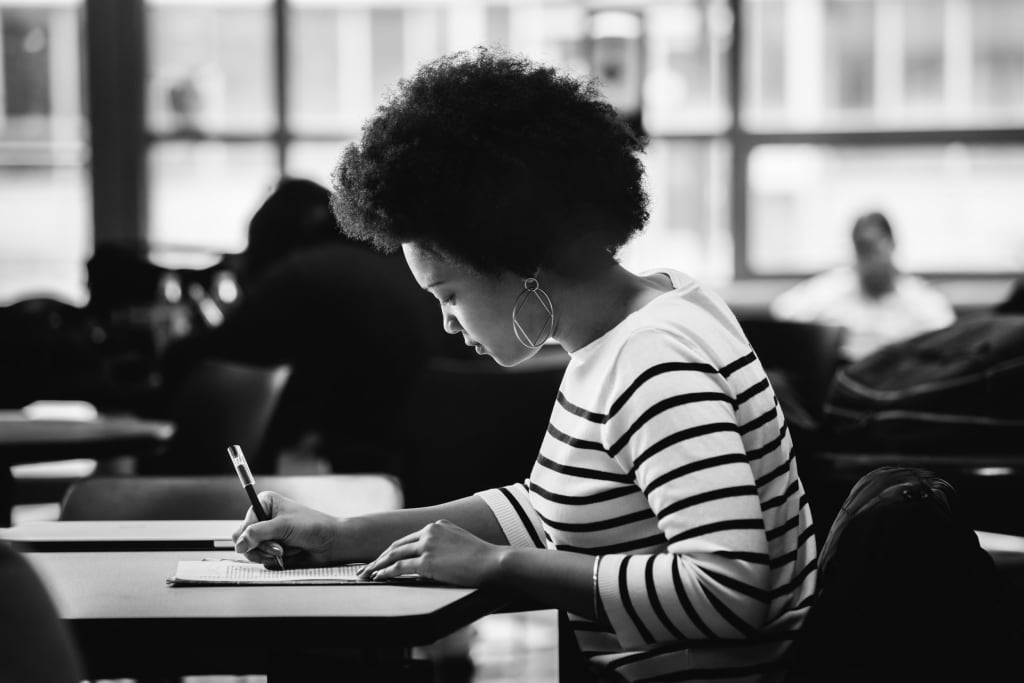 You're never too old to start again. It's true, and no matter how much you want to deny it, what you're more than likely doing is denying it or lacking in the confidence to make that decision comfortably, and that's okay.
For me personally, It's time to start taking on new challenges so I've decided to start again, right from the very beginning. In august, I'm returning to high school education at the age of 30 in an attempt to improve my grades. I never got a maths qualification and I scraped sciences due to poor teaching and a lack of interest on the part of my teacher.
So why at 30 am I deciding to go back into education? Much like any true virgo, I have an extensive plan with back ups, multiple access routes and a tonne of mini goals because I'd like to go into sciences.
I wrote an article once about wanting to write, and I do bounce between the two but science of the two subjects, all consumes me. The questions of the cosmos, the puzzles that it presents have fascinated me since I was a child, but my fascination was never entertained.
I weighed up the pro's and con's to going into my chosen field quite carefully, and for me personally, here's 5 reasons why I'll be working towards going back to high school education, with the intention of gaining a doctorate by 40.
1. Because I love to learn.
I'm an academic at heart. I've always been a curious child and I've realised recently that it's high time that I entertain that curiousity. I find learning to be in amongst my passions and the most beautiful thing about wanting to go into the field of science, means that there are endless discoveries to be made. The thought of heading into a field that will forever engage and entertain, has my heart bursting with excitement quite frankly.
2. Because it's time for a career change.
I've spent more than half my life in hospitality. I started making beds for a well known holiday village across Europe, at the young age of 15. I worked my way up to a marketing manager through hospitality and entertained countless roles including, but not limited to a server, a host and an assistant manager. One thing the pandemic taught me, is that I hadn't been truly content in the workplace because I always felt like the challenges presented just weren't the kind of challenges I was looking for.
3. Because my priorities have shifted.
One thing that changed for me during the pandemic, was my priorities. The biggest and most important change I made, was in deciding to put myself first. This meant growing a thick skin when it came to being told to 'slow down' or ignoring people when they told me I was being selfish. I remember having one person gaslight my mental health, in order to get me to go to work during a time when it actually turned out I had psychosis.
Putting myself first was always the priority from then on out... until I had my son. Looking back on my own childhood, I realised that it was important to me, and the value I place on myself as a mother, to raise him with encouragement, support and endless love. I want him to know that it's good to set goals, and to show him that they're obtainable as long as you work hard and focus. In that, my priority now is to lead by example, to guide and to encourage as best I can.
4. Because my passions have re-focused.
The biggest challenge I've ever faced could've led me down two paths. Quite honestly, had I gone down the other road, I wouldn't exist on this plane anymore and that's the gods honest truth. Science and faith combined, quite honestly I feel, saved me. Whilst the two don't tend to go hand in hand, they actually work together quite comfortably, with the addition of respect for both. During my darkest times, I relied on the universe (or god, whichever you prefer to reference), to guide and enlighten me, whilst finding the neverending puzzles presented by the universe, incredibly comforting. Most would conceptualise the size of the universe and feel overwhelm, but I became more and more comfortable with so many concepts surrounding science and religion, than I ever could've imagined.
5. Because the opportunities are endless.
This rings unbelievably true. My plan is to re-sit my high school exams, with the intention of gaining higher grades. Following on from this, I plan to then study further education (highers as we call them here in scotland) so that I'm fully qualified to go to University by the time my little boy reaches nursery age, and no sooner.
I've signed up to study chemistry, physics, biology and maths as these are the subject grades I need to raise and then study at a higher, more advanced level before going into university... but it's not the end of the world If I don't get the grades.
Would I be devastated? Ofcourse, for a while but I'd heal and with the grades I did get, I could go into so many fields. Neuroscience, Engineering, Physics, Meteorology. The need for the skills, applies to so many different fields that in just trying alone, I'd be able to open so many doors given that I simply pass, when my aim is to highly achieve.
So with that being said, if there was anything you could do different education wise, where would you go and how would you get there? Because I'm here to tell you, that it's never too late to start again.
Reader insights
Be the first to share your insights about this piece.
Add your insights