10 Inspirational Books Every Woman in Their 20s Should Read
Need to be motivated more to succeed these days? Check out these inspirational books every woman in their 20s should read right now.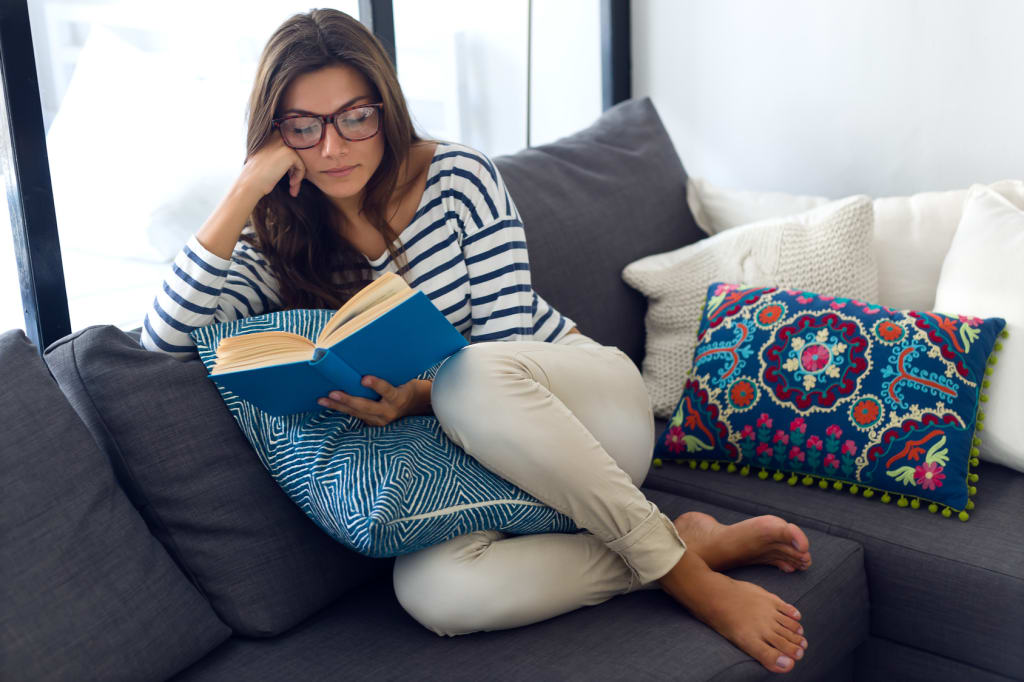 There's nothing wrong in needing a little motivation and encouragement every now and then to remind you that you have goals to fulfill and dreams to capture. We all certainly need a push. How else did those who succeeded in life did it? They had to be motivated! We need to see a reason, we need to see our purpose, and we need to see our capabilities when it comes to living our lives. And everyone has goals in life—it just takes some inspiration to get us there.
But what better way to really feel inspired than reading books based on encouraging to be a better you? As for the women in their 20s, it's a very nerve-racking time, because we're just seeing how our lives will turn out. How to deal with personal relationships, getting higher in our profession, and overall showing others that you have the ability to become someone. So, if you, too, need more motivation to excite and eager you to succeed in life, check out any of these astonishing books every woman in their 20s should read today.
While the media distracts us so often, we lose our purpose in life. However, I Am That Girl wakes us up from our slumber and asks us: "What's your passion? What's your purpose? Who do you want to be?" So many girls out there can't figure out where they want to place themselves in their life. What career they dream of pursuing.
Author Alexis Jones has solely built her career in listening and guiding those girls across the globe to help them answer all of those anxious questions. Her stunning words constantly reminds us that we shouldn't be worried by the things people tell us. And that we certainly shouldn't worry about having the perfect life that we're always seeing on the media. Her novel features stories from thirty women who were in the same position. Jones has also collected all that she's learned throughout her life and put it all in this book—trying to surface the best version of you. This book is also seen as one of the best self-help books for women to read!
Award-winning author and journalist Sophia A. Nelson has created one of the best books every woman in their 20s should read right now. Through her novel, Woman Code, she explains just how women can notice the codes that they operate by and use them to reshape parts of their lives. She uses code names like 'Personal Codes,' 'Emotional Codes,' 'Spiritual Codes,' and 'Professional Codes.' And in each code, she talks about topics that brainwash women into looking down upon themselves.
For Personal Codes, she explains to "make peace with your past" and "guard your heart." Each of the codes are there to represent a section of your life in full detail. From relationships to professions, Nelson also includes real-life examples and advice to make the lessons more of takeaways and applying it to your own life. And she's constantly reminding us that women should be strong, assured, and responsible for their own decisions and actions.
This is truly a breathtaking novel to consider reading—This Too Shall Pass. Among the all-time greatest books every woman in their 20s should read, this book revolves around Blanca, who's a forty year old woman who lost the most important person in her life, her mother. After her mother's passing, Blanca soon realizes that she doesn't have a clue of where her future is headed to. And with these anxious thoughts, she has no other choice but to turn to her friends and closest family.
After leaving Barcelona, Blanca returns to Cadaqués and meets with her two sons, two ex-husbands, and two best friends. She plans on meeting her married lover, as well. And while being surrounded by those she loves the most, she attempts to discover ways to reconnect and understand her purpose in life and how to happily live on her own, which is something that her mother would have wanted for her.
And Still She Laughs is seen as one of the brilliant books every woman in their 20s should read. After losing her young daughter from cancer, Kate Merrick attempted to find a way to cope. Not only surviving or going through the motions, but have to fully continue living her life. And in order to discover how she can, she explored the stories in the Bible of true women who suffered so much and still managed to feel joy.
In the encounters with the heroines of the faith, Kate noticed how to have contentment and happiness, in any circumstance and obstacle that comes her way; to find peace during her worst moments in life. And this novel is without a doubt a true inspiration for those who need to find the light at the end of a dark tunnel and to see that there is so much more to life than grieving and bringing yourself down.
Blogger, speaker, and writer Chrystal Evans Hurst created a book that reflected herself at one point of her life. She questioned herself that she didn't take life for grated. Whenever she looked in the mirror, she could hardly recognize herself staring right back at her. And for the women who are feeling lost and unable to capture their dreams, plans, and hopes in life, she wrote She's Still There.
Chrystal discovered that poor decisions, lack of interest and planning, and long-term denial of hopes and dreams can make any woman feel lost and purpose-less in life. However, these women just need a boost of motivation and encouragement to get them on their feet and making something out of their lives. And throughout this amazing book, Chrystal is cheering on the girl who's reading, encouraging her to be a better her, and telling her to never miss out on big opportunities in life.
Easily one of the most motivational books every woman in their 20s should read—#GIRLBOSS. Not to mention that it's also one of the best self-help books for women in their 20s. It all began when Sophia Amoruso was a teen who constantly committed petty theft and even searching through dumpsters for leftovers. She dropped out of school when she was 22, was broke, lost, and took a job that lead her to checking IDs in the lobby of an art school—for the health insurance. Ever since that lobby job, Sophia found an interest in selling vintage clothing on eBay. And today, she's the founder of Nasty Gal as well as the founder and CEO of Girlboss.
Her inspiring novel, #GIRLBOSS, is talking to those girls who are in the same position she was in in her early 20s. Lost, feeling purposeless, and have no plans for their future. And her book easily proves that success isn't about where you went to college or how popular you were in school. It's mainly about trusting yourself and following your heart. To set a plan, follow it, and achieve your dreams in becoming successful.
For the women who are constantly feeling down, walking aimlessly in life, and feeling overwhelmed by everything, The Best Yes is just for you. Among the beautiful books every woman in their 20s should read, this book is based on the balance of pleasing yourself and the people around you. That there's a limit to saying yes to everyone and that it's okay to say no to people every now and then.
In this book, it can guide you to understand the meaning of love for yourself and others. To escape the guilt of disappointing other people and that it's fine to say no. It also talks about overcoming the agony of hard choices by embracing wisdom based on the decision-making process. But overall, rising above and being your best yes.
Minding Her Business is all about reminding that woman who's tired of her ordinary life and never having time to enjoy it from her work. The woman who knows so well that she can do better but has to feel like she deserves better in order to achieve it. And especially the woman who is always tired of getting her heart broken and trying to find her self- confidence every time.
That's what this book is based on: helping women who can't find a purpose to their life to discover that they truly do have a purpose. It guides ambitious women to create their life as how they want it to be and feel loved. Through empowerment, self-love, spirituality, the laws of attraction, and various visualization methods, this book can make the lowest woman the highest. Make her feel like her life isn't over yet and it's just beginning.
From the best books every woman in their 20s should read right now, You Are a Badass is a guide for people who want to improve their lives in the best possible way without getting busted doing it. And in this entertaining guide, bestselling author and world-traveling success coach Jen Sincere gives us the best tips and advice in just 27 bitesized chapters. Through hilarious stories, sage advice, easy exercises, and sometimes swearing, you won't regret reading this book.
This novel tries to lure you into becoming someone in life. To make you understand that you have a purpose and goals that need to be achieved. Identify and change the self-sabotaging beliefs and behaviors that are letting you down and preventing you from capturing your dreams.
Finally, from the all-time inspirational books every woman in their 20s should read right now, The Happiness Project can make you feel happy in just a few pages. Award-winning author Gretchen Rubin finds a way to motivate you in succeeding in life all while being the happiest you've ever been. If you can't find happiness in nearly anything you do in your life, I highly suggest reading this book.
The Happiness Project revolves around one person's year-long attempt to find what really leads to true contentment. To feel happy through a life of difficult moments and risky decisions. Through cutting-edge science, classical philosophy, and real-world applicability, Rubin has found a way to sneak into our lives and write a book that can answer all of our agonizing questions about feeling and being happy.
book review