The taste of food from France and Switzerland. The specialty is cheese!
Recipe for Fondue Savoyarde, Raclette and Tartiflette.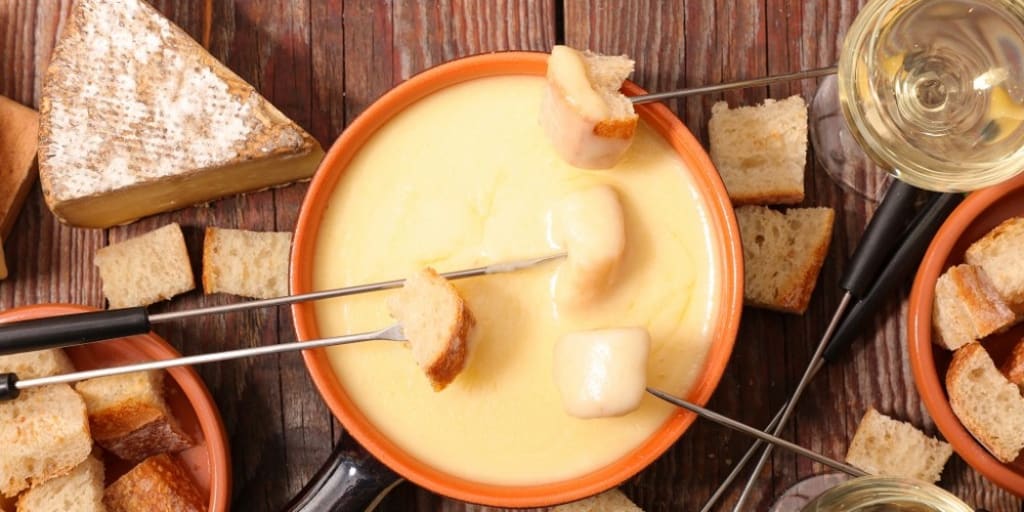 Fondue Savoyarde
Cheese fondue is known as a Swiss creation – it is the country's national food, after all – but Savoyarde Fondue comes from the Savoie region of the French Alps. In its traditional sense, "fondue" refers to dipping bread into melted cheese! Savoyard fondue conforms to the traditional definition and uses French cheeses such as Comté, Beaufort, Tomme de Savoie or Abondance. All of these are also available in our cheese truck.
Ingredients
Beaufort 300g
Abundance 300g
Comté/Tomme de Savoy 300g
25 Cl dry white wine from Savoy
1 clove of garlic
Pepper, a spoonful
Method of preparation
Remove the rinds from the cheese and cut them into small cubes.
Peel the garlic clove, cut it in half and grease the inside of the fondue pot.
Add the white wine to a simmer, reduce the heat, then add the cheese a little at a time, stirring with a wooden spatula between each addition.
Add the garlic clove and pepper.
Mix everything until the cheeses are completely melted.
Enjoy fondue with crusty bread cubes or lightly toasted in the oven.
Raclette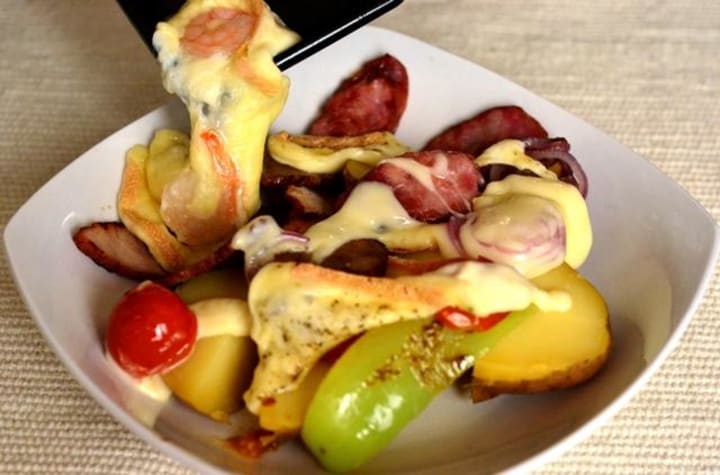 Raclette is one of the most convivial dishes in France! You can try it for a family party or with friends, as it is a very spectacular dish and easy to prepare!
Ingredients
sliced ​​Raclette cheese 1.5 kg
2 kg of potatoes
1 cress/endive salad
2 red peppers
2 yellow peppers
250g cherry tomatoes
500g of assorted sliced ​​sausages (Rosette de Lyon salami, Bayonne jam, Parma pressed ham, Serrano ham)
1 jar of pickled white onions (150g)
1 jar of pickled cucumbers in vinegar (150g)
2 French baguettes
You will also need a raclette machine
Method of preparation
Boil the potatoes for 15-18 minutes or until tender. Drain and allow to steam dry for a few minutes, then keep warm until ready to serve.
Arrange all other ingredients in bowls, plates and platters on the table.
Set up and start the raclette machine according to the manufacturer's instructions (it depends on the model used if it needs to be positioned in the center of the table, for example).
Let your guests help themselves to the ingredients – if your raclette maker has a hot plate, you can use it to cook the peppers or tomatoes if you don't want them raw.
I'm leaving! Everyone should have their own tray to put a slice or two of raclette cheese on. This is then placed under the central grill until melted. With an arrangement of potatoes and/or charcuterie etc on the plate, your guests can then scrape their own portion of melted cheese on top with a spatula or wooden spoon.
Tartiflette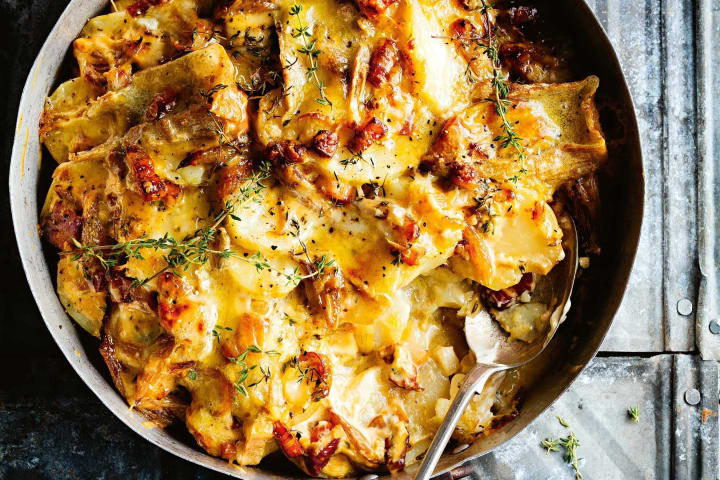 You've probably tried potato au gratin before now. If you liked them, you will surely love this Tartiflette recipe. The dish is traditional French and comes with both au gratin potatoes and a moussaka.
Ingredients
4 large potatoes
300 g of bacon
2 large onions
120 ml white wine
200 ml cooking cream
3 tablespoons heavy cream
450 g Reblochon cheese (you can also use Brie)
fresh rosemary
Method of preparation
Wash and boil the potatoes in their skins with 1 teaspoon of salt until you can easily pierce them with a fork. Take them out and let them cool.
Cut the bacon into cubes and fry it in a pan without oil. After leaving fat, drain some of it. When the bacon becomes slightly crispy, add finely chopped onions.
Let the onion simmer until it softens completely (about 5 minutes), add the wine and mix for another 2 minutes.
Cut the cheese in half, then cut each half in half lengthwise. Clean the potatoes, slice them ~0.5 cm thick and mix the 2 types of cream.
In a heat-resistant glass or ceramic dish, greased with butter, place half of the amount of sliced ​​potatoes, put the bacon and onion mixture on top, place the other part of sliced ​​potatoes, pour the cream mixture on top and place the 4 pieces of cheese , with the sticky side down.
Put the tray in the oven for 50 minutes. Serve Tartfilette sprinkled with parsley or rosemary, both fresh.
About the Creator
Food recipes for you and your loved ones. I present both food and sweets, from different countries, for a diversification of tastes to your liking.
Reader insights
Be the first to share your insights about this piece.
Add your insights