Delicious sweets and quick to make. I dare you to try "apples in pajamas".
Recipe for Sausage biscuits, Apple Pancakes and Banana chips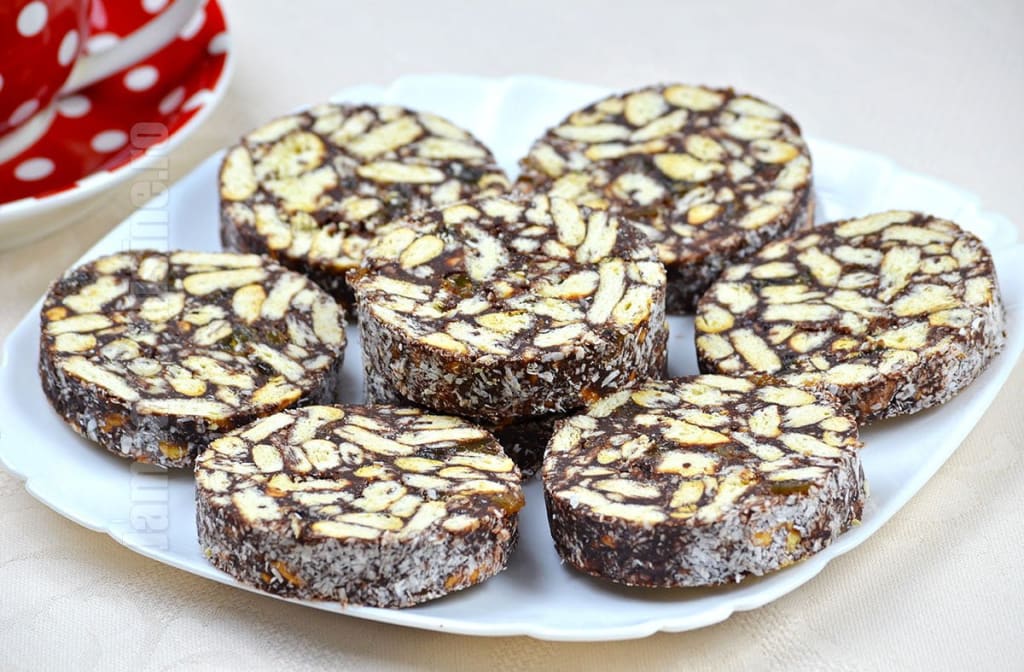 Sausage biscuits
Biscuit salami is an Italian and Portuguese dessert made from cocoa, crumbled biscuits, eggs and butter. Traditionally, alcoholic beverages such as rum or Port wine are also used to prepare biscuit salami. The dessert has no meat in its composition, and its name is due to the shape in which it is prepared and the pieces of biscuits inside that resemble a slice of salami.
Ingredients
half a cup of oil
a cup of sugar
a large packet of plain crackers
an essence of rum
a vanilla essence
grated peel from 2 lemons
ground walnut or raisins
cocoa according to taste and color.
Method of preparation
Dissolve the sugar in a little water, over medium heat. Add the essences, vanilla sugar and oil.
Then add raisins or walnuts, of your choice. Add the lemon peel. Take it off the heat and add the crushed biscuits (not too hard, they also reduce in size when kneaded).
At the end, cocoa is added to taste.
Mix everything to make it a more compact mass. If it is too soft, add more biscuits, if it is too hard and does not bind, add warm water or oil. It is divided into equal amounts to form the bars.
Place each quantity on an aluminum foil and roll. Refrigerate for about an hour.
Apple Pancakes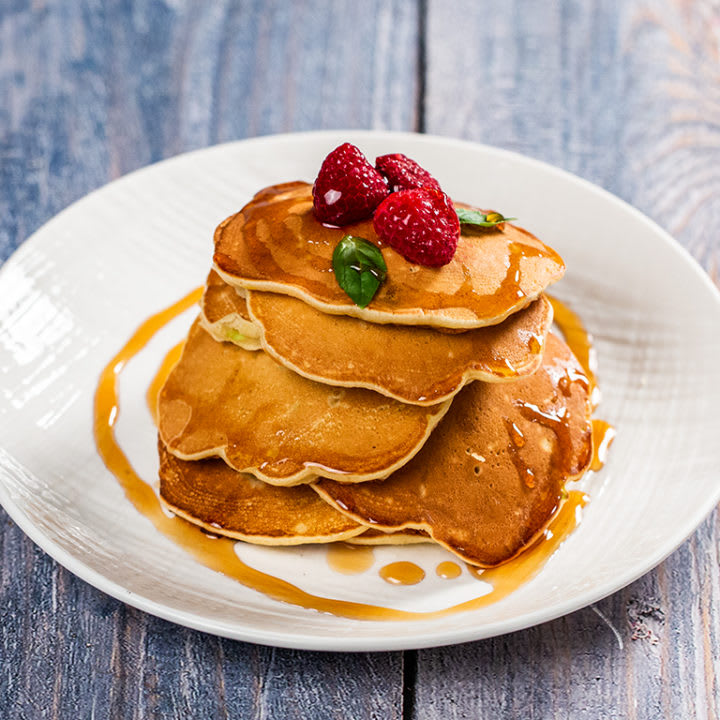 From a handful of flour, a little milk, eggs and a few apples, I prepared a sensational breakfast: pancakes with grated apples, with the aroma of cinnamon, which remind me of my childhood, because this is what my mother used to make at home, only on Sunday mornings as he called them "apples in pajamas".
Ingredients
3 whole eggs
500 g sour cream (one box)
6+ tablespoons of sugar
1 vanilla sugar or 2 drops of vanilla essence, rum according to preference
1/2 teaspoon of sodium bicarbonate
flour as much as it contains, to result in a dough of the consistency of normal pancakes, or of the consistency of sour cream
peel 2+ apples and put them on a large grater, then squeeze them gently by hand
oil for frying
Method of preparation
The ingredients are added and mixed one by one in a bowl in the above order. You can replace the sour cream with milk, or water, mineral water for fasting pancakes. If you use mineral water, do not add sodium bicarbonate.
Pancakes are fried in oil in the desired shape, bigger or smaller, until they have a coppery, golden color.
I recommend placing them on a plate covered with 2-3 napkins to absorb the excess oil.
They are served plain, sprinkled with powdered sugar, with fruit syrup (the Canadians put maple syrup on top), fruits of your choice, ice cream, jam.
Banana chips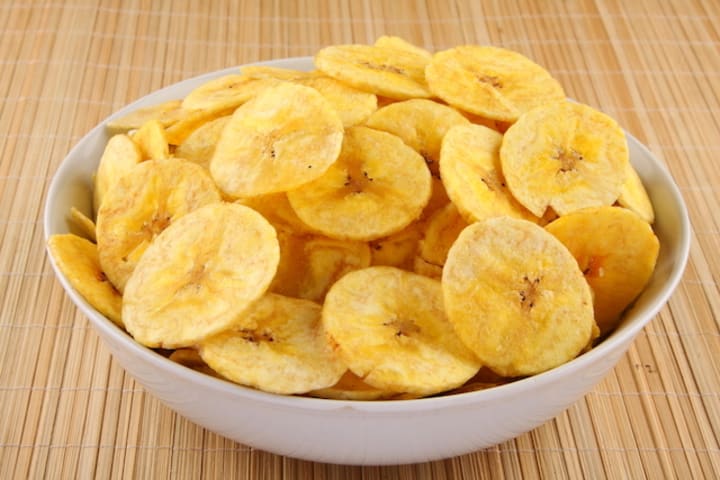 When you need a little energy before a game, banana is one of the best choices, being quick and easy to digest.
Ingredients
For chips:
4 bananas
4 tbsp. rum
16 lg. oil
6 lg. flour
1|2 lg. baking powder
a pinch of salt
1 egg
6 lg. of cold water
powdered sugar for dusting
Chocolate sauce:
2 housekeeping chocolates
16 lg. water
8 lg. of sweet cream
5 lg. of sugar
2 lg. of rum
4 scoops of vanilla or coconut ice cream
Method of preparation
Cut the bananas crosswise into 3. Sprinkle with rum. Mix the flour with baking powder and salt, then add the egg and water and mix well. Roll the bananas in a little flour, then in the dough and fry in oil for 2 minutes. on each side.
For the sauce, boil all the ingredients for 10 minutes. Serving: put the sauce on the plate, the bananas on top of the sauce and a scoop of vanilla or coconut ice cream next to it.
About the Creator
Food recipes for you and your loved ones. I present both food and sweets, from different countries, for a diversification of tastes to your liking.
Reader insights
Be the first to share your insights about this piece.
Add your insights