The 15 Best Wedding Guest Books and Alternatives You Can Buy in 2018
Your wedding is a time for celebration with family and friends. Commemorate your special day with the best wedding guest books and alternatives for your ceremony.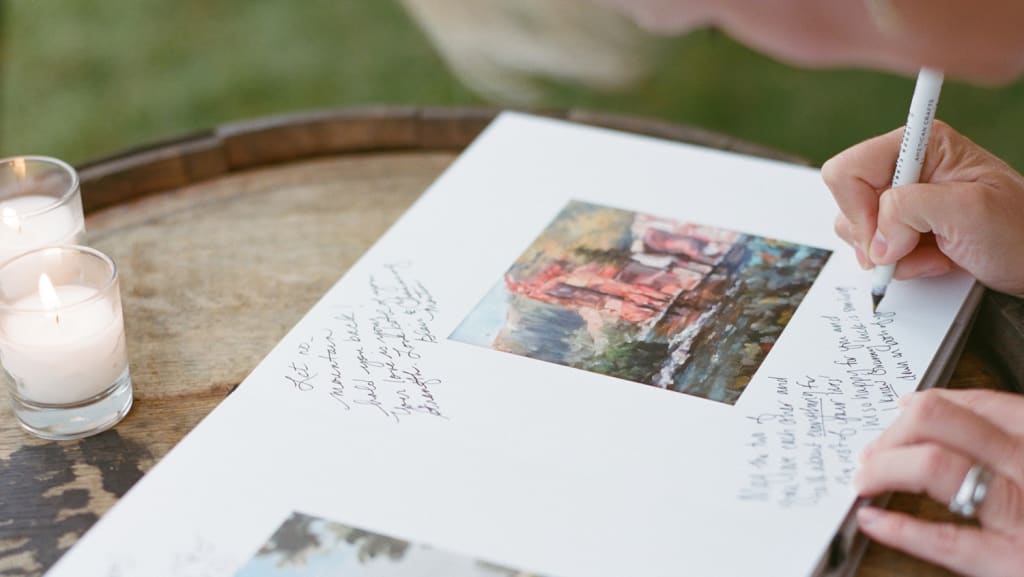 Weddings are the stuff that memories are made of. One of the mementos that every wedding should include is a guest book that will be a keepsake for years to come. Some of the best wedding guest books will be treasures that you can keep forever. From the traditional wedding guestbook to fun ideas like a message in a bottle, there are wedding guest books and alternatives that will fit every wedding, and that you can use to cherish memories from your guests who come to celebrate your wedding.
This book is full of nature themed illustrations and plenty of space for your guests to leave their names, addresses, and a nice note for the happy couple. The book is 96 total pages, and comes in a hardbound cover for durability that will last as long as your marriage.
This fun idea takes the traditional guest book and adds a little twist. Inside the box are blank hearts that your guest can sign and leave messages. It comes with the standard "sign a heart" message on the front, but this can be easily changed to create the custom message that you want. The rustic wedding box will be that unique alternative to a guest book that both you and your guests will enjoy.
This wedding guest book is handmade from Baltic Birch wood. There are four different color schemes to choose from: burnt cocoa, black, mahogany, and caramel oak. This book is customized with the names of the bride, groom, and the wedding date. The ivory paper comes with either blank or lined pages, where your guests can add a simple signature or a more personalized message.
Just because planning a wedding is difficult, doesn't mean the fun, added details need to be! This is another alternative book that comes with a frame, wooden hearts, and instructions card. After the wedding, the signed wooden hearts can be placed into the frame for a keepsake you will treasure forever.
When looking at the best wedding guest books and alternatives, a photo scrapbook is a great way to preserve memories. The Innocheer scrapbook photo album is a great way to store your wedding photos. It is presented like a traditional scrapbook. It has black pages where you can add pictures before or after the wedding. If used as a signature book, you can put photos in before the wedding, and guests will be able to sign the pages around the photos you choose.
Of the best wedding guest books you can get for your big day is this traditional guest book. The lace cover of the book perfectly protects the 63 pages your guests can use for their signatures and messages, and beautifully encapsulates your wedding as one to be remembered with your friends and family.
Another of the more traditional guest books available, the Greenery is a spiral bound book with space for over 600 signatures. The book has some gold foil accents that cover the white vinyl book, and provides you and your spouse something inspired if you're considering ways to throw a unique themed wedding, or simply to hold as you sift through the pages of heartfelt messages from your magical day.
This is a wedding picture frame with plenty of space for guests to sign their names and leave messages for the happy bride and groom. It is a wood frame with a white matting where your picture and guest's signatures can be prominently displayed for years after the ceremony.
This is a good looking, traditional guest book that also comes with a pen and holder. The guest book has room for 500 signatures and messages. There is also a separate page for the bride's family and groom's family members to sign, along with a page specifically for the maid of honor, bridesmaids, best man, and groomsmen.
Lillian Rose creates some great products for weddings, baby showers, and other formal events. This guest book is ivory satin, wrapped in gold lace, and has 55 pages, which leaves room for over 900 signatures for family and friends to sign.
This is a great twist on traditional wedding guest books and alternatives for guests to leave signatures and messages. What you get is a wishing jar and 100 wooden hearts for your guests to leave messages on for the bride and groom. Your guests can leave a message for you and put the heart through the slot at the top of the jar for you and your spouse to pick out at random after all the ceremony is over, on your honeymoon, or on your one year anniversary.
Another traditional offering of the best wedding guest books and alternatives, the Sea Foam book is made from a synthetic leather with "Guests" embossed on the cover. The pages are lined, but the lines are more faint to allow guests the opportunity to be creative with their signatures and messages.
The matte covered guest book will add a rustic feel to your wedding signature book. The book has 150 lined pages where your guests can leave their messages and comments. The book can either be stood up or laid flat, which will give you some options on how you want to display it both during and after the ceremony.
This hardbound book is a traditional guest book where your wedding guests can sign and leave messages for the happy couple. The book has 40 lined pages which will provide plenty of space for friends and family to leave their heartfelt messages for you.
Of the best wedding guest books and alternatives you can get, this one is truly the most unique. The design looks like a chalkboard, but guests signatures will be permanent because, instead of chalk, they use white markers. This is one alternative guest book that you'll want to display because of just how unique it is
Whether you just got engaged, you're in the thick of making wedding preparations pleasant, or are about to walk down the aisle, you can look forward to all the wonderful things your guests will have to say to you on your big day. Weddings are a happy time full of family, friends, and memories, and the best wedding guest books and alternatives that you can get for your wedding will give you the opportunity to commemorate it forever.