How To Plan a Wedding in 6 Months
Planning your perfect day on a time restraint?! We're offering you the ultimate guide for everything you need to know to plan a wedding in six months.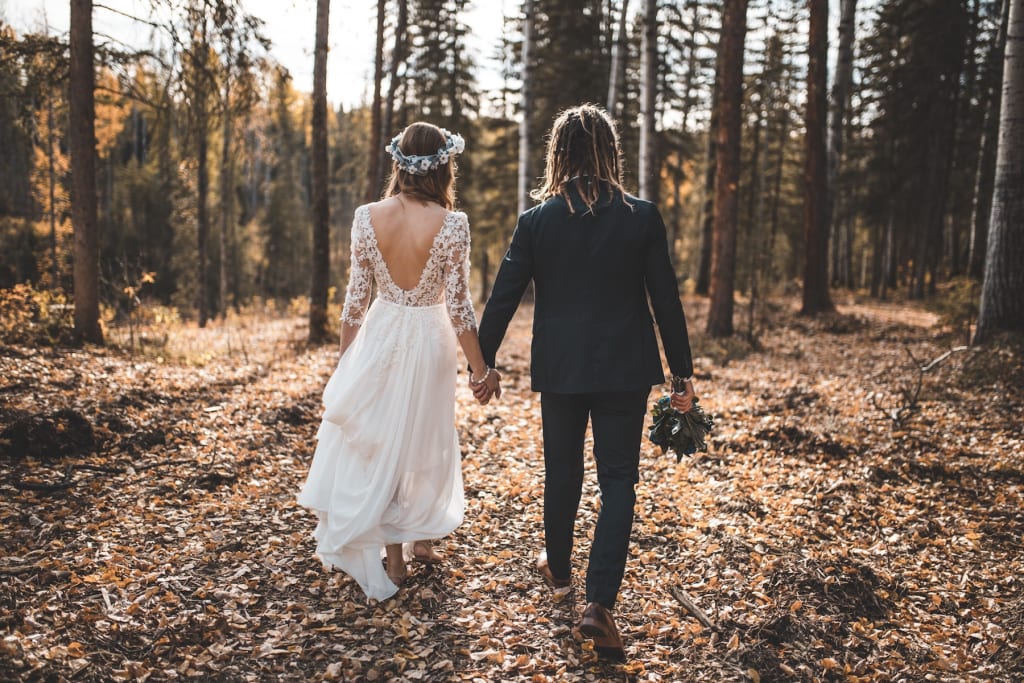 Photo by Redd Angelo
There are plenty of reasons to get married within six months of engagement. Maybe you're dreaming of a spring wedding and don't want to wait until next year. If that's the case, please know that you can do it. Your dream wedding will be here before you know it.
You'll want to get started right away. Whether your budget is large or small, there are some things you need to get done this month. Here's everything you need to know you're going to plan a wedding in six months. Let's get started!
The Date
You probably already have a season in mind for your big day. Perhaps you even have the month picked out. However, the exact day is critical. Seeing as the wedding is so close, you'll need to decide this as soon as possible.
There are several things to consider. First, when will be the most convenient time for the majority of your guests? Do you want to save money by having the event on a weekday? What is the weather like this time of year?
Don't ponder these questions for too long or you'll get behind. You can't book anything without a set date. Make sure you've figured out dates and times by the second week of planning.
The Wedding Planner
Another question you'll want to answer within the first two weeks is whether or not you'll be using a wedding planner. With such a short timeline, you may need the extra help. However, not all budgets allow for this expense. Additionally, not all bridal personalities mesh with the concept.
If you're on the fence, know that you can do this yourself. It will take a lot of hard work, but a traditional wedding planner is not necessary.
If you do decide to use one, you'll need to contact them within the first week of planning. It may take some calling around to find one available, but small businesses usually have openings. Make sure you have a date in mind when you ask around, though.
The Dress
There's plenty of advice out there on how to choose the perfect wedding dress for you, but time restraints can complicate things a little bit. If you're trying to plan a wedding in six months, then you most likely won't have enough time for dress alterations. It's best only to try on dresses available in-store in your size. This way you won't fall in love with something you can't have.
It's best to avoid ordering a wedding dress, as well. While some will come in enough time, you never know if the fit will be right. Additionally, there can be delays that might leave you without a dress on your big day. Start shopping as soon as possible so you can better your chances of finding your dream dress. It may take a few tries, but you'll get there.
If you need alterations, find a mom-and-pop store. They are more likely to get your dress done fast.
The Venue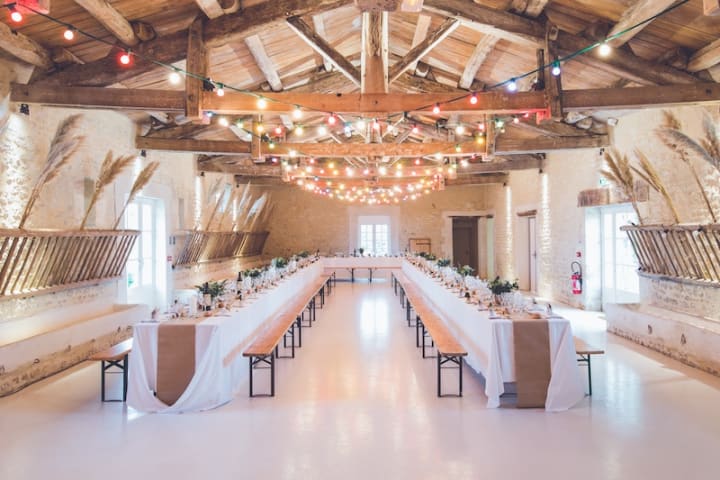 Once you have a date in mind, start looking for venues that have availability around that time. If you want a separate ceremony and reception location, this may be more difficult. One place means only one availability calendar that you'll need to manage.
If you're willing to have a weekday wedding, then you'll have an easier time snagging your dream venue. Booking something that is an hour or two away can be another way to get a great wedding venue. It might be a little inconvenient, but most of your guests are probably traveling anyway. What's a couple more hours' drive?
Once you have the venue set in stone, everything else starts rolling along.
The Invitations
You can relax a little on the invitations. They don't have to go out right away. The standard is two to three months before the wedding. If you're going to plan a wedding in six months, that means you have three to four months to get everything in order. Don't worry about sending out save the dates.
Consider e-invitations if the planning process is getting a bit overwhelming. You could even send paper invitations to just those relatives that aren't accustomed to electronics.
Be aware that ordering invitations from a company comes with the risk of there being a mistake, delaying your timeline. Consider your options and make the best decision for you.
The Caterer
The caterer is something that you should book as soon as the venue and wedding date are secure. You'll need to know the official date, as well as the wedding venue's accommodations to book the caterer. Try to get this done within the first month of planning, as most catering companies prefer booking six months in advance.
If you get behind, don't fret. You might have to call around more to get a caterer with less notice. You can also consider having popular restaurants, such as Olive Garden, cater. You can pick up the food and have ushers serve it or set it up buffet style.
The Flowers
The flowers are another item that you need to cross off your list in the first month. Once you have a venue secured and a color scheme chosen, get to ordering. Flower shops generally like six to nine months' notice, so don't wait too long.
If you've waited too long, there are other options. You can try to find shops that have availability, but you might have to pay a rush fee.
If you don't have any luck, order flowers wholesale online. The flowers will be delivered about two days before your wedding day, and you can arrange the bouquet, boutonnieres, and centerpieces yourself. Or, you can have a flower shop do the arranging for you.
The Bridal Party
Bridesmaid dresses and groomsmen tuxes are something else you need to consider early on. Tuxes can be rented last-minute from big companies like Men's Warehouse.
Bridesmaid dresses, on the other hand, will need to be sought out within the first two months. Like your wedding dress, it may be hard to find all the sizes you need within the six month timeframe. Going with a single color but different styles will give you more options.
The Rings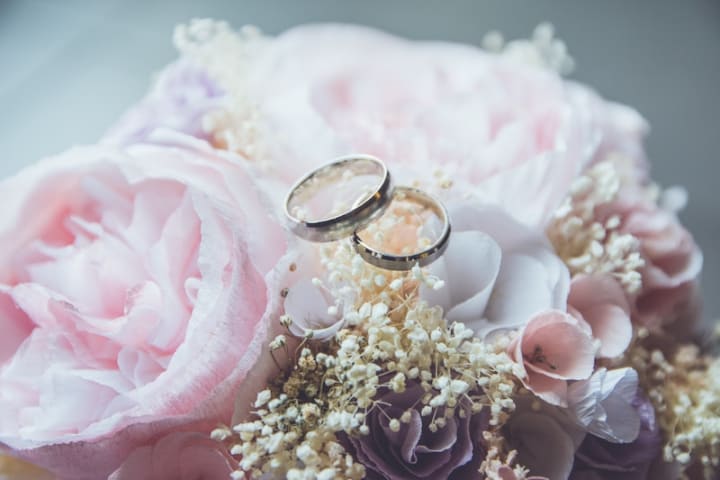 You probably already have your engagement ring, but you'll need to order wedding bands soon. If you're looking at a six month timeline, have these ordered or already delivered by three months.
If you happen to procrastinate, you may be able to find something in the right size in-store. Some jewelry stores even offer in-house resizing that only takes a day or two.
The Cake
Planning a wedding in six months means that you might have to make some sacrifices. If you want a highly complex cake, you may need to settle for something a bit simpler. While you can haggle and possibly get what you want, most bakers prefer at least six months' notice.
There are options if you have your heart set on something. If you're particularly brave, making your own wedding cake is an option; or, research smaller bakeries in your area that might not get as much business. They will also give you more time and attention, which is every bride's dream.
The Honeymoon
The honeymoon is one of those factors that depends on what you and your fiancé want. Going abroad to one of the best honeymoon locations is going to take more advanced planning that a cross-country road trip. Between getting good deals on flights and snagging that perfect hotel, you may want to plan this at least three months in advance.
Check out websites like Airbnb for great deals both in the US and abroad. You can find some unique houses to stay in, too.
The Rehearsal
Not all venues provide a rehearsal time slot. In this case, you'll want to book the location for rehearsal around the same time as the venue.
A great way to save money and hassle is to have the rehearsal at a family member or friend's house. If no one's home is big enough, consider renting something for one night off Airbnb. It can be a lot cheaper than venue prices. Plus, there are openings up to the week before booking.
The Music
Unless you are going local, a live band is probably unrealistic. DJs, on the other hand, can be booked six months in advance.
To save money, consider using a speaker and having a bridal party member navigate the playlist. Some venues even have speakers built in so you can hook up a phone or computer.
This process may all seem a little overwhelming, but that's the nature of planning a wedding in six months. Whether you have a wedding planner or not, there is a lot to do. Knowing what you want is the key. You won't have time to change your mind much. Don't be afraid, though. You don't have to wait over a year to plan your dream wedding. Get started right now!
Bonus Tip: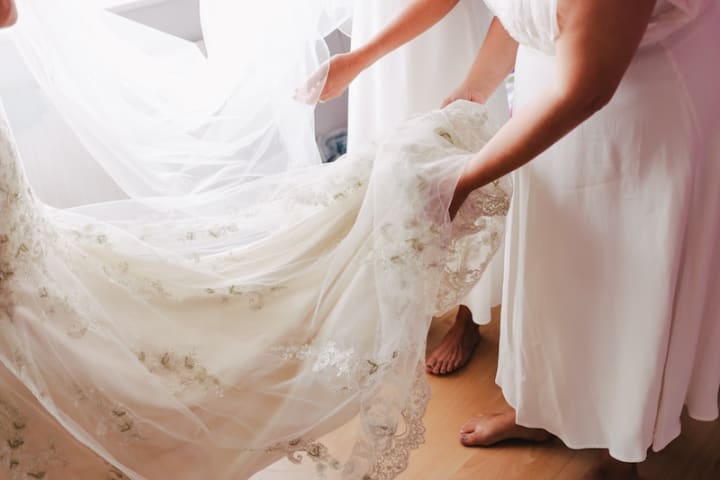 Capitalize on the talents of your friends and family. Does your cousin bake cakes? Have them do yours. Is your best friend great with flowers? Ask her to help you out. The people that love you will always be willing to help make your big day great!
About the Creator
Proud mom of three chinchillas, hard core Justin Bieber fan, watches Unsolved Murders religiously
Reader insights
Be the first to share your insights about this piece.
Add your insights