How to Incorporate Your Fur Baby into Your Wedding
When You Can't Imagine Leaving Your Bestie Out of Your Special Day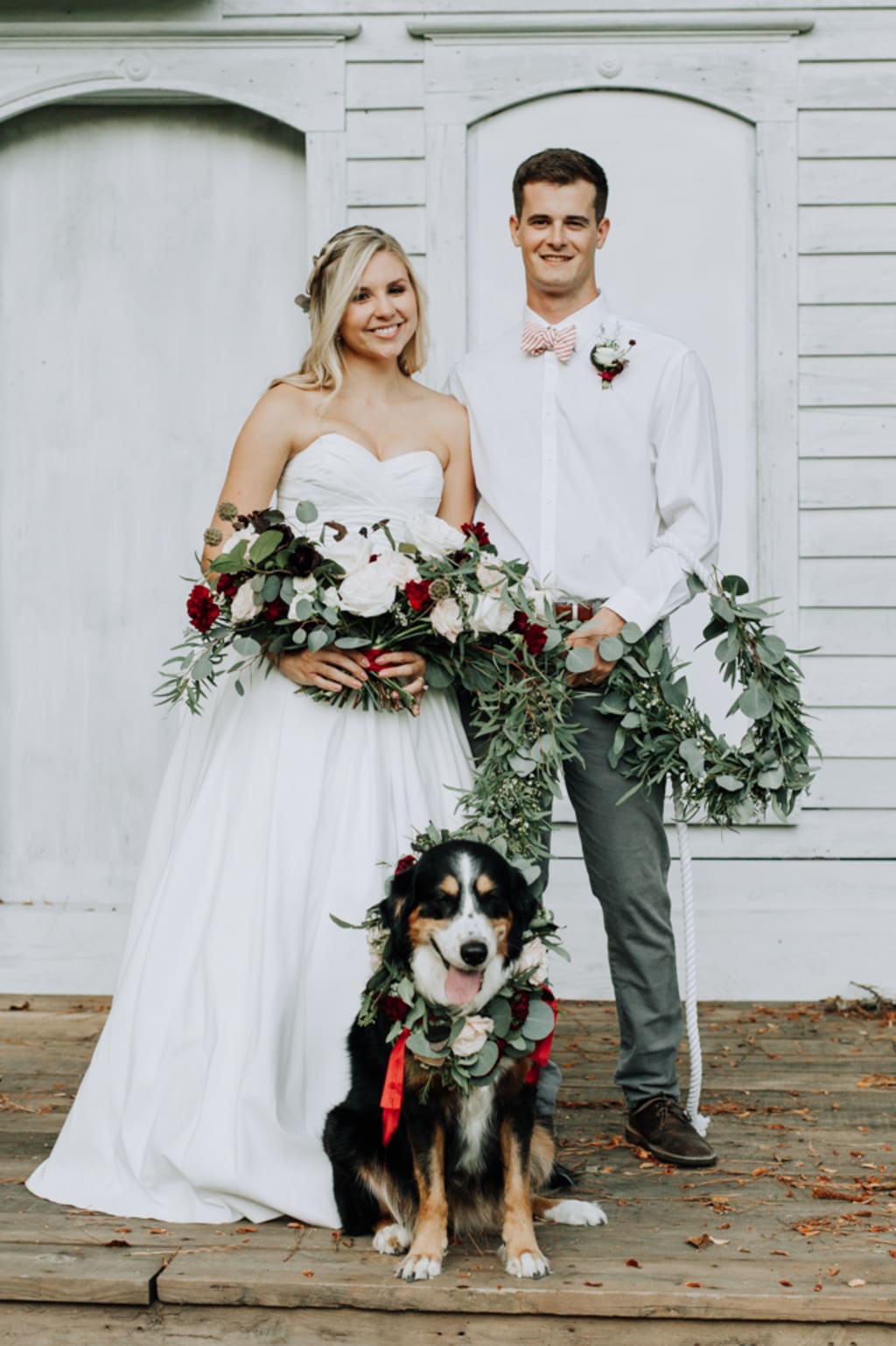 Photo by The Lady with the Camera Photography from an Inspirational Shoot on Adopting a Dog for Your Wedding. Posted on Burnett's Boards Daily Wedding Inspiration. 
Oh, how we love our sweet, four-legged babies. With their soft fur (on their bodies and all over our couches), innocent eyes, playful spirits, and unconditional love and loyalty, how could you not want them with you for every important moment of your life? The traditional adjective for dogs tends to be "Man's Best Friend," but let's be honest, dogs are everyone's best friend. My little fella is definitely number one on my list.
So, naturally, when it comes to planning one of the most memorable events of your life, your dog is likely the first wedding attendee that comes to mind. But depending on how well-behaved and social your fur baby is will set the stage for how much you can incorporate him or her into your big day. Not making those guest lists and seating charts any easier, am I? Bear with me—I've got some super cute ideas for how to incorporate your fur baby into your wedding.
Photoshoot Plus-One
Let's start with the safest, least taxing way to add your pup to the festivities. What better way to make your dog a part of the memories than getting some great family photos, fur and all? Most photographers have experienced shoots with family pets and won't bark about adding yours in your sessions. (Pun absolutely intended.) This is the perfect solution to capturing the love you share with your special person and your special pup, as well as avoiding the need for a dog-friendly wedding venue.
Extra tip: Have your favorite photo from the shoot printed for a custom frame or a canvas, have it propped in a place where everyone can see in the venue, and feel like your fur baby is right there with you on your special day!
Ring Bearer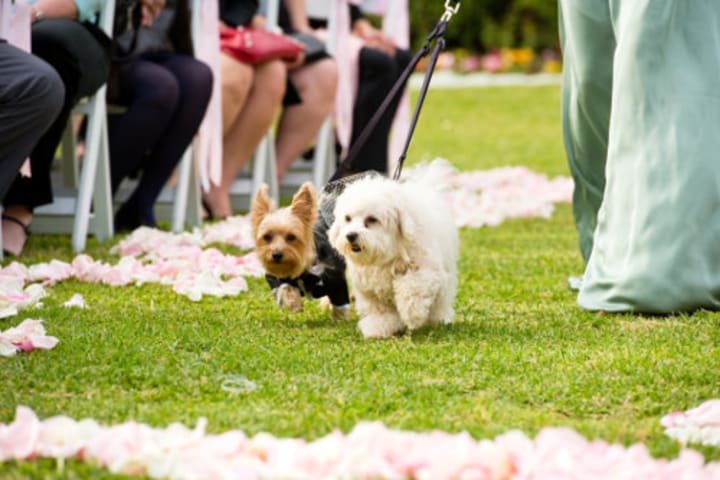 No one can deny how absolutely precious our favorite little ones look walking down the aisle in tiny suits and suspenders, holding the "hear comes the bride" sign or a little pillow topped with rings. But when your favorite nephew or cousin is a bit shy and not ready to walk the aisle—or maybe there aren't many kids in your family—a furry replacement on all fours, accessorized with a custom floral collar and a couple of very important rings, is definitely the next best thing. All of your guests will be shrilling with cuteness overload, and your pup gets to prove cats aren't the only one who can do the walk. What's a better grand entrance than being led by your favorite canine, right?
Extra tip: If your dog isn't the most "tamed" off-lease, this may not be the best choice for your wedding. But if you practice the walk with your dog multiple times before the wedding (with other people around for practicing with distractions) and have your Officiant hold a little treat where the dog can see it, he may just make the perfect ring bearer after all!
Best Fur-man or Fur-woman
Maybe your furry friend is modest—he wants to witness the special moment with his two favorite humans, but isn't a fan of wagging his tail down an aisle all by himself. We've got a place for him, too! Whether you have a girl or boy pup, he or she could make a great Best Man (or Woman). Perfect view of everything—the guests, the beautiful entrance of the bride, and the smooch to seal the deal. Tux, tutu, or floral collar all optional.
Extra tip: If you think it's best for your pup to avoid walking down the aisle all together, he can walk in on or off-leash with the groom and officiant and sit or lay comfortably as the ceremony begins.
Puppy Bouquets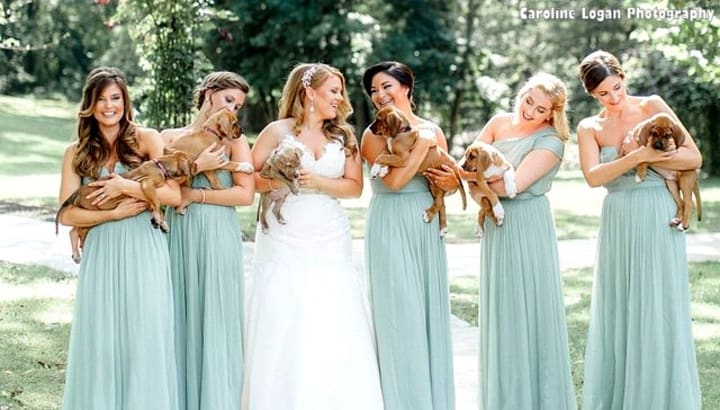 Warning: cute puppies or small-size pups, like your miniatures and teacups, required.
Double Warning: Be ready for the attention to possibly slip from your amazing wedding dress over to the adorable pups, back to you, then back to the pups.
If you can handle those two warnings and the absolute definition of "awwwwwwwwwww," this may be the best option for you. This is obviously my favorite! What better addition to the perfect day than a puppy accessory for every bridesmaid? You can dress them up with matching floral accessories or bows or have them carried in their natural, furry cuteness. Either way, you're going to have some pretty happy bridesmaids and an audience that can't stop smiling. Save the flowers, cuddle a puppy.
Extra tip: Fast the pups the day of the wedding and make sure everyone "goes potty" right before the ceremony. And if any of the bridesmaids were planning on returning their dress, they may have to reconsider…
Although there are quite a few options for letting your fur baby join the party, weddings just may not be for your pooch. All of the commotion, loud music, and amount of people may cause your dog anxiety or stress, resulting in abnormal barking, crying, or sprints around the reception tables. I have an Italian Greyhound Chihuahua and trust me, that combo of speed and short attention span is less than pretty in a rented venue filled with people… Adding your pup to the guest list also adds another "must-have" to your venue search, which could increase your budget or limit your preferences. A fun playdate with your pup, his two favorite humans, and a nice dog-friendly cake may be the perfect substitute ceremony for your special canine.
Happy wedding planning and lent brushing!