Creative Ways to Wear Your "Something Blue"
Here are the most creative ways to wear your "something blue" on your wedding day.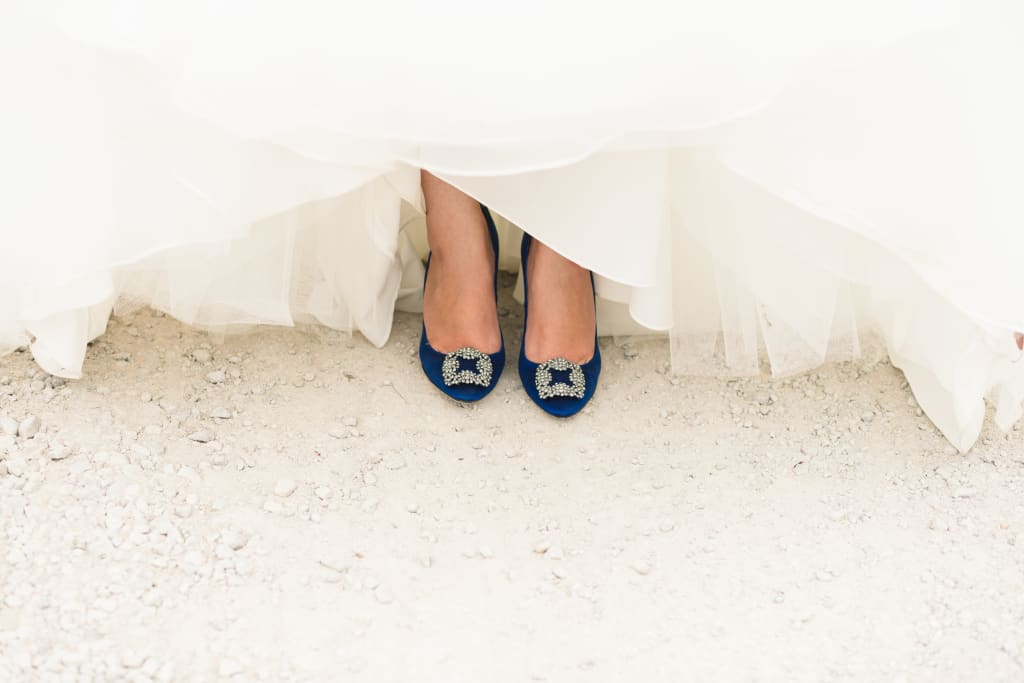 Photo by James Bold on Unsplash
In the modern era, archaic wedding traditions are frequently eschewed in favor of more sensible—and often, more meaningful—practices. The old English rhyme, "something old, something new, something borrowed, something blue," however, is relatively harmless, and seems to have endured in large part due to its quirky nature. After all, it's simply a collection of good luck charms. While most people, especially outside of the UK, ignore the final line of the poem "a sixpence in your shoe," the first four items are still quite common.
The "something old, something new, something borrowed," all have strong connections to family, encouraging the bride's parents to gift her an heirloom piece of jewelry and for other relatives to gift "new" items, also often jewelry. The "something blue," however, seems a little out of left field. Meant to symbolize love and fidelity, it's not always apparent how to incorporate "something blue" into your wedding festivities. Once you explore a bit, however, you'll come to realize that there is an endless array of possibilities to incorporate the color, especially given all the new, ever-changing wedding trends of 2018. Here are some of the most creative ways to wear your "something blue" on your big day.
Blue Rings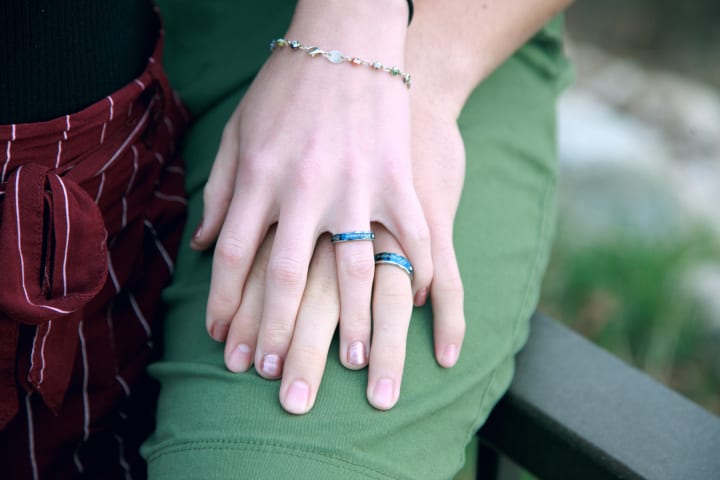 Whether it's blue wedding rings to match your partner or a sapphire engagement ring, using your ring to provide an accent of blue is one of the most understated and creative ways to wear your "something blue." It also makes for a great reveal moment, as all eyes will be on the rings when they come out. I think it's a beautiful way to accomplish your "something blue," but keep in mind that wedding bands are more permanent than most of the other items you'll wear on your wedding day. Blue is a fairly neutral and versatile color, but consider a different "something blue" if you worry about incorporating a blue ring into your everyday wear after you tie the knot.
Blue High Heels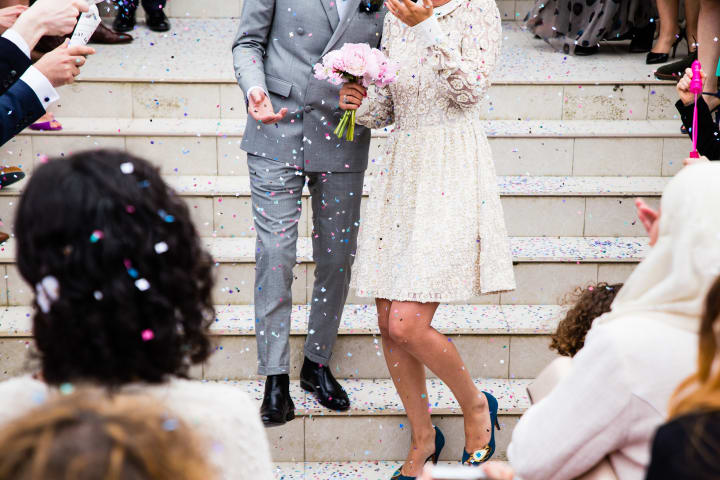 The right pair of wedding shoes can make or break the rest of the outfit. Any number of styles may work depending on the style and fit of your gown, but a great pair of blue shoes can act as a wonderfully understated accent as well as one of the more tasteful and creative ways to wear your "something blue." Blue heels are perhaps the most versatile option, but your mileage may vary if you are having your wedding in a more exotic location. A beach wedding, for example, demands something more casual, like a nice light blue sandal.
One of my favorite reasons to incorporate blue shoes into your wedding day outfit is the opportunity they provide for some unity between the ceremony and the reception. If you plan on changing your shoes for the dance floor at the reception, a pair of blue flats will accent your outfit just as well as the more elegant heels at the ceremony.
Blue Crown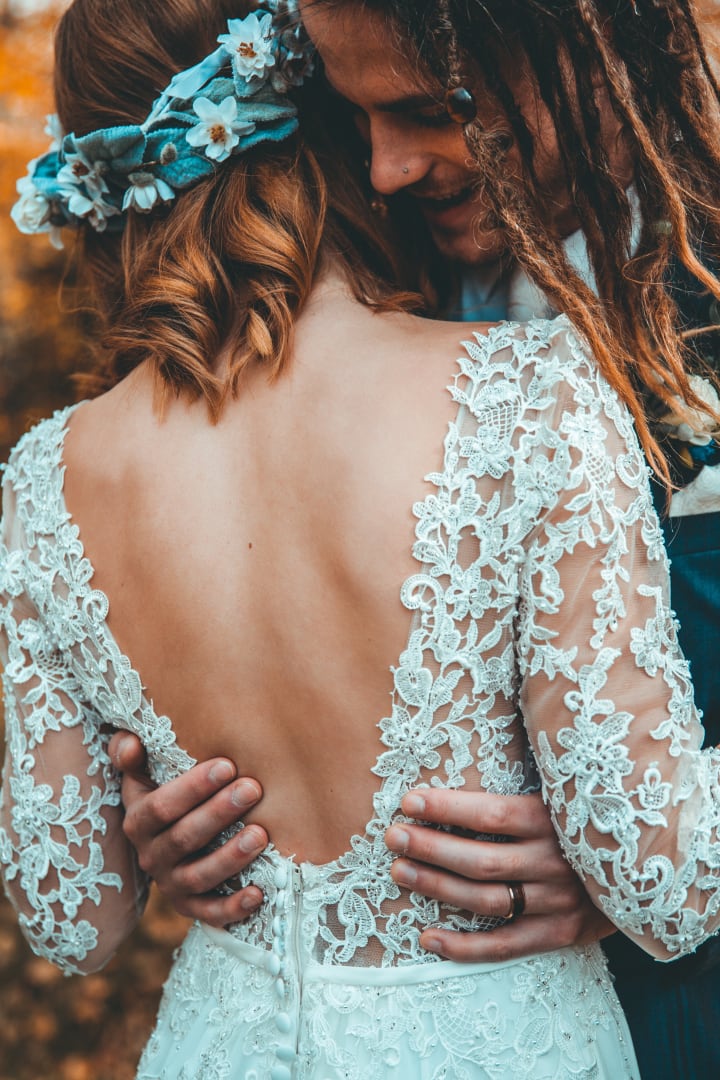 If all else fails, a blue crown or other hair accessory is one of the most versatile and creative ways to wear your "something blue" at your wedding. The idea of a blue crown can be adjusted to suit your personal style, from a quirky homemade crown adorned with blue flowers to a sapphire-encrusted tiara. If you want something more understated, a simple blue flower accent or a blue ribbon tied in your hair can make for a "something blue" hair accessory that's just as effective in its subtlety. Everyone has their own vision for how they want their hair to look on their wedding day, but the wide variety of options means there's a "something blue" for every hairstyle.
Blue Bridesmaids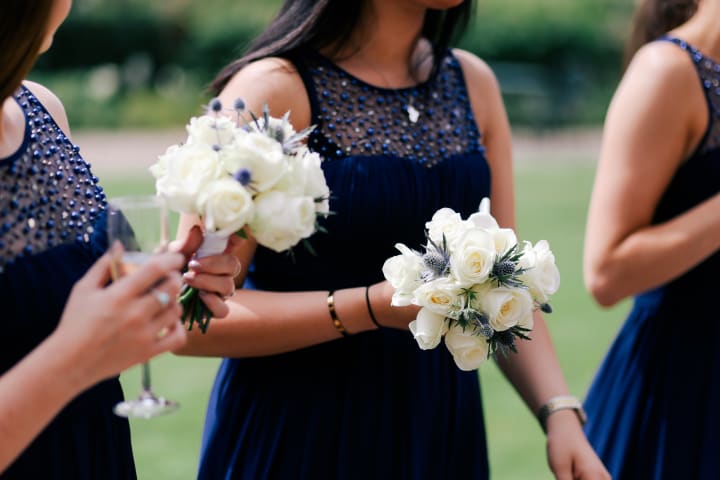 You can take the idea of "something blue" to a whole new level by incorporating your favorite shade of blue as one of your wedding colors. This opens up limitless possibilities for creative ways to wear your "something blue" and incorporate blue into your whole wedding. Not everyone chooses to have signature wedding colors, but they are an easy way to unify your decorations and tie together the aesthetic for your wedding. Personally, we ended up with pastel shades of lavender and green as our wedding colors.
When you have signature wedding colors, it serves as a focal point for all the colors of all your decorations and can even serve as a guide for what colors your guests wear. In particular, you may choose to have your bridesmaids wear matching dresses that complement your wedding color. If you're having a blue wedding, your bridesmaids can collectively serve as your "something blue" by wearing beautiful blue dresses.
Blue Bouquet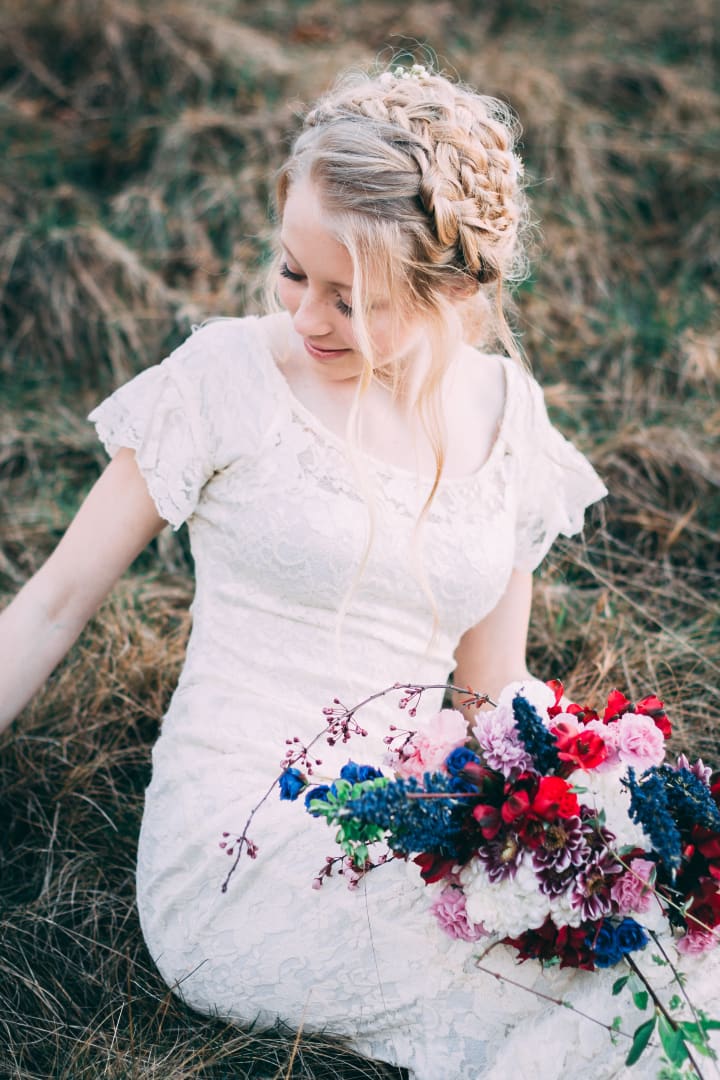 Blue is a powerful color, and it's understandable how it became a wedding tradition to incorporate it into your big day. Blue flowers in particular may seem like an obvious choice, but they have deep, beautiful symbolic meaning dating back to the Romantic era. The blue flower symbolizes love and desire, but it also represents the more abstract concept of striving for the infinite and unreachable. This rich history makes a blue bouquet one of the most elegant, if maybe not as creative ways to wear your "something blue."
We had hydrangeas at my wedding, but a wide array of beautiful flowers can be found in a blue variety, such as hyacinths and morning glory. Blue roses are also beautiful, but keep in mind that blue roses don't occur in nature. Any truly blue rose you find is almost certainly a white rose that has been dyed—not that there's anything wrong with that!
Blue Groom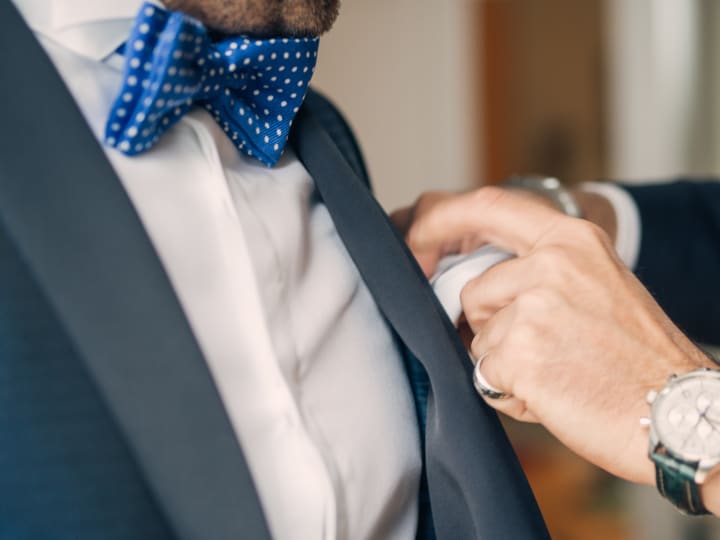 Whether you have blue on your gown or not, don't leave your husband-to-be out of the "something blue" tradition! There are a number of creative ways to wear your "something blue" through your groom. Get him a blue bow tie or pocket square for a pop of color that can complement the blue in your gown. He can also go all-in with a blue suit in a subtle navy or, on the dandier side, a rich royal blue. If you want his "something blue" to be understated, he can simply wear blue socks or even lace his dress shoes with blue laces.
Blue Shawl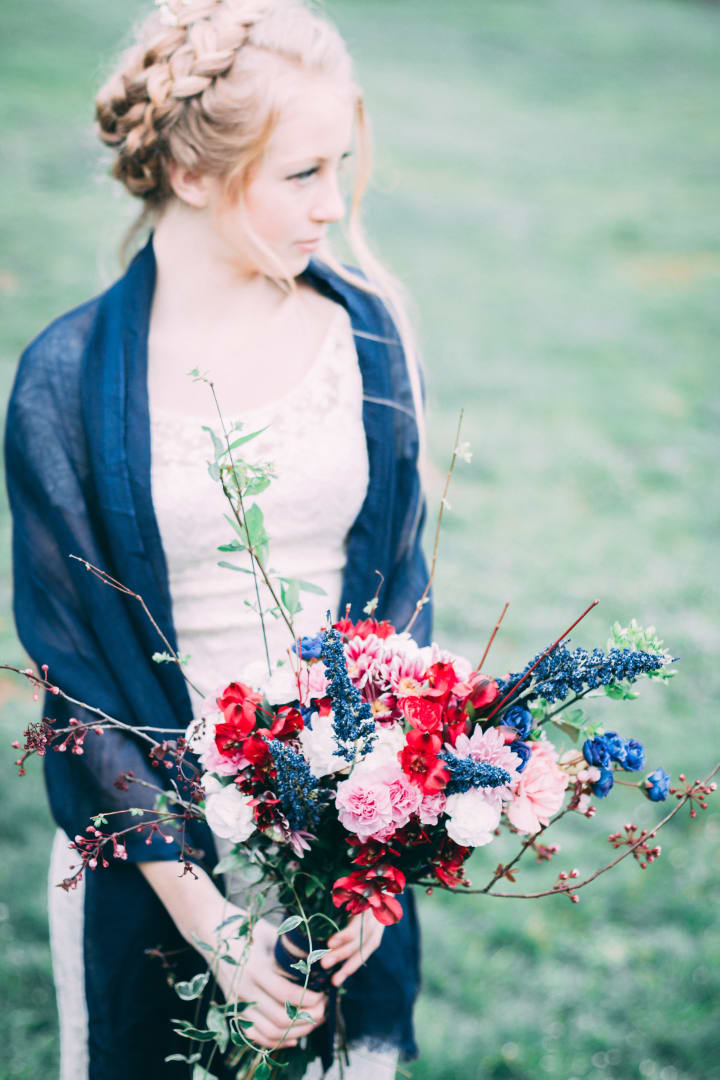 A blue shawl or blue scarf is perfect, prominent way to proudly present your "something blue." It's also a versatile option because it doesn't have to be sewn into your dress or your hair, and it doesn't even have to fit perfectly, making it a perfect candidate for an heirloom item. Besides fulfilling the tradition, a blue shawl also gives you an extra layer of warmth, making it one of the most practical and creative ways to wear your "something blue" if you're getting married in autumn or winter. A lighter scarf made out of linen also works, however, if you're getting married in the warmer months. You can wear it over your dress on your way to the ceremony or the reception and take it off to dance, or give it to your groom.
Blue Table Settings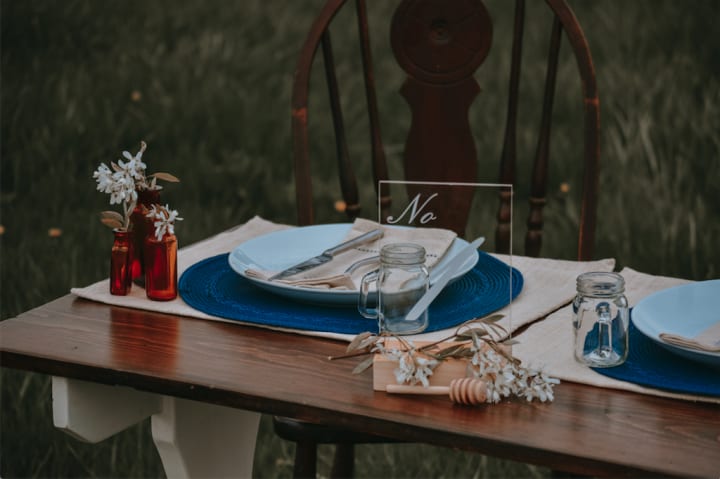 Another one of my favorite ideas, and certainly one of the most creative ways to wear your "something blue" is to save the blue for the reception! This idea works especially well if you have a more conservative ceremony or if it was held in a place that restricts your decorations. Once you get to the reception, you can incorporate blue into just about any aspect of the decoration. You can seek out blue plates, decorate the tables with blue place mats, or create blue centerpieces using flowers from your bouquet. The options are limitless: you can even complement your "something blue" table settings with blue food! Incorporate a tasteful blueberry garnish or a blue cocktail alongside your dinner to drive home the theme of "something blue."
Blue Dress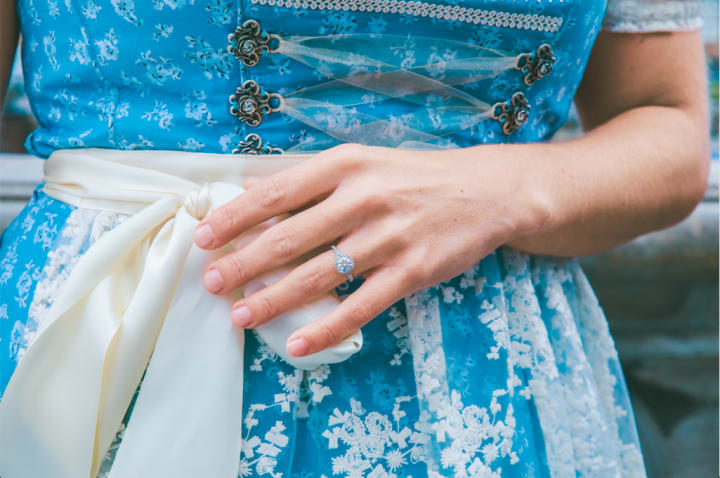 Even though the "something old, something new" rhyme is an old English tradition, who says you have to be traditional in other aspects of your wedding? Choosing the perfect wedding dress is different for everyone, and it's becoming more and more common for brides to eschew the traditional white wedding gown in favor of more creative options. Subtly off-white ivory dresses are probably the second most popular wedding dress color, and I also see faded pink once in a while (along with bright pink which... well, I'm not a fan of it, but you do you). While these are the most common non-white gowns, you are free to pick whatever color you feel represents you best. If you're blue at heart, don't be afraid to rock a light blue dress on your big day. It's certainly one of the more tongue-in-cheek and creative ways to wear your "something blue."
Blue Accoutrements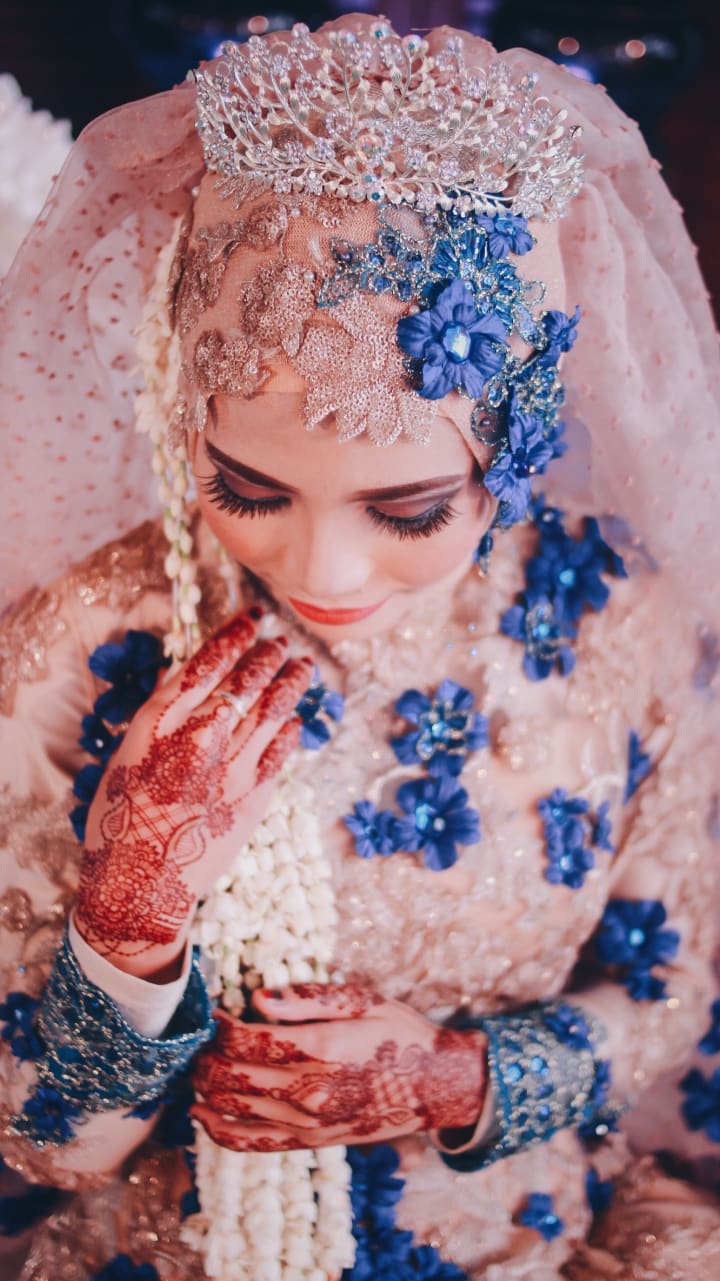 While a blue dress is one of the most creative ways to wear your "something blue" on your wedding day, not everyone wants blue to be the main color. Luckily, blue can be used as an accent color on any type of dress. Whether you adorn your vibrant, baroque gown with lavish blue fabric flowers or take a page out of Kate Middleton's book and sew a simple, subtle blue ribbon into your traditional white gown, blue accoutrements offer a lot of flexibility and creativity for your "something blue."
Blue Venue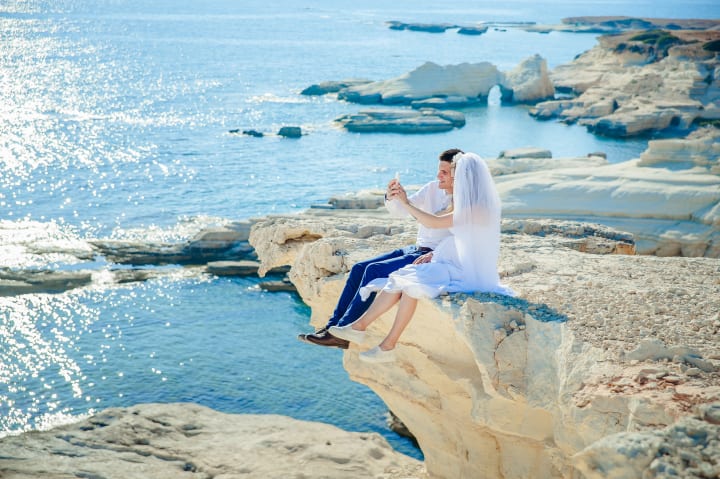 What if you have the exact bouquet you want, you have your dress picked out, but even the most creative ways to wear your "something blue" aren't doing it for you? Some of us have incredibly clear and specific ideas for what we want, which can make it hard to accommodate some traditions. However, there is still hope! I think an underrated approach to "something blue" is in your venue.
While the ocean certainly counts and makes a gorgeous and indisputable "something blue," not everyone wants to get married on a beach (not to mention the logistical nightmare if you don't already live near the ocean). However, even if you're not lucky enough to hold your wedding on one of the best beaches in the world, you can take inspiration from the ocean and incorporate blue into the scenery at your wedding. If you're having an outdoor wedding, maybe a blue birdhouse or blue ribbons draped among the trees. If your wedding is indoors, maybe decorate the walls with framed art that features blue. Get creative with it: the world is your blue oyster!
About the Creator
Just an Indiana gal who heard the call of the East Coast. Twitter and Instagram: @chel_bk
Reader insights
Be the first to share your insights about this piece.
Add your insights