Best Wedding Hairstyles for Short Hair
If you've got a short 'do and a wedding day coming up, here are some wedding hairstyles for short hair that we've totally fallen in love with!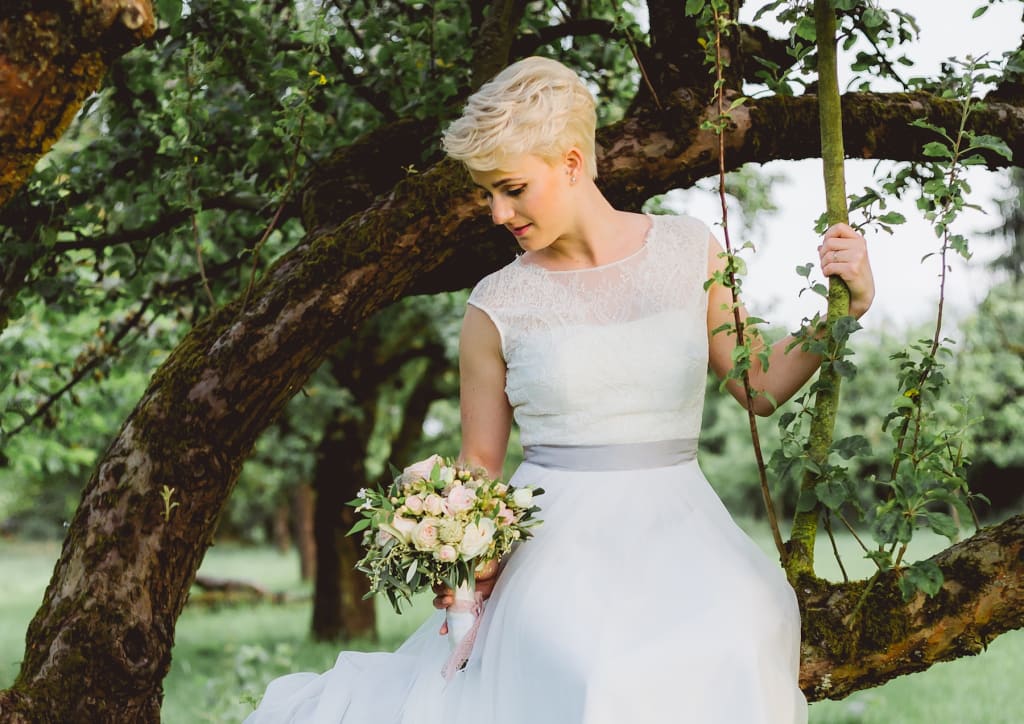 There is something so chic, sexy, and, at the same time, uber-sophisticated about short hair. Not only does it showcase a woman's facial features in a way no other hairstyle can, but it sends the message of her having so much inner confidence that it's no wonder so many women opt for it to be their signature bridal day look.
If you've been on the fence about rockin' your own short look because you feel like your options might be limited or that short hair won't be the best complement for your wedding dress, we're so glad you're reading this.
Below, you'll find 10 wedding hairstyles for short hair that will truly make you the belle of the ball and the envy of all of your wedding guests. Hands down.
Short "Bohemian" Hair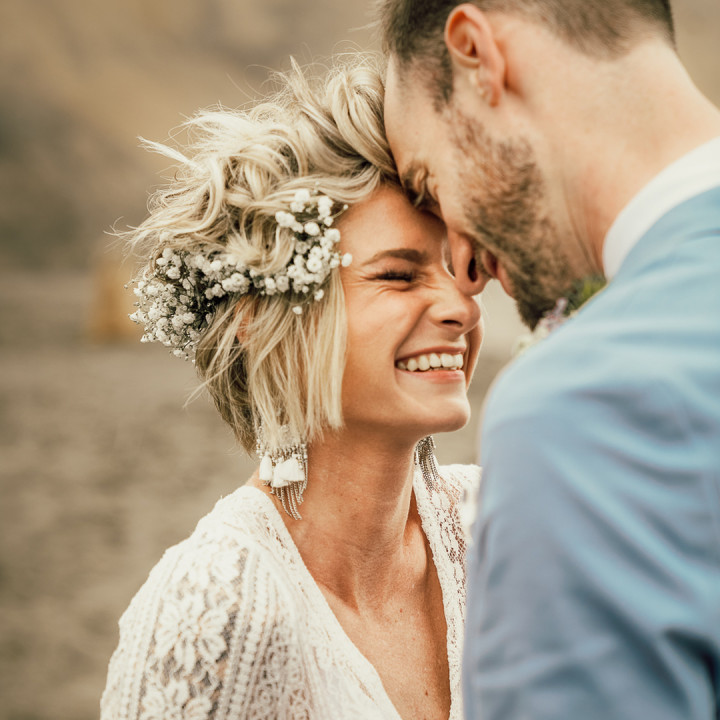 WE'RE. TOTALLY. IN. LOVE. With the pic. With the bride's look. And definitely with her hair.
One of the hottest wedding trends for 2018 is the Bohemian look and this bride pulls it off flawlessly! Something that particularly stands out to us about her is that she has LOTS of hair which makes room for TONS of layers!
In fact, her hair makes such a statement that a traditional hair accessory might've been overkill. We think she made the right move with the softness of baby's breath next to the striking texture of her earrings.
This is a wonderful—pardon the pun—"marriage" of funky and sweet and that's not something you see every day.
Just one more reminder that when it comes to wedding styles for short hair, the sky truly is the limit!
Tapered Bob with Loose Waves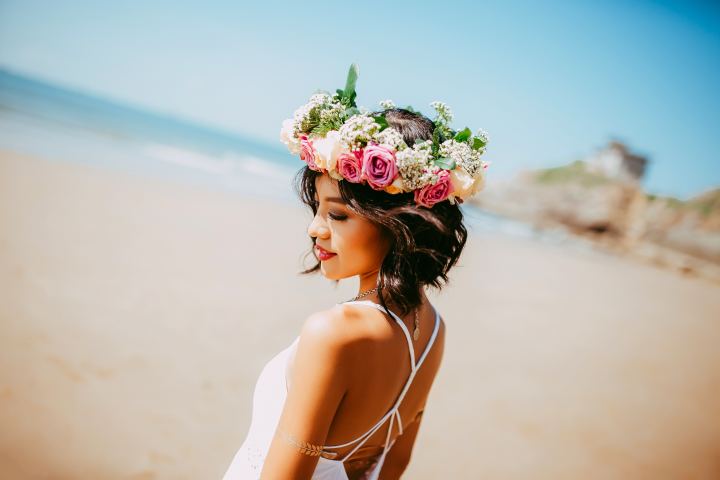 Some people think that "short hair" automatically means a pixie cut. But as you can see from this sun-kissed bride, short bob haircuts also fit the bill!
What we adore about this particular hairstyle is it's the kind of look that's perfect if you're in the process of transitioning from a shorter cut to something longer. It's also the kind of hairstyle that works well with your natural hair texture. That way, if you plan on having a destination wedding or a wedding in a climate that is high on humidity, you don't have to worry about achieving bone-straight locks or lots of hair products.
Be as loose-and-fancy-free just like this beautiful bride is. You'll look amazing with or without a headpiece!
Hair "Hidden" in a Headpiece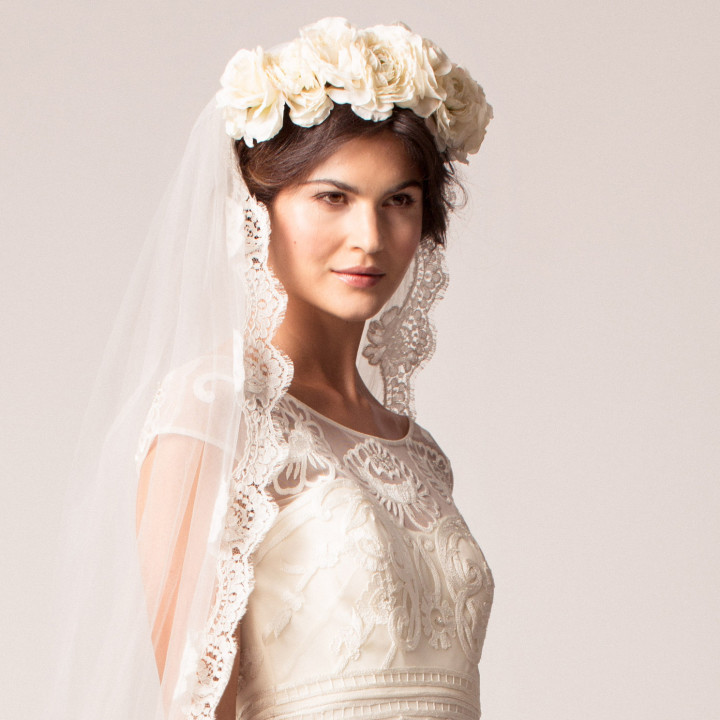 Here's a really clever way of "dressing up" your hair on your big day! Although you could wear a wig or add a few extensions for length and volume, another option is simply to let your hair accessory stand out. It could be a veil that has lots of lace or tulle. It could be floral arrangement that crowns your entire head. What you do is totally up to you.
One thing that we like about this particular option is it can help to create two totally different looks in one day. You can use the headpiece for your wedding ceremony and then take it off and show off your cute cut during your wedding reception. All you need are a couple of hair clips or jeweled bobby pins and you're all set.
Sleek 'n Classic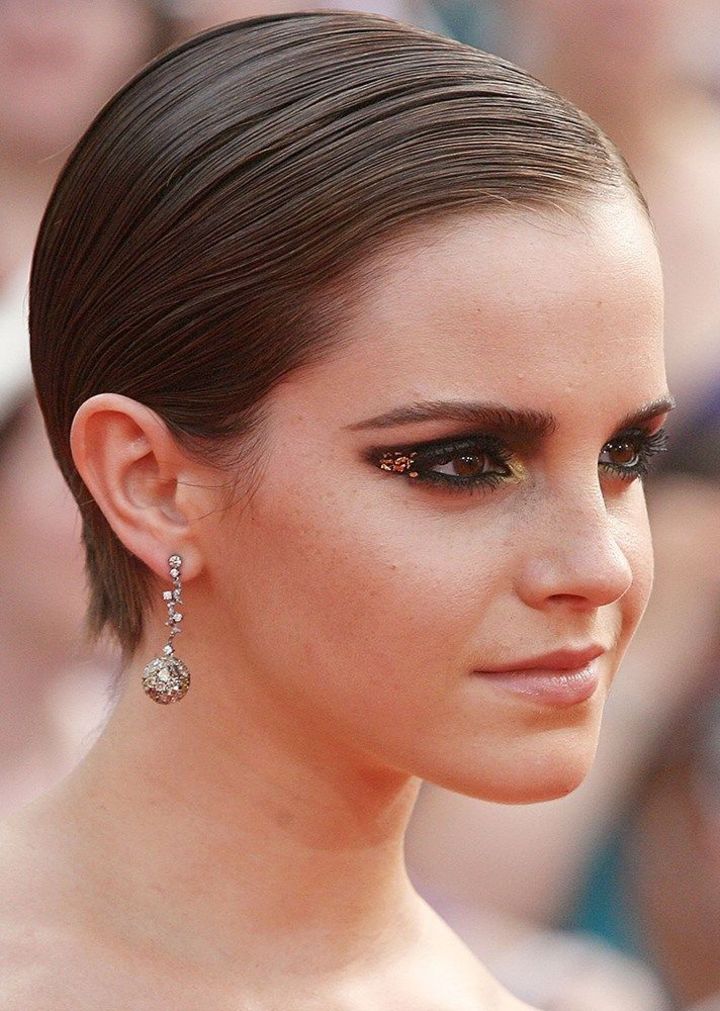 What if you don't want to wear anything in your hair at all? What if you'd prefer for your wedding dress (and your killer make-up) to be all of the statement-making that you need? If that's the case, one of the hairstyles for short hair that you might want to consider is simply slicking your hair back with the help of some gel, mousse, or another hair product for people with short hair. It's a classic look that's perfect, especially for a formal wedding.
Just a word of caution. If you opt to go with this particular hairstyle, it's important to keep in mind that it's best on fine or super-straight hair. Otherwise, by the time your wedding ceremony is over, you could end up with a few fly-aways that could take away from the overall look that you're trying to achieve.
TWA (Teeny Weeny Afro)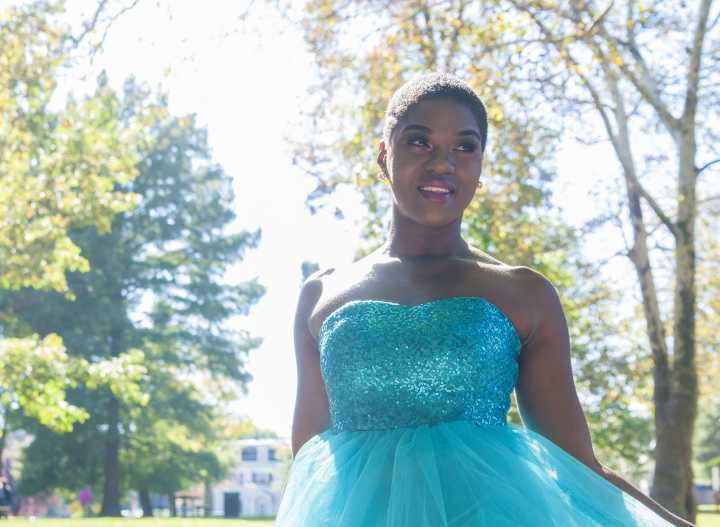 When you're trying to figure out the perfect look for your big day, who said that you had to follow tradition? After all, it's YOUR DAY and when it comes to stepping outside of the box, we're totally here for it.
Case in point—check out how this bride made her "something blue" her wedding dress! From where we sit, it seems like the best complement for it is her natural TWA (Teeny Weeny Afro). It's bold. It's stunning. And it's the kind of look that makes this bride completely unforgettable in the best way possible!
Plus, this is the kind of hairstyle that is so low-maintenance that so long as you keep it trimmed, you can go to bed and wake up looking just as beautiful as you did on your big day with very little effort on your part. (The kind of honeymoon style that we're totally in love with!)
"Signature" Pixie Cut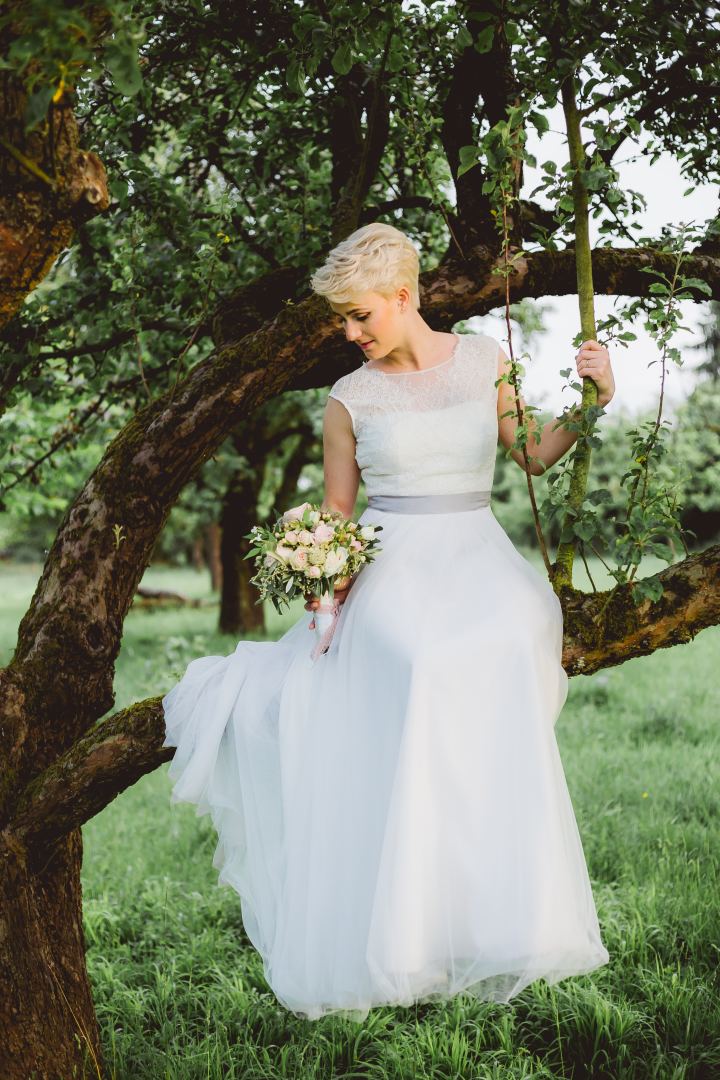 Of course, we had to put the feature picture into the mix! And really—how in love are you with this modern spin on the classic pixie cut?
We're not sure what we love about it more—the cut or the color. But you know what? That's one of our favorite things about hairstyles for short hair—it's all in the details! Using a razor instead of a pair of shears can add more definition and having a professional stylist color your hair can give it so much depth and volume.
This is the kind of look that is more than ideal for wedding day pictures, as you can so easily see, thanks to this one. It's also one that doesn't require a veil or any kind of hair accessory. The cut speaks all on its own. #amazing
Pinned-Back Look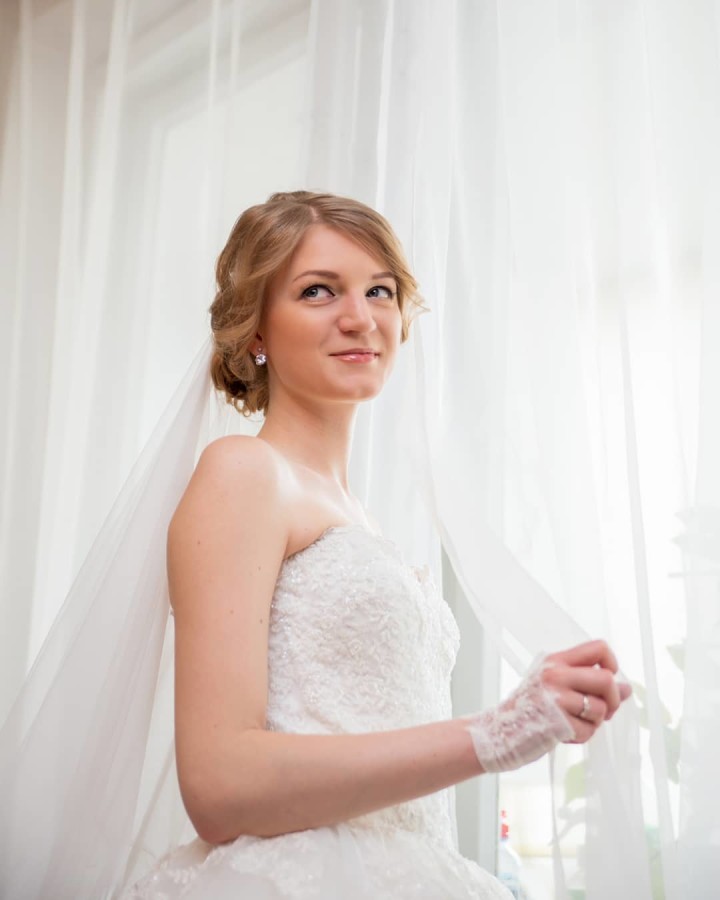 This is another kind of wedding day hairstygle that is perfect if you're currently in a "transitional length" and you'd prefer to not add any extensions.
What we like so much about this is you can't really tell how long her hair is. Thanks to how strategically-placed her bobby pins are, the fact that her hair comes together down at the nape of her neck and she is wearing a veil, this look gives the illusion that she has a significant amount of length, even if, in reality, she actually doesn't.
If this look piques your interest, just make sure that you get some assistance in pinning it up. You don't want "random" short hairs popping out in places you'd rather them stay well-hidden.
Natural Hair (in a Roller Set)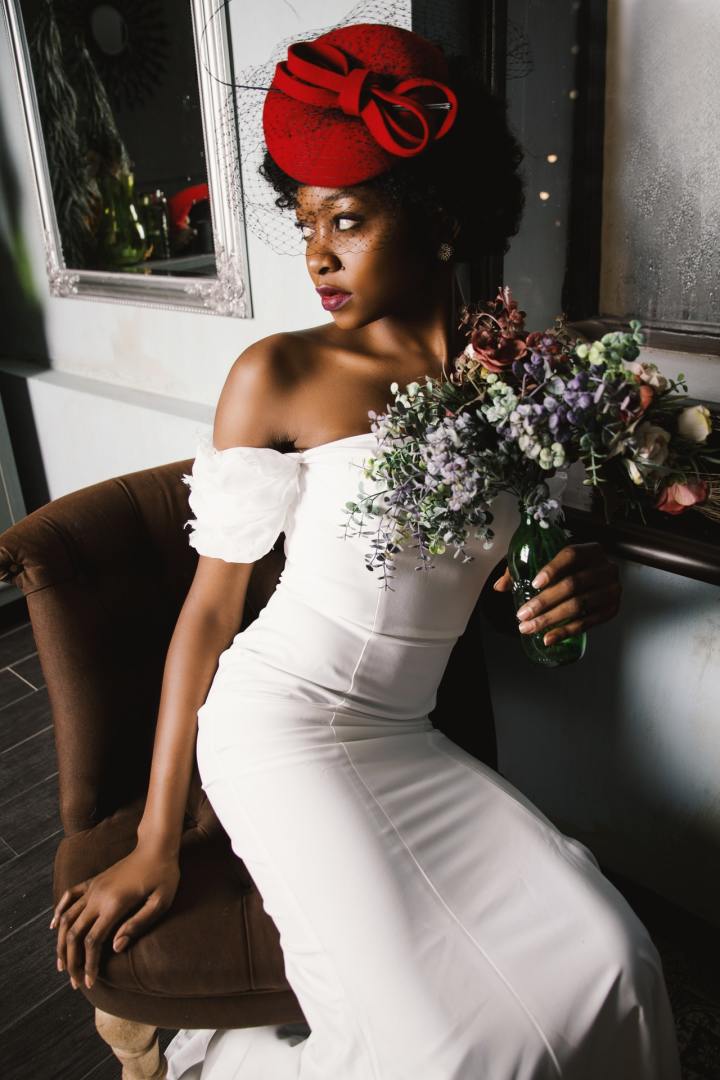 Don't you just want to stare at this shot for hours? The dress is cool-and-modern yet uber-feminine. The hair accessory in the form of a red felt hat and hair pin? She looks like a super model. Then there's the hair—an afro that's been roller-set for more volume. Perfect.
The reason why this particular look gets a shout-out from us is because it's the kind of hairstyle that any bride with shorter hair can pull off, regardless of what her hair texture might be. So long as your locks are bob-length (or a tad shorter) and you've got some setting lotion and rollers (maybe a little hairspray too), you can easily pull this hairstyle off—and be just as show-stopping as this bride is!
"Bedazzled" Bridal Hair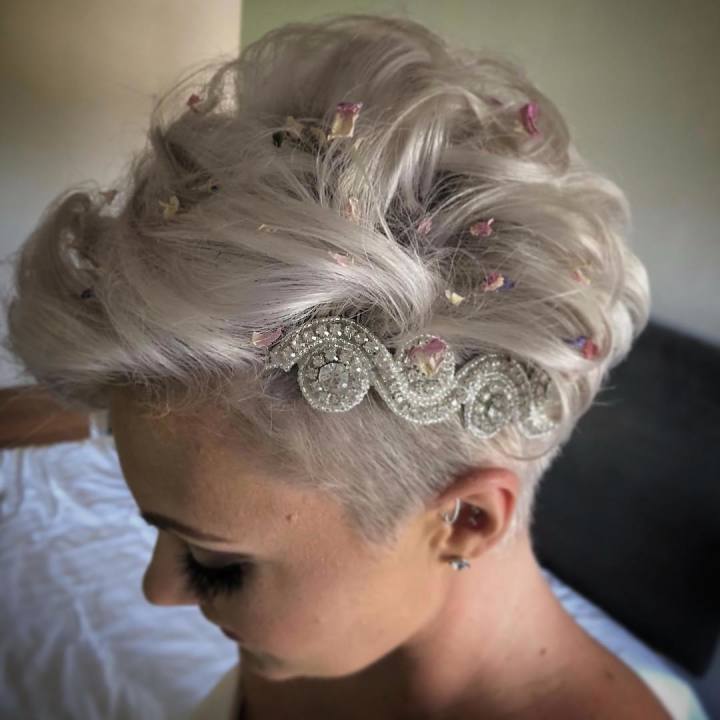 White hair. Shaved sides. Vintage hair clips with small dried flowers. This big day hairstyle is giving us LOTS OF LIFE and we love every minute of it!
If you're the kind of bride who isn't big on wedding veils, but you do want to have something in your hair, this is such a beautiful option, don't you think? It's just enough without being over-the-top. Plus, it's the kind of look that is breathtaking whether you're getting married at noon or after-five.
Another thing we really like about this is if you're planning a wedding on a budget and you can't afford to get a fresh cut-and-color, thanks to all of the accessories going on, you won't really need to. Your hair will look like you just stepped out of a classic black-and-white movie regardless.
Short 'n Sweet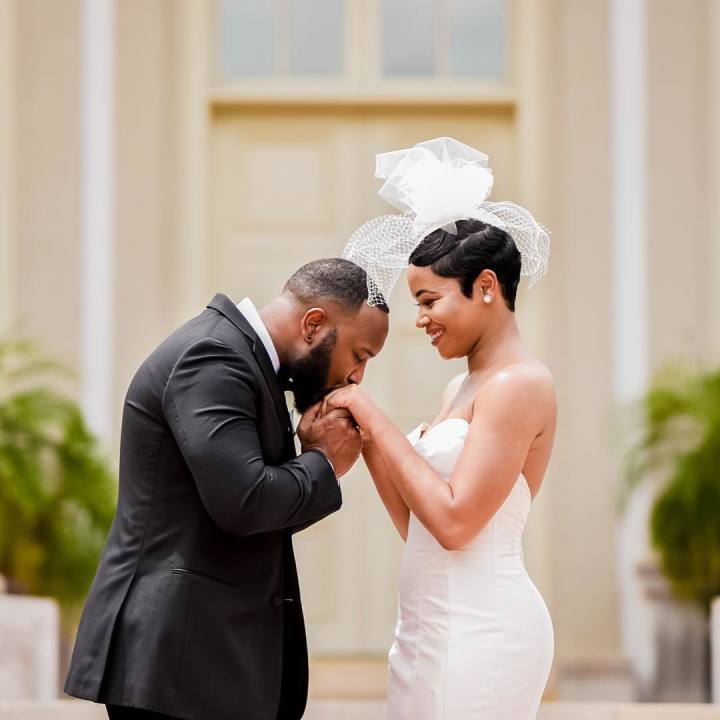 What a perfect way to end such an awesome showcase of beautiful brides.
This look in particular? We're sharing this in case you're someone who actually has long hair, but you're considering going with a shorter look for your big day. If you've got naturally-straight (or chemically-processed) hair, you can use some styling mousse to create pin curls or finger waves that are reminiscent of the 30s-40s. It's another one of those wedding hairstyles for short hair that would be ideal for a formal wedding. It also works with or without a hair accessory.
And, it's the kind of look that is matchless once your wedding day is over and you're ready to slip into a sundress or a graphic tee along with your favorite pair of jeans.
Does a great hairstyle get ANY better than that?! #Nope
fashion and beauty