Best Wedding Cake Trends of 2018
If you're getting hitched this year, you're probably thinking hard about what kind of wedding cake to have at your reception. We're featuring the best wedding cake trends of 2018 to help inspire you!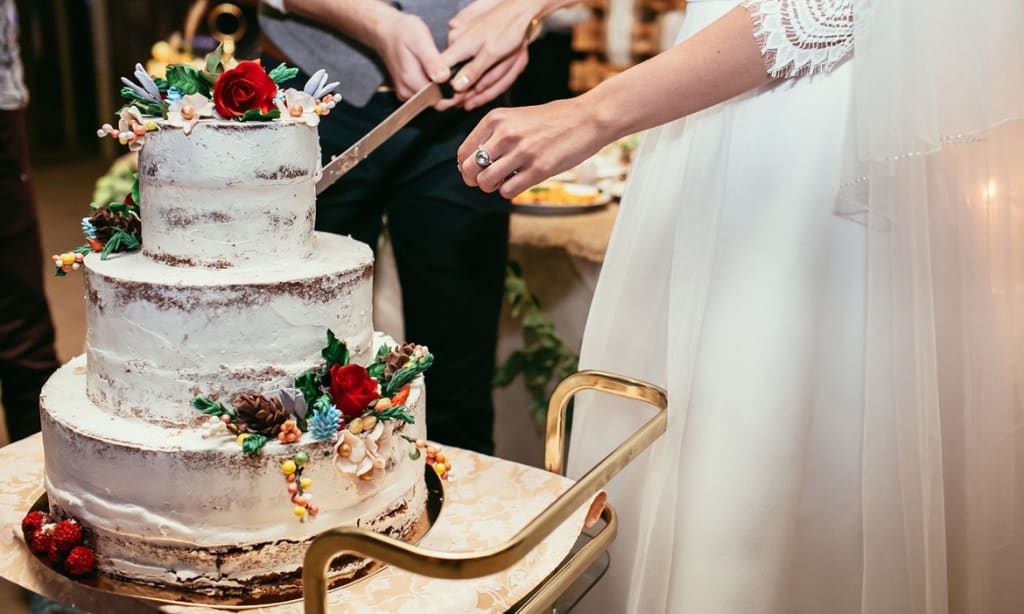 Planning a wedding on a budget is stressful, and one of the most difficult (and expensive) choices you'll make is choosing a wedding cake. Honestly, there are so many styles, designs, colors, themes, and trends when it comes to cakes that it can be overwhelming. We are loving the wedding industry right now because, for the first time in a while, there are TONS of new and exciting wedding cake trends for 2018. Forget the basic white cake with floral accents, and leave those helpful tips for making your own wedding cake at home. We've got you covered with some truly exciting cake trends that are sure to inspire you!
Geode Cakes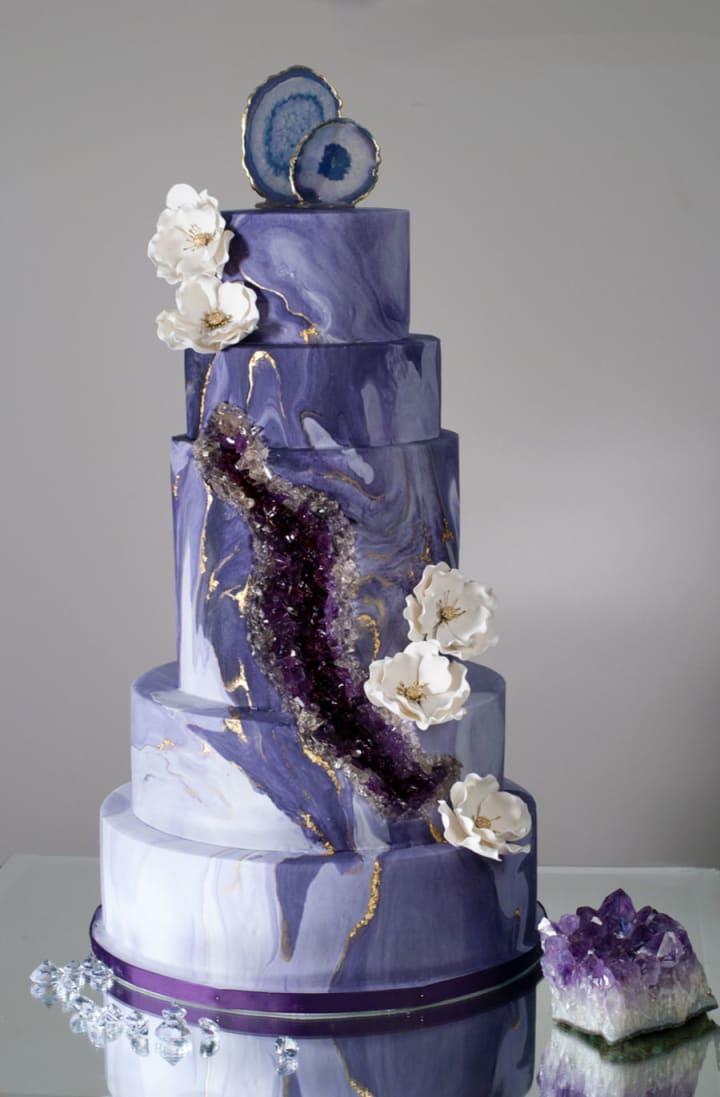 One of the coolest, most colorful new trends in cake design is this awesome geode cake. Created with sugars to look like real geodes, these cakes look stunning, and can be made in any color. Match your wedding colors, and buy one of these cakes to really get your guests talking! (Just be careful of the design you choose; some of these can look a little R-rated, if you catch our drift.)
Naked Cakes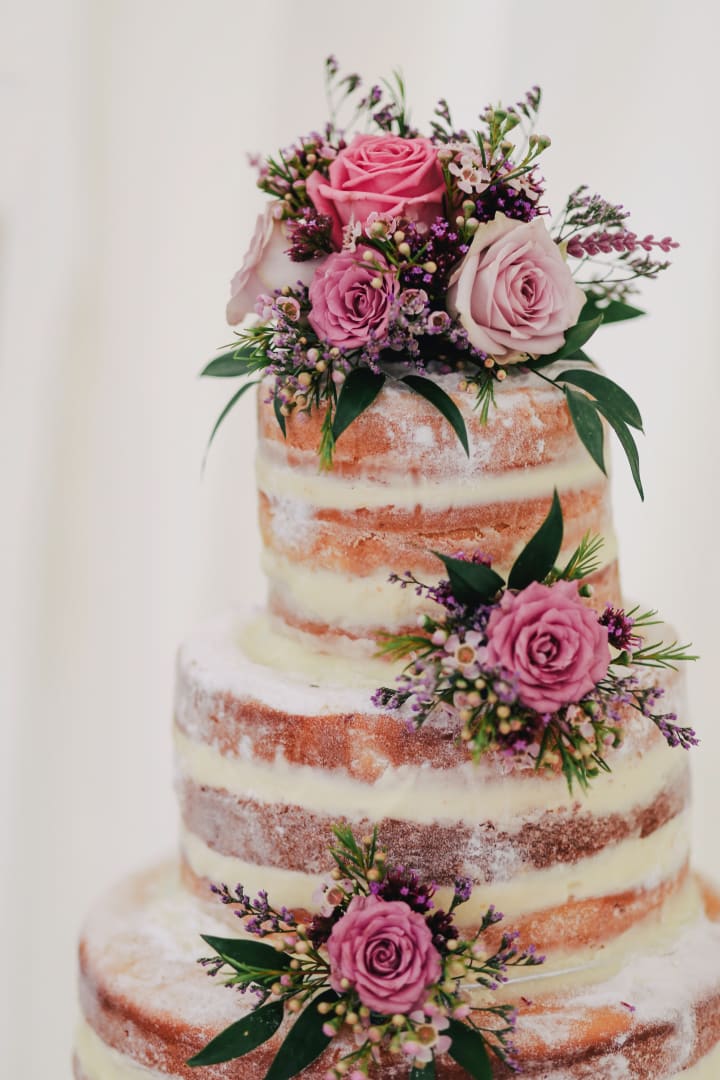 Naked cakes really are the next big thing. They stepped into the spotlight in 2016, and have become increasingly popular each year. These cakes are perfect for weddings with a simple, clean aesthetic, or a rustic theme. Stripped down to the basics, these cakes forego much of the icing and fondant so that the individual layers show through. Generally topped with sugar flower bouquets or fresh fruits, these cakes are a favorite for brides, grooms, and guests!
White-On-White Cakes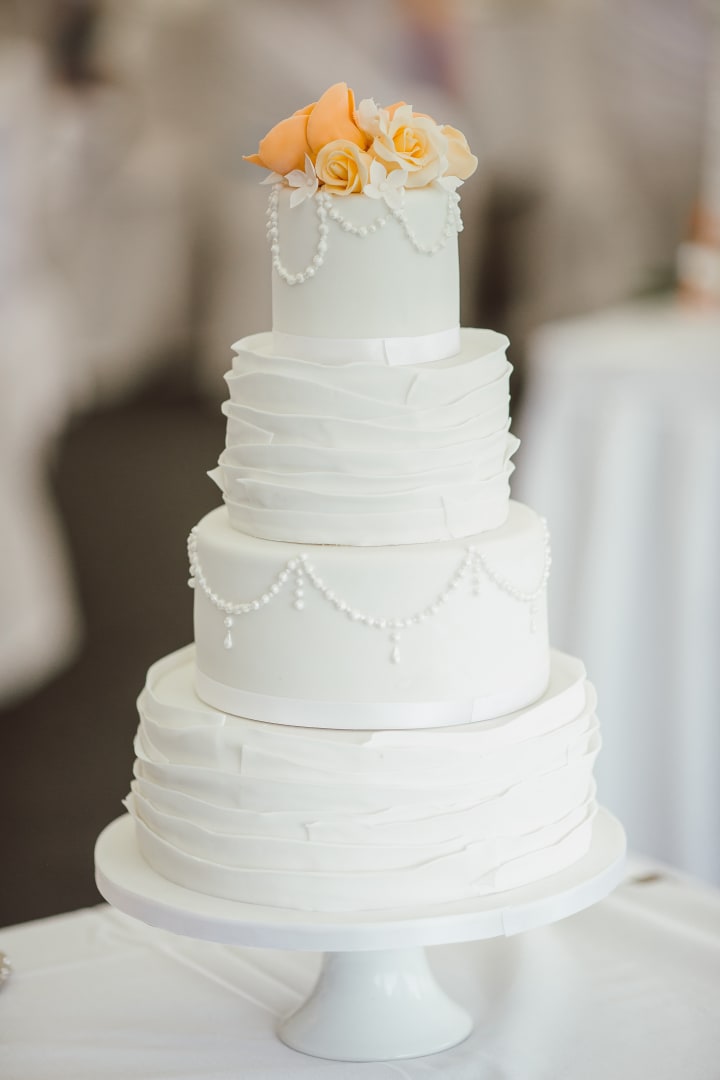 For weddings featuring a simple, clean aesthetic, white cakes have become very popular. From a distance, these cakes look majestic and elegant. Up close, you can see their detail, design, and intricacy. These cakes manage to stand out and blend in simultaneously, making them a big hit for many brides!
Marbled Cakes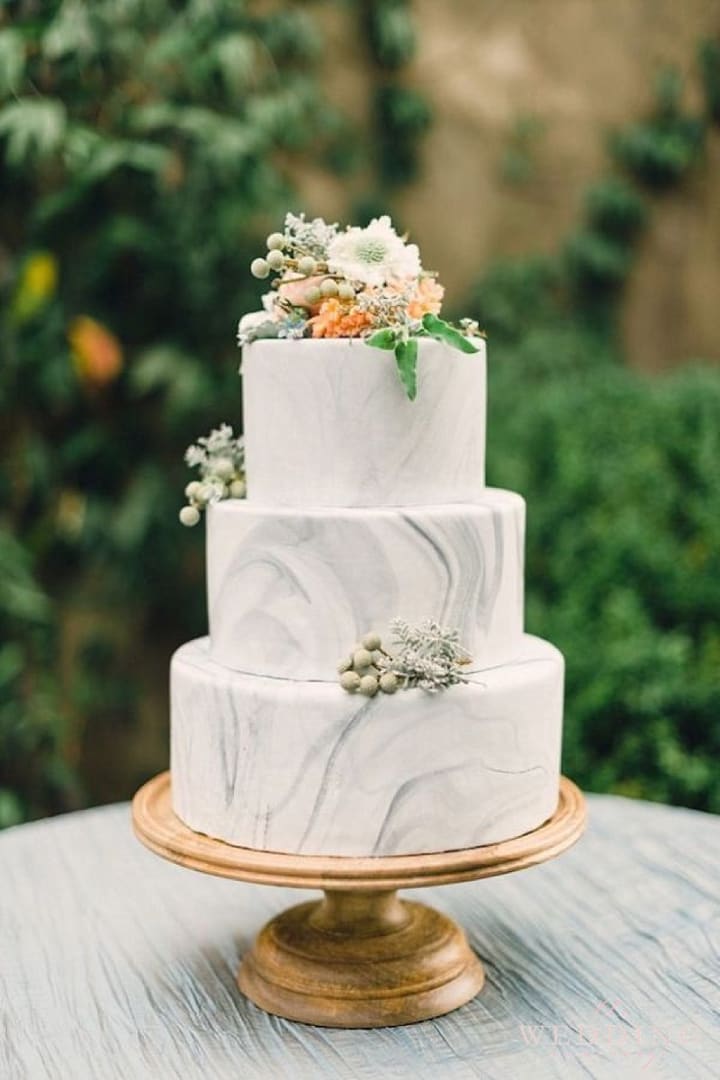 The marbled icing look is another trend that's been growing in popularity over the last couple years, and we're excited to feature it as one of the best wedding cake trends of 2018. A marble cake like this one might cost extra, but it literally looks like a million bucks, so it's well worth the cost!
Drip Cakes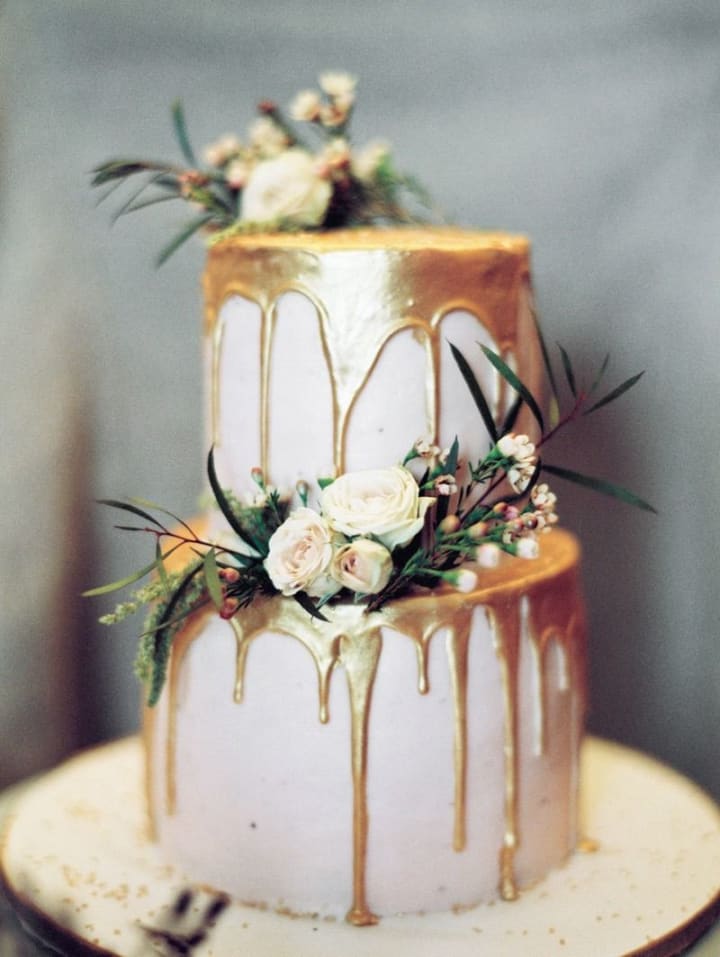 If you're looking for something simple, but not boring, we recommend these beautiful drip cakes. This wedding cake design is fun and up-scale, but still clean and not overwhelming. Choose colors to match your wedding scheme, and accentuate with fresh flowers or fruit!
Metallic Cakes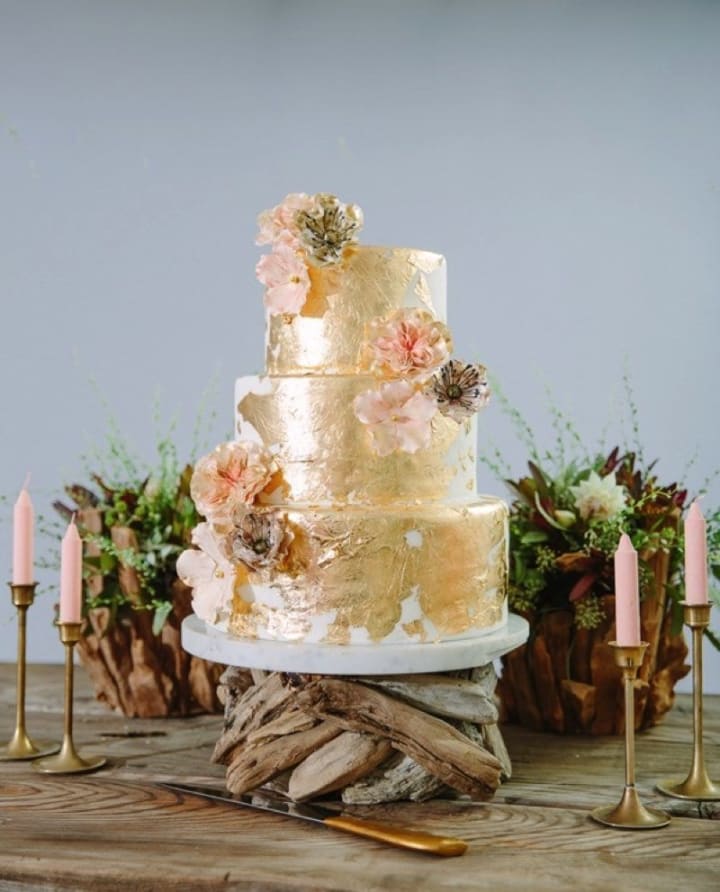 For elegant affairs, metallic is where it's at. This wedding cake trend is wildly popular, and is an easy way to make your event seem very high-end and fancy. Some folks choose to alternate layers of metallic and non-metallic, while this design changes the texture of each tier and adds metallic elements to all of them. We're in love!
Dark or Black Cakes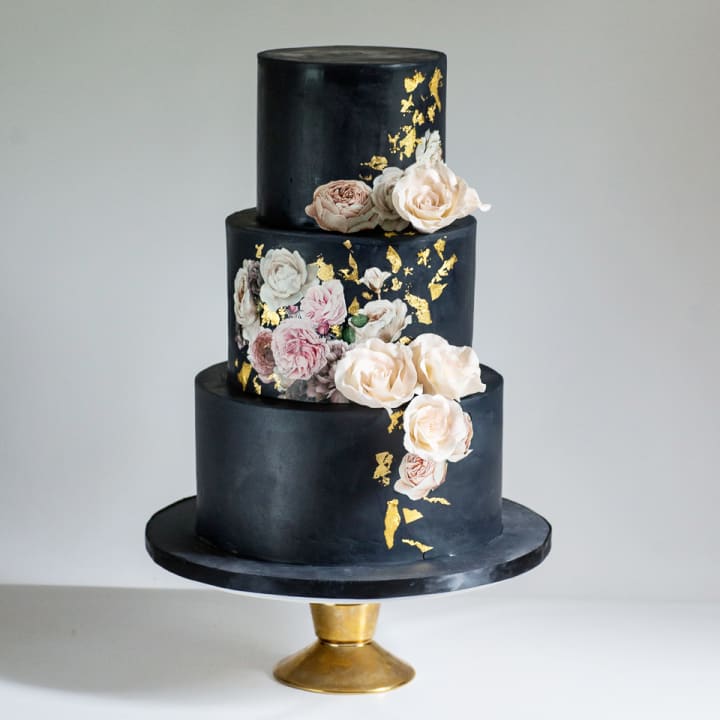 For a long time, black was considered taboo at weddings as the color represents death and endings instead of happiness and beginnings. That rule is quickly coming to an end, however, as dark-colored and black cakes make their way into people's hearts and minds! This 3-tier cake is absolutely stunning with its black-on-black floral design, and pink, white, and black sugar flowers!
Hand-Painted Cakes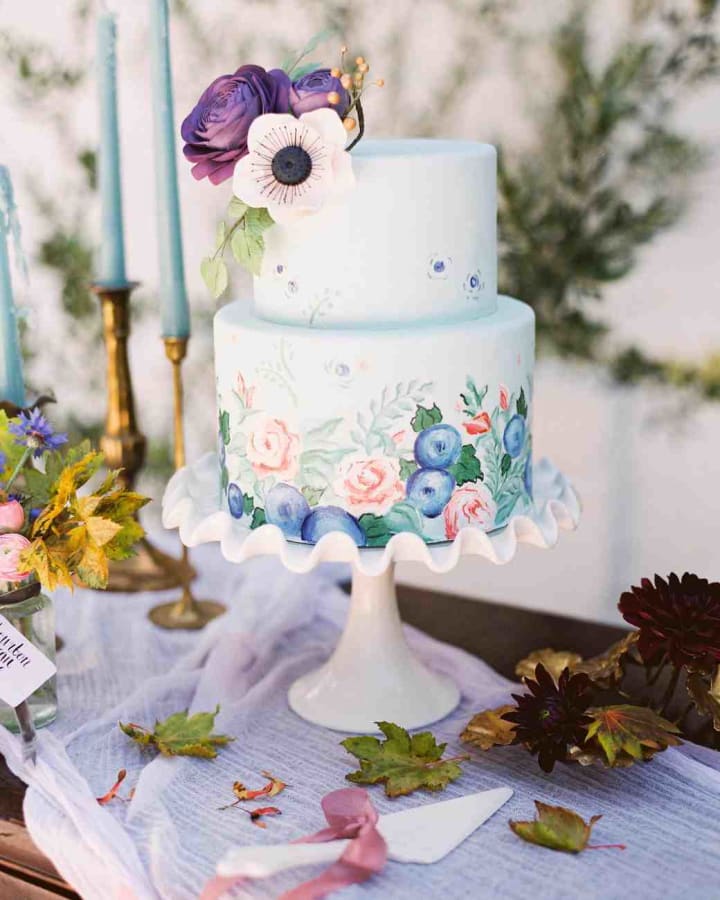 As the "vintage" style returns to favor, more brides are falling in love with cakes that seem less manufactured and more individualistic. Hand-painted cakes are an excellent way to ensure that nobody ever has a cake exactly like yours. Choose colors that match your theme and go with a floral design; or, live boldly and ask your cake decorator to pain designs specific to you and your partner. No matter how you cut it (pun intended) this cake will be a favorite amongst your guests.
Ombre Cakes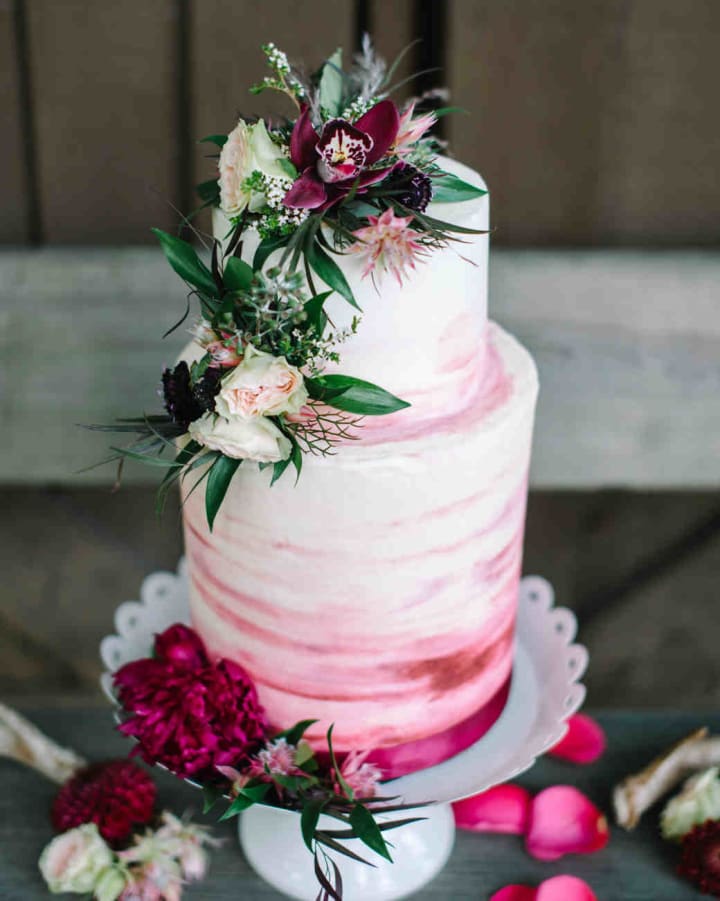 First, it was a trend for hair, and now it's a trend for wedding cakes! The ombre look is an absolutely stunning way to blend your wedding colors together into a standout cake for your big day! We love the detail on this textured, 4-tier cake. The accented sugar flowers add a touch of sophistication that we love, too!
Desserts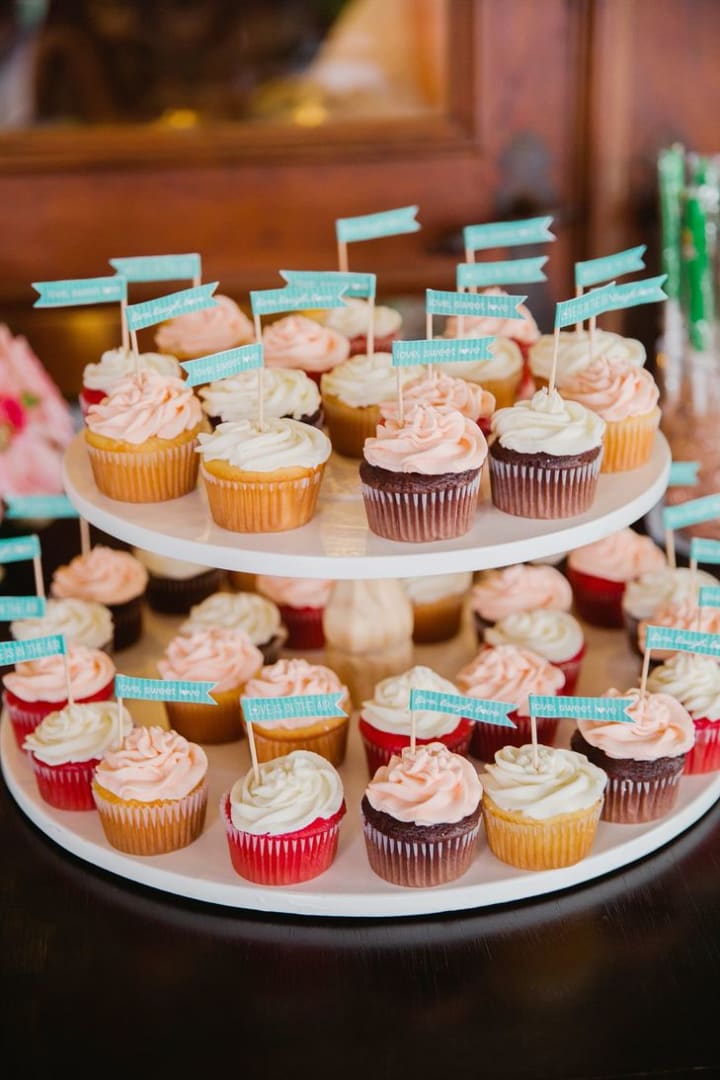 If you're looking to really buck tradition, consider serving no wedding cake at all! Cupcakes, cheesecakes, and other dessert options are becoming a fast-favorite among brides and caterers alike! These beautiful cupcakes are topped with cute, inscribed ribbons, and would be perfect for any casual or laid-back wedding reception; or, if you opt out of having an open bar, you could always ship in cupcakes from some of the best alcoholic bakeries in NYC.
There are hundreds of options when you're choosing your wedding cake. Size, shape, tiers, flavors, colors, and more. We don't envy you if you're trying to decide what kind of cake to buy for your own wedding. We DO, however, hope that you've found some inspiration here in this list! These best wedding cake trends of 2018 are popular for a reason, they are all quite beautiful. No matter which one you choose, your wedding cake will be absolutely stunning!
food and drinks
Former Le Cordon Bleu student who traded in classes for a gourmet mac and cheese truck! Honk for gouda!
Receive stories by Addison Lewis in

your feed