Affordable Wedding Party Favors
Because Weddings Are Expensive (Canada Edition)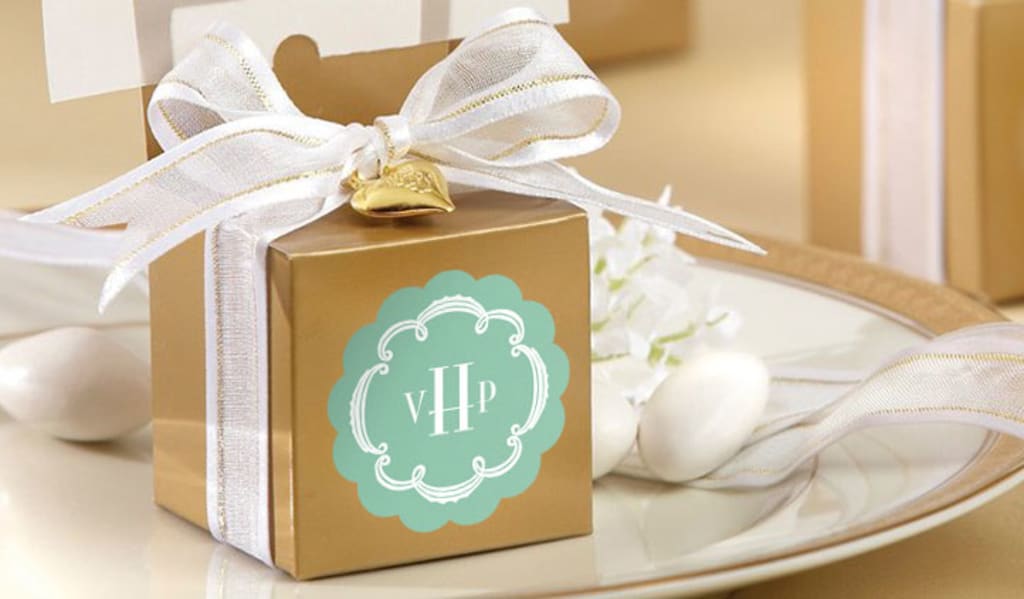 We have dreamed of that perfect day, with the perfect wedding cake and the right venue, the right ceremony and the right wedding dress. Then, you plan everything else, but one thing that is often pushed to the background are the party favors because you want to be creative and you want to save the money. So, here are a few affordable party favors for your guests.
Tea. All you need are some little tins with some labels. The labels you can very easily make on your own, you can use a label maker or buy the ones that you print off, or if you want to be unique you can wrap ribbon around the base of the tin and print out a little note to stick it between the ribbon and the tin. You can buy tea in bulk at Bulk Barn or Superstore.
Lip gloss, this is a super easy craft. You can buy beeswax off of Amazon and shred them into little pieces, then you can also buy empty lip gloss containers off of Amazon as well. Take some of your favorite essential oils and coconut oil and mesh all of it together and pour it into the containers, then to finish off you can make a label containing the ingredients (because of allergies) and of course you and your new husband's name.
Christmas tree ornament. This one will only work if you are having a Christmas wedding. Buy some fire logs and saw them into tiny pieces, you can either write out your names or do an initial or you can buy a wood burn tool at Michael's and engrave your names, then add some ribbon and there you go.
Cookies. You can bake a lot of cookies and then just have them bundled up by using a paper cup and you can decorate the cups however you please. Also, this is good if your guests do not like items taking up their lives.
Candy. You can buy candy in bulk and it still won't be that expensive. You can choose how to wrap it up or contain it and still be able to put labels on them.
TicTacs, I saw on Pinterest a really cool idea you can buy bulk TicTacs and just put your own little label on there. Also, if you like cheesy things you can write "Mint to be."
Popcorn, yes, I know it is a little weird, but you know that popcorn is affordable, but you can buy your own spices and season the popcorn yourself that way it is more personable. This would be unpopped popcorn because it can taste a little weird if it is cold.
For a winter wedding, having instant mocha mix or even hot chocolate and you can give them out in little jars, which you can buy at Michael's or any craft store. Then, you need some hot chocolate mix and you are done.
Another easy thing to make is soap. Everyone needs soap, so you know it will be used. You can purchase soap base at Michael's and that can be a little more expensive, but if you have small soap molds, it can be done.
Planting seeds, this one is only a good idea if you know that most of the people on your guest list have a garden or have plants in your house and it can be hard to judge that, however, seeds are not expensive, so it could work.
Scented candles. This is not the best idea, I have to admit, but candles can be very affordable and can be easy to make as well, the only reason I was hesitant to put this on is that this tends to be a gift that is often re-gifted or not used at all.
Rock magnets. This is probably the most affordable thing to create, you go out by a river or stream and you gather a bunch of rocks, then you can paint them and later hot gun them on the backs of a magnet. Also, some of you get a thousand free magnets from realtors. You can now use these! Or instead of rocks, use a label and just have your names printed on them and you can write something cheesy like "We hope you liked sticking around" or "Magnet to be together."
Key shaped bottle openers they are just $17.99 without shipping on Amazon and you get fifty or so keys with that! You can then buy a strong string of sorts and attach your message to them.
If you have a themed wedding you can do party favors according to that, you can have masks for a masquerade, you can get plain ones at any dollar store and then later you can have a decorating table where guests can decorate their masks however they want.
Succulents seem to be a huge trend now, you can put little names on them or labels and have the guests' seat numbers on them as well. However, I can't imagine this being too cheap. You can buy a pack of 36 for around $38, which is not too bad of a price.
gifts and registry
About the author
Hello fellow interweb explorers! I am Ada Zuba. I binge the Netflix shows and just recently Disney plus has been my happy place. I am a creative person with a big love for Disney movies. I hope to one day write and publish a fantasy novel.
Reader insights
Be the first to share your insights about this piece.
Add your insights