10 of the Cutest Flower Girl Recommendations You Can Use for Your Special Day
Making your flower girl feel included is a small thing you can do that will bring even more happiness to your big day. Knowing the cutest flower girl recommendations will make it a memory for you and your families forever.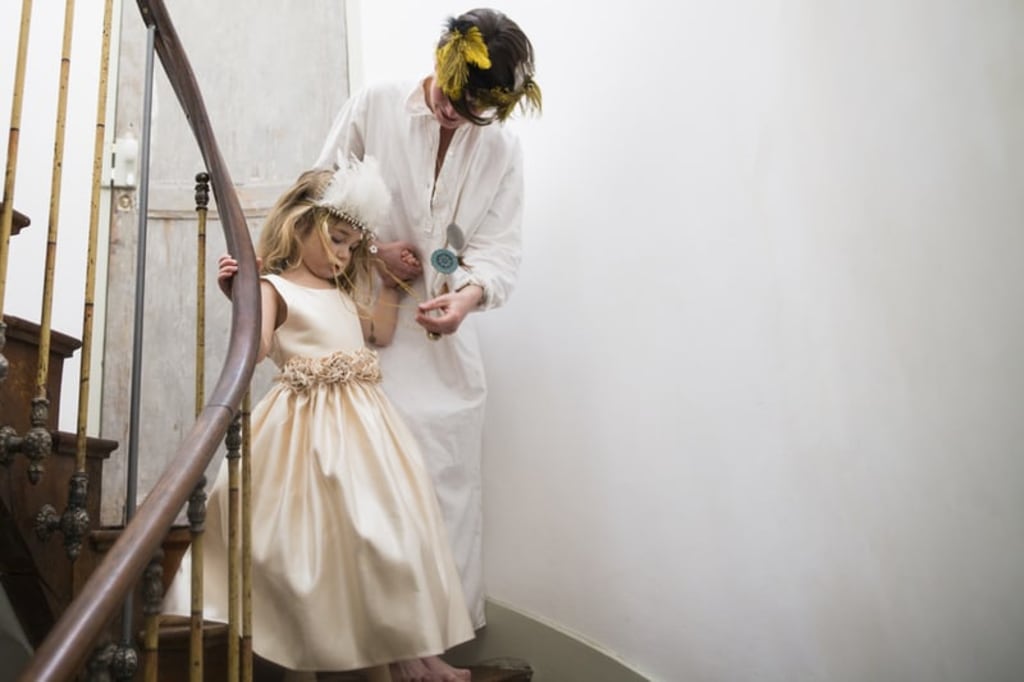 For many little girls, their real weddings are events that they start to think about and elaborately plan for early on in their lives. To give them a hint of the magic that they imagine weddings being filled with, you can ask that special little girl in your life to be your flower girl on your wedding day.
And though they have a very important job to do, don't forget that, since they're part of the wedding party now, you're going to have to find ways to include them to make sure that special feeling you're feeling lasts. You can have them join you on the dance floor, and make sure to get some photos of just your flower girl and your ring bearer together. These moments will not only be wonderful memories to look back on when they're grown up, but will give them experiences that will make them feel them like they were as important a part as they were on your special day.
To help you get creative, find ways to bond with, and prepare your flower girl for what could be a big job in her life, knowing a number of the cutest flower girl recommendations will surely keep everything "happily ever after." Not only will she feel included in the overall wedding ceremony, these tips will help you support her so she feels ready and willing to perform her flower girl duties on your big day.
1. Make sure to buy your flower girl a gift for being so helpful on your wedding day!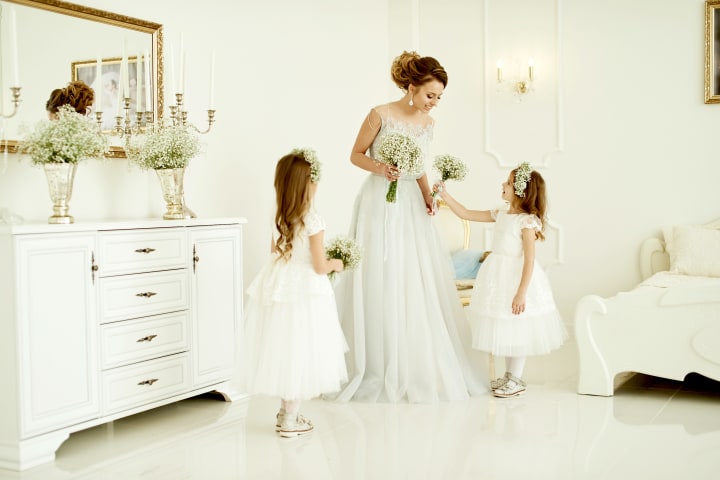 To thank your flower girl for all her help and support as you prepare for the biggest moment of your life, make sure to sweeten the pot and find her a gift that speaks to how excited you are to have her as part of your wedding party. Since she's likely pretty young, you don't need to break the bank for a gift or anything—you could get a wooden jewelry box to put her wedding accessories in at a local crafts store, and paint her name on it along with some flowers if you're artistically-inclined. Or, you could just get new a pair of pajamas that she can wear the night before or the night of your wedding for your pre-wedding sleepover.
2. Find a dress for your flower girl that is in the same style or color as yours or your bridesmaids'.
While tulle skirts are usually a crowd pleaser for all wedding guests, if your wedding dress has a specific style or cut, you could try to look for a dress for her that looks similar to yours—or those of members of your bridal party. This will help her feel like she's really a part of the wedding, and can let her feel as fancy and beautiful as you are, as you're both walking down the asile in white dresses on your wedding day.
Maybe you could include her in your wedding dress shopping, or at least bring her along for your fitting, and then both of you could look for dresses for your flower girl that both you and her will love!
3. Give her a flower crown that matches the flowers in your bouquet.
Flower crowns are great for outdoor weddings, but if you're carrying a bouquet, you can make a flower crown for your flower girl no matter the setting of your wedding or the time of year. Not only will tying your flower girl's flower crown to the colors in your bouquet make her feel more included, but it will also look great in all of your wedding photos!
4. Match accessories or makeup with your flower girl's aesthetic.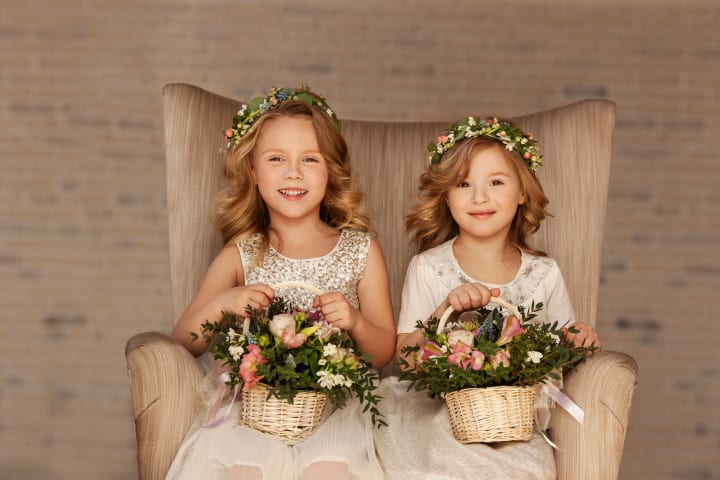 If her parents agree, you could let your flower girl wear a bit of the same lipstick as you, or you could put a bit of blush on her cheeks so she feels extra fancy, grown up, and special.
Otherwise, you could make sure that you have matching accessories with your flower girl. If your dress has an off-white ribbon, you can make sure that her dress or her outfit has one too. Or you could find a nice necklace at Claire's or Icing that looks similar to yours that she can wear with her dress.
5. Have your flower girl get ready with you and your bridesmaids.
Not only would this be the cutest photo opportunity ever, but your flower girl will love being "one of the girls." She'll love putting on a little makeup, and watching as you and your bridesmaids get ready—you could even teach her some special hair tricks that every bride needs to know that she can use whenever she does her hair, or on her own big day! And she'll especially love to be one of the first people to see all of you in your dresses, ready to go!
Letting her into this part of your wedding will be something she'll likely remember for a long time. Every little girl looks up to the older girls and women in their lives, and wants to be like them—and giving her any opportunity to feel like she's very grown up and welcome in your wedding party will mean the world to her. No matter what you do, she's going to think you're the most beautiful bride that's ever existed!
6. Replace rose petals with something more suited to the aesthetic of your wedding.
If you're having a rustic wedding, or a wedding that takes place in the fall or winter, your flower girl could drop pinecones as she walks down the aisle towards your bride or groom; whereas, if you have a beach wedding, she could carry seashells. Or, if your wedding takes place in the evening, you could have her carry a candle—depending on her age. Getting creative here is one way to ensure that she feels like an even larger part of your wedding since some extra thought went into the role that she would play on your wedding day.
7. Think up a cute way to ask her to be your flower girl.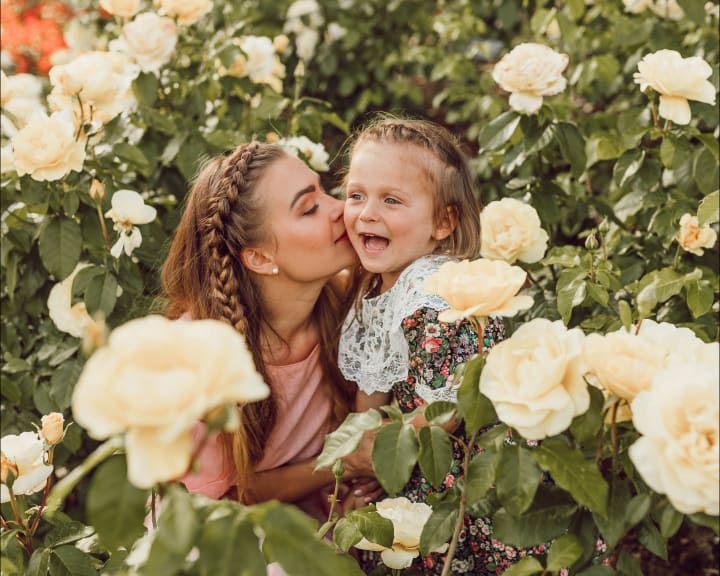 For many little girls who have been flower girls, they remember being asked by their friend or family member to be a part of their wedding. But to make it extra magical for her, try to get creative and find an even more memorable way to ask her. You could have her unwrap a present with her flower girl gift inside and a card that asks her to be your flower girl. You could even design a little puzzle, that reads, "Will you be our flower girl?" once it's completed to surprise her!
8. Send your flower girl down the aisle with a note for your bride or groom.
This small addition to your flower girl's role in your wedding will let her feel like she's in on a little secret between you and your partner. She'll love to see how your partner's face lights up when they realize that she's got a note from you for them.
She's already going to love the fact that she gets to be a part of your wedding because she'll be a part of your commitments to love and cherish each other forever, but to really let her be part of the magic, this little gesture will show her the power of the love that everyone is going to feel on that day.
9. Involve her in some of the decisions!
If you really want your flower girl to feel like she's contributing to the big day, you can involve her in some of the decisions. Give her options for things that you've already decided you'd be happy with, but let her make that final decision—for example, should your bridesmaids wear pink dresses or red ones? Or you could have her help you choose the perfect wedding flower for the day!
Letting her decide on some of the aspects of her own outfit will also (hopefully) help avoid any day-of meltdowns about how she doesn't like her dress or the color of her flower crown or anything.
10. Make sure to find a few minutes in the day to sit down with your flower girl, and let her know how excited you are to have her be such an important part of your big day!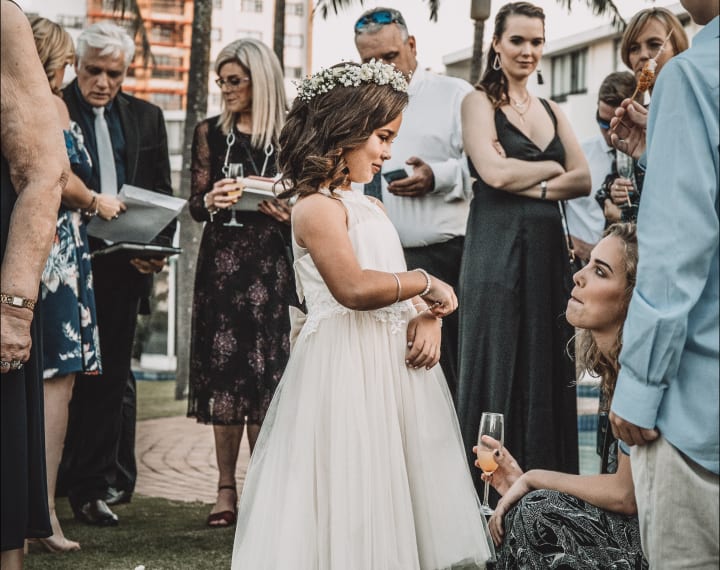 Your wedding will be a busy day filled with lots of joy, probably some tears, and lots of love, so in between events and preparations, make sure to spend some time with your flower girl. Remember, she's looking up to you as a role model on your wedding day, and she's living vicariously through you as you celebrate your love for your partner.
Ultimately, the cutest flower girls are always those who feel most excited to participate in their loved one's wedding. Her dress and flower crown are just the icing on the cake. How happy and prepared she feels to walk down the aisle, and how energetic and excited she is to be a part of your day, are the most important things to focus on. Hopefully, the cutest flower girl recommendations have sparked some ideas and inspiration to help you support your flower girl so she can be the best flower girl she can be.