10 Awesome Wedding Drinks You Need to Have
These awesome wedding drinks will add the perfect punch to your big day buzz.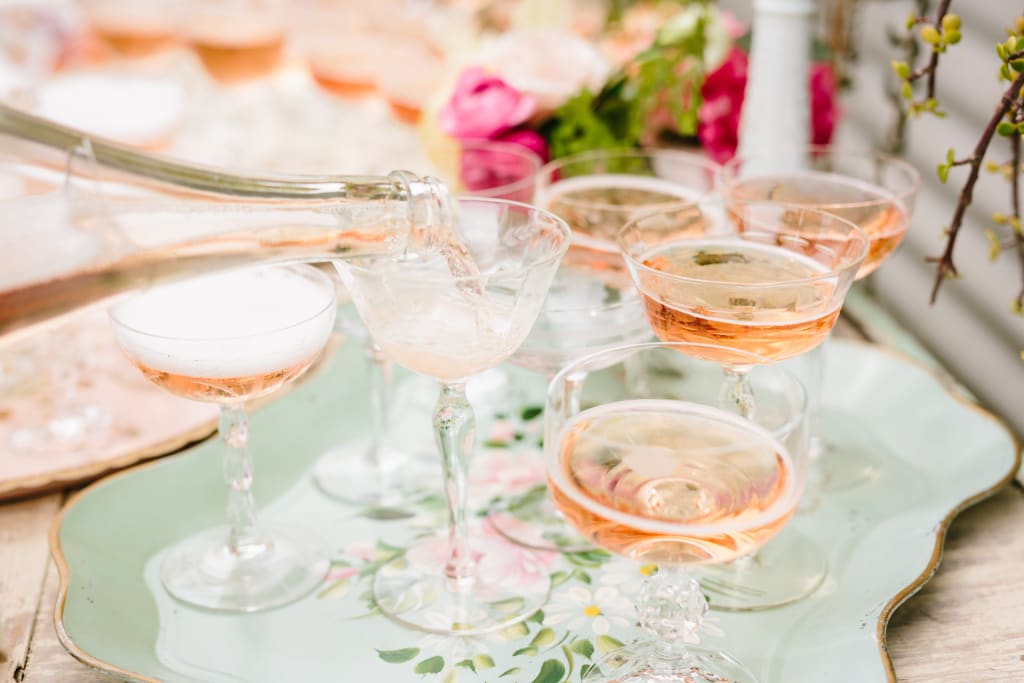 Photo via Lillabello.com
Every detail matters on your wedding day. From the stunning aisle decorations to the cake and the accessories on the alter, it's important to choose the perfect signature cocktail. And just like your cake, the style of drink you choose depends entirely on the aesthetic of your wedding. This awesome wedding drink round-up has something for everyone. To keep guests happy and hydrated on your wedding day, say "I do" to one of these signature cocktails.
Berry Moscow Mule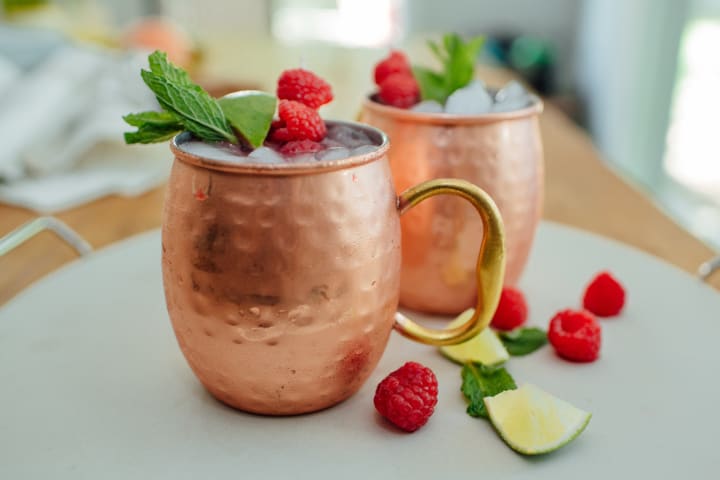 Something about ginger beer is nostalgic of being a kid with soda cravings. If your wedding is more about having fun than appearing sophisticated, Moscow mules are the answer—fizzy deliciousness with a loud adult "whoop!" of vodka. You can make your own, or even pick some canned Moscow mules to have available at the bar.
Ingredients
1 half lime juiced
10 raspberries
2 ounces vodka
4-6 ounces ginger beer
Fresh mint sprigs for garnish
Instructions
Mix lime juices and raspberries in a copper mug. Add vodka and ice to the top and fill with ginger beer. Garnish with mint leaves.
Peach Bellini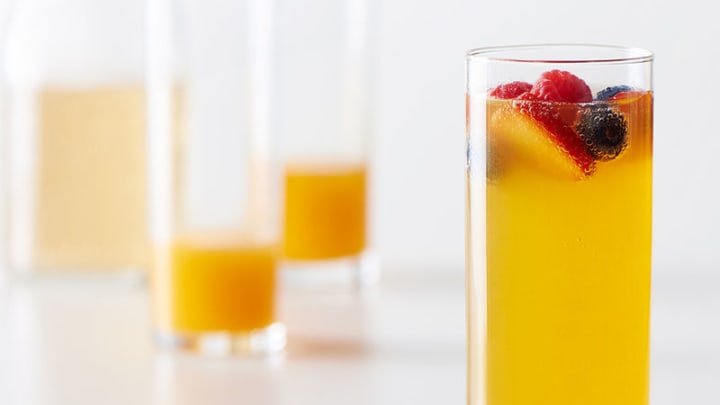 Sparking wine says fantasy. You're sweet and you know it—today is about riding into the sunset with your special boo. If your wedding is accessorized with glitter and stardust, this peach bellini, made with sparkling wine, is the beverage you'll want to serve.
Ingredients
4 1/2 ounces chilled Prosecco
1 ounce white peach puree
1 T crème de framboise
Various berries for garnish
Instructions
Stir the Prosecco into the peach puree. Drizzle in the crème de framboise, then pour the drink into a chilled flute. Garnish with fresh berries for a pop of color.
Minty Mojito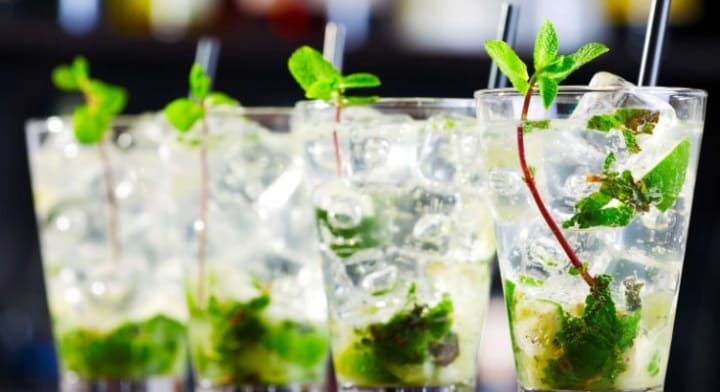 Mojitos are for the couple that has a salsa flash dance planned for the after party. Wedding guests will love the sweetness of the sugar and rum, with a twist and a wink of lime.
Ingredients (Makes 1)
10 fresh mint leaves
1/2 lime, cut into wedges
2 tablespoons white sugar
1 cup ice cubes
1 1/2 fluid ounces rum (white)
1/2 cup club soda
Instructions
Crush the mint and lime with a muddler. Do not strain the mixture. Fill the glass almost to the top with ice. Pour the rum over the ice, and fill the glass with carbonated water. Stir.
Apple Cider Mocktail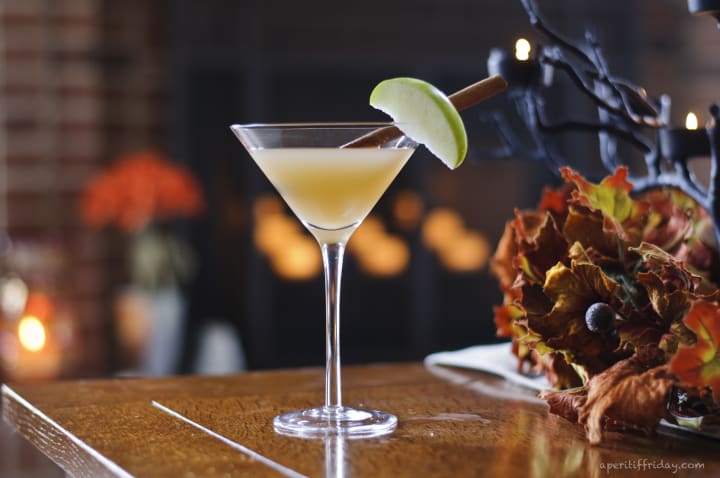 It's always good to include a mocktail on your list of options in case some of your guests aren't so into the liqueur buzz. This apple cider mocktail is so spicy that guests won't miss a thing.
Ingredients
2 tablespoons of Ginger-Cinnamon Simple Syrup
1 cup apple cider
Ice
Cinnamon sugar for rimming the glass
Apple slice or cinnamon stick to garnish
Instructions
Wet the rim of the martini glass with apple cider and dipping in cinnamon-sugar. Add ice to martini shaker, then pour in cider and simple syrup. Shake and pour into martini glass. Garnish optional.
French 75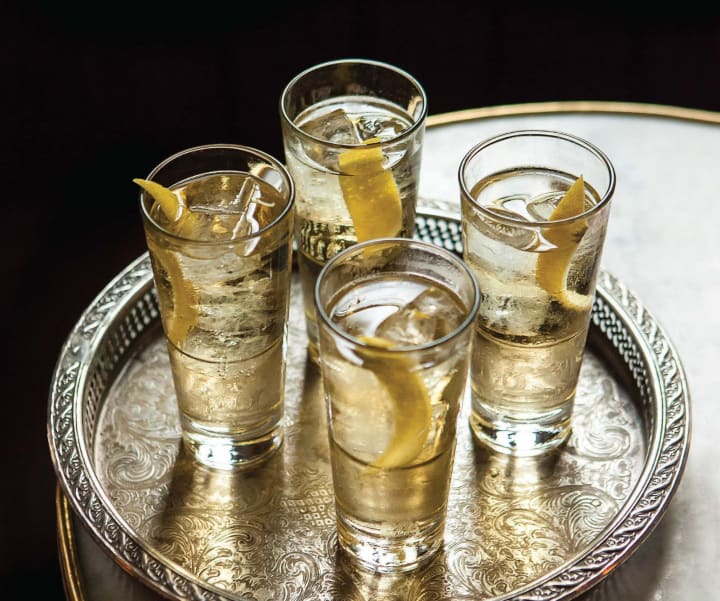 If you'll be fighting nerves on your wedding day, a French 75 is the drink for you. A double punch of gin and champagne warms you up, and the fresh lemon juice offers a little burst of invigoration. Just be sure to pace yourself—these drinks taste so good, it's hard to drink just one.
Ingredients
Cracked ice
2 fluid ounces gin
1 teaspoon simple syrup
1/2 fluid ounce lemon juice
5 fluid ounces brut champagne, chilled
1 slice lemon (optional)
Instructions
Freezer chill cocktail shaker and glass. Add ice to shaker. Pour gin, simple syrup, and lemon juice into shaker and shake. Fill chilled glass half full of ice, then strain cocktail into the glass. Top with champagne. Garnish with a lemon slice.
Strawberry Sangria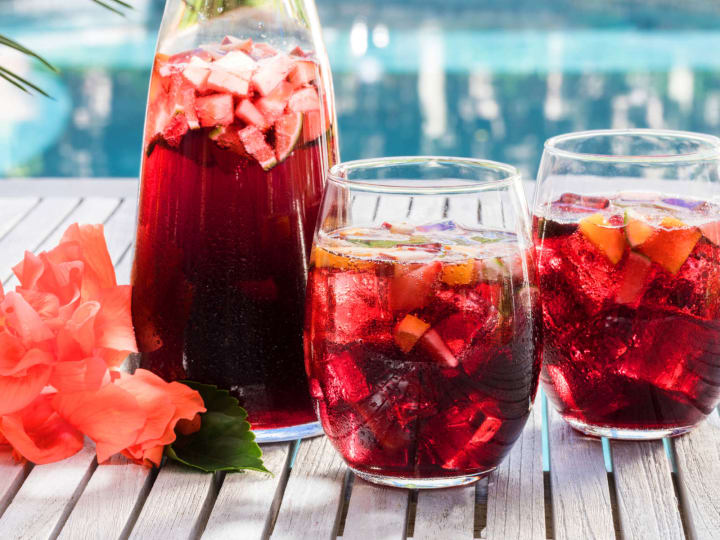 Nothing says "time to party" like a fruity sangria. If you'd rather wear a hot pink mini dress than a long white gown on your big day, this is the drink you should have in hand while boogying late into the night.
Ingredients (Makes 8)
2 bottles pinot grigio
2 cups strawberry-cranberry juice
2 cups sliced fresh strawberries
1 lemon or orange, sliced
a few mint leaves
Chilled club soda
Strawberries, for garnish
Instructions
Pour wine into a large pitcher. Add the juice, strawberries and lemon (or orange). Chill in a refrigerator overnight. To serve, fill glasses ¾ full with the sangria mixture. Top off with club soda, and garnish with mint leaves and a whole strawberry. If you want a slight variation on this recipe, there are a wide variety of easy red wine sangria recipes out there to try instead!
Toasted Irish Whiskey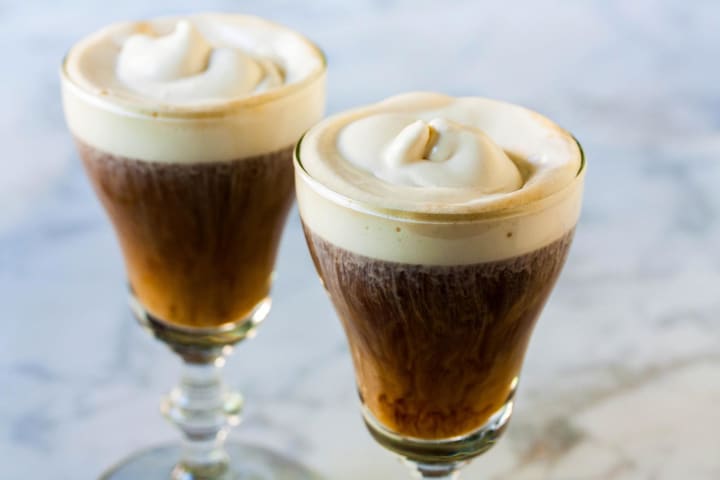 If planning this wedding has taken its toll on your energy level, this caffeinated cocktail will give you the boost you need to perk up and enjoy the big day.
Ingredients (Makes 1)
1.5 fluid ounce Irish cream liqueur
1 (1.5 fluid ounce) jigger Irish whiskey
1 cup hot brewed coffee
1 tablespoon whipped cream
1 dash ground nutmeg
Instructions
Combine Irish cream and Irish whiskey in a coffee mug, and fill the rest of the way with coffee. Add a dollop of whipped cream on top and a spatter of nutmeg.
Sophisticated St. Germain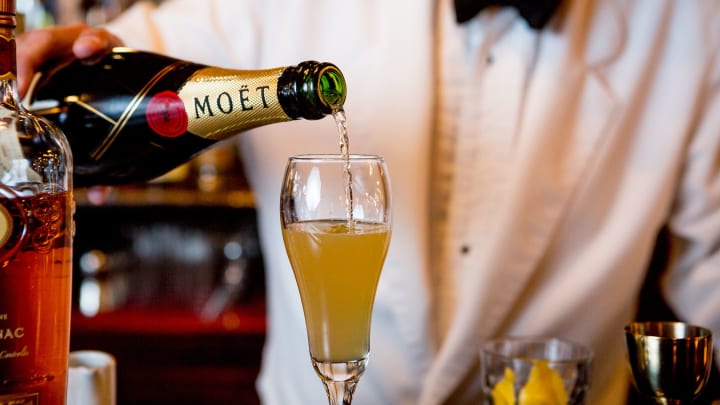 To impress guests with a unique blend of flavor, try a St. Germain. This signature cocktail blends vodka and champagne with elderflower liqueur and tastes as delicious as it is elegant.
Ingredients (Makes 1)
1 1/2 ounces vodka
1 ounce St. Germain liqueur
3/4 ounce freshly squeezed lemon juice
3 ounces brut champagne
Lemon twist or peel (for serving)
Ice (for cocktail shaker)
Instructions
Combine the vodka, St. Germain, and lemon juice in a cocktail shaker. Fill the shaker with ice, cover, and shake for 20 seconds. Strain into a champagne glass then fill the rest of the way with champagne. Garnish with lemon.
Whiskey Sour Classic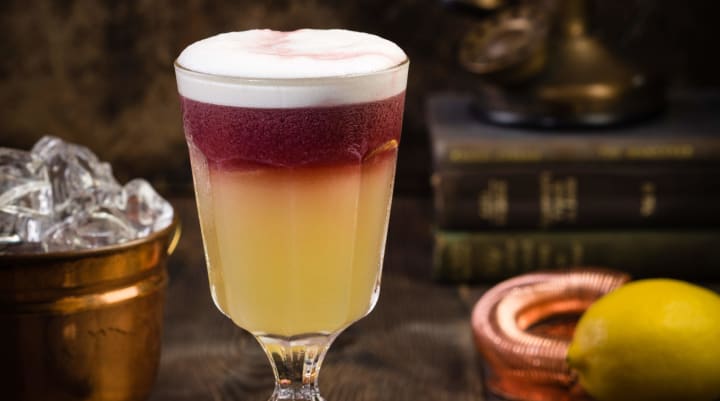 If your wedding was inspired by timeless style, a whiskey sour is the drink to serve, topped with the perfect layer of egg white foam.
Ingredients (Makes one)
2 ounces bourbon whiskey
1 ounce freshly squeezed lemon juice
3/4 ounce simple syrup
1 egg white
Ice
1 cherry
Instruction
Place the bourbon, lemon juice, simple syrup, and egg white in a cocktail shaker. Shake for 10 seconds. Add ice, seal again, and shake for 7 to 10 seconds more till chilled. Strain the cocktail into a coupe glass. Top with a cherry.
Blackberry Whiskey Lemonade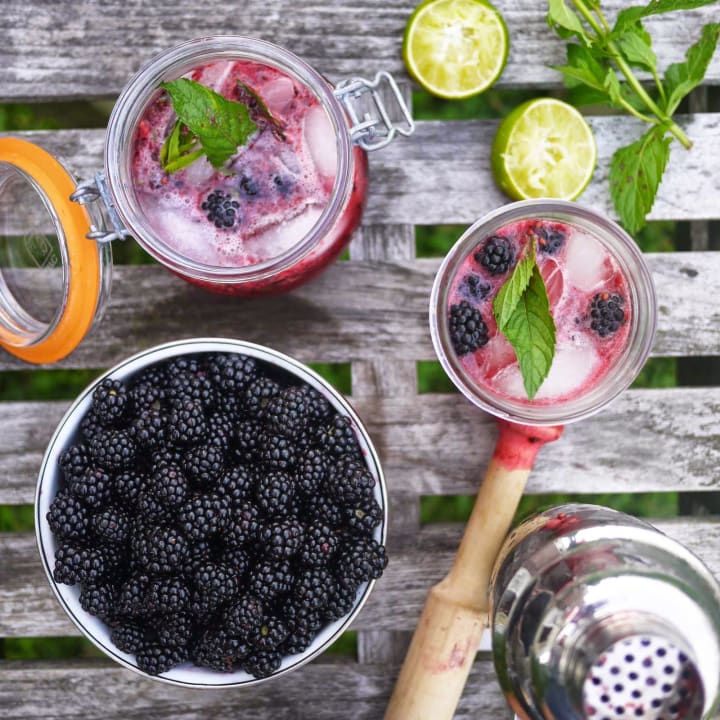 This awesome wedding drink was practically made to be served in a mason jar. For weddings with gritty charm, a blackberry whiskey lemonade cocktail will complement exposed wood beams and hanging strands of light perfectly.
Ingredients (Makes 4)
5 ounces Whiskey
1 cup Lemonade
6 ounces blackberries
4 long sprigs fresh rosemary, stripped
1 ounces fresh lime juice
1/4 teaspoons cinnamon
Instructions
Muddle blackberries, rosemary leaves and a splash of lemonade. Add cinnamon and stir. Add lime juice, remaining lemonade and bourbon. Mix well. Strain over ice in small glasses. Garnish with rosemary.