Zentangle
How I discovered the art of Meditative doodling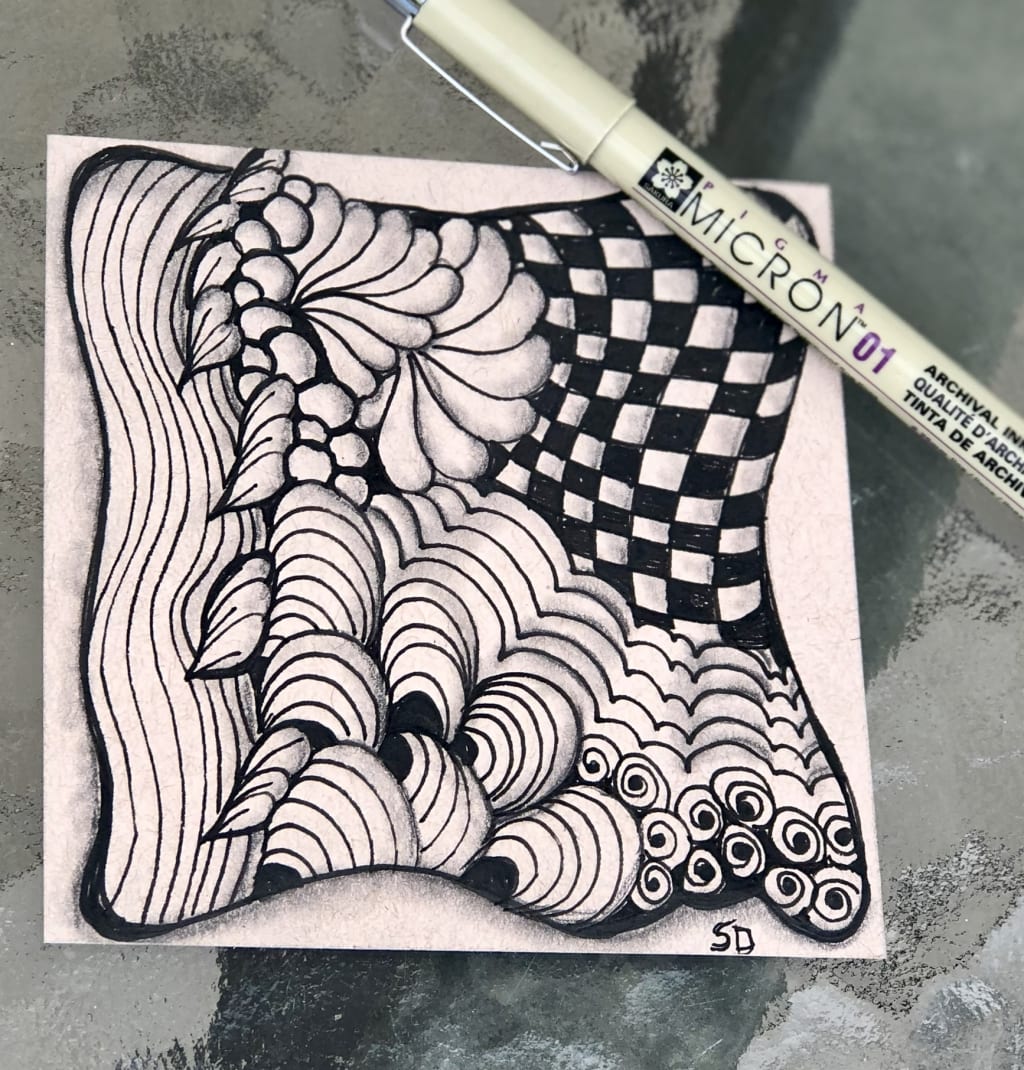 Zentangle Tile
About 10 years ago my sister introduced me to this new craft that she had just taken a class in, it was called Zentangle which is the art of doodling, mindfully. I had no prior experience with any form of drawing or creative art, I sat down tried it a few times then put it aside. I liked it, I was interested, just unsure that I had any talent, not particularly happy with my results. For a couple of years I would find the small kit she had put together for me and think that I should try this again. But I didn't. I would put the little plastic baggy containing a couple of Zentangle tiles, a Sakura micron pen with a 01 point, a tiny short pencil with the words Zentangle inscribed in it, a slim tortilion or smudging stick and a white eraser, back in the junk drawer out of sight, out of mind.
One day sometime in 2013 I had just gone through a major shake up in my 20 year marriage, a serious criminal incident of which my daughter was the victim, and a huge conflict/embarrassing situation/moving to a new department at work, I was in a deep depression. This depression included a nice big dose of random and sporadic anxiety that had me on medical leave from work. I found myself wandering around the house, not sure what to do with myself. I couldn't concentrate for long, I didn't feel like talking to people- friends or family and I didn't feel like engaging much at all. One day I came across the small Zentangle package and decided to pull it out and sit down and try it again. I went online to the Zentangle website and read about two people who had created this new art, they were Maria and Rick out of Whitinville Mass. I read about the creation of The Zentangle method, the rules, the materials necessary and sat down to try. You begin with a 3.5 x 3.5" tile which could be purchased or cut to size. I didn't want to wait for tiles in the mail so I cut up a small stack of tiles using the best cardstock I had, and sharp fiskar scissors, the homemade tiles worked perfectly. With the black micron pen you start with a string, which is a random line drawn onto the tile within which to draw your tangles or patterns. Once you have your string down you can begin filling in the tile with tangles, there is a plethora of patterns available to use that Maria and Rick have created on just about every social media platform, including Facebook, Instagram, Pinterest. The tangles are small repetitive doodles created in a pattern with instructions called a step out. The patterns continue until as much of the tile is filled as you like. Once your tile is filled to your satisfaction you can do some shading with your custom pencil, then you use the tortilion to smooth and blur and shade creating depth and a 3D effect. In the end I had this cute little design that was beautiful, and all mine.
Wait, what, what has I done?! I had been able to sit quietly and repeat this art for an hour, and create something I was a teeny bit proud of. My mind and thoughts hadn't been running, chasing the sadness, I was calm and relaxed. I had just discovered the art of doodling mindfully. That is what started me on a path of thoughtful, meditative artistry, it's therapy really. I still do Zentangle Art almost daily, after almost ten years. Some of it has changed , the rules relaxed as far as what can be called Zentangle ™️ and new ideas added such as ZIA- Zentangle Inspired Art. Zentangles or ZIA's can include colour, the tiles can be different colours such as tan and grey and black. The choice of tiles you can use has also expanded, to include round, triangle, tiny little tiles called Biju's, large tiles for bigger projects. I have found the perfect cardstock, beautiful paper to doodle on. I take my time, carefully cutting tiles with quality Fiskar scissors, I invest in quality Sakura Micron pens, erasers, smudging sticks and pencils and coloured pencils. My Zentangle toolbox has grown, has become a bit of a obsession, but ultimately time and money well spent.
I have really embraced it all, I love sitting quietly, methodically doodling keeping my mind open and clear. Zentangle eventually helped to lift me from the depths of sadness and at times I am sure saved my sanity, fed my soul and has allowed me to discover that I do have a creative side. Who knew that doodling could bring happiness and joy? The amazing couple also run a twice or thrice a year seminar where you attend a 5 day workshop and end up with a Zentangle teacher certification, enabling you to teach Maria and Ricks trademarked method of Zentangle. After completing the course you get to add the coveted CZT to your signature and Zentangle artwork. This course is definitely something on my list of things to do, one day. I don't have any plans to teach and I don't sell my finished work so I'm not in a huge rush, but I will get there sometime to get my CZT. If I feel things are getting too hectic, I need a little quiet I simply sit down, cut some tiles and create… sometimes following the rules laid out and sometimes making my own rules but always enjoying the process.
art
About the author
Reader insights
Be the first to share your insights about this piece.
Add your insights