Write the criticism away, everyday.
One writer's manifesto for a better night's sleep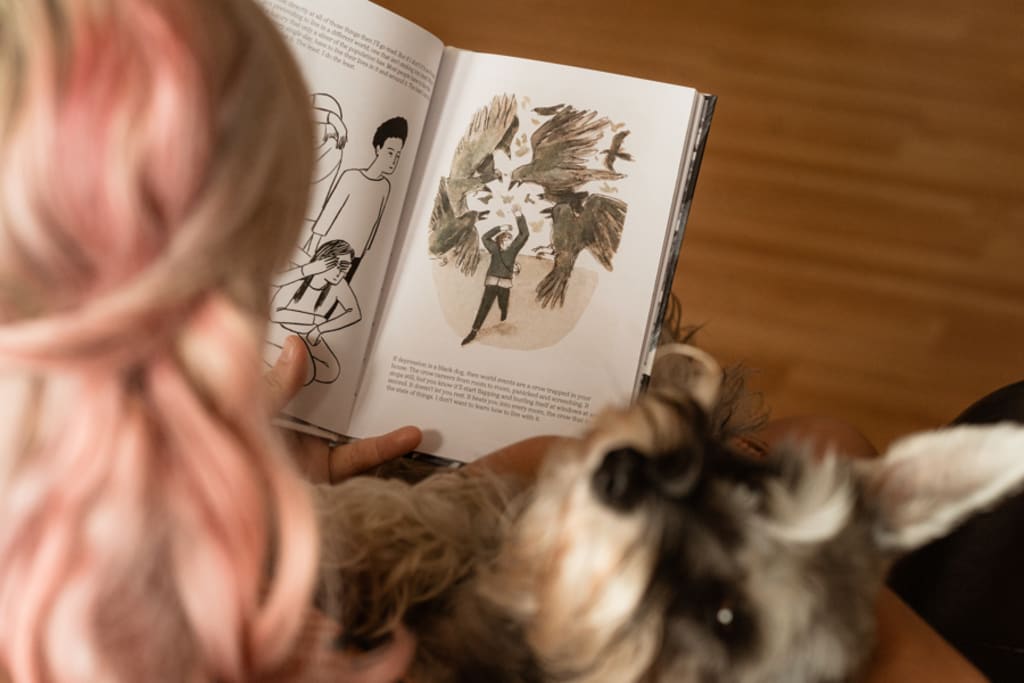 My mind, it chatters. Ticks and tocks. Jerks and kicks. Resists, resists, resists. I have a sleep playlist, and listen to Nothing Much Happens too (a podcast series of bedtime stories for adults).
Regardless of this, and the Chamomile tea; 'Yoga for Relaxation' tutorials; lavender oil; ambient lighting or blackout curtains; whether alone or in company, my brain is engaged in charting and tracking the absurdity of trying to live with any hope in this wasteland of our own invention.
There's the micro plastic particles in our water. There's knowing my country is hoarding vaccine doses, giving us boosters, and leaving the global majority without enough to even administer loading doses. The unfathomable popularity of Justin Bieber. There's the images of the Pangolin scales caught by customs. There's the shame of being divorced. The exorbitant cost of trains to London, when I just want to meet my friend's baby.
It still sticks in my throat, when I try to say I'm a writer. Maybe this self doubt is clogging my arteries, it might explain the tightening in my chest. Despite the Masters in Travel and Nature Writing, I just haven't felt like a writer since graduating. A head full of rage, is hard to wield into anything useful. If you can't say anything nice... Then maybe the page will stay blank. It has been. But, the flurries of ash from the fires I'm fighting internally have been distracting.
How to set a routine for a mind like mine? What's the right way to control an unruly child? Consistency is queen. But, the gratitude journaling thing, didn't work for me, neither did the, 'write for 20 minutes in the morning' thing. The letters just skipped about eluding a fluid form on the page. Resist, resist, resist.
Or, could I lean in? Could I take those thoughts I wished I didn't have, and hold them to the light, and try to make space for a second thought to emerge? Could this clear the clutter of catalogued catastrophes? Could I be that person, the one who doles out insufferable rebuttals like "we wouldn't have green fields to enjoy without it" to someone who laments a rainy day?
Yes... I could. Yes, I have.
Every night, I now list a series of the negative observations I collected throughout the day and turn them into a piece of writing to exorcise the demons out of me. Sometimes I'm just grappling with food textures, and the banality of administration. Sometimes I'm processing grief, alongside Netflix crtitques. The edge of my thoughts seem to be softening.
On Sunday mornings, I've developed the ritual. I revisit photos and abandoned notes from my travel diaries and create a long form piece.
There's an example below, and perhaps you can see the threads of negativity I've allowed myself to ackowledge and take another form? They've spun into a hammock to rock me, rather than a web to trap me.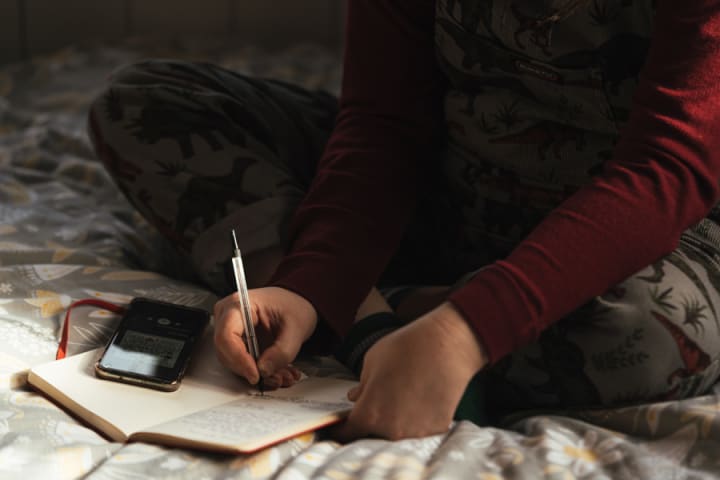 Southwold, Summer (2019)
For once, a shop called Oscar and Rose that would normally remind me of Rosie and Jim or Topsy and Tim and annoy me, doesn't. I'm not irked by this middle-class stronghold; don't care that 99.9% of the people passing by are white. Because there's a little girl in a scruffy two piece, stained from fun in the sun, clambering on a sea view telescope searching for monsters of the deep.
A husband absent-mindedly brushes his wife's hips, as they look outward too. Her body leans a fraction of an inch closer to his, instinctive as the tree branch that bows to the wind. A humdrum connection of time and grind that glows golden on a sweltering July day at the seaside. Their presence casts a shadow of hope across the bench on which I've come to rest. She might not want me, but someone's fingers, someday, will linger on me in that contented way.
A bird dips and dives, instantaneously scattering my thoughts. I recall the stories of my gran, from the stretch of time between her beginning and mine, know that she would have deftly dived into the water on a day like this. I'm in Cardiff in my mind, see her leaping into the long-gone lidos of Barry Island and Llandaff Fields, or the depths of Roath Park Lake, in the company of cormorants. An arch, a curve, a swoop, all grace, purpose and poise. Wings and arms spread out. Then, a blunt punctuation mark stalls my rhythm and rhyme sort of day. I don't remember her name.
The voice is still there, and the bounce of her white set hair. I can see her expression as we'd sit together on her garden swing, and even hear the exact intonation when she called, "Sim" (to my mum, who is Nic to everyone but this side of the family). I comfort myself with the assertion that nouns are overrated, after all I still appreciate wildflowers, trees, bees, and dogs of all breeds, without remembering their names. But, knowing whether gran was a Mavis or Agatha somehow seems to matter.
Sonia Batisto interrupts. She wants to sit on the bench I'm colonising with postcards I'll forget to send. "It's higher than the others" she observes with the authority of a local, "better for old people like me, they just need to add a block of concrete under those other ones." This 90+ year old has seen many turns around the sun, her cracking skin a testament to it, her chest a hack-job jigsaw of calloused pieces.
I keep the conversation going by commenting favourably on the beach huts below, but she counters, "they're charging £60,000 for those and they're only little sheds! It's dreadful." I'm reminded of those smug bastards from Homes Under the Hammer. In a town of 1,400 houses, roughly 900 are second homes. In a town where Adnams, the local brewery, is the biggest employer and £19,459 a year is the average salary, I wonder where the young people go to be able to afford to get their first.
Skin that was milk in the morning has turned to midday red. I beat a retreat leaving Sonia to bake. Take shelter within the walls of the Sailor's Reading Room, there's more than enough to fascinate. Men, many men, many men, many men, many men, many many many men. Portraits and names from bygone days. Inside glass cases there are ships in bottles, and outside bottles are in the sea, nothing being where it's supposed to be… Except at the door, the same beckoning, reckoning sea.
Along the cliff path to the pier, a child has signposted her adventure by leaving a sandal on a bench and pink stripy pants on the grass. A Jack Russell, much like the ones at home, doesn't want to be hurried, but is, nevertheless, dragged away from the underwear in muted mortification by a woman in a voluminous red skirt that floats a promise of a tender kiss.
She could wrap me up in the layers of that confidence and release me on unbuckled knees, with freshly chiselled boundaries.
I want her bounce.
I want her dog.
I want to feel chiffon skim across well-moisturised skin.
One day here and I'm ready to begin.
travel
About the author
I'm a freelance writer with a specialism in cultural criticism. Passionate about global citizenship, social justice and inclusion, I'm a card-carrying intersectional feminist and can be mostly found outside, walking and daydreaming.