Wisdom Within the Little Black Book
The joy is in the giving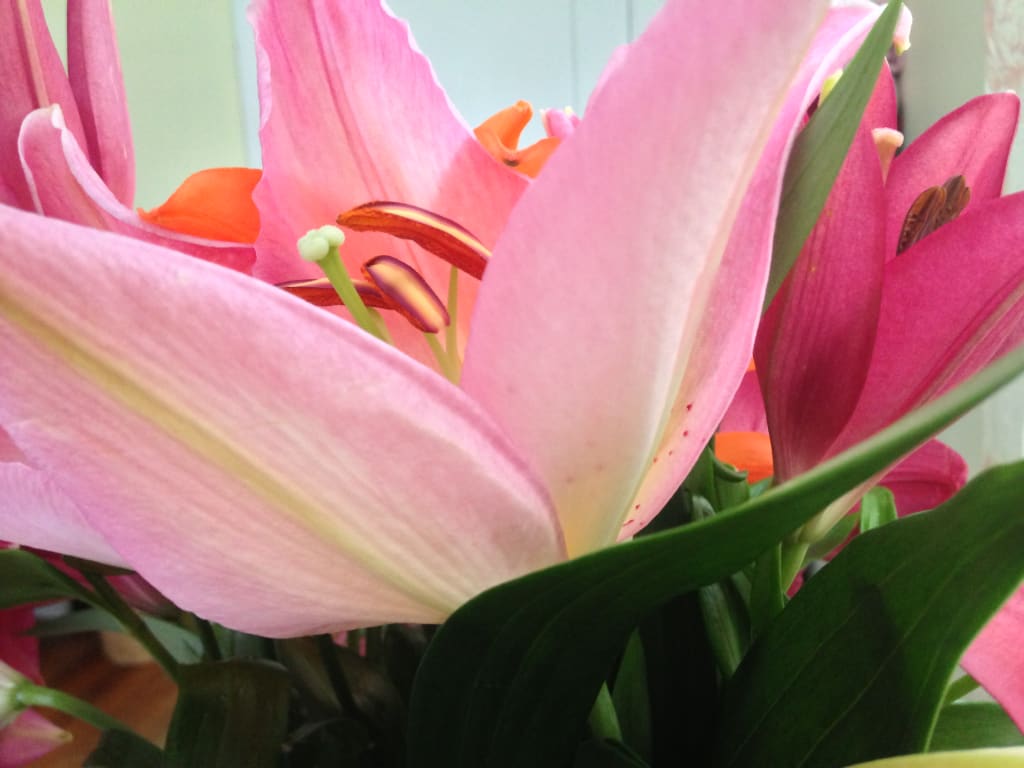 Eleonora worked 9 to 5 at Dr. Cabret's office for the last 40 years and little did she know that her life as she knew it would change forever. A pandemic had hit the world with vengeance and her routinary and pretty uneventful life was about to end even though she would not realize the magnitude of what was about to take place until many years after April 2020.
On the early morning of April 8, 2020, as she began calling patients to reschedule "in person" appointments with the Doctor to virtual meetings, she looked up onto the waiting room and noticed the "little black book" by the entrance table– the one a stranger had left there a year ago and absolutely no one had paid attention to for as long as it had been sitting there waiting to be picked up and read. She had noticed the book many times before but dismissed her curiosity to read it. Today though, the book seemed more inviting. She noticed a bright light from within as it saying to her --- "Please read me I have a mystery within." But she ignored the thought as she has done in various occasions and continued with her work.
An hour later, the stranger stepped into the office unannounced once again. "What in the world is he doing here?" she asked to herself. "How am I to tell him we are closed and no longer taking patients?" She said nothing and observed. The presence of the old guy, with shabby clothes, the heavy bag filled with little black books, and trembling hands, as unsettling as it might have been, made her feel at ease, and filled her with wonder. "Who is he?" "Why is he carrying that heavy, burdensome bag with so many little black books?" Is he sick and in need of care?" Or "homeless with the need for a warm place to sit? Or merely lonely in need of attention?"
His gait was slow, his eyes bright and his purpose clear – with no exchange of words he laid the bag on the floor and sat down next to the table where the little black book rested. He quietly gazed at the book for a few minutes, sighed a deep sigh, looked at Eleonora and in reproach, finally uttered, "You have not read it yet, have you? And looking into the ceiling – "That is too bad." He then took another deep sigh before he slowly stood up again, looked around, picked up the heavy bag and began walking out the door. "Don't waste any more time, the world needs you." ---- was his last statement. Eleonora was puzzled --- why was he so insistent that she read the little black book --- sitting by the table ever more inviting with the bright light emanating from within. "The world needs me?"
"Freedom" --- was the only thought that came to mind when Dr. Cabret interrupted her silence. "Please be sure to notify patients that we will be hosting virtual appointments beginning next week, no one should miss the appointment, or I will dismiss a patient who fails to show up." He demanded. "Freedom" - popped up in Eleonora's thought again." "Ah! Don't communicate that message to any patient older than 65. Those patients, I will dismiss anyhow." --- The Doctor shouted as he entered his office. "Freedom" – Eleanora thought again. "Also, remember you must work from home starting on Monday" --- the Doctor picked out of his door to clarify. "Freedom." "The World Needs Me." – stocked in Eleanora's thought thereafter.
Five O'clock came and as she was about to close the office and turn off the lights, she remembered the little black book and turned around. Standing in front of the table, she looked down, leaned forward and slowly picked up the little black book. Staring at the book, she took a deep sigh and looked inside. "The joy is in the giving." Turned page. "This book is about one of the three principles of financial freedom: Giving."
Eleanora sat down where the old guy had sat down earlier in the day and with another deep sigh continued on reading the seven brief pages in this little black book. After that, book in hand, she left the office, stopped by the groceries, and went straight home at the upper east side of Manhattan where she lived on her own. "Giving." "The World Needs Me." "Freedom."
"Giving – Give what? How much? To whom? For what?" "The World Needs Me?" Eleonora kept thinking through the night.
Early next morning, she called into work sick and decided to take a long walk down the riverbank. "The World Needs Me." --- she kept thinking. She had walked most of the morning without much of a destination in mind when her walk came to a full stop. The old man with the slow gait, bright eyes, heavy bag of little black books and trembling hands sat on a bench at the Stuyvesant Cove Park staring at the river. She sat next to him - "Hi, I am Eleanora from the Dr. Cabret's office." "I am Moshe." --- he replied still staring at the river. After a long awkward silence, he resumed conversation - "You read the book." "I did." -she answered "And you have no idea what it means," he stated as a matter of fact. "Exactly." ---she replied. "Well then keep on walking and you will find." "I will meet you at United Nations at 5 PM." The old man stood up and left without saying anything more.
Eleonora stayed for a little while breathing in the view and wondered about the strange old man, the little black book, about giving, freedom, . . . What does all this mean and why now? As she stood up to keep on walking, she noticed a lottery ticket where the old man sat down. Giving it no other thought, she scratched the numbers wondering if this was a winning ticket. AND VUALÁ it was – a $20K jackpot. Who would have thought! She was sure the ticket belonged to the old guy. She ran up the riverbank in search of the old man, but he had already vanished. She had no choice but to meet him at the steps of the UN at 5 pm.
A little before 5 pm, she reached the UN and noticed a public announcement that read:
"The COVID-19 pandemic is a health and human crisis threatening the food security and nutrition of millions of people around the world . . ., unless immediate action is taken, we could see a global food emergency . . . "
(From the United Nations, Policy Report: The Impact of COVID 19 on Food Security and Nutrition, (UN June 2020) at https://unsdg.un.org/resources/policy-brief-impact-covid-19-food-security-and-nutrition.)
The old man stood quietly next to her as she read on. When she finished, he said to her---"You have the winning ticket, and you know what to do. Remember, the joy is in the giving and you are now free to give. Make it your life's mission."