What The Biggest Superheroes Do To Be Able To Run Around Shirtless In Hollywood
Workouts Of Thor And Superman
Henry Cavill-AKA SUPERMAN
Henry Cavill, born Henry William Dalgliesh Cavill, is a British actor and plays the part of the titular superhero in the Man of Steel and in D.C.'s Batman VS Superman, and the Justice League. Cavill is also known for playing Charles Brandon in the Tudors on Showtime, Geralt of Rivia in Netflix's fantasy series the Witcher, and Sherlock Holmes in Netflix's film, Enola Holmes. He's appeared in the Mission Impossible series alongside Tom Cruise's Ethan Hunt and was in the updated Man From Uncle.
Like most of the Hollywood hunks, Cavill has a workout that would put most of us to shame. There have been plenty of articles written about the different "superhero" workouts stars utilize. While it's hard to find the exact details of Cavill's workout it's obvious that his work ethic is not in doubt when it comes to his results. Some details have been released to the public and Healthline Magazine reported that his workouts while training for the role of Superman included the following.
-Barbell Bulgarian Split Squat
-Squats
-Pull-ups
-Deadlifts
-Kettlebell training
-Burpees
-Crossfit-style lifting
-Gymnastics
Getting in shape for "Man of Steel" and his two additional appearances as Superman Cavill is known to have worked with former professional climber Mark Twight. As a Climber, Twight has a reputation for attempting some of the most treacherous routes.
"I made life or death decisions like I was choosing between brands of beer."

Mark Twight-2002 book Kiss Or Kill
After Twight retired he opened his training center, Gym Jones, in Salt Lake City, Utah. He brings the same level of intensity to his training with athletes, actors, and members of the military. In 2005 he trained the cast of the film "300."
It's easy to see how Cavill maintains his physique and stays ready for both the action-packed roles as well as the shirtless roles that give the female viewers a treat. After training with Twight, Cavill moved on to working with Dave Rienzi who's best known for coaching none other than the Dwayne "The Rock" Johnson. Perhaps one day soon we will see the two Hollywood workhorses square off in the D.C. Universe or some action movie. It's safe to say that they'll be ready.
"Mark's whole ethos is that fitness is not just physical strength and conditioning, it's also strength of character, and that is so in tune with the character of Superman."

Henry Cavill-Train Magazine
Chris Hemsworth-AKA THOR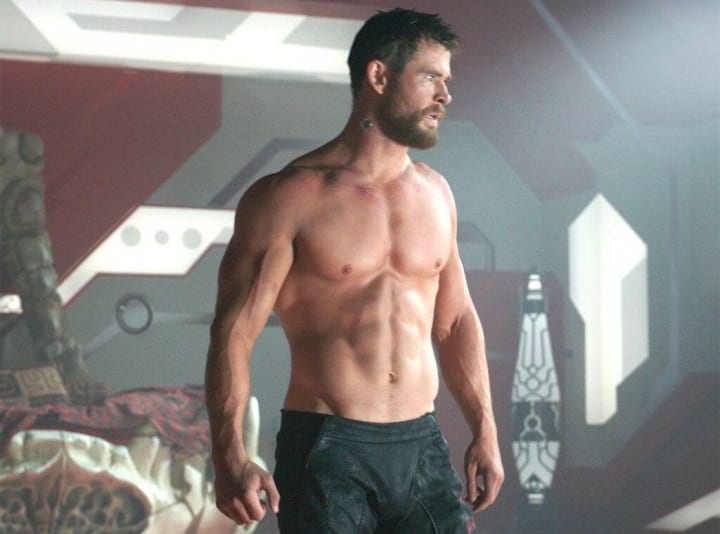 All hail the mighty Thor indeed. For those of you that have been living beneath a rock since the talented Australian broke big, Hemsworth has done quite well for himself in Hollywood and appeared as Thor in Thor, Avengers, Avengers Age Of Ultron, Thor: The Dark World, Thor: Ragnarok, Infinity War, and Endgame. Now that I've officially outed myself as an MCU geek, I'd be remiss if I didn't mention Red Dawn, The Huntsman, Netflix's Extraction, Blackhat, 12 Strong, and my personal favorite of his films, Bad Times at the El Royale.
How do you become the next Thor? Well, according to MANOFMANNY Magazine, his trainer swears by three key components when training the God of Thunder-consistency, intensity, and dedication. That and some serious bodybuilding. According to Luke Zocchi in an interview with MANOFMANNY, Hemsworth's workout plan consisted of traditional bodybuilding and functional training. In lay terms, he lifted a lot of weight but stayed mobile so he could perform most of his own stunts and hit the waves with some buoyancy. The workouts consisted of a lot of the following.
-Back Squats
-Bench Presses
-Deadlifts
-Pull-Ups
-Bear Crawls
They broke down Hemsworth's workout for people that were interested and while I might be interested in trying it, at nearly 50 it's making me ache already and I'm still sitting on the couch with my laptop and a tea. But, after reading it, all I have to say is thank you, Hemsworth. That's a commitment none of my jobs have demanded to that level.
Bodyweight Circuit Training
1. Pull-ups (3 sets, 15 reps) for lats
2. Sit-ups (3 sets, 20reps) for abs
3. Push-ups (3sets, 15 reps) for chest
4. Front Box Jump (3 sets, 10 reps) for hamstrings
5. Bodyweight Squat (3 sets, 15 reps) for quadriceps
Iron Circuit Training
1. Barbell Squat (3 sets, 15 reps) for quadriceps
2. Barbell Bench Press (3 sets, 5 reps) for chest
3. Standing Military Press (3 sets, 8 reps) for shoulders
4. Barbell Deadlift (3 sets, 5 reps) for hamstrings
5. Hammer Curls (3 Sets, 5 reps) for biceps
Don't forget, if you're going to find your inner Thor, you're going to have to adhere to a strict diet. If you're interested in the basics of Hemsworth's training diet, click here.
Most of us may never rival Thor or Superman. But, if you don't get off the couch and get that old butt moving you'll never know what you can do.
celebrities
About the author
I have always enjoyed writing and exploring new ideas, new beliefs, and the dreams that rattle around inside my head. I have enjoyed the current state of science, human progress, fantasy and existence and write about them when I can.
Reader insights
Be the first to share your insights about this piece.
Add your insights