Supported By Lull
The Ultimate Hybrid Mattress With A Free 1 Year Trial
5 simple steps made mattress setup more fun than I ever thought it could be.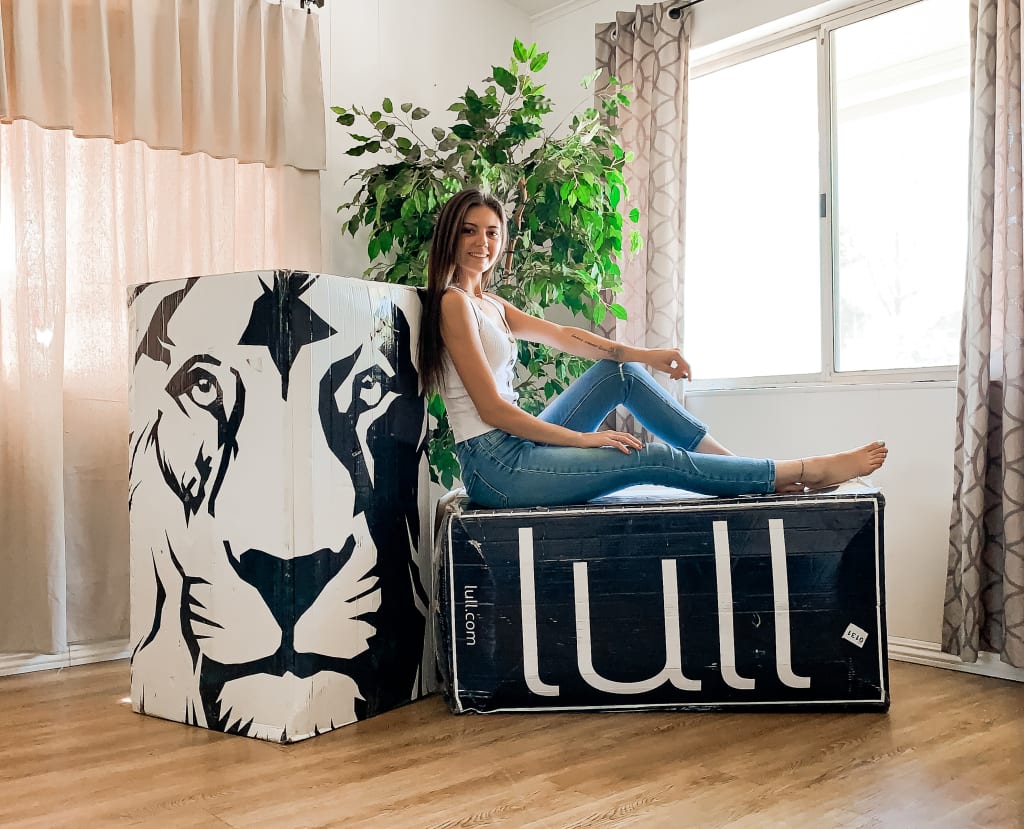 As an OBGYN scribe, I'm on my feet all day helping patients; optimizing the flow of the office by being in all spots at once. By the end of the work day, I'm physically and mentally ready for bed, leaving me with no energy for my personal life. Unfortunately, I know that I'm not the only one feeling this way. Nowadays, the working class has so many responsibilities, both at work and at home, so we tend to forget one of the most essential aspects to our well being and performance: quality sleep.
For me, the quality of any given night's sleep determines how well I'll be able to help the next day's list of patients, solve problems, and how present I can be with my family after work is done. Sleep plays a big role and is one of the most important aspects of human health. Without quality sleep, our bodies are not able to heal and rejuvenate, and our brains struggle to process even the simplest of emotions and store memories. When I started to realize the effect that my mattress was having on my sleep and overall mental and physical health, I knew it was time to INVEST IN REST with Lull.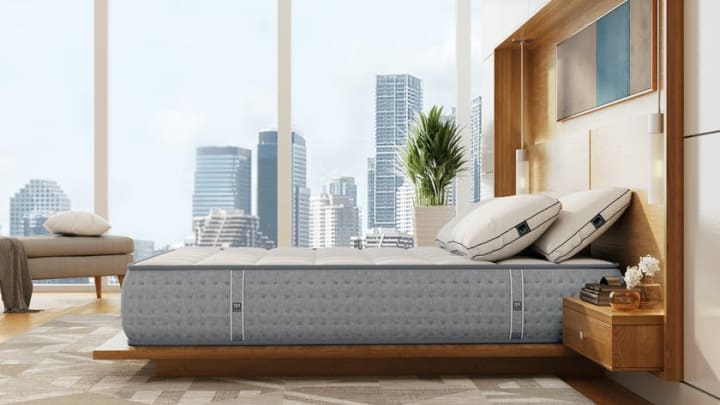 Their website is loaded with digestible information and instructions on how I could take those next steps, and all the questions I had were answered almost immediately via live chat with customer service. Customer service is important to me, so that, among many other things, made me glad that I was finally making this change to Lull!
My specific model, the Lull Luxe Mattress, combines plush memory foam, reinforced edges, cooling gel memory foam, and supporting springs to create the perfect bed with all the support my body needs for a perfect night's rest!
The last time I had a good night's rest on my old mattress was a couple years ago. This old and lumpy mattress had been through a couple moves and it finally started to show its wear and tear through the quality of my sleep. I knew that I needed to make a change when tossing and turning kept me up throughout the night and I couldn't get comfortable for the life of me. The support I needed was not where I needed it to be. I dodged this issue for so many months and I don't even know why—shouldn't sleep be one of the most important things in life? It's like the charger for our phones! We buy a charger that works for our specific type of phone, and I needed a mattress that worked for my specific body and lifestyle. Now I charge—I mean sleep—all the way through the night on my Lull.
It can sometimes seem like a mattress is a permanent part of a house. Maybe you'll even flip your mattress every three months or so, the way you're supposed to; but actually replacing a mattress? That's not something we often have to think about.
A new mattress can improve the quality of your sleep, which influences everything from your energy levels, to mood, to overall health. Lull is slowly showing me the impact and overall change in my life from this mattress! I couldn't believe how easy mattress shopping could be! 365 night trial, free shipping, free returns, and lifetime warranty! What more could I have asked for?!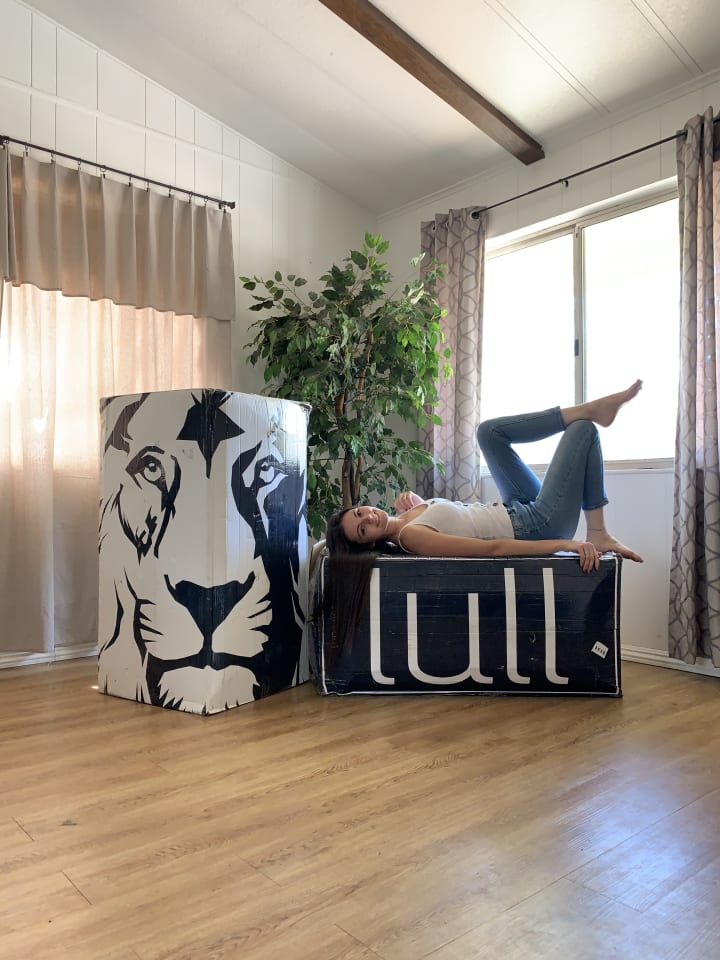 The best part? It delivers to YOUR DOORSTEP. I seriously couldn't believe it, how does a king size mattress fit on a doorstep? Lull makes it nice and simple with their compact and lightweight box. When I went to unpack my Lull, it was so incredibly easy to pull the mattress out of the box. All you have to do is place the mattress on the bed frame and roll it out. When I rolled mine out, it was covered in a layer of clean, protective plastic, then I just cut along the edges of the plastic mattress seal and watched in amazement as the mattress began to expand before my eyes! It's the coolest thing ever. Such a soft, luxurious material with nice reinforced edges. As the bed was expanding, I used the 4 handles on the side to easily adjust and move the bed to the ideal spot on the bed frame. Even during the unpacking process, I knew this mattress was going to change my sleep patterns (and all its negative work/life implications) for good!
With all the toxic materials used in and on every-day products, the most important thing in your home that should NOT have any toxicity is your bed! Your mattress should be nothing but benefiting you and your sleep, and that's why I love that all Lull mattresses are made without harmful chemicals. I have so much respect for companies who work hard to provide good quality products to customers they care about!
My overall experience with Lull as a company was amazing every step of the way. With every question or concern I had, I was met with informative and responsive communication through every step of the way!
The mattress setup process was super easy and straightforward—5 simple steps made mattress setup more fun than I ever thought it could be! Here's how it's done:
Your Lull mattress arrives at your door
Bring it to your bedroom
Unbox and unrolled it
Cut the plastic off
Let your mattress expand!
Since I have switched to the Lull Luxe Mattress I have noticed a dramatic change in my mental and physical health—plus, my overall well-being has improved. The difference has been night and day, all thanks to the support and comfort my new Lull Luxe mattress has given me!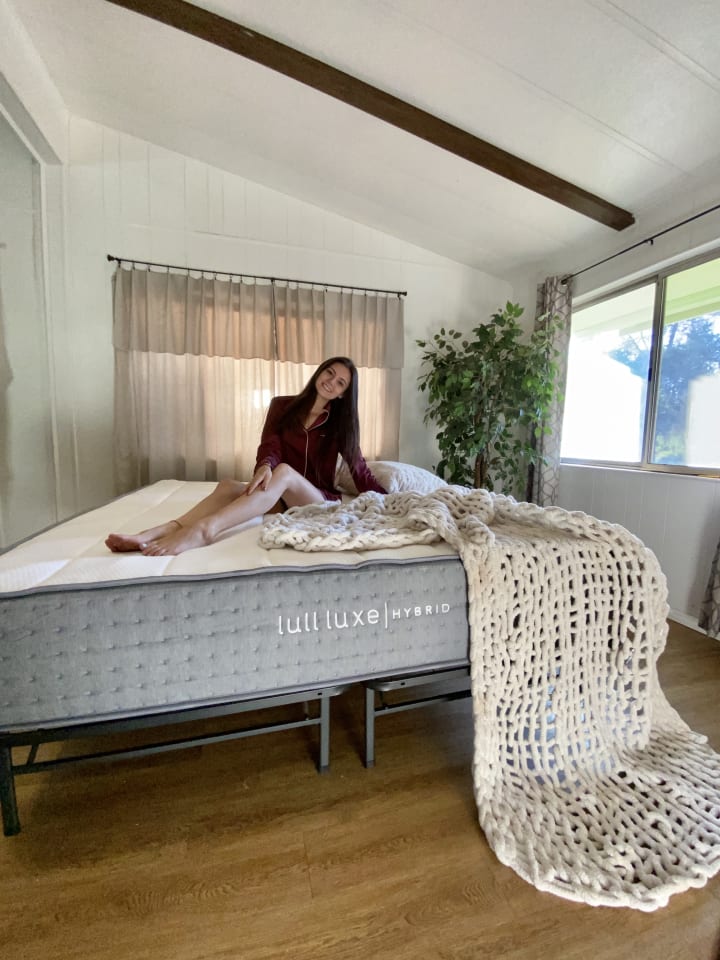 My husband is absolutely blown away and says he approves! That is big you guys! My husband has had back issues since his snowboarding accident, and this mattress has given him some of the best support and sleep in such a long time! He was so excited when he found out it was coming right to our house and we didn't have to worry about going out and hauling back a huge mattress! While keeping it clean... this process with Lull not only helped me curb my bedtime woes, but it even made my husband happy! It benefits everyone in the house and I'm genuinely impressed with the impact this mattress has had on me and my husband's physical and mental health. We are so grateful we made this change! We are so in love! I would highly recommend this to my family and friends, most importantly to anyone who is ready to make the change, and invest in rest!
Full, unadulterated rest is one of our body and mind's most important needs. Sleeping soundly throughout the night, without any interruptions, keeps you looking and feeling better. Lull Luxe mattress has all the qualities your body and mind need! Choose Lull products, and take the next step with your sleep and life with the New Lull Luxe Mattress! My family and I are sure glad we did!
product review
About the author
I am a 24 year old • Idaho Raised but currently in California as a Medical scribe for an OBGYN office!
I am an interior design enthusiast and turning my house into a home moment by moment!
Reader insights
Be the first to share your insights about this piece.
Add your insights