The most popular gold chains design trends in 2022
Gold chains design trends in 2022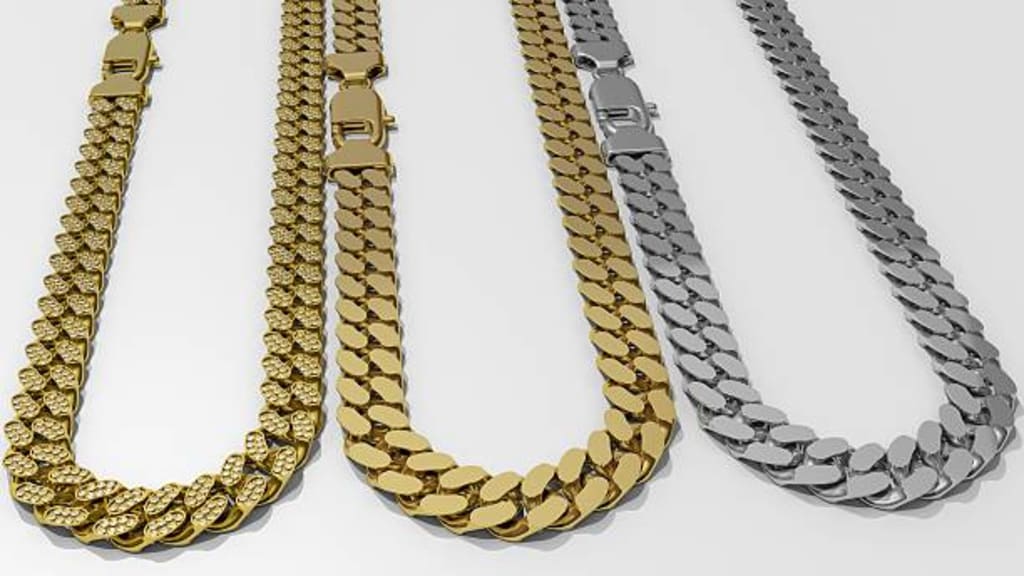 The recent trend of casualwear outfits and minimalist embellishments has pushed everyone to go flamboyant with their style, including jewelry. Bold jewelry is back in 2022, replacing tiny chains and stacked strands as the most durable jewelry styles.
Because jewelry may be worn more frequently than clothing, it tends to last longer, yet certain types are still more fashionable than others. It's been a while since designers debuted their spring/summer 2022 designs. From Prada arm cuffs to Paco Rabanne body chains, there were a plethora of unusual jewelry pieces that added the finishing touch to each model's ensemble.
Chunky accessories and vintage jewelry accentuated the spring/summer 2022 presentations, echoing the themes seen on the autumn 2021 parades and fashion shows (including the Awards Ceremony like the Grammys). Maximalist chains on necks, earlobes, and waists at Chateau, Fendi, Tom Ford, and others; scaled up cocktail rings at Dior and Givenchy; door-knocker earrings at Etro, Prada, and Carolina Herrera; and maximalist chains on necks, earlobes, and waists at Lanvin, Givenchy, Tom Ford, and others.
Snake Chain with Ten Wilde 3-Millimeter Links
Ten Wilde's elegant snake chain necklace, which comes in thicknesses of three, six, seven, and nine millimeters, has been worn by Tracee Ellis Ross, Ashley Graham, Addison Rae, and Sofia Richie, among others.
Chunky Gold Chains
Greater links are one of the top jewelry trends for 2022, as seen on the runways of Valentino and Hermès, among others. Opt for large gold chains this year, which can be worn alone or paired with other over-the-top items to make a big impression.
Mini Petra Necklace by Baublebar
Baublebar's small Petra necklace brings texture to your décolleté jewelry stack with a new version of the old circular twisted chain.
Mariner Chain Necklace
These heirloom-quality handcrafted pieces, which have lately been spotted on St. Vincent and model Wallis Day, are influenced by organic design. This 16-inch traditional mariner chain is a more lifted version of the classic design, ideal for stacking with longer pendant necklaces and chokers.
Zodiac Chain
Perhaps it's because we've felt less in control of what happens over the previous years, or just because we need a little extra nudge to gaze up for support and inspiration, but zodiac signs — are always a major element in the high and exquisite jewelry space — are much more apparent than normal.
Astrology, the science that attributes importance to the motion of stars and other celestial bodies synchronized with one's birth year, owes its current appearance to the ancient Greeks: specifically, Ptolemy. And, while we can't foretell what the future holds, jewelry reminds us to take comfort in the never-ending moving above.
U-Tube Necklace
Mixed media and colorful jewelry were also shown on recent shows. U-Tube Necklace; The rainbow necklace is constructed of enamel and brass beads with a delicate gemstone touch.
Pearl Necklace
Not a fan of the gaudy beaded look? A dramatic pearl necklace is a more upscale — and as maximalist — option.
Gold chains with a splash of colors
Interiors, runways, and, of course, jewelry have all seen an explosion of color in recent months. When put side by side, dazzling mixes of precious and semi-precious gemstones produce a sensation of joy and lightness. And when it comes to monochrome outfits, these stunning rainbow items are the go-to accessory.
The brilliance of light and how it can cast many various colors and seem in many different forms, such as a beam, a ripple, or a ray, inspires designs that have an opal as its central stone. Indeed, it's a suggestion for how to approach the next year and how to include moments of light into our daily lives.
Gold chain with a weight of 10 grams
Many people like chains that weigh less than 10 grams. The gold chain is a flexible piece that can be styled in a variety of ways. Wear it with or without a pendant for a stylish, polished appearance. Yellow gold with a 22 karat purity. Wear it on a regular basis. Put a name pendant on this chain for a more personalized appearance.
Gold Senco Chain
Senco is one of the most well-known gold-buying brands. This is an excellent alternative if you want to go for a branded gold chain. The blade cut links to give you an edgy, sharp aesthetic without abrasion. With this gleaming gold item dangling from your neck, you'll be sure to attract everyone's attention and respect.
Yellow gold with a 22 karat purity. Festivals, traditional ceremonies, and engagements are examples of appropriate occasions. Style Tip: For a streamlined style, choose a short-chain.
Designer gold chain
Choose such a studded gold chain to incorporate a designer feel into your ensemble! The one-of-a-kind design is a must-have in your jewelry box if you want to stand out. The design includes sleek diamond gold chains for extra glitz. Caution! One such chain may be borrowed and never returned by your beloved!! Yellow gold with a 22 karat purity. Style: Night Events Occasion You don't need a pendant, therefore get rid of it.
Gold Rope Chain
The quintessential twisted rope link is another common type of link in the gold chain section. The chain's amazing strength comes from the twisting method, making it an excellent choice for regular use. Because there are no empty spots in the chain, it is also very easy to maintain. You may wear it as a stand-alone item or with a pendant. Yellow gold with a 22 karat purity. Style: Daily Wear Occasion. To add a splash of color, add an enamel pendant.
Chain made of white gold
For a variety of reasons, white gold is a favorite metal among males. It gives off a simple look while yet being sober. An elegant 18 karat white gold chain will go with almost any outfit. The delicate gleam derives from the ultra-precision cuts on the links, which provide an enticing sensual appeal.
Italian Gold chain
The distinctive twisting and joining techniques used in Italian-style gold chains give them a three-dimensional appearance. This is a simple gold chain with the ever-popular rope links for guys. The chain offers a wide range of style options, from classic to contemporary. It may be worn alone or as a pendant to create a striking effect. Occasion: Daily Wear, Casual Style On important occasions, pair it with a large pendant.
Curb Chain in Gold
Look out for such an ultra-chic gold chain, which incorporates the renowned Figaro links. The selling point is that it appears to be rather substantial but is actually quite light. It isn't any less durable because of this. Figaro chains are well-known for their strength properties and investment value. Occasion: Both casual and formal settings are available. Style Tip: To seem stylish, wear it as a stand-alone piece.
Source:- https://exoticdiamondsa.medium.com/the-most-popular-gold-chains-design-trends-in-2022-af9ba5f00e6d
Reader insights
Be the first to share your insights about this piece.
Add your insights