Supported By Lull
The Missing Link Between You and a Healthy Relationship: A Luxury Mattress
Tired of restless nights and meaningless arguments with your partner? Your mattress could be to blame. Consider upgrading to the Lull Luxe Hybrid Mattress for a better night's sleep and a healthier relationship.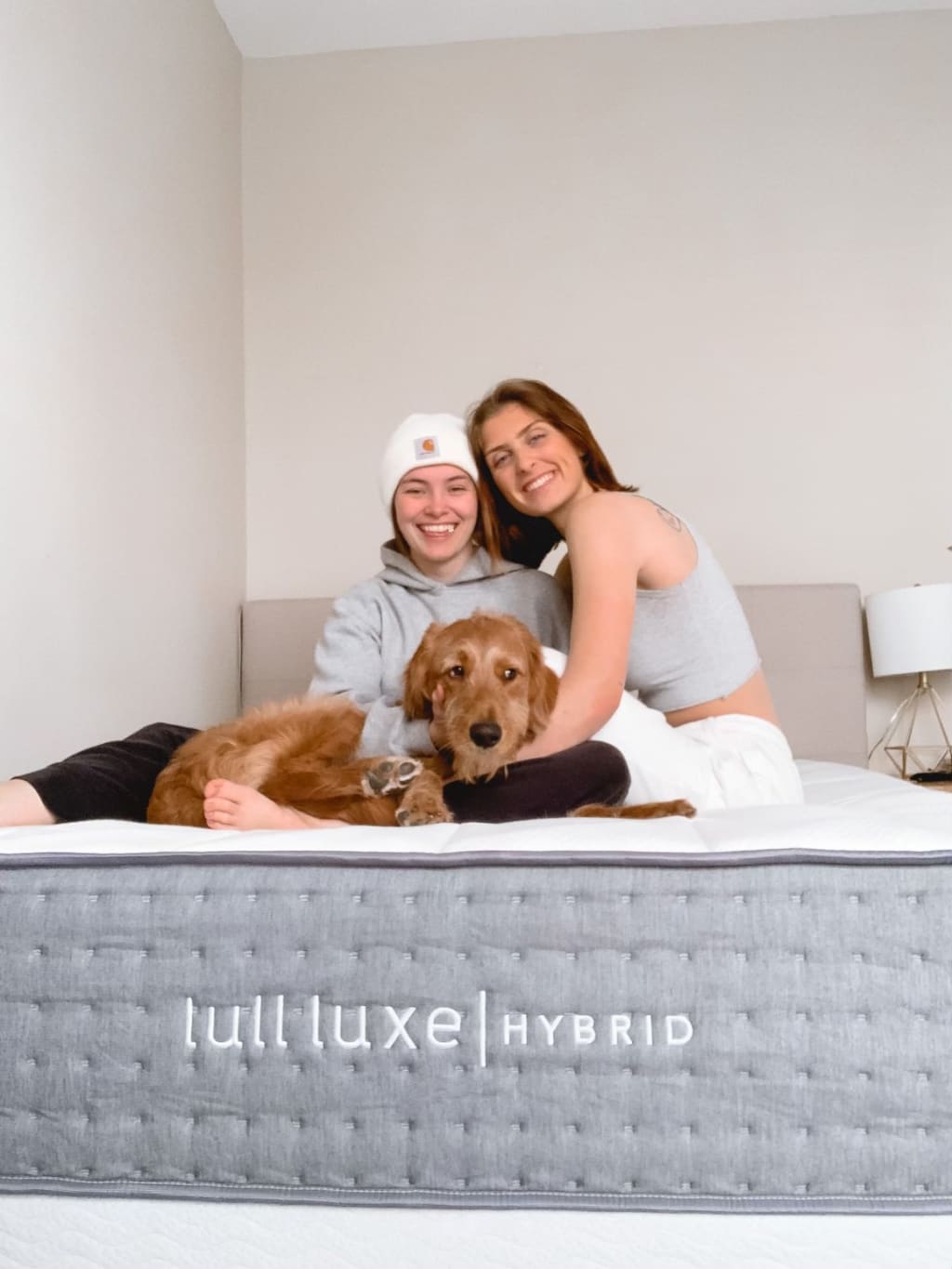 As a couple, there are lots of decisions you'll have to make together; but there's one that we would argue is far more important than the rest.
What kind of mattress are you sleeping on?
We recently bought the Lull Luxe Hybrid mattress, and we couldn't feel better about that decision. Not only does it provide Izzy and I with a better night's sleep, but it alleviates so many other areas in our lives. It's like a literal weight was taken off our shoulders.
Even for couples who seem perfectly in sync in every other aspect of their lives, the mattress is often a point of contention. Perhaps one of you likes a soft mattress, while the other likes a mattress that's a bit more firm. One likes to sleep cool while the other prefers a warmer feel.
Did you know that about 1 in 4 couples, according to a 2017 survey from the National Sleep Foundation, sleep in separate beds?
We view that as nothing short of a travesty. However, it's also understandable. You've got to get your rest, and if you and your partner aren't in sync about how you like to sleep, it can be tough for both of you to get quality shut-eye.
In this post, we're going to walk you through why good sleep, and good sleep with your partner, really matters. We'll also tell you about our number one secret when it comes to getting better sleep together; and no, Forrest doesn't have anything to do with it!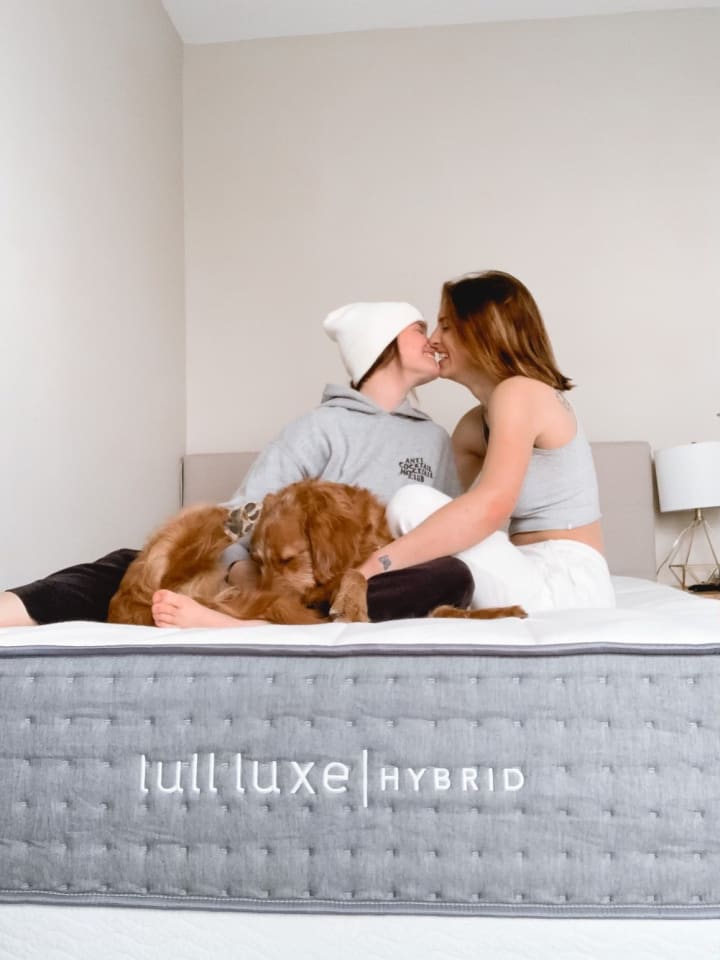 The Importance of Sleep in a Relationship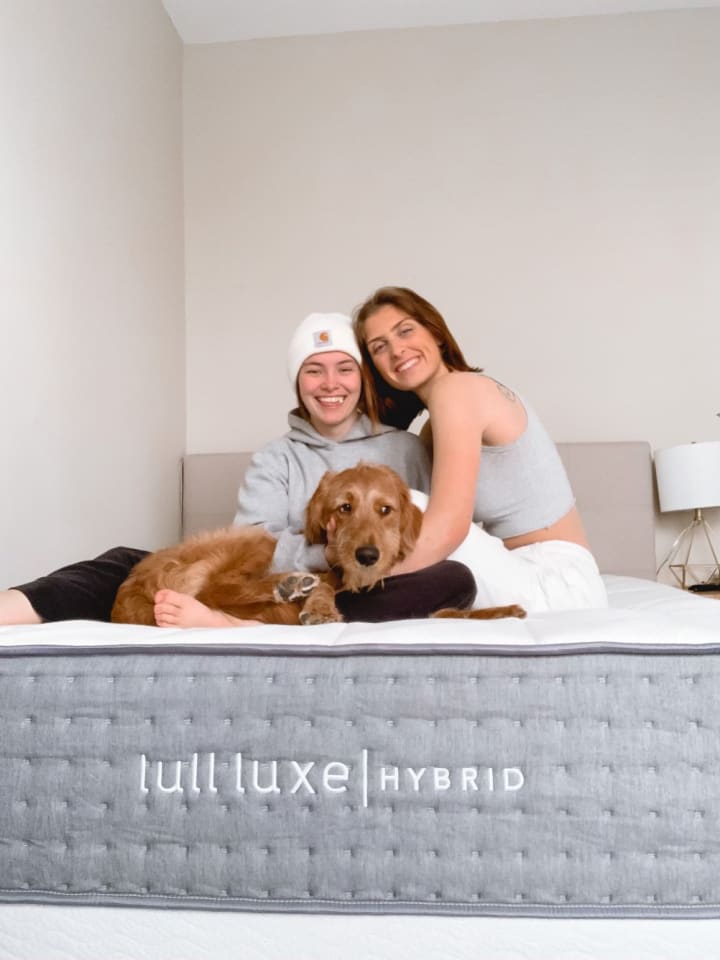 When you think about how we spend about a third of our lives in bed, it only makes sense to invest in a high-quality mattress. A simple argument about something stupid, like a dirty dish or a misplaced towel, can simply be a reflection of a bad night's sleep—and of a bad mattress, in particular.
If you're suffering from a lack of sleep, body aches from a lumpy bed, or just general irritability because you aren't sleeping well, you're probably overdue for a new mattress and a deeper dive into your sleep routines.
Time Magazine reports that when you're deprived of sleep, you're more likely to overreact to situations that ordinarily wouldn't matter. This can cause more conflict, less satisfying relationships, and just general unhappiness.
Tips for Better Co-Sleeping With Your Partner
Ready to get some better sleep and improve your relationship? Here are some simple tips you can follow.
Address Snoring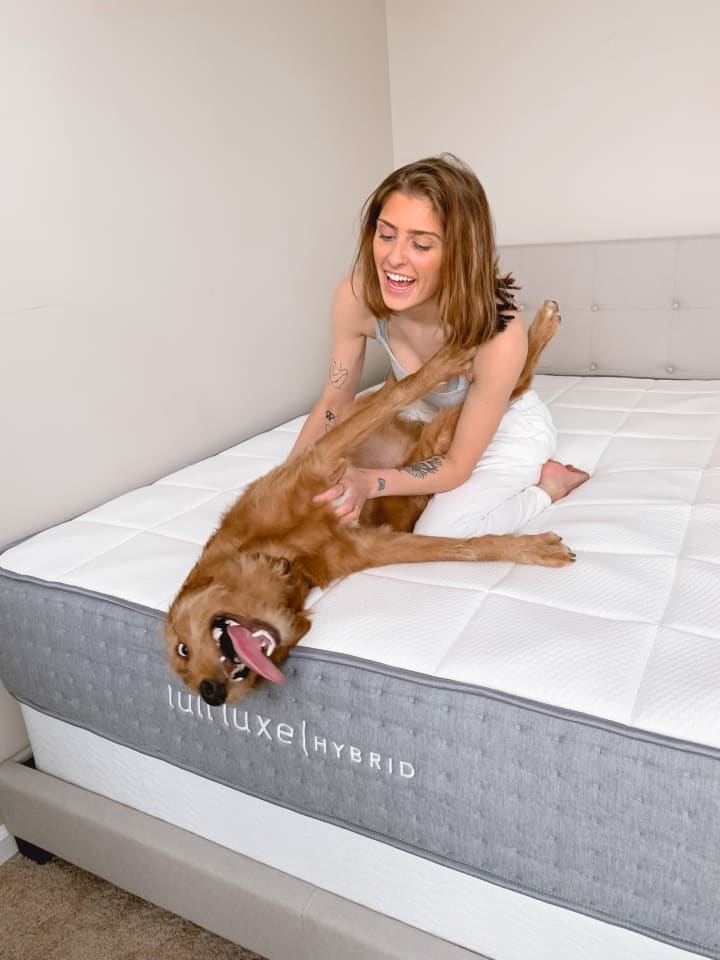 Snoring can be caused by a lot of things; bad allergies, a cold, or even your sleeping position. If one person in your relationship is known to snore, then the quality of sleep between the two of you may not be where it should be. If you are dealing with this in your relationship, know that it doesn't have to be a dealbreaker. There are so many solutions that allow you to still be able to l co-sleep peacefully!
Book an appointment with your doctor ASAP to rule out medical conditions that can cause snoring. Then, try hacks like using a humidifier or a saline nasal spray at night. You can also try sleeping with an additional pillow to be more upright or even elevating the head of the bed. Finding the reason for your snoring will allow you to tackle it head on and make changes that will positively impact your sleep and your partners!
Figure Out Your Temperature Needs
Another reason why couples have trouble sleeping together is because everyone has different ideal sleep temperatures. Finding a mattress that helps regulate body temperature was a game changer for us! The Lull Luxe Hybrid has a breathable top layer that allows your body to sleep soundly without sacrificing comfort.
Ditch the Devices… and the Pets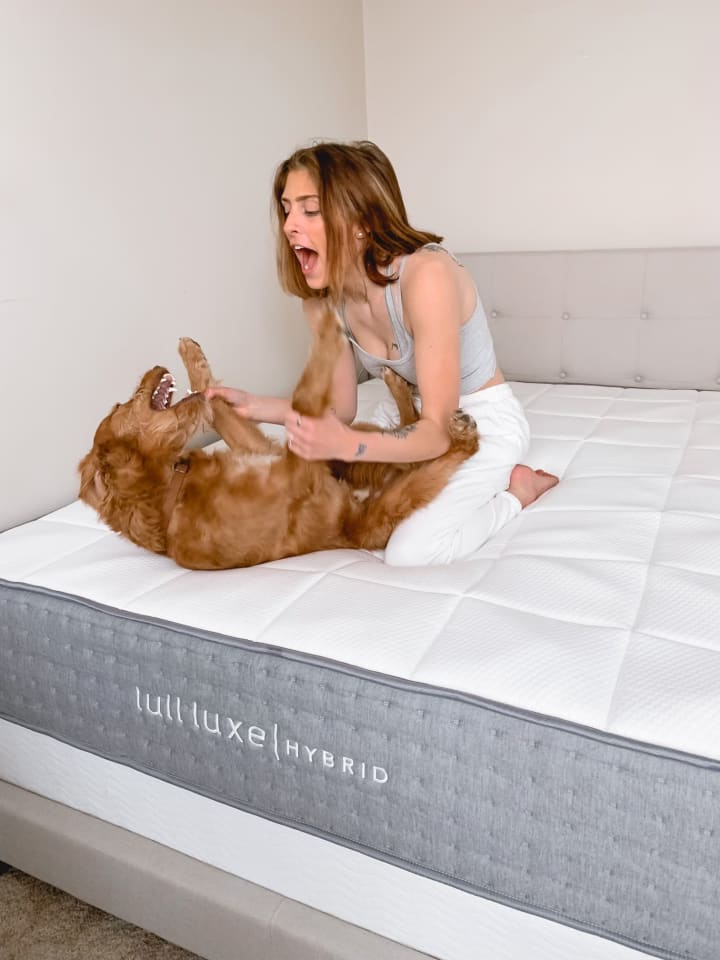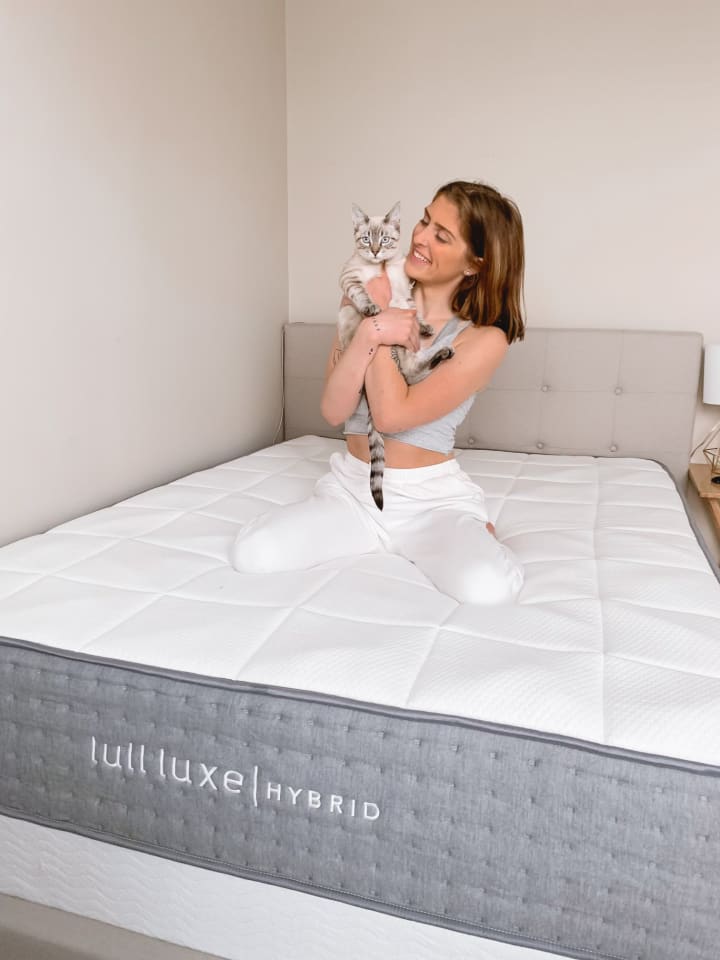 Ignore the pictures above for a second; ok, so it's no secret that I love cuddling with my critters in bed during the day. But once it's bedtime, they're out.
Uninvited guests like pets (or your kids, if you have them) can disrupt your nightly rhythms and make it hard for you both to get the sleep you need. Even if you aren't consciously aware of it, other bedmates like pets will toss and turn, affecting how you're covered with blankets, how much space you have, and even how often you wake up.
Save the cuddles for the daytime hours!
Consider a Mattress with Motion Distribution Technology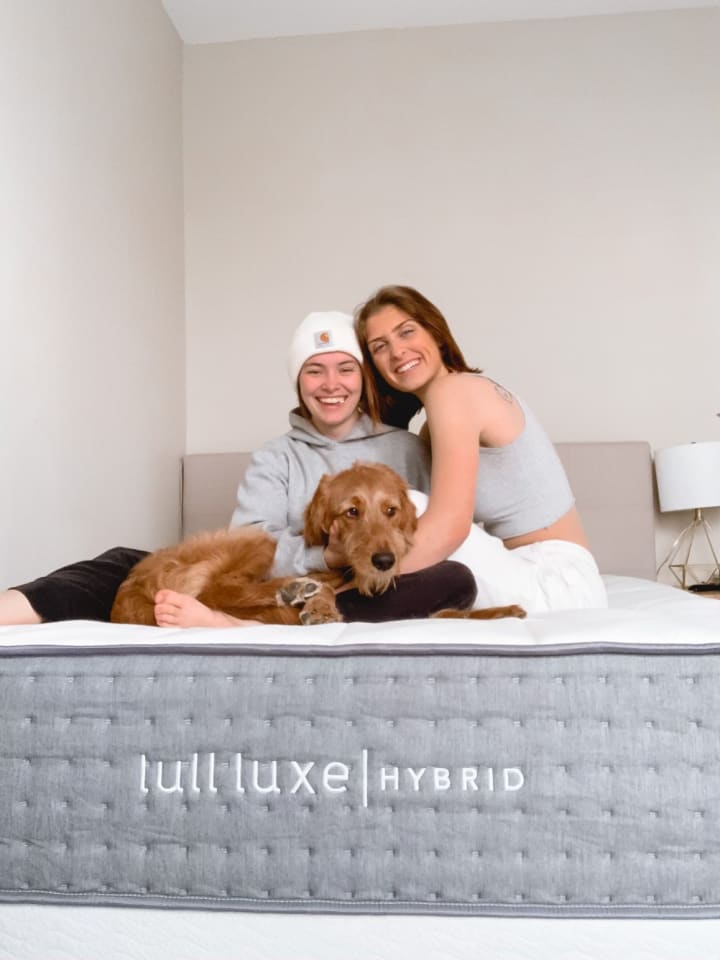 The feel of your mattress is a huge pain point for couples, Izzy and myself included! One of you might like a firmer mattress, while the other prefers one that's softer.
If you sleep like a rock but your partner is easily disturbed by the slightest motion, then you should seriously consider getting a mattress with motion distribution technology, like the Lull Luxe. With hundreds of individually wrapped pocket coils, it distributes weight evenly without waking up your partner! A total game changer!
Meanwhile, our new Lull Luxe Hybrid somehow works perfectly for both of us—and there was no need to compromise on a firmness level. Our Luxe accommodates both of our needs perfectly!
The Best Tip for a Healthy Relationship? Upgrade Your Mattress
The time you spend in bed with your partner is important. If you want to maintain a healthy, loving relationship that prioritizes rest, comfort, and comfy cuddles above all else, it's time to upgrade to a new mattress.
Mac and Izzy have cracked the code for you! We know how to comfortably co-sleep and actually enjoy the experience of sleeping in the same bed together. Our secret? The Lull Luxe Hybrid mattress.
If you're hoping to find a mattress that you can both agree on, you've got to consider Lull. We both love this mattress for a long list of reasons.
Reason #1: It's made out of resilient memory foam that, in partnership with hundreds of wrapped coils that can adapt to every curve in your body, can help support your body and support your relationship.
Reason #2: The Lull mattress can even regulate body temperature so that neither of you will be too cool or overheated—even if the other happens to be a hot sleeper!
Reason #3: It ships directly to you (free shipping, you guys!) and is easy to install. It's super lightweight. All you have to do is place it on your frame, cut off the plastic, and the mattress expands in seconds.
We are both obsessed with our Lull Luxe Hybrid , and so is Forrest (as you can see in this pic).
With the Lull Luxe Hybrid mattress, you can reduce so many of the stressors that might plague your relationship. For a better night's sleep and a stronger, healthier relationship, consider making the switch.
Use our code and get $300 off any size mattress!