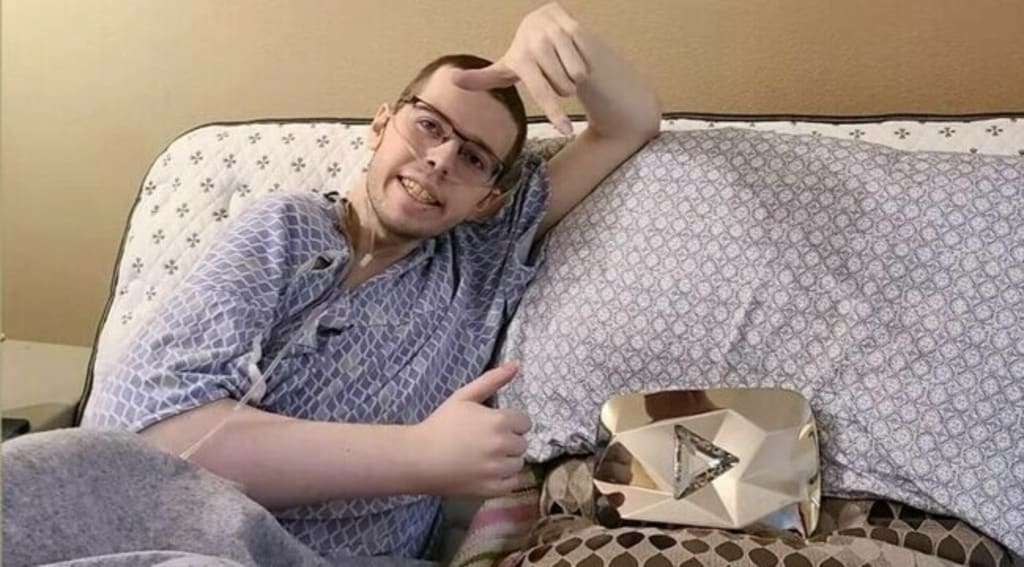 Alexander (June 1, 1999 – June 2022), better known as Technoblade, was an American YouTuber and internet personality. He was best known for his Minecraft videos and livestreams on his YouTube channel, as well as his involvement in the Dream SMP. As of July 2022, the Technoblade YouTube channel has 11 million subscribers.
Alexander said on Twitter that he lived in San Francisco, California. He was known to have had ADHD.
Alexander created the Technoblade YouTube channel on October 28, 2013. His content primarily revolved around the video game Minecraft, and he frequented the minigame server Hypixel. Hypixel minigames such as BedWars and SkyBlock were also the subject of much of his content. His popularity expanded greatly in 2019 following his multiple wins in Keemstar's "Minecraft Monday" tournament. He regularly participated in the Minecraft Championship tournament with other Minecraft YouTube personalities, and was cited by Cale Michael of Dot Esports as "one of the best Minecraft players in the content creation space, especially when it came to player versus player events". Alexander was also part of the Dream SMP server as one of its major characters. By December 31, 2021, Alexander's main channel reached 10 million subscribers, which had been a goal of his since he was 13 years old. By the time of his death in June 2022, his main YouTube channel had reached 10.8 million subscribers.
Alexander had a friendly rivalry with fellow Minecraft YouTuber Dream, the founder of the Dream SMP. The two had a contested recognition for the title of 'best Minecraft player' across their fanbase. In response to Alexander's cancer diagnosis in late August 2021, Dream donated $21,409 to cancer research.
Much about Alexander's personal life remains unknown. By his own admission, he "pranked" his viewers by revealing false details of his life and once deceived his audience into believing his name was "Dave"; this moniker was generally accepted as his real name until the video announcing his death.
Alexander's struggle with cancer had been previously publicized with his fanbase; he disclosed his diagnosis in August 2021. On August 28, 2021, a video was uploaded revealing that he was diagnosed with sarcoma after having pain in his right arm. Chemotherapy and radiation therapy proved unsuccessful, as his therapist stated that his arm would potentially need to be amputated. In December 2021, Alexander successfully underwent a limb salvage operation with his arm intact.
Technoblade Youtuber, known for his passion for Minecraft, has died at the age of 23, according to an emotional farewell video posted in his name.
The video, titled "Goodbye, Fools" and posted for his 10 million followers, shows his father, who calls him "the most amazing child anyone could ever ask for."
The American became famous on the internet through live broadcasts and videos with himself playing the video game.
Last year, Technoblade revealed to fans that he had been diagnosed with cancer.
What does Technoblade's farewell message contain?
The farewell message, written a few hours before his death and read by his father, began: "Hello everyone, Technoblade here. If you look at this. I'm dead. "
He went on to reveal his real name, which was actually Alex, remembering a prank he made on viewers, which led them to believe that his name was Dave.
"Thank you all for supporting my content over the years," he said. "If I had a hundred more lives, I think I would choose to be a Technoblade again every time, because those were the happiest years of my life."
The online star, who has won Minecraft tournaments and millions of fans talking about his life in a funny way while playing the game, explained in a fundraising video posted in February that he underwent chemotherapy, radiation therapy and surgery. rescue of the limbs after developing a painful tumor in the right arm.
Initially, the Youtuber believed that the pain he felt came from excessive gambling.
He revealed his diagnosis of cancer in August 2021, explaining that he initially thought the pain he was feeling was from a repetitive stress injury due to excessive gambling. After his arm swelled, he went to the hospital and was later diagnosed with cancer.
Little is known about Technoblade, which has kept its true identity hidden until the end. But his online avatar was a picture of a crowned pig.
He has 10.8 million subscribers on his YouTube channel, in whose biography he writes: "I play video games too much. Maybe I'm not the best, but I have hot elbows. "
Reader insights
Be the first to share your insights about this piece.
Add your insights