Small Changes Make A Difference
How switching from unhealthy products to more organic ones can make a huge difference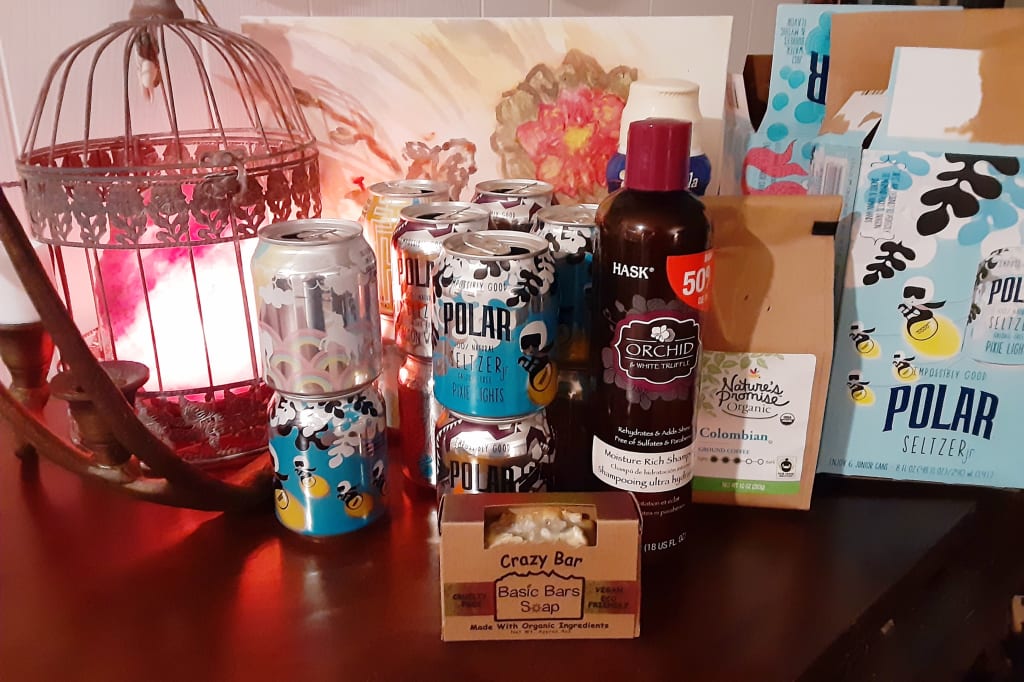 Old Routine
When it comes to making changes in our daily care routine that will reduce our impact on the planet, the task seems overwhelming. Converting over takes up time in order to research products and the cost of switching over can be a lot when we do it so quickly. I have been on a mission of switching out foods, drinks, makeup, hair products, clothes and more. But I started the process many years ago. At times I have been successful and have found great products, at other times I have not. For example, makeup and hair care has been an issue. I buy organic makeup that costs more but it looks oily and weird on my skin, or an ingredient bothers my face and I break out. Hair care is another issue. My hair is thick, curly and requires moisture. 
Back around the start of the virus, I decided to get my hair cut extremely short because I had so much dead hair. I figured I wasn't going to be leaving the house anytime soon because I no longer had a job I could go to. Since that time, I have noticed that getting my haircut and no longer heat treating my hair has made it easier to deal with and it looks and feels healthy. In the past I had tried natural shampoo bars but the result was awful. Recently I decided I would try the shampoo bar on my hair again since I had been using a natural soap/shampoo bar for a body wash over the years. The results came out great. I have been so happy about the recent success with the shampoo bars. 
While the shampoo/soap bars may cost a few dollars more than the shampoo I was buying, I know that I am supporting a local company that strives to produce an organic and eco friendly product. Basic Bar Soaps in Stafford Springs, Connecticut has a shampoo/soap called Crazy Bar, which contains a total of nine ingredients. All of the ingredients I can actually pronounce. I can't say the same with the last shampoo I was buying which had around 20 ingredients. If you are interested in trying out their products or doing research, the site is: basicbarssoap.com.
Since I was about to run out of shampoo, this was the best time to convert over. I didn't toss out a partially used shampoo bottle, I used it to the end and made the switch. So with the soap and shampoo, the only waste that goes in the landfill with that is the cardboard box which will break down in the landfill. The plastic bottles my old shampoo was in will be in the landfill for a long time. I have been alive for 36 years and when I do the math a total of over 400 plastic bottles of shampoo sit in a landfill, just for a single person and product. And to think I used to use the liquid body soap as well but I converted over to natural soap bars about five years ago. So in total around 800 plastic bottles of shampoo and soap that I used sit in a landfill to this day, or sadly they may be drifting in the ocean. 
The next issue I am tackling is getting off of flavored seltzer water, coffee and creamer. Weekly, I spend around $15 a week on the three. In a month I spend around $65 and on a daily basis it would be about $2.14 a day. The other day I was at the grocery store and I found that a tea brand had created cold infusion tea blends. I love cold herbal tea when I have had it. But when I have tried making it at home in the past with hot teas and letting them go cold in the fridge, the end result has been disappointing. So I bought a few boxes of the cold tea infusion blends and I fell in love with them.
The only downfall is they have no caffeine but I decided to mix hot green tea with the cold infusion teas and I keep it in a big glass milk jug. I can still have caffeine while having more flavorful cold tea. Instead of a coffee I have the green tea/cold infusion tea mixture. As for the seltzer waters, I make a cold infusion tea blend. No longer will twelve aluminum cans need to be recycled weekly, nor will a plastic bottle of creamer and coffee bag take up space in a landfill.
I took a picture of all the items that were going to the landfill before and I took another picture of the after conversion. Honestly I was shocked when I saw the difference I was making in just a week. Financially it is also saving me money as well. In a week I may spend $4 on tea. In a month I will spend about $15 and on a daily basis that works out to $1.75. When I compare how much I spent on my old habits with the new, in total I will be saving $572 a year on the conversion. Plus I have dramatically reduced the amount of waste that is going in the landfill from me.
I decided to write this article because I know many of us want to change the health of our planet to a positive, but we may feel like it might be too expensive and overwhelming. The process doesn't have to be that way. When you see you are almost running out of an item you use, research organic products you see at the store or online. If an item is on sale, try it and see if you like it. If you like the new natural product and what the company stands for, stick with it. Don't be afraid to experiment either. I have done this and have found that often I end up switching to that product instead.
With the approach of switching over when going low on an item, creates a more conscious decision making process. In less than a few years we can make a huge positive impact on our planet, our health and even our finances. Every step counts, and every individual's choices makes a difference on the planet.