ORANGETHEORY vs. F45
A HITT ADDICT BREAKS DOWN BOTH COMPANIES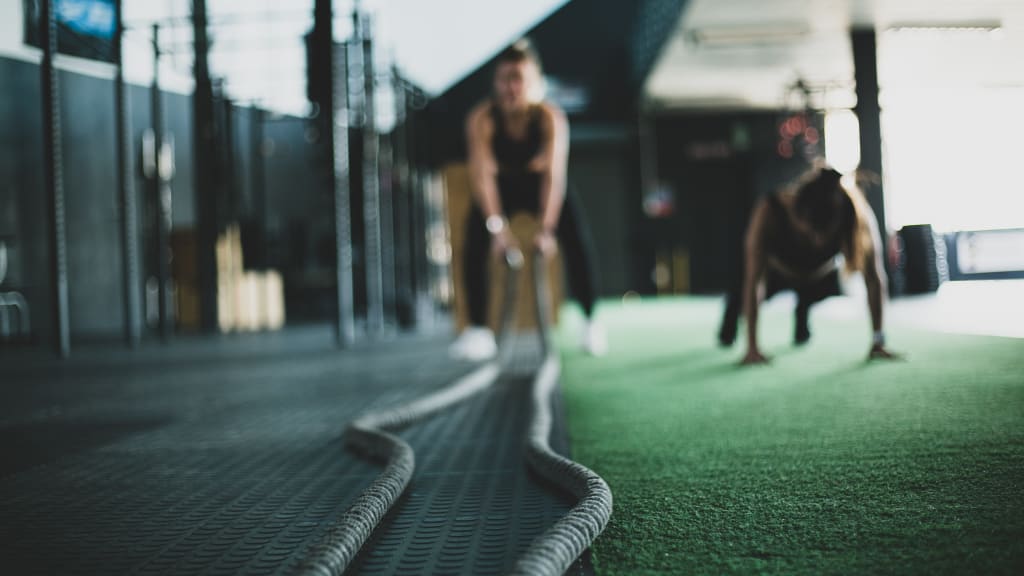 I have a confession. I am addicted to High-Intensity Interval Training or HIIT. There is something about going hard for a certain amount of time, with only less time to recover. It makes my body feel incredible, and even when I am done working out, my body still burns calories.
That is the gist of HIIT training. Interval training involves short periods of intense exercising, followed by less recovery time. With so many workout fanatics and HIIT maniacs out in the world, it only made sense for business-savvy individuals to come up with HIIT businesses that would appeal to us.
When I first got into HIIT, I would search the Internet for various workouts to do on my own. The research alone was draining as I was overwhelmed with so many ideas and routines to try. My body and mind get bored easily in the weight room, so I am continually challenging myself for a good workout to keep things spicy.
Enter F45 and Orangetheory.
I love both companies' concepts. They take the guesswork out of those that don't want to guess and figure out what routine to do every day. It is effortless, you show up and let a trained coach tell you what to do for 45 minutes (F45) or 60 minutes (Orangetheory).
Simple right? But what company is better?
I have worked out at both places and wanted to provide my insight on each of them. I will then offer which one I think is better. Hopefully, after reading this, it will give you a better picture of which establishment to choose.
F45
F45 or Functional 45, is a 45-minute class (except for Saturday's Hollywood class that is 60 minutes) is comprised of the use of sandbags, ropes, kettlebells, dumbbells, barbells, sleds, rowing, running and jumping. Each class is something different, and that is what sold me when I first signed up for F45. They promised that no workout would be the same, and for the year and a half that I went there, they were correct.
I loved the classes. In one session, you can do the battle ropes, then go to pushing a weighted sled, followed by dumbbell burpees. If you aren't sweating when you leave F45, you cheated yourself and wasted your money.
If you like to compete, then F45 is for you. For those that purchased a Lionheart heart rate monitor, each F45 has Lionheart TV screens where you can track your progress. Lionheart monitors your heart rate, percentage of your maximum effort, and total calories burned. For those participants that wear Lionheart during class, you are ranked by points. Therefore, you can see how you stack up with your other HIIT-mates.
While I liked getting a detailed report emailed to me after each class, I don't think the Lionheart method of scoring points is accurate. For example, if someone who is 330 pounds is working out and not in the best of shape, it will typically score higher than 180-pound fitness stallion. The 180-pound person could be working really hard, but because he is in better condition than the 330-pound man, he will not perform as hard. If I had one complaint about F45, it would be the way the score is kept and the ranking. I would sometimes lose to individuals not working as hard as me.
My Pros
• Different workout routine every class. You will never get bored going to F45. Monday, Wednesday, Friday is more cardio-based. While Tuesday and Thursday are more strength-based. Saturday class is 60-minutes and a mixture of both.
• Great coaches. They are competent, friendly, and very engaging with each participant. If you are doing something wrong, they will correct your technique so that you do not get hurt.
• An abundance of classes. Classes begin as early as 6:00 am and late as 5:30 pm.
• Great community. People are amiable, and I have made many friends in class. F45 coaches make you high five and encourage each other during the grind.
• Affordable. Great price for unlimited sessions or an allotted number of sessions per month.
• The Burn Effect. I have burned anywhere from 650 calories to over 1000.
My Cons
• The Lionheart monitors. I don't like the way they keep score and rank the participants.
• Classes are challenging. If you are new to working out, those classes can really be taxing on your body.
• Not enough locations. In the Washington, D.C. area, there are only 7 F45 Studios.
Orangetheory (OT)
I was skeptical about trying Orangetheory, as it didn't seem as detailed as F45. Orangetheory only has rowing machines, treadmills, medicine balls, TRX Suspension Training, and dumbbells. However, since I moved to a location that didn't have F45 (see cons), I decided to try out Orangetheory.
Orangetheory has a heart rate monitor (OTbeat) similar to F45's Lionheart, but I believe Orangetheory's monitor is better. When wearing the monitor, your real-time results are displayed on the TV screens throughout the studio. What I like is that you can see your heart rate zone as Orangetheory relies on the 5-zones maximizing your entire workout experience there. The goal is to achieve Zone 3 (challenging but doable), Zone 4 (very uncomfortable), and Zone 5 (all-out insanity). OT wants you to get 12 minutes or more in Zones 4 and 5, which give you splat points. The goal is to achieve 12 splat points per class.
I have been going to OT for about two months, and the classes are somewhat challenging. However, I am not a fan of rowing, and I have to mentally force myself to row for the required time for that session. The instructors do an excellent job of being creative with the rowing machine. They will mix in some squat jumps, lunges, or dumbbell presses in between rowing for 150-200 meters.
I also don't like to run on the treadmill, but the instructors are pretty good at keeping me guessing when running. I have never gotten bored while running on the treadmill in OT.
My Pros
• OT Beat. I love the heart rate monitor as it allows me to see when I need to push myself to the max.
• Great cardio. If you are looking to improve your cardio, OT is the place to do it.
• Workouts for all levels of conditioning. No matter if you are a newbie or seasoned vet, OT can tailor its workout routine to fit your needs.
• Ample classes. I like that they have a class at 5:00 am. Useful for those that have to go to work early.
• Affordable Price. The monthly price is comparable to F45.
• The Burn Effect. I have burned between 680 to 900 calories in a class.
My Cons
• Lack of focus on strength training. OT has some strength workouts mixed in, but it isn't enough for you to get buff.
• OT beat monitor is good but expensive. The monitor was a sticker shocker when they told me the price.
• Coaches are not engaging. The coaches don't seem to be as engaging as F45 coaches. I don't feel like they watch us do the workouts, and I have not seen any corrections of techniques done.
• No Shock and Awe. I know what to expect for each class, and I have not had a class that I truly hated. I want to hate a class, which means it kicked my butt.
• Lack of community. Nobody really talks to each other. I haven't seen any words of encouragement from other class members.
And the winner is…
F45.
I would have stayed with F45 if they had a studio where I moved to. That would be my only knock on F45 while Orangetheory has studios all over the place in the D.C. area. If I am out of town and want to get a workout in, I am sure to find an Orangetheory studio more easily than F45.
Outside of the number of franchises, F45 provided me with a better workout. F45 is continually working on coming up with the most challenging exercises, and their use of sandbags, kettlebells, and battle ropes really takes your training to a different level.
F45 coaches are very engaging and promote family. I don't get that vibe at Orangetheory. Outside of that, the workouts are just flat out better. There were workouts at F45 that I detested because they were really tough. Working out at Orangetheory, I know what to expect, and there are not any surprises.
While both studios offer great things, I would prefer to workout at F45.
Reader insights
Be the first to share your insights about this piece.
Add your insights