Introducing Restlessness Worst Nightmare: The Lull Luxe Hybrid Mattress
Parenthood is exhausting so when the topic of getting a new mattress was brought up, I jumped at the idea. Now, I know rest like never before!

Supported ByLull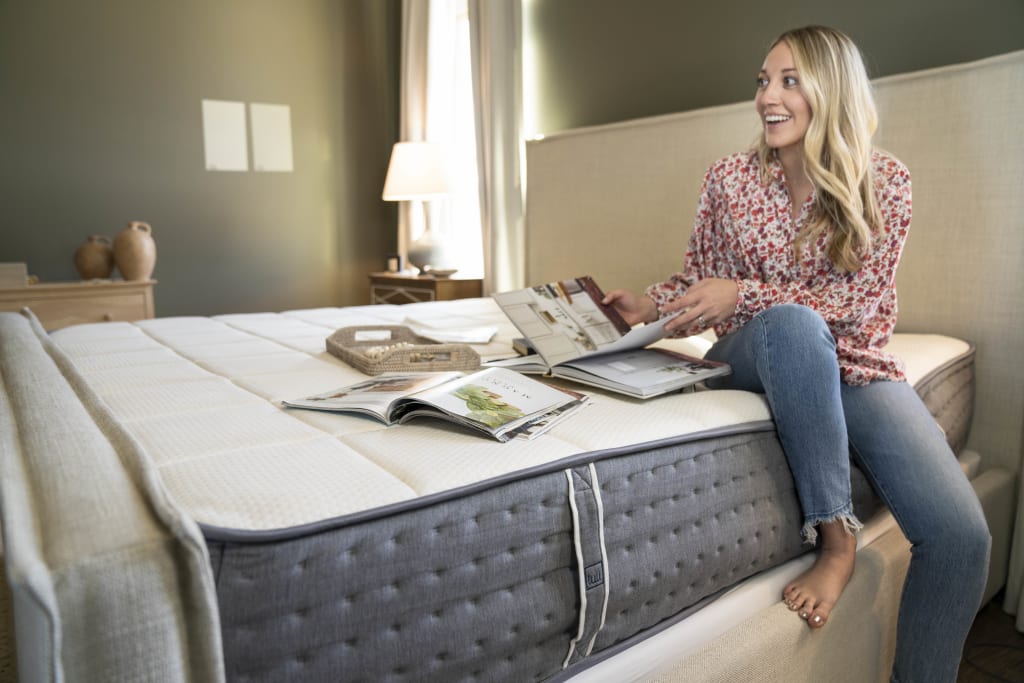 As a new parent, I have quickly learned the value of sleep. I am now a mother of a precious 8-month old baby girl and the past eight months have been amazing, challenging, and life-changing! I cannot lie, those first few months were a complete blur, but now that our sweet baby girl has been sleeping through the night, we've been able to gain back some of those lost hours and we are so very happy about that. We are even more thrilled, because not only have our stretches of sleep increased, but we've also seen an improvement in the quality of our sleep. I knew that my sleep wouldn't be my top priority when my baby came, so I wanted to make sure that when I was lucky enough to be getting some sleep, I was getting the best sleep possible. Since making the switch, my husband and I have both been noticeably sleeping so much better! This is all thanks to our new mattress: The Lull Luxe Hybrid!
After giving birth, my body felt so out of line I tried the chiropractor, which seemed to give me some immediate relief but after some time, I realized that we needed to start rethinking our mattress situation. Not only were my back, hips, and neck strained from new mom life, I was sweating like crazy during the night time while sleeping due to postpartum hormones. Between breastfeeding, holding a newborn, and every inch of me working overtime, my body was in so much distress and when I was able to get a little sleep, it wasn't very enjoyable. For any new parents reading this, sleep does improve. In the meantime, the smile and snuggles are worth the exhaustion!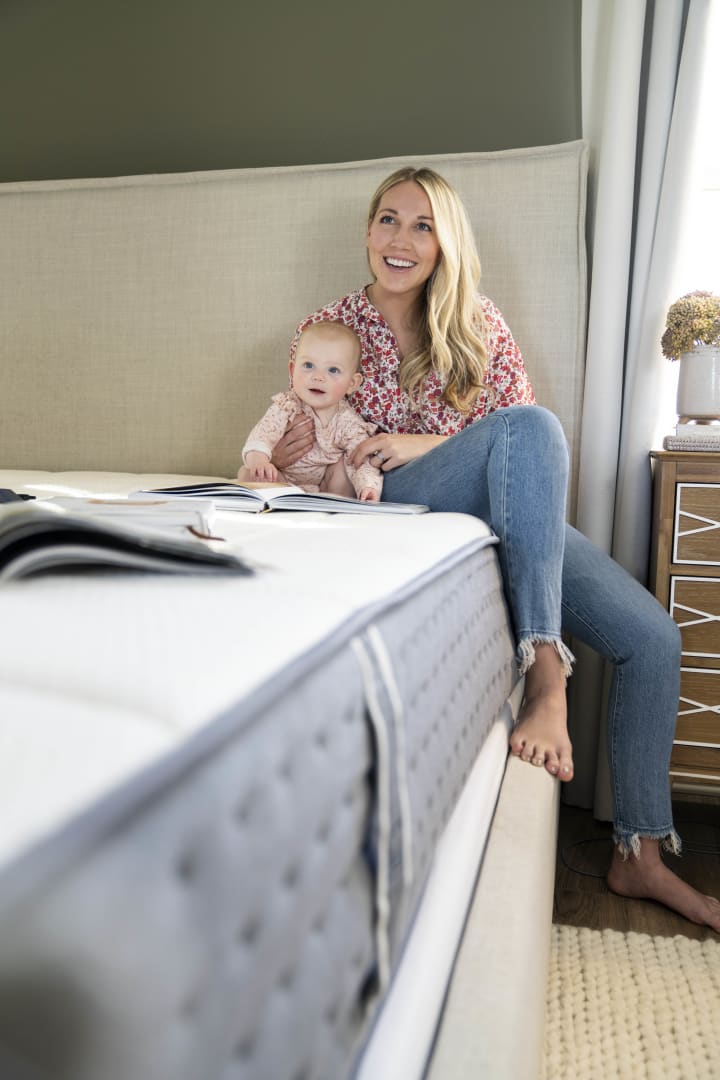 Parenthood is exhausting so when the topic of getting a new mattress was brought up, I jumped at the idea. Prior to getting our Luxe Hybrid Mattress from Lull, we had a mattress that was trapping heat, and feeling every little movement on the bed was nauseating. Every single move my husband made in the bed, I could feel. Needless to say, I've been begging for a new mattress for years. The Lull Luxe Hybrid is made with advanced sleep technology that distributes motion evenly so there is no movement on the mattress when my husband or I move throughout the night. It is an absolute game changer when I am getting up in the middle of the night to breastfeed or when my husband cannot stop tossing and turning.
Honestly, I wish we would have made the switch sooner.
Investing in a good quality mattress is more like investing in yourself than anything else you'll purchase for your home. Sure a good couch seems like the place to splurge, but if you think about it, a mattress you love is the better move. We all know how much of our lives is spent sleeping (⅓ of it!), yet a lot of us continue to put our sleep health on the back burner until it's completely reached a point of no return — like it did for me.
I went through months of being uncomfortable, waking up every day aching and tired, and also drenched in sweat! It was awful.
Now, with our new Luxe Hybrid Mattress from Lull, we have slept many new nights sweat-free thanks to their advanced cooling gel technology. The top layer of the mattress provides a cooling, temperature regulating sleep surface which is perfect for new moms going through postpartum (or anyone who sleeps hot). The individually wrapped coils promote airflow to help regulate your body temperature. All the people with night sweats, say AMEN! Seriously, this mattress has been a game-changer for me in this instance.
If you are looking for a mattress that's not too firm but not too soft, this is the mattress for you. The Luxe Hybrid sits right there in the middle on the firm to soft scale. So if you are shopping for two, it can really be the best of both worlds for all involved.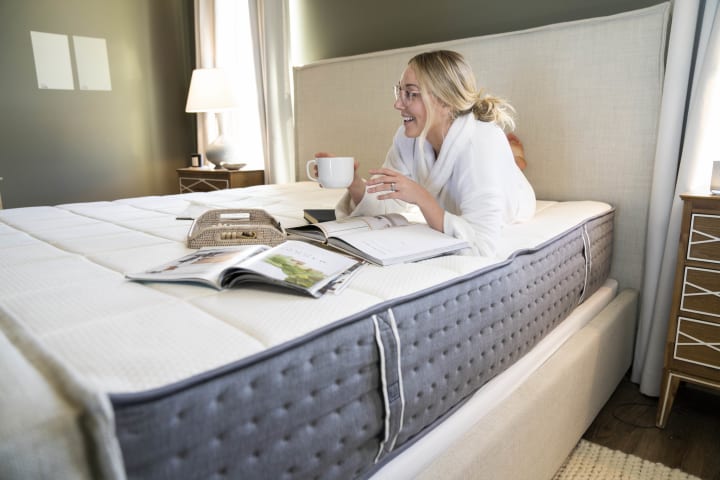 Eight months after bringing the baby home, we are finally getting around to completing the design of our master bedroom. I'm in the process of picking out new paint colors, furniture, and bedding.
I like to describe my home decor style as Transitional with California farmhouse flair. I tend to lean towards earth-toned neutrals and use a lot of linen, rattan, cane weave, and simple florals in my home decor. So far, we have a gorgeous linen upholstered bed that we got last year. It's been begging for a new mattress! We recently got in our new white wool rug which I'm really excited about because it freshens and brightens up the space. Plus it's super comfortable on our feet and the baby loves to roll around on it! We want our master bedroom to feel like a retreat. When we are completely done decorating it will be just a relaxing space in our home. Here in a few months, we'll have the walls painted Gray Blue. Large white nightstands will fill out the room so well, and custom dried butterflies will be framed in large matted gold frames above the bed. One of the last and biggest items we have to purchase is an armoire. Fingers crossed we can find something that doesn't take six months to ship to us!
The most exciting new arrival in our bedroom design has been our Lull Hybrid Mattress! I didn't realize how big of an impact it would have made or I would have ordered one sooner! Ordering, shipping, and receiving were so easy, and the unboxing of the mattress was simple and straightforward. After we got the mattress set up and we laid on it for the first time, I was instantly in heaven. The Luxe Hybrid truly is the perfect combination of memory foam and springs. I look forward to nights full of soundless sleep now! If you are in the market for a new mattress, check out Lull! They are offering $300 off any mattress and free shipping & delivery! Better sleep is so easy thanks to our Lull Luxe Hybrid Mattress!
About the Creator
Home decor, motherhood, & style blogger based in Birmingham, AL
Helping you live a life well-furnished with approachable tips & affordable finds. Follow me on Instagram for daily shares! https://www.instagram.com/thesouthernsource/
Reader insights
Be the first to share your insights about this piece.
Add your insights