Supported By Lull
If Memory Foam Isn't The Perfect Mattress For You, Go Hybrid. Here's Why!
After my car accident, I switched out my Original Lull Mattress for a Lull Luxe Mattress and now I get the sleep I always dreamed of!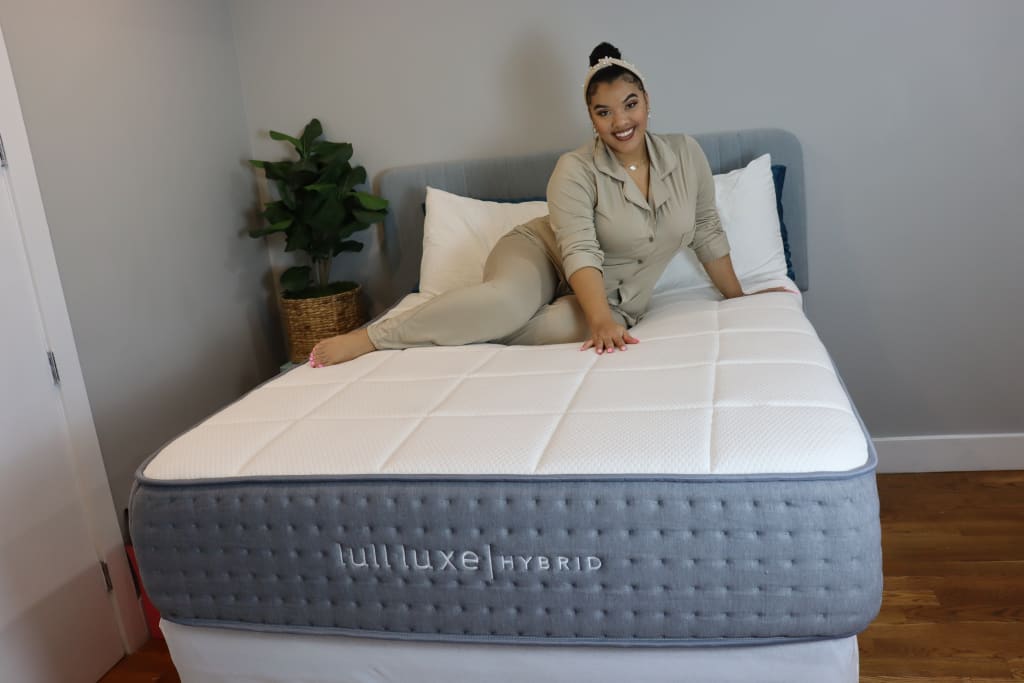 Earlier this year, I was desperately searching for a mattress that would help me fall asleep and stay asleep all night. If you read my previous story, How Seasonal Changes Impact Your Sleep (Without You Even Knowing), then you know I've always struggled to get a good night's rest. I performed extensive research online and amongst friends, and I ultimately found my Lull Mattress. I still remember the day my premium memory foam bed arrived at my home. I was excited to try something new, but certainly had my doubts. Little did I know that the contents of that simple box would have the power to shift my relationship to sleep forever. After nearly 1 year of resting, not just sleeping, on my Lull Original Mattress, I can honestly say that my life has changed for the better. I've gone from tossing and turning all night, to falling into a deep and restful sleep almost immediately. I've also noticed that I wake up in a far better mood as opposed to sleeping on my previous spring mattress, and that my Lull regulates my body temperature and cools me down at night.
But, while all of these changes are positively fantastic, I'm here to share why I decided to upgrade to the Lull Luxe Hybrid Mattress...
Listening to your body's needs will make all the difference.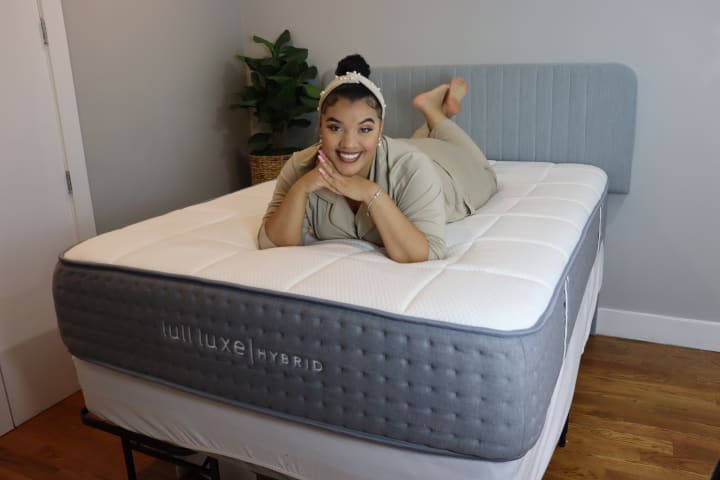 In April, I was involved in a car accident where I suffered an injury to my back and neck. You're probably thinking, "Well, what does any of this have to do with her mattress?" and the answer is everything! If you struggle with sciatica, or have any back injuries due to falls or accidents, you're less likely to get a full night's sleep. And for me, although my Lull Mattress checked all the right boxes prior to this incident, it no longer offered the proper support I needed. See, my Original Lull Mattress felt like a soft cloud, but after my accident my overactive nerve endings were looking for something a bit more firm to support them. I was so upset that my previously dreamy mattress now was not perfectly suiting my body's needs.
After months of seeing my chiropractor, he not-so-randomly asked how I sleep, and what side I sleep on the most. Session after session, I was seeing very little improvement, and we both were confused as to why. I mentioned that I slept on a memory foam mattress, mostly on my side, and that since the accident I was getting close to no sleep. He recommended I switch out my mattress, because according to my doctor, using a mattress that does not provide adequate support can compound the issue and lead to new aches and pains. A high-quality mattress that supports the spine and promotes even alignment can alleviate back pain and help ensure deeper, more restorative sleep — and I was honestly surprised that the thought hadn't crossed my mind sooner.
I loved my Original Lull Mattress and would have never assumed that it was too soft for my new set of needs. I began to start my research all over, thinking I had to find another brand that fit me as well as Lull did. That's when I went online and was so pleased to see that Lull had recently released their second mattress: the Luxury Hybrid Mattress! The Lull Original was perfect before, so I saw no reason why their Luxe Mattress couldn't work wonders this time around. And I was absolutely right.
Studies have proven that hybrid mattresses deliver the balance of support and relief that is needed to ease pressure on the sciatic nerve.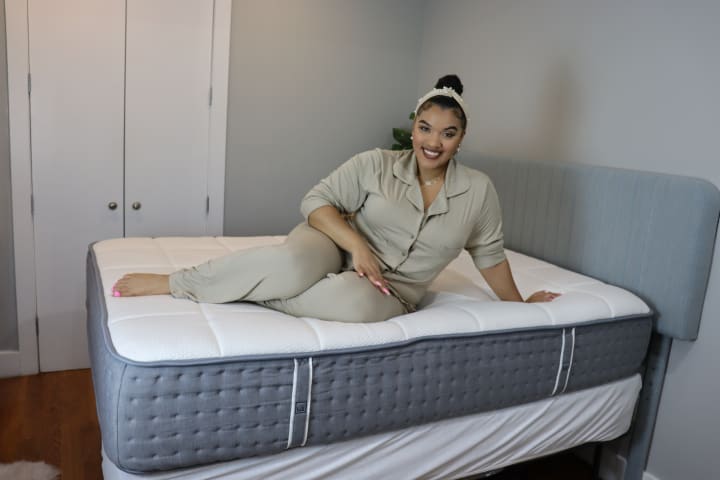 The Lull Luxe Mattress offers the best balance of contouring and support to alleviate upper and lower back pain. Side sleepers, like myself, should find the mattress comfortable thanks to its plush layers of premium memory foam, and individually wrapped springs, which cushion the shoulders and hips to align the spine and reduce pressure. With six luxurious layers of open cell memory foam, cooling gel beds, and precision-crafted pocket coils, the experience of this mattress is unlike any other! I seriously can't emphasize this enough!!
There is absolutely no hassle or catch when buying a Lull Luxe Mattress — seriously.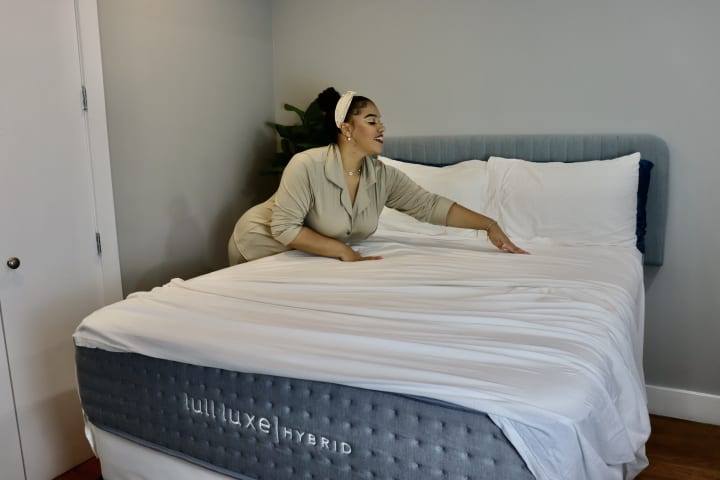 We all know that shopping for a new mattress isn't a low stakes game. Once you've invested that much money into your most important piece of furniture, the last thing you want to do is have to go through the hassle of returning it, or in most cases losing your money. But, I knew that swapping out my Original Lull Mattress would be a walk in the park thanks to Lull's satisfaction principles. The list of reasons why I trust this brand wholeheartedly could go on for ages — but for now I'll stick to the top 3.
1. Free Shipping & Returns
Lull takes the hassle out of delivery. Shipping and returns are always free! If your mattress doesn't turn your "ooh" into "aah," they'll come to retrieve your mattress. No questions asked, or endless hoops to jump through.
If your curiosity has been piqued and you want to give the Lull Luxe a try (which I strongly recommend), you can try it risk-free for 365 nights. If you're not 100% satisfied with your sleep experience, you can return it for a full refund. Easy peasy!
According to Lull, their mattresses have been subjected to rigorous independent testing, ensuring you get a lifetime of restful sleep. And if you happen to not enjoy your Lull experience (which I seriously doubt), you can always resort to step 1 or 2 listed above!
So there you have it, my fully satisfied, and totally enamored review of my new Lull Luxe Mattress. I look forward to sleeping in this bed every night, and my hopes of reaching cloud 9 every evening have totally been restored. While I know I have a long journey of recovery ahead, I'm confident that my Lull Luxe Mattress will serve to facilitate my healing process. I cannot thank Lull enough for the support, both literally and figuratively, they have given me with both of these beds! I know I will be a Lull customer for life!
Looking back, I still feel shocked by how easy and impactful this life change was. Something I would have said to myself sooner? Upgrade to a Lull Luxe Mattress now — your body will thank you!