I Thread the Needle as the Needle Threads me
MelanieRoseCreates.com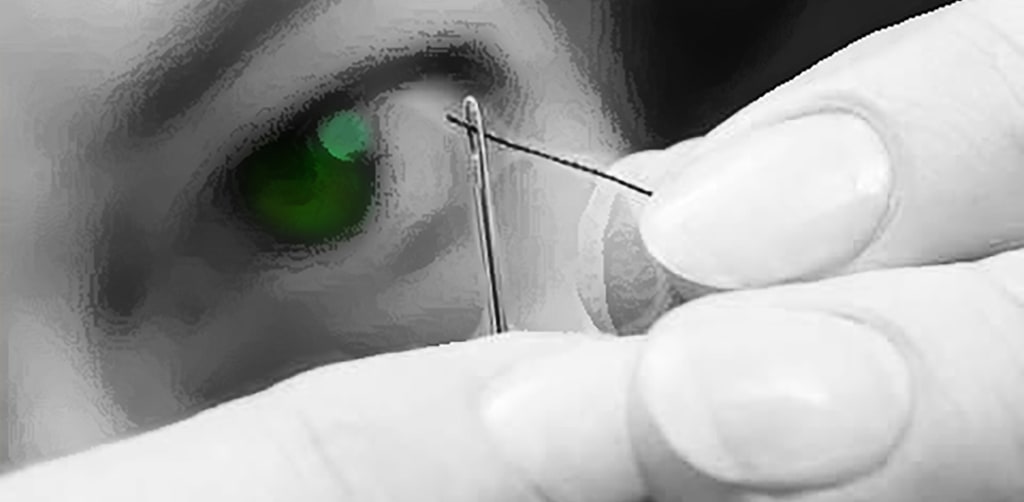 My head throbbed relentlessly as I plopped down into my soft, plump reclining chair after a long day of painstakingly grueling tedious hard work.
My eyes shut in tandem when I laid my head to rest on the back of the chair. The cushions that surrounded me swallowed my aches and pains, easing my muscles and releasing the tension held inside of them.
The room sat in complete silence except for the pulse that had intruded its way inside my temple. It shattered the silence I had been craving all day. It throbbed with intension and precision as I was forced to listen to the repetition play repeatedly.
BEAT beat! BEAT beat! BEAT! beat!
The sound danced around in my head like a painful melody causing my right eye to twitch ever so slightly and then began to work its way from the front of my brain to the back.
I slowly took a deep breath in, expanding every corner of my lungs until they couldn't hold any more air inside of them. I held it at the top for just a few seconds before releasing it with a sigh of exhaustion and a little bit of relief.
My eyes fluttered open as my vision, almost instinctively, floated up to the frame mounted on the wall I sat in front of.
It displayed a woman amid a bed of full-bloomed deep red roses. They surrounded her on every side like a vail of comfort while she found herself vulnerable and in pain. They hugged her, giving her the tranquility and peace she had been yearning for.
Her head felt the heaviness inside her heart and found rest on her forearm that sat upon her bare knees that were bent beneath her.
I tilted my head as a smile grew across my face from ear to ear. I remembered when I had finished that piece. It took me almost two and half years from when I made the very first stitch on my Aida cloth until I made the very last one.
I had never created a cross-stitch piece this large before. The finished size came to just over three feet high and almost two and a half feet wide. It is an accomplishment I am incredibly proud of. It took patience and endurance to complete this project, but it gave me something so much more in return.
I was in such a dark place in my life when I gave myself this distraction. Each stitch became like therapy and was placed with such care and purpose. Somehow it released my anxiety and gave me peace during an intensely difficult time in my life.
I would pick up the needle every chance I had and carefully threaded it while it began to thread me back together.
Stitch by Stitch. One box at a time. Meticulously shaping each and every detail until the final form came into focus.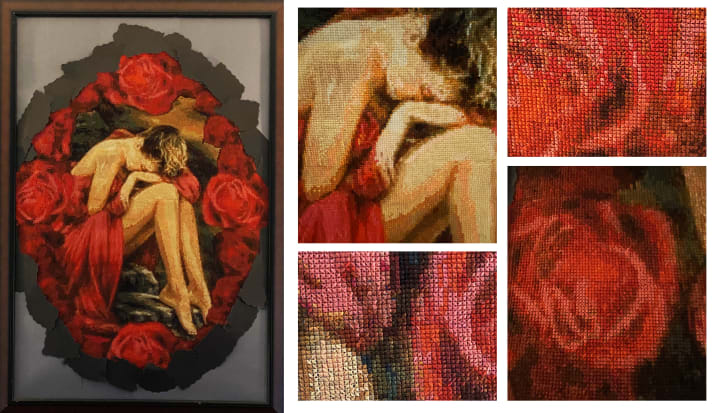 When my mission was complete, and I had finally hung this breathtakingly beautiful piece of art, I purposely placed it center stage from the view of my favorite chair. I wanted it to motivate me when my days become repetitively stressful, as they always tended to do eventually.
It didn't take long for me to start the next piece that would be twice the size, twice the effort, and twice the therapeutic influence.
I broke out of my nostalgia of staring at this stunning piece and glanced down at the side table that accompanied my chair. There lay my trusted Aida cloth covered in stitches with the needle pinned precisely on the corner.
I gently picked up the folded cloth, placed it on my lap, and then carefully unfolded each section until the length fell to the floor.
I let my fingertips graze the top of the finished area of my cross-stitch creation. I could see the brisk waterfalls begin to form over the body of water where a canoe would eventually float under the cherry blossom trees as birds encircled the scene. It would be a mesmerizing, finished work of art, and I felt a tingle inside my stomach flutter just imagining it.
I allowed the task at hand to wash away my day, then I picked up my reliable needle once again and delicately threaded it as it has always threaded me!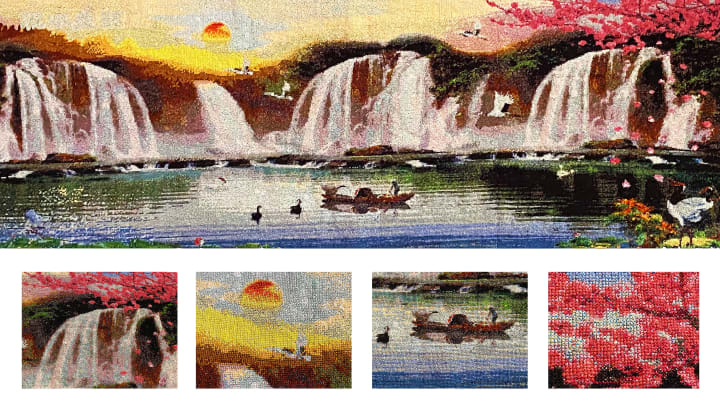 art
About the author
Writing can free your soul. At least it does for me. I am an artist and a mother first, but writing gives me an outlet to let my brain wander and create stories to expand my artwork in a whole new way! Follow me @melanierosecreates
Reader insights
Be the first to share your insights about this piece.
Add your insights