Supported By Lull
I Bought a Premium Lull Mattress, Then Tracked My Sleep. Here's What I Learned.
What really makes a good night's sleep?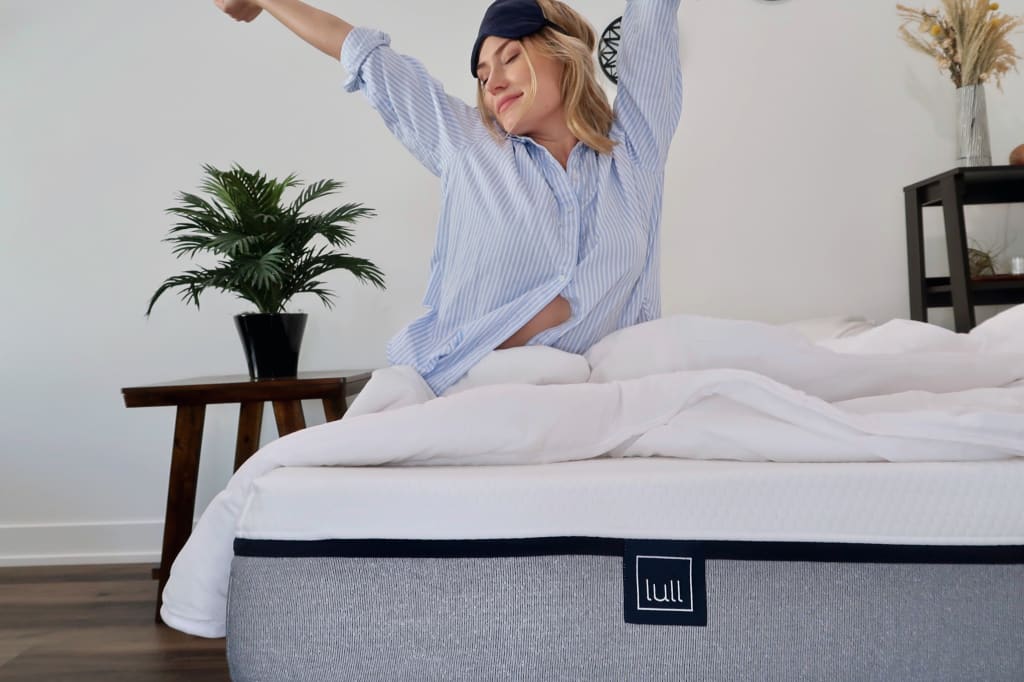 Why do I wake up some mornings feeling completely refreshed and ready to tackle the day, while other mornings I wake up and immediately hit snooze as many times as I can? Is there something I can be doing to help me sleep through the night? Could it be that my mattress is contributing to the quality of my sleep?
These are the questions that keep me up at night! (Pun intended). After doing some research, I decided to track my sleep to learn more about my sleeping habits and how they could be improved. As someone who is always looking to improve myself, my health, and my lifestyle, I was excited to get started on this experiment. I wanted to know if these online premium mattresses are worth all the hype, and I especially wanted to dive deeper into understanding what it is about these mattresses that makes them such a hit. I've been sleeping on my spring mattress for years now, and while it's been fine, I felt like there was a better option out there that I was missing out on.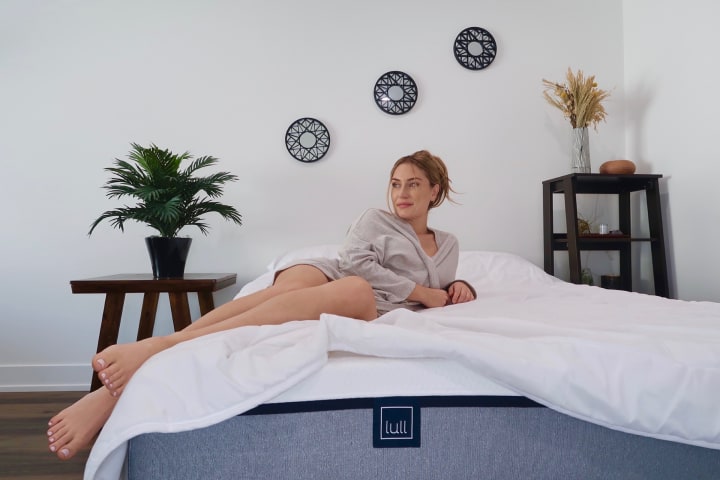 I decided to look into upgrading to a premium mattress. I have a few friends who love and swear by memory foam mattresses, so I knew that was what I wanted to try out. Lull Mattresses in particular had multiple key features that really stood out to me. The first was that their mattresses are multi-layer, with 3 layers of the highest quality memory foam. This means no sagging, no 'trampoline-ing', and no feeling of sinking or getting stuck. Plus, the top layer is actually a cooling gel layer that is made with advanced sleep science to transfer heat away from the body. Even though I love sleeping with my A/C on, I tend to still run very hot while I'm sleeping, so a cooling gel layer was highly appealing. Lastly, Lull Mattresses are designed to relieve pressure and have been named The Best Mattress for Back Pain in 2020 by U.S. News & World Report. As someone who sits at a desk for a good amount of my day, I struggle with back and shoulder strain from time to time, so this really caught my interest.
After doing a bit more research, I found that Lull has over 35,000 awesome reviews, delivers right to your door, is significantly less expensive than traditional mattresses (for the same quality!), and offers a risk-free 365 night trial—I figured I didn't have much to lose. So, I got a Lull.
Getting ready to experiment
Once I received my mattress, the setup was a breeze. I love that Lull delivered right to my front door with no-contact, free delivery, and I was surprised that the box didn't feel nearly as heavy as I expected it to. I unrolled the mattress, let it do its 'thing' (AKA, inflate for a while) and my new bed was ready to go. My first night sleeping on my Lull Mattress was totally peaceful! The biggest difference that I noticed was that I didn't feel like moving around as much. I woke up in the same position that I fell asleep in, which is very rare for me. I like to think that this is helpful for wrinkle-prevention as well, since I'm not sleeping on the sides of my face as much! (Plus, I'm sure that being well-rested will work its own set of miracles on keeping fine lines away!)
So, my mattress was delivered, I set it up in less than ten minutes, and I was ready to do some detective work. That night, I got out my handy sleep tracker, and crawled into bed.
Here's what I learned about my sleep.
Before Lull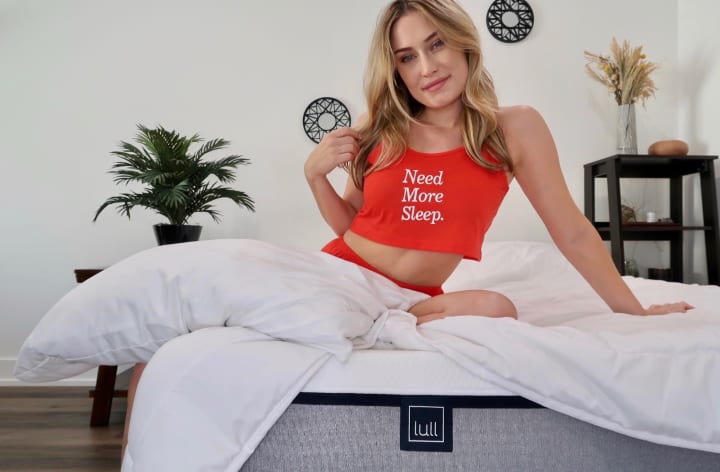 On average, according to my sleep tracker, when I slept on my spring mattress, I tended to be 'restless' up to 15 times per night. Restlessness, or tossing and turning in bed, can be a direct result of not having the proper mattress. When my body isn't supported in the way that it needs to be during sleep, or when I get too hot, it can get uncomfortable, leading me to be restless.
On top of that, each moment of restlessness adds up to about 3 minutes of lost sleep, totalling 45 minutes of lost sleep per night! Adding this up was what made me consider in the first place: What would my days be like if I got to sleep peacefully throughout the night, uninterrupted by feelings of restlessness? And what kind of mattress would I need in order to support my body in a way that promotes restful sleep?
After Lull
After my first few nights sleeping on my Lull, I returned to my sleep tracker to see if it noticed any major differences. I was happy to see a noticeable change! Sleeping on my new Lull Mattress had me falling asleep faster than on my spring mattress. On my spring mattress, it took me an average of 23 minutes to fall asleep, versus only 14 to fall asleep on my Lull.
The biggest difference I noticed, though, was that once asleep, I was significantly less restless throughout the night. Sleeping on the spring mattress, I was restless for about 45 minutes throughout the night. On my new favorite Lull Mattress, I was only restless for an average of 10 minutes throughout the night. That's 78% less restlessness, meaning 78% less time spent tossing and turning! It's also important to note that these instances were always shortly after I fell asleep and shortly before I woke up, as opposed to several lengthy periods of restlessness in the middle of my sleep before Lull. Turns out, there was a solution to my lost sleep!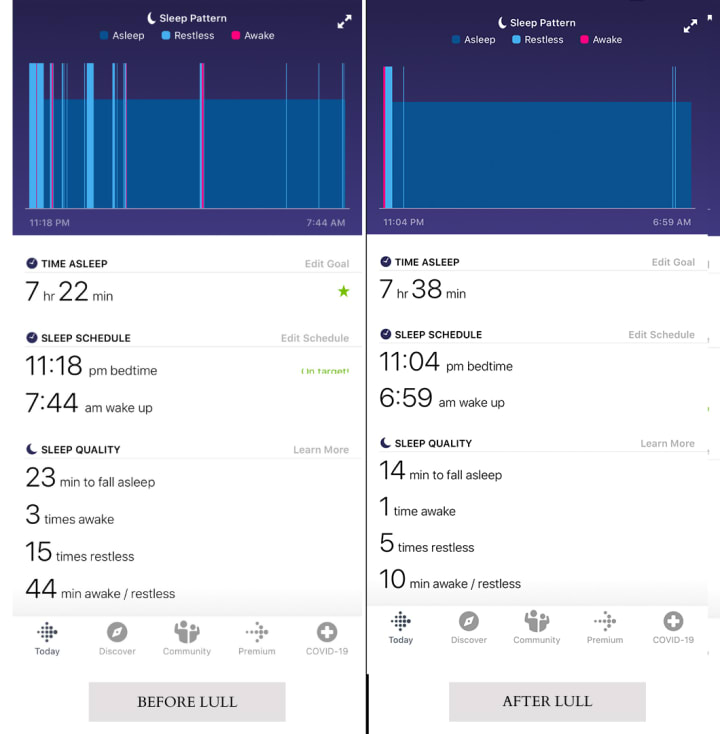 My favorite difference that I noticed was that I was able to easily wake up and get out of bed, rather than feeling the need to keep hitting snooze. On my spring mattress, I would usually want to keep hitting snooze for almost a full hour. While my Lull Mattress is totally comfortable, and I don't want to get out of bed, I feel well-rested enough to have the energy to get out of bed the first time my alarm goes off. (Even though I'd love to keep lounging in it all morning!) I feel so much more ready to take on the day and notice I'm not as sleepy throughout my day.
Sleeping on my Lull Mattress is giving me my time back, by helping me sleep peacefully throughout the night and wake up earlier in the morning. This experiment proved to me that making the upgrade to Lull was exactly what my body needed. Waking up each morning feeling refreshed and ready for the day brings me peace, comfort and joy. There's nothing better at the end of the day that I look forward to now than curling up in my ultra comfortable bed and getting a good night's sleep. I can't imagine sleeping on any other mattress besides my Lull at this point! I'm completely obsessed with all of the features that make this mattress incredible: the cooling gel layer keeps me at an optimal temperature throughout the night, the multi-layers of premium memory foam support my body in a way that promotes restful sleep, and it's proved to me (and my sleep tracker) that I'm spending more time actually asleep throughout the night! If you're in search of a better mattress to improve your sleep, my sleep tracker and I 100% recommend Lull.