How Scissors Spiraled Round and Round to Reinvent Myself in Retirement
by Mary Longe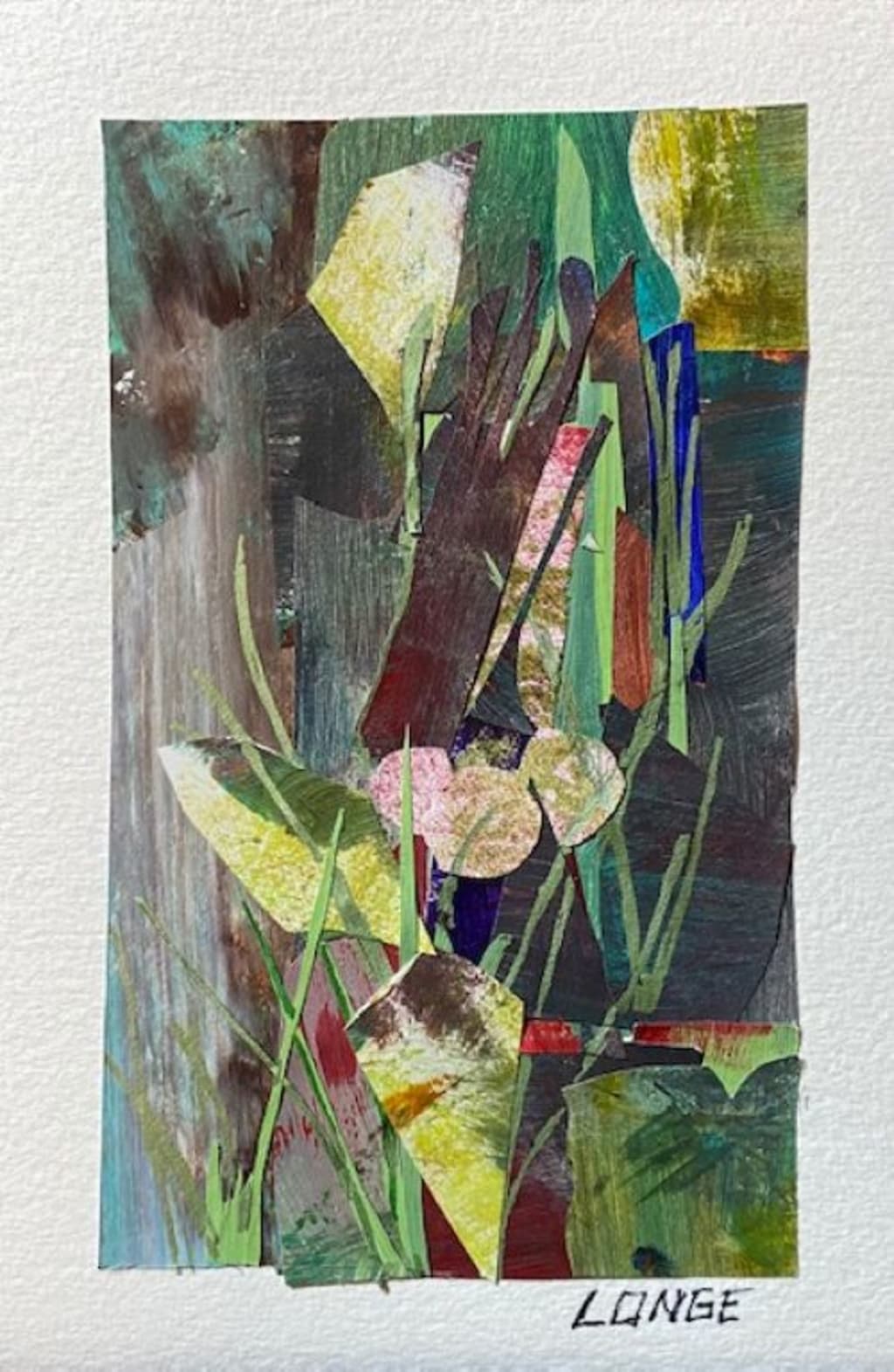 Spring as Hope, Painted Paper Collage by Mary Longe, 2021(c)
How Scissors Spiraled Round and Round to Reinvent Myself in Retirement
By Mary Longe
It occurs to me that I have never knowingly thrown out a pair of scissors. Not that I can promise that I have every pair I ever owned, but I am confident that if I dug deep enough in my shoe boxes and bins of craft supplies, I would find a pair of round-nose scissors caked with school paste and unable to cut the thinnest paper. I know for sure that if I open my sewing box, the tiny drawer on my Singer, my drawer of kitchen utensils, and my bin of collage cutting implements that I will find one, maybe two pairs of scissors of different types and sizes in each…. Most, but not all, free of glue, especially today.
Scissors and I go way back. Of course, I cut the usual turkey hand and feathers that come in primary grades, but the other day, when someone asked me about my first bike, I was reminded of how I decorated it to make it mine. That bike was a hand-me-down complete with rusty fenders, pock marked handlebars and a seat with a crack. There was no recourse for the seat, it came "as is", but Dad gave me rust cleaner and let me use Twilight Turquoise paint, left over from a car project, to paint the fenders and body. The metal chain guard was large, curved like a ukulele and fancy with five inch-wide round indentations. My mother allowed me to use her special shiny shears to cut out pictures of dogs I found in magazines and catalogs. I trimmed and pressed them into the indents like a crumbly pie crust and secured them with Elmer's Glue. No one had a bike like mine complete with portraits of puppies. Little did I know, it was only the beginning of my career in paper cutting.
There was a time in my teens that paper tole was my thing. I'd find five copies of a picture with a pretty scene and trim each precisely the same way, Each element was a separate section, a house with a garden in front, for example, each flower cut separately – five times, maybe the fence, dog or chimney gave dimension too. I'd drip balls of rubber cement to stack between layers, then place the scene in a deep box frame. Again, I used my mother's shears, probably not sharpened since my puppy cuts, but easily found, where they belonged, beneath the telephone in the drawer with her other writing supplies; because those were days when people wrote thank you notes and posted them… at the post office. Though I made a few paper tole boxes, the art form didn't thrill me, nor stick with me through college or the years of early motherhood. Like a spiral, my cutting came round again to round-nose scissors, but this time with my son.
As he grew, I stocked my own supply drawer, including a pair of orange handle Fiskars that I still own and still reach for regularly to cut tags, slit tape on boxes, trim wrapping paper and other household tasks. In the meantime, I learned to sew and make simple quilts and other fabric projects. I bought myself another pair of shears to keep like a treasure with my notions… as my mother called them. Those scissors, the longest I own, have cut neither paper nor plastic… my own rule, my own treasuring. They cut fabric and do it perfectly without shred or pulls, well, until I take it a snip too far… but that's another story. I admit, by the way, that by the time I made a quilt of my son's high school track t-shirts, I added a rotary cutter to my bin of notions, it was the right tool for the job, as my dad advised. I also added short scissors, the 5-inch variety, that not only have their own job, but fit like a hand in a glove in the tiny bin for bobbins on my sewing machine.
Sewing and other crafts fit in my life only after completing responsibilities for my son, my job and eked out social life. There were years I had little time for crafting, but I never stopped creating. I sketched and wrote while I traveled for work.
Once, on a trip to Taos, NM, I saw a pick-up truck with two people in the bed standing at easels painting the mountain scenery. "I want to do that," I told my companion. "I want to paint outside." A few weeks later while riding my bike into Cedarburg, WI, I saw artists at easels on sidewalks all over town. A sign hung over Washington Street, "Plein Air Festival," Plein air, the term for painting outside… like Monet, Renoir, Cassatt, VanGogh.
I dove in. Within two weeks, I found a one-day beginner's workshop, taught on a rooftop in Chicago. It affirmed my interest in painting outside. I invested in supplies and equipment and found a weeklong workshop in the Apostle Islands that confirmed painting outside everyday was a blast, but I needed to learn how to paint.
I started taking courses and workshops with a variety of teachers. I accepted an invitation to take a three-week course in Spain, using all my vacation time. I took my backpack of plein air equipment for vacations in Michigan and Mexico too. Plein air painting became my vision for retirement and I developed a plan.
Three years before retirement, I negotiated with my boss to work four days a week. The next year, I reduced my work schedule to three days to begin an intensive, two days per week fundamentals program that met at the venerable Palette & Chisel, Academy of Fine Arts. After all the one-off classes, I needed to understand what I knew and didn't about painting: perspective, color theory, color mixing, brushes, palette knives and so much more. In the meantime, my son completed college, got a job and moved out. My time outside of work was mostly my own. I set a retirement date. On February 28, I walked into a revolving door as a health care consultant and twirled out the same door that evening an artist.
I am an artist.
I kept painting mostly outdoors, even in the bleakest of Chicago weather. I added portraits and abstracts to my repertoire. My paintings began to sell… even to people who were neither family nor friends. I had a solo show and kept painting.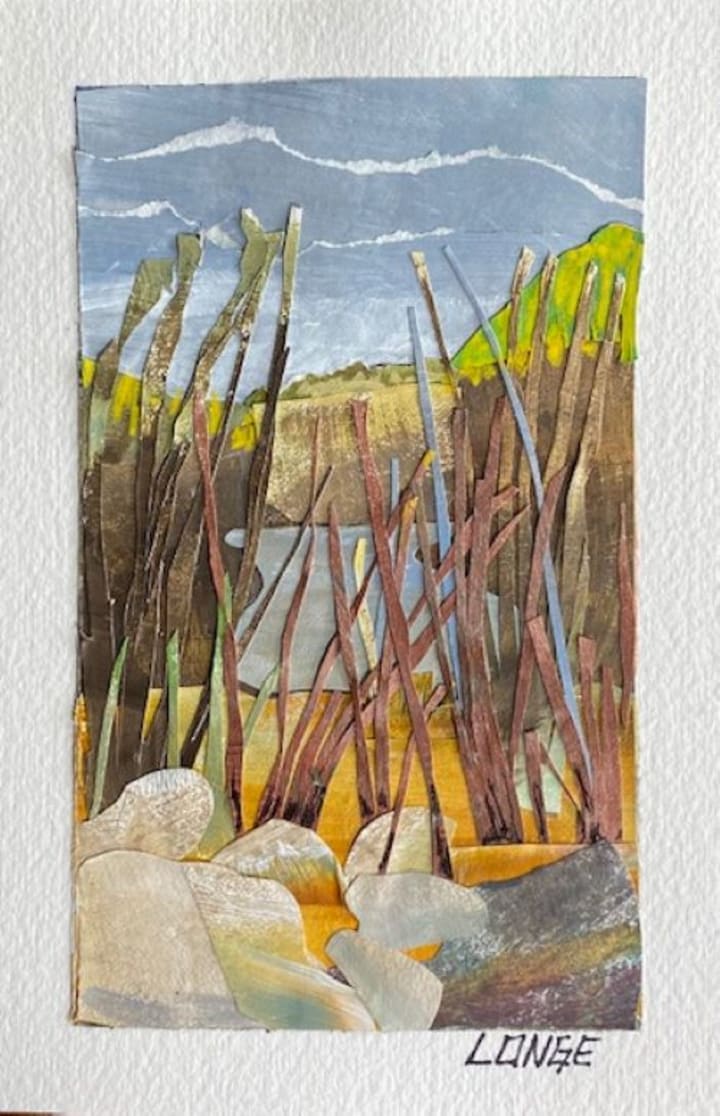 I'd gotten in the habit of sketching when I wasn't painting, and doing thumbnail-size practice paintings in a large sketch book with acrylic paint before I painted in oil. Because I often paint most of a painting with the same brush, I wiped blobs of color onto the pages of my book before grabbing the new color. One day, the scissor spiral came back around to me. I grabbed my kitchen shears, the ones that stand brightly above my pens and next to my letter opener and began cutting up the dried bits of paint into abstract shapes. I randomly tossed them on paper, moved them around and began to see a scene take shape… a landscape with colors of the scenes I'd already painted.
I cut more gross shapes and trimmed some to be branches, grass and leaves. There was color harmony since I'd made the colors previously. I liked the results. I experimented and made more collages. I cut words from a 1000-page old dictionary, ripped stamps from an envelope, used thirty-year-old sympathy cards sent after my mother's death, and trimmed photos. I took a collage class and another to learn to make a book of cut outs.
While composition and color theory are the same whether painting or collaging, I learned more about the tools and techniques. I learned how to cut certain shapes and make the tiniest of trims. I move the paper now, not the scissors. I rarely snip at the tip. I use the longest cut for the most control. I bought new scissors in different sizes, different points and different handles, as well as a Fiskars paper trimmer. It delights me because I no longer worry about hacking off my wrist like the paper cutters found next to the fax machines at work.
I learned about glue too. I better understand the role of white glue, rubber cement hot glue and spray adhesives. I now have preferences in glue sticks. I know what works and what doesn't stick, and what bleeds or what can be moved if needed. Sometimes, in the throes of a collage, I can't help myself and use my micro-tip scissors like tweezers because they can pick up the smallest shard of paper and make it possible for me to place it exactly where I want it, but then glue sets on them and Im 'reminded of the paste on the round nose scissors.
I still regularly paint outside and take daily walks for exercise of course, and to best understand the color of the light, the length of the shadows. Since January, I've made more than one hundred collages, cutting large clumps that become bodies of water, prairie and lawns, and the tiniest shards representing leaves, flowers, birds and clouds. I'm working on a developing an exhibit of the collages and a picture book that will use them to as illustrate the story of a year in a life of someone waiting. It's not an autobiography.
I reinvented myself so that retirement isn't about waiting… to die. It's living, one brushstroke, one trip, one cut, one snip or not, at a time.
It occurs to me that I'll never intentionally throw out a pair of scissors. You never know when that spiral comes round again.
art
About the author
Reader insights
Be the first to share your insights about this piece.
Add your insights