Dr. Prem Reddy, as a Cardiologist in Apple Valley, California
Dr. Prem always dreamed of becoming a doctor and help the society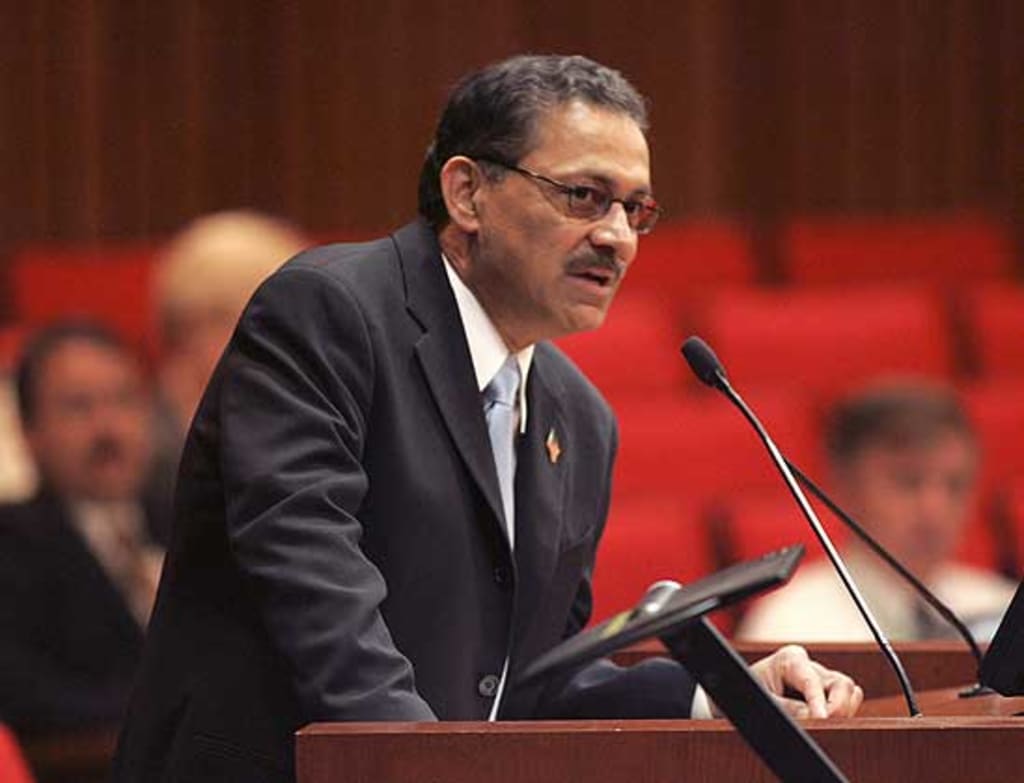 A man should also take inspiration form the nature and live for others" – says Dr. Prem Reddy, an eminent cardiologist, from California.
Dr. Prem Reddy hails from a hamlet called Neduguntapalem, near Nellore in Andhra Pradesh, India. He is the elder son of Sri Nalumala Sundararami Reddy and Ms. Krishnavenamma, whose family later shifted to Nellore to establish a business. Dr. Prem always dreamed of becoming a doctor and help the society. Even though his parents and grandparents are not much educated, Dr. Prem Reddy himself explored the avenues and stood as a self-made success story.
His schooling was completed in his own village, and for his college studies he left to Tirupati, where he also studied Medicine. Later he worked in Vellore Medical College for some time and decided to pursue higher training in medicine in the United States. So, he migrated to New York and completed residence fellowship. While Dr. Prem got trained in Cardiology, his wife Dr. Santhi trained in general medicine. From there they moved on to a small town called Victoria apple valley in California. Since then they have settled down here.
Dr. Prem Reddy, as a Cardiologist in Apple Valley, California he has performed a record of 5000 cardiac procedures in a time span of 16 years starting from 1981. To expand his services, Dr. Prem Reddy has constituted 'Desert Valley Medical Group in 1985 and 'Desert Valley Foundation' in the year 1989. Later his diverse activities led to the establishment of prime care international with which he became life greatness of being listed as one among the top 100 medical institutes in America by the government. Today about one hundred medical professionals are working in his institute.
He made his brother and sister along with their spouses as partners in his services and made them well settled in California.
"There are plenty of opportunities in America. Those who have energies and skills can excel here. There are no bounds to creativity. Everyone who works hard has place here in America. If you strive for your goals you make your dreams true. My life is an example for that....." proudly says doctor Prem Reddy. He believes that, "When you settle in a foreign land you should not only think of your homeland, you have to help the locals and do some good for the country that accepted you as son" and "that's why I contributed to America" he adds.
Dr. Prem's charitable trust the students with scholarships to assist them in pursuing education. He has donated a whopping 5 million dollars to the trust.
Hailing from a village that even doesn't have electric power in those days and reaching such heights is not an ordinary task. Now there is a college running on his name and generousness. He has provided employment to more than 5000 persons and helping about 25,000 patients.
He laments that even though India is growing in the field of medical knowledge, the services are still not reaching the rural people. But, Dr. Prem ever remains grateful to the land and people from where he belongs. He never forgets his roots. He gives back to the motherland in many ways.
The American people and government also recognized Dr. Prem's medical services and have shown their respect through numerous awards and rewards. Many associations in the US have facilitated him.
Living up to its motto of "Saving Hospitals. Saving Jobs. Saving Lives," Prime Healthcare has invested approximately $1.4 billion since 2005 on capital improvements and equipment to modernize and improve its hospital facilities and has provided more than $7 billion in charity and uncompensated care since 2010. Led by Dr. Reddy, Prime Healthcare is continuing its promise to provide compassionate care and clinical excellence to patients and families in every community we serve.