Supported By Lull
A Mattress Review You Can Actually Trust: My Honest Opinion of Lull
Sleeping on a Lull Luxe Mattress feels like you're sleeping on a soft cloud — a priceless feeling that I can't seem to get enough of.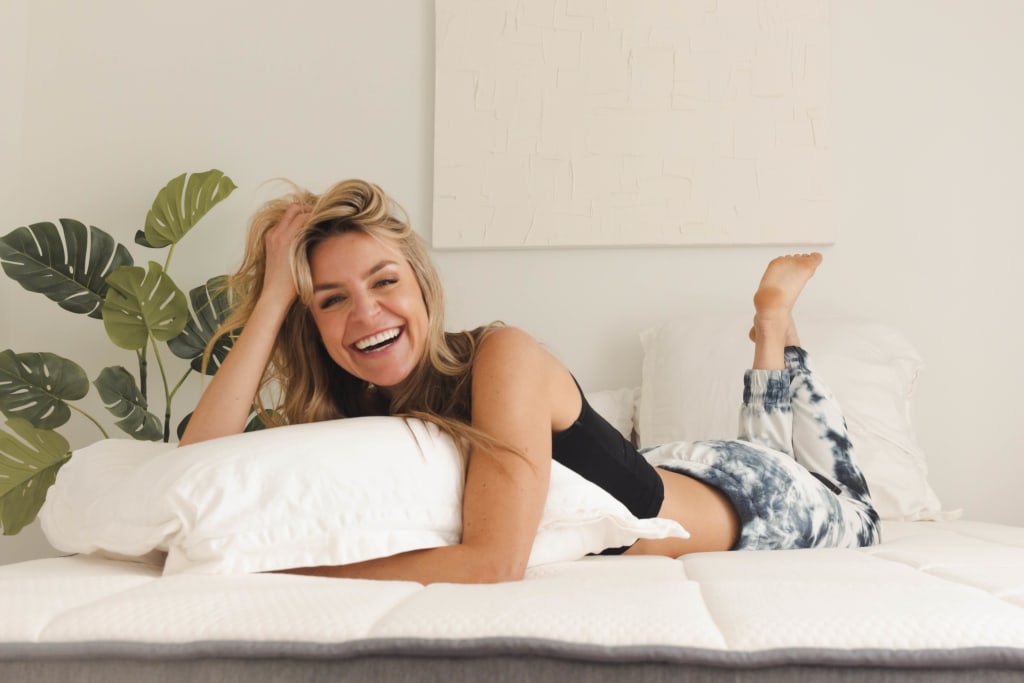 Health has always been my number one priority, and a huge component of great health is good quality sleep! In my opinion, it's just as important as eating healthy and exercising.
For years, sleep was not a main focus of mine. Looking back, I'm embarrassed to admit it, but I thought I was one of those rare people who could function on 4-5 hours of sleep a night.
But boy was I WRONG! After a few nights with no sleep, I continued to find myself cranky, low energy, irritable, and not thinking clearly the next morning.
About a year ago, when I began to notice the recurring theme of fogginess throughout my day, I dove deeper to try to pinpoint the exact reason. I learned that sleep affects your mental and physical health in more ways than I thought. Getting good sleep helps boost your mind, mood, and can help prevent health problems. That's when I decided to upgrade to a memory foam mattress from Lull, which completely changed the way I sleep. Since then, I upgraded from Lull's Original Mattress to their Luxe Hybrid Mattress and I'm getting the most luxurious sleep OF MY LIFE. I am now kind of obsessed with getting long hours of great sleep! I always aim for 8-9 hours of sleep a night, which is a pretty reasonable goal when I think about my busy schedule.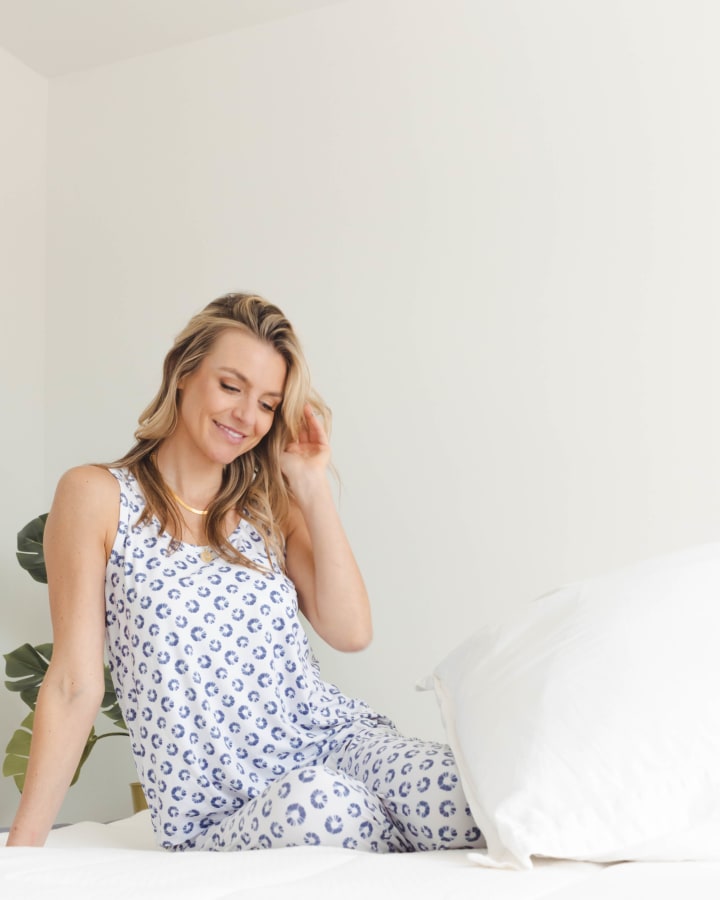 Let me ask you, would you like to wake up and spend the day feeling refreshed, stress-free, productive, and energetic? Then focus on your sleep!
The biggest shift I noticed after getting a good night's sleep, night after night, was my mental clarity, which is a huge sign of good health! Throughout the day, little things that might have triggered me before didn't anymore! I was able to properly respond rather than react, because my thoughts were clearer than they were before. It was amazing seeing this life change positively affect so many areas in my life.
That feeling of being well-rested is priceless!
Ever since I started sleeping on Lull's mattresses, I would like to consider myself a sleep expert now! I can practically fall asleep anytime, and most nights, I sleep through the entire night without waking up once! I know that is not the case for everyone, and it definitely wasn't always the case for me. Everyone has different sleeping habits which is why I took a closer look into my personal sleeping patterns to find what works best for me, and I narrowed it down to 2 things. Here are the most important things I've found that improved my sleep for the better.
INVEST IN A GREAT MATTRESS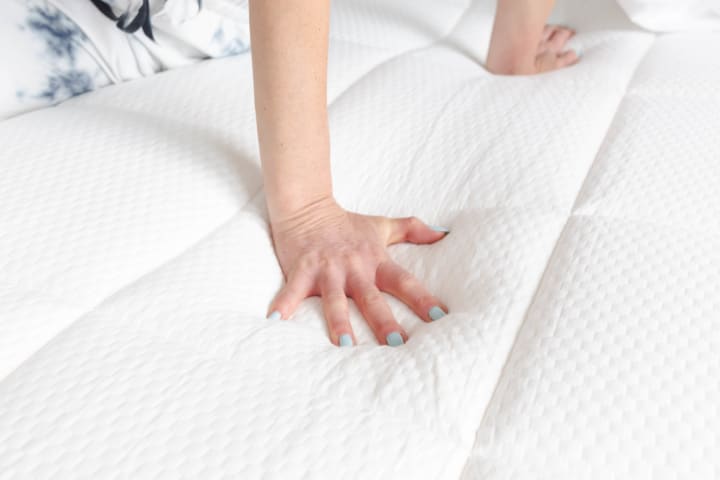 The most important thing, without a doubt, is to invest in a good mattress that works with your body and personal sleeping habits. It can seriously make all the difference.
When I found that we spend 1/3 of our lives sleeping, it almost became a no-brainer to invest in a mattress that I loved. Why not treat yourself?
For me, Lull's premium mattresses have made a dramatic difference in the way I sleep.
When purchasing a good mattress, you are ultimately making a purchase to invest in yourself and to better your health! Your body needs rest so it can perform throughout the day and allow you to show up as your best self! I am not going to lie, when I was first introduced to Lull, I had never slept on a memory foam mattress before, and naturally, I was a little skeptical. I thought "memory foam" meant your body would sink in and you wouldn't be able to move. I was so happy to be proven wrong by their Original Mattress.
Sleeping on a Lull Mattress feels like you're sleeping on a soft cloud. I love how Lull's memory foam doesn't give you that sinking feeling. It's more of a medium-firm feel which provides lots of support which doesn't go unnoticed, while also being soft and comfortable. It gives you a gentle hug but not like a big bear hug where you sink in and feel stuck.
Ever since I made the switch to Lull, I've been obsessed with finding new products that will help elevate my sleeping habits. I couldn't hide my excitement when I got an email from Lull announcing their new mattress - the Lull Luxe Hybrid! With how refreshed I felt each morning with the Lull Original, I began dreaming of the endless possibilities of sleeping on their new luxurious mattress. Even though my Lull Original was only a year old, I immediately knew I wanted to upgrade.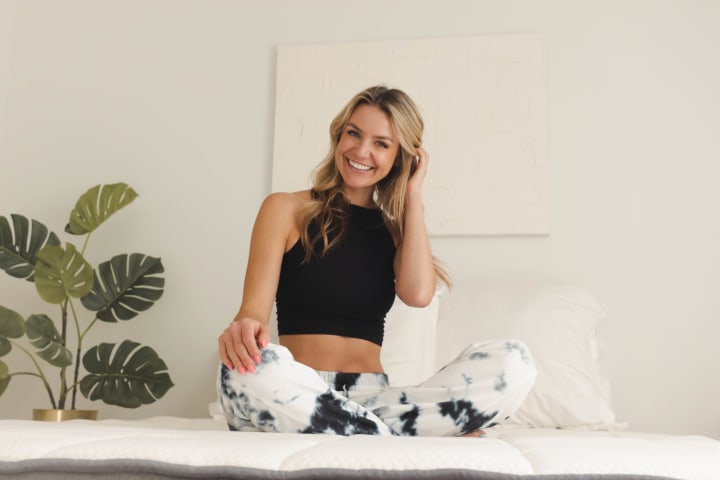 WHY?
When Lull decided to add another mattress to their product line, I immediately knew the Lull Luxe was going to be worth it based on how amazing the Lull Original Mattress is. The Lull Luxe is the company's hybrid mattress, meaning you get the best of both worlds- innerspring AND memory foam…for a true "luxe" sleeping experience.
After looking into the Lull Luxe Hybrid, I knew it was going to be a total game-changer for two main reasons:
The first thing is that it shows little to no movement when sitting up or getting out of bed. So, if you have a small bladder like me and often get up in the middle of the night, the memory foam reduces the movement so your partner doesn't feel anything! The Luxe has hundreds of precision-crafted pocket coils to ensure the best motion isolation. It's a win/win when you're sleeping with your partner. I don't have to worry about waking him up in the middle of the night and he wakes up much happier in the morning!
Secondly, the Lull Luxe Hybrid Mattress has a cooling gel memory foam layer which regulates your body temperature. I'm absolutely in love with this and the quilted top layer because together, they're so breathable and I never wake up too hot.
My boyfriend runs hot and likes to sleep with the room freezing, and of course, I'm the complete opposite! I am always COLD. It can be hard when two people sleeping in the same bed sleep completely differently but this technology helps us both stay asleep at a happy body temperature.
Lull truly allows you to have luxurious sleep at an affordable price. Not to mention the purchasing process is totally stress-free which is why I keep going back!
Who would have known it could be so easy to buy a mattress online?! There is no need to go to a store-all you have to do is jump on Lull's website, find the best fit for you, and click purchase! Before you know it, your mattress will be awaiting you outside your door. It definitely beats going to a store and trying to figure out how you will be getting your bed home. Not to mention, the shipping is free and your mattress will ship in only 1-4 business days! It doesn't get easier than this.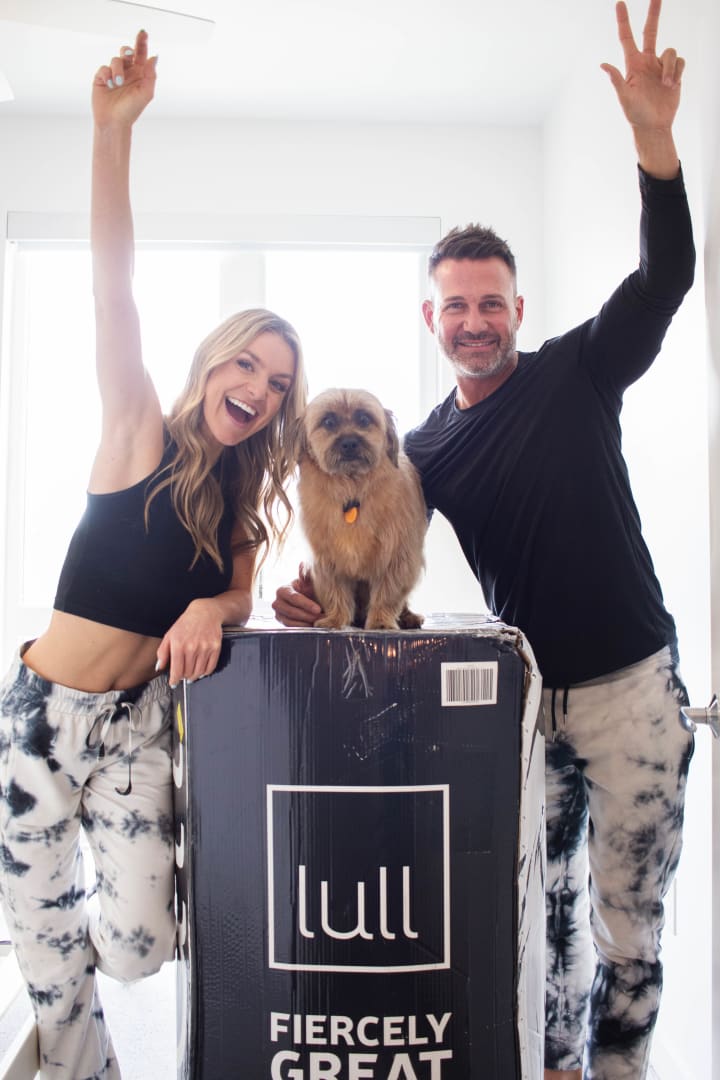 The first time I saw my Lull Luxe Mattress outside, I was amazed that an entire queen mattress could fit in such a slim box! It was smaller than I was!
It's a FUN unboxing process too, not to mention easy! The minute you pull the mattress out of the box and carefully cut the protective plastic, the mattress immediately starts to expand. It's cool to watch!
It brought me back to my childhood days when I would play with those expanding toy animals that would grow the minute you put them in water!
Lull's mattresses are the adult version of that toy! Within minutes, your new favorite mattress will be ready for you to have the best sleep ever!
Another reason I love Lull's stress-free buying process is because you have a 365 night risk-free trial to return it for a full refund if you end up not liking it. What better way to test out a mattress than in your very own home with your favorite pillow and comforter! Now that is great customer service!
Not to mention, you get free shipping, free returns, and a lifetime warranty! Told you it is stress-free!
CREATE A WIND-DOWN ROUTINE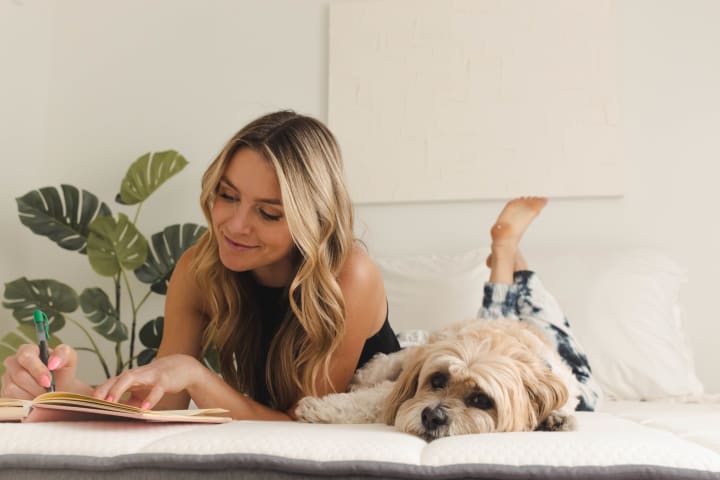 Besides a great mattress, the other biggest sleeping tip I can share with you is to create a healthy, calm "wind-down routine" before you crawl into bed.
About an hour before I go to bed, I close the laptop and put the phone away to let my mind settle.
I try to shut out all outside-world distractions and love to pour myself a cup of magnesium powder or sleepy tea. I personally spray my pillows with a lavender spray, turn on a white noise machine and kiss my boyfriend good night! The goal is to be lights out before 10pm, and when it feels like you're sleeping on a cloud, I usually hit my goal!
Adjusting your sleep routine to fit your life and schedule may be difficult at first, but I promise it's worth it. Throughout the past year, I have noticed myself falling asleep earlier and waking up naturally before my alarm even goes off! It doesn't always happen but when it does, I immediately feel like my day starts off on a much better note.
Thanks for reading my review! I hope it helps you make your decision. If you value health, then you value great sleep and Lull WILL help you sleep in luxury!
All I can say is I am always going to say YES to the next Lull upgrade! I can't wait to see what the next one is!
Now my Lull Luxe Mattress is calling my name! Sweet dreams!
XO,
Jess
product review
About the author
Jessica is a TV personality, red carpet reporter, speaker, and social media influencer. She empowers people to overcome doubt and negative self-talk. Her ultimate goal is to help people master their mornings, so they can master their lives.
Reader insights
Be the first to share your insights about this piece.
Add your insights