Useful Tips to Designing Dried Flower Bouquets
Designing Dried Flower Bouquets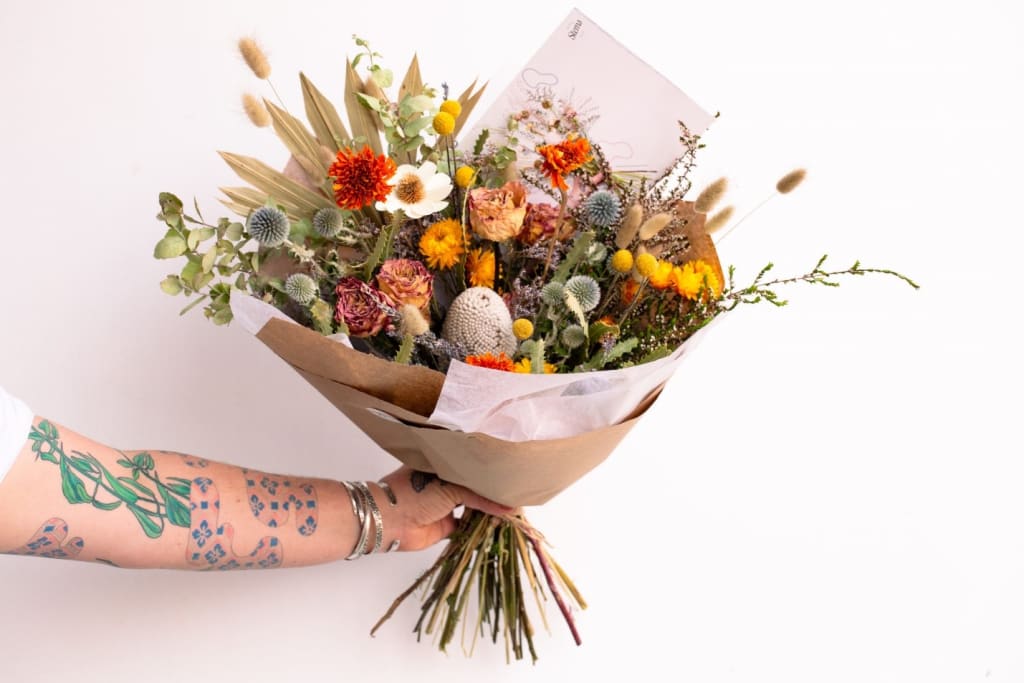 Picture Credits: Unsplash
Due to their classic appearance and vintage beauty, bouquets of dried flowers look absolutely stunning. Some people think that dead or withered flowers are like dried flowers but this is not the case. While it is true that dried flowers are not fresh or hand-picked, they are not dead.
Guide to the design of dried flower bouquets
Whether it's a greeting, a flower delivery, or any other flower gifts arrangement at home that you want to turn into a beautiful bouquet, you just need to follow these tips.
Choose the right flowers
You need to dry the flowers first. So, start saving the bouquet you get. All kinds of flowers can be dried and some flowers are easy to dry but still choose the right flowers for your vintage bouquet. It is good to go looking for fresh flowers that have just blossomed. It is best not to use flowers that have matured after full bloom.
Don't use withered flowers as their petals are likely to fall off and you won't be able to make bouquets out of them. You should use flowers with long and straight stems as they are dry and easy to tie.
Flowers with low humidity are always a good choice
Low moisture flowers such as rosebuds, sunflowers, baby's breath, hydrangea, etc. are easy to dry and can be a good choice. Dried rose petals are highly valued for their romantic-themed dried flower bouquets. You can choose carnations or peonies. They also have high moisture content and can be easily dried.
Once the flowers are dry, separate them into fillers, focal, and accents.
Once you have dried the flowers, you should start sorting them according to the things you will choose as accents, focal, and fillers.
Remove all the leaves from the base of all the stems.
All leaves should be removed from the base of the stem and all long stems should be kept straight.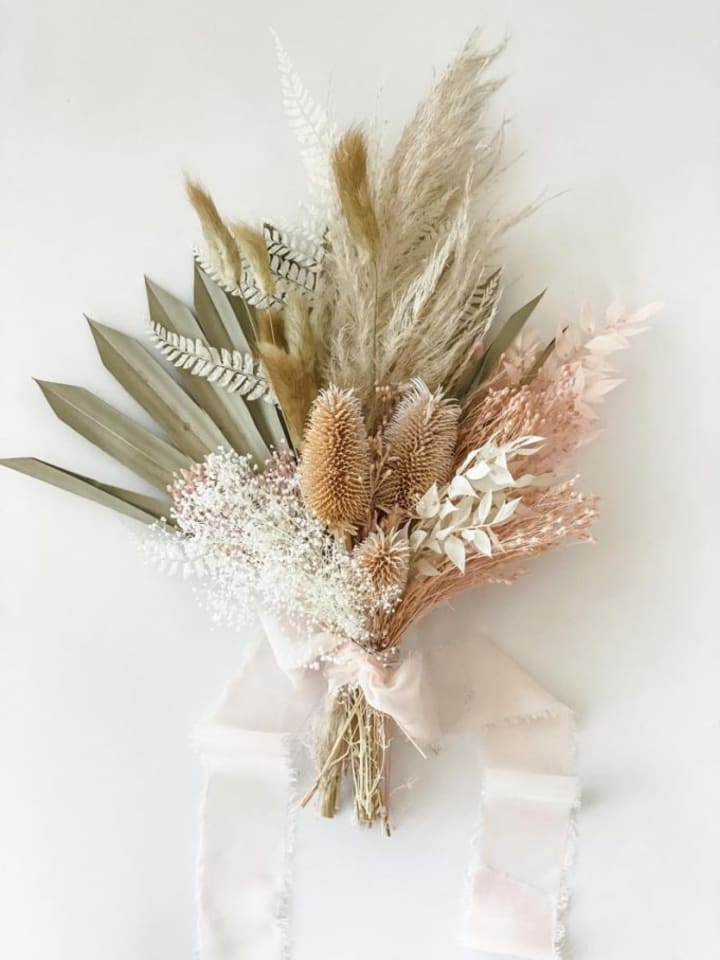 Start arranging them wisely
When you have all the dried flowers, you should start arranging them wisely. The most prominent and beautiful focal flowers should be the center of attention so place them in the middle and then place them with the dried plants or fillers. It is important not to hold the bouquet too tightly as this will limit what you can add to it.
Add accent flowers to them
There are some flowers that can enhance the beauty of a bouquet. You can choose them to enhance all the beauty of the bouquet. You can choose Orchids, Cellulose, and Baby Breath which can make your bouquet of dried flowers extremely beautiful.
Adding accent flowers will also increase the length of the dried flower bouquet and make it look thicker.
Tie your bouquet of dried flowers to the twins
Once you have finished arranging all the dried flowers and plants, you should loosen the whole arrangement with twins. You should not tie it too tightly or too loosely as doing so will spoil its natural shape.
Fix the whole bouquet
Cut the stem of the bouquet evenly before wrapping it in beautiful paper and carefully arranging the whole arrangement. Do not cut the stems too short as it will ruin the beauty of the bouquet. Just make sure the whole arrangement looks consistent. If it is not cut or unwanted parts are removed. To give it a finishing touch and make it more attractive, you can add decorative ribbons. This will enable the bouquet to be presented more. So, next time you have a happy flower delivery or other flowers at home, just dry them and make a beautiful dry bouquet!
Bottom line
Flowers are always a lovely gift that satisfies both the recipient and the sender. If you also want to give a beautiful bouquet of dried flowers to your close ones, don't look any further and prepare it by hand. It will make them feel loved. If you want to congratulate a special person, go for the delivery of congratulatory flowers, dry those flowers, and make a beautiful bouquet. It is easy to express your love and care for flowers. So, let those flowers say what they always wanted to give!