TOP 15 Surprising VICKS VAPORUB Uses You Must Know
Treat Cold Sores Cold sores and fever blisters are often associated with the virus known as the herpes simplex virus. About eighty to ninety percent of the population has this virus and it resides in a dormant state within the bodies nerve cells. Illnesses and stress trigger the virus to multiply and spread. First a significant tingling sensation appears around the mouth, followed by a cluster of sores and blisters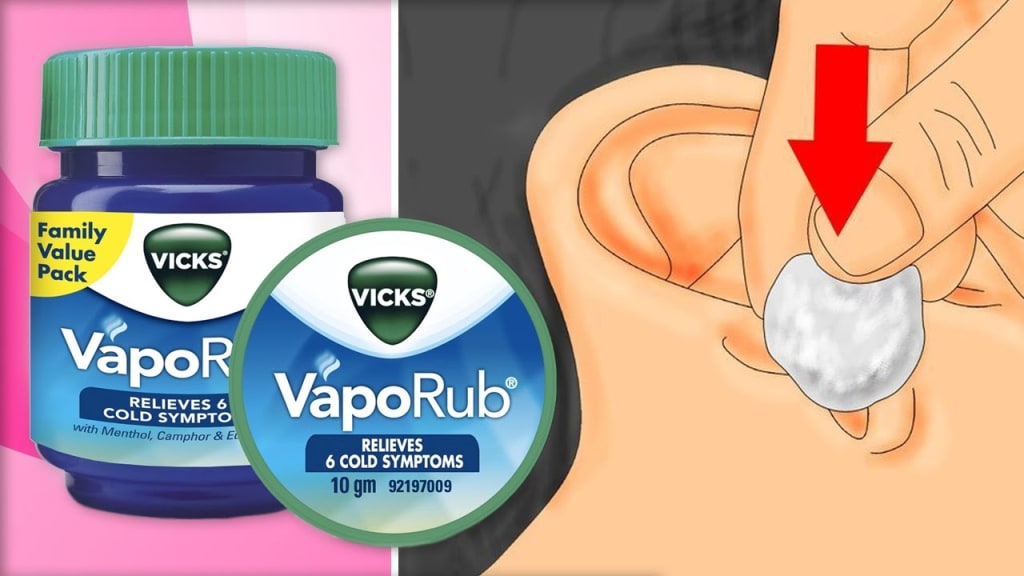 Top 15 surprising Vicks Vaporub uses you must know!
Number One - Treat Cold Sores Cold sores and fever blisters are often associated with the virus known as the herpes simplex virus. About eighty to ninety percent of the population has this virus and it resides in a dormant state within the bodies nerve cells. Illnesses and stress trigger the virus to multiply and spread. First a significant tingling sensation appears around the mouth, followed by a cluster of sores and blisters. Vicks contains camphor and eucalyptus plant extracts which act as antiseptics. Apply a little onto the area as soon as you feel a cold sore coming on.
Number Two - Relieve Eczema Eczema is a common, chronic skin condition. It can affect different body parts like the face, neck, upper chest, and limbs. Dry skin, redness, flaking, and constant itching are some of the common symptoms. Prescription medications available to treat eczema are harsh and they can actually aggravate symptoms. The active ingredients in Vicks help soothe the skin and reduce inflammation and itchiness. Apply some VapoRub on the affected area for instant relief.
Number Three - Remove Warts Warts are skin growths caused by a common virus called HPV. The virus causes the top layer of skin to grow at a rapid pace forming a wart. As an effective home remedy, apply some Vicks on your wart and cover the area with gauze. Do this twice a day for a period of about two weeks or until the wart is completely gone.
Number Four - Reduce Acne Breakouts can be widespread and serious. It might be a good idea to get the advice of a dermatologist before trying this remedy, but for those of us with a pimple here and there, it's worth a shot! VapoRub is said to help reduce swelling and redness. Apply some Vicks on your pimples several times a day. It will clear your skin by drying and soothing the affected area, and your pimples will disappear within a couple of days or maybe even overnight.
Number Five - Relieve Headaches and Migraines One of the most common uses for Vicks is to relieve headaches and migraines. This is one of the main purposes for this product and something the brand actually promotes. Massage the cream into your temples whenever you feel a headache or migraine creeping up. The menthol scent will release pressure in the head and relieve the pain.
Number Six - Treat Dry and Cracked Heels Dry, cracked heels are embarrassing. Vicks VapoRub contains essential oils in a base of petroleum jelly which helps heal the skin. Apply some of this ointment on your heels and feet before going to bed and put on a pair of cotton socks. The next morning, rinse your feet with warm water and use a pumice stone to exfoliate the softened skin. Do this every night before bed time to keep your feet smooth and healthy.
Number Seven - Get Rid of Stretch Marks Vicks has anti-inflammatory properties. The essential oils found in Vicks VapoRub make the skin feel softer, making the stretch marks less noticeable. Women have reported that within a week of using VapoRub, their stretch marks were 60 to 100 percent gone. number 8 relieve muscle
Number Eight - Relieve Muscle and Arthritis Pain As a topical painkiller, the use of Vicks VapoRub for sore muscles and joints is common. For minor aches and pains, apply Vicks Vaporub to the affected area three to four times daily. It will soothe sore muscles and reduce joint pain caused by arthritis.
Number Nine - Repel Mosquitoes Getting bitten by mosquitoes and putting up with the itchy welts is no fun. Commercial insect repellents promise to make you less appealing to these pesky bugs, but if you don't have any of those on hand, just apply small dabs of Vicks onto your skin and clothes. Smell of menthol will repel the mosquitoes. You can even apply Vicks over an insect bite and cover it with a bandage to avoid itching and scratching.
Number Ten - Relieve Earaches An earring can be a symptom of an infection, but it can also be caused by the mundane cold. This pain can make simple daily activities difficult. For earaches, rub Vicks around the outside of your ear. You can even put a little VapoRub on a cotton ball and place it in your ear overnight or until the pain subsides.
Number Eleven - Treat Toenail Fungus This simple remedy helps to get rid of unsightly fungus and leave you with healthy nails again. One of Vicks ingredients, Thymol is effective at inhibiting the growth of fungus. Its antiseptic, antimicrobial, and antibacterial properties help to grow out the fungus, Rub a little Vicks on your nail bed and toenail daily, until the fungus completely grows out with your nail.
Number Twelve - Heal Bruises We all have experienced bruises at some point during our lifetime. They are unsightly and annoying. Another little known usage of Vicks is its ability to help get rid of those bruises fast. The ingredients in Vicks aid the healing process. Apply VapoRub to the injured area to help get rid of the discoloration by breaking down the blood clot.
Number Thirteen - Reduce Belly Fat Vicks can help reduce cellulite and localized fat in problematic areas, particularly around the stomach. Combine VapoRub with baking soda, camphor, and a small amount of alcohol. Rub the mixture on the desired area and use a plastic wrap to cover it. Let it sit for 30 minutes or leave it overnight, then wash it off with warm water. This process will help stimulate local fat burning over time and make the skin tissue firmer.
Number Fourteen - Fix a Squeaky Door Having a squeaky door hinge can be a real annoyance, especially during the night. Did you know that VapoRub can help with this issue? Vicks contains petroleum jelly which acts as a lubricant putting a stop to the squeaking. Rubbing a little Vicks on the door hinge will do the trick.
Number Fifteen - Train Your Cat Are you annoyed by your cat scratching your walls, windows and doors? Rub some Vicks on these surfaces and your cat will never think of doing this again! Cats don't like the strong smell of this product and they will do anything to stay away from it. To prevent your cat from wetting the rug or any area of the house, place an open jar of Vicks VapoRub near that spot.
Reader insights
Be the first to share your insights about this piece.
Add your insights