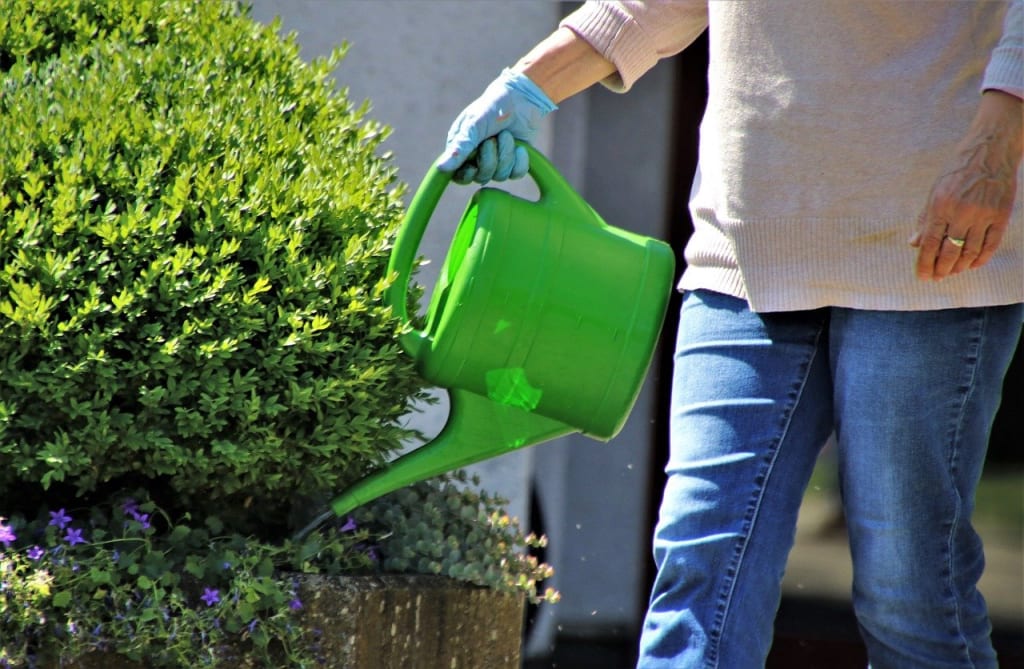 Have you become more greenfingered over the last year?
For many of us, 2020 was the year that we were inspired to go green-fingered. Data shows that not only did we pick up gardening and growing our own produce as a hobby during multiple lockdowns but that we're continuing those habits into 2021.
A survey that revealed over half of Brits are continuing to grow their own produce, also showed that many wish they had a bigger garden or more green space. This coincides with many people reconsidering their homing priorities recently. TalkTalk data shows that two in five office workers have moved during the pandemic, with swathes of workers trading big cities for more rural, greener towns.
With fewer days required in the office, we're seeing people move further away from their workplace to seek out more space for our new home working lives. But what about more green space for our new gardening habits? This has also proven to be an important factor, with living somewhere greener cited as a key priority by 18% of movers.
For those of us looking to move somewhere with more residential greenery, where in the UK should we be looking? Online soil and gardening retailer Compost Direct has analysed Rightmove data to determine which regions are the best for current and aspiring gardeners and those looking to take advantage of better garden space.
The greenest – and not so green – regions in the UK
The competition is fierce, and a tiny percentage separates the top three greenest regions in the UK. Perhaps unsurprisingly, rural haven Wales came out on top. South Wales takes the crown, with 90.5% of homes in the region coming with a garden. North Wales follows its compatriot closely at 89.1%. If you're a nature-lover who enjoys being surrounded by stunning greenery at home and beyond, Wales is most certainly the place to be.
In third place, and officially England's greenest region, is the North East. The research shows the country's northernmost region is a rural paradise, making it a key spot for aspiring gardeners. It seems the rolling hills of Northumberland and expansive green spaces in County Durham translate directly to residential space.
While many would expect to see metropolitan London at rock bottom, it's closely beaten out by Aberdeen City and Shire! Despite the fact that the region is home to breath-taking natural scenery, including the Grampian mountains and stunning, unspoiled coastlines, the region is falling behind on residential green space.
The best regions for each type of gardening
So, now we know which regions have the most residential green space in the UK. But this doesn't necessarily mean it's suited for the type of gardening you want to carry out. The elements play a key role in the types of plants you can cultivate or food you can grow.
South Wales' Cardiff is the wettest city in the UK, receiving an average of 1,152mm in rainfall a year. This, combined with the region's high percentage of gardens, means it's perfect for plants like the marsh marigold, a gorgeous yellow flower that will give your garden a year-round sunny vibe even when it's raining. Complement this with the astilbe, a pretty, feathery perennial that will grow in pink, dark red, or white in the wettest parts of your garden.
You can accompany these standout flowers with some giant rhubarb, whose giant leaves will provide the perfect background for your colourful blossoms to stand out. As a bonus, you can make your own delicious rhubarb crumble all year round!
The good news for Wales dwellers is that the wetter climate lends itself well to most types of produce too, including leafy vegetables, root vegetables such as onions and peas, and pod vegetables like sweetcorn.
Meanwhile, the North East is home to Newcastle, Sunderland, and Middlesbrough. Not only do they have plenty of garden space to take advantage of, but they're also three of the driest cities in the UK. So, while North Easterners might have to work a bit harder on the upkeep of their gardens, there are plenty of plants that thrive without as much rain. For example, lavender prefers things a little drier and will bring both a beautiful colour and a mesmerising scent to your garden.
As for produce that's well-suited to the slightly drier, cooler North-East weather, root vegetables including parsnips, carrots, and beetroot are great choices. If you're keen on growing leafy vegetables, lettuce and spinach might be more difficult – though not impossible – to cultivate. Instead, we recommend chards, endives, and chicories. Be sure to stock up on plenty of compost bags so you can keep your crops in tip-top condition!
Why is residential green space so important?
During the COVID-19 pandemic, we became a nation of gardeners. It's positive to see that this green-fingered habit we've picked up is going nowhere. While many positive habits that people picked up during the March 2020 lockdown, like getting more exercise, have fallen by the wayside, gardening is still going strong. We can expect to see this continue through what is set to be a hot, sunny summer.
The health benefits of gardening are well established. Not only does it give you the opportunity to get some fresh air and vital vitamin D, it also has the following benefits:
• Improved mental health and mood
• Reduced risk of dementia
• Keeps your bones, joints, and heart healthy
Having access to green space at home is important, especially for people living close to urban cities. While some of these benefits can be achieved on a jaunt to your local forest or park, the immediate access afforded by gardens is unrivalled. This is especially helpful for the older generation and those with limited mobility.
It's positive to see people continue gardening and growing their own produce as a hobby beyond lockdown, and with people looking to trade city life for more relaxing, green surroundings, the gardening boom isn't going anywhere. Whether you're a casual gardener, a flower aficionado, or looking to grow your own crops, it's a hobby that can fit into your lifestyle easily. If you live in one of the greenest regions in the UK, now is the time to take advantage of that precious garden space. For those looking to move, be sure to consider these hotspots when seeking out your dream home.
Bio
Natasha Bougourd is the content writer for Compost Direct, an online retailer of sustainably sourced compost, mulches, plant feeds and more. The UK based company has partnered with 1% for the Planet, a global organisation that is currently working to support Rewilding Britain in its vision to restore and connect up areas of rich natural habitat across at least 30% of Britain's land and seas by 2030.
Reader insights
Be the first to share your insights about this piece.
Add your insights