Slate: What are the Most Popular Uses?
Slate is often used for interior and exterior applications. Read here the most popular uses of slate stone.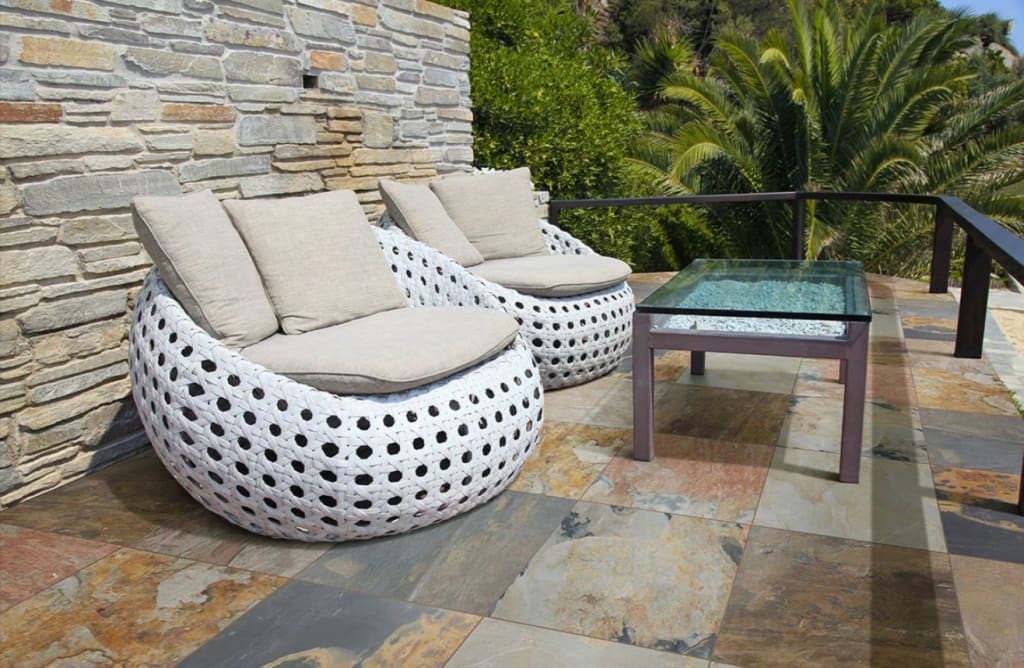 Slate is a natural stone known for its unique characteristics and multiple applications. The sedimentary rock features textures and has layered appearances with color tones ranging from gray and charcoal to purple, green, and rust. The stone's formation is a result of the metamorphosis of shale, clay, and volcanic ash. Slate primarily comprises minerals like muscovite, quartz, and illite, along with pyrite, chlorite, hematite, kaolinite, graphite, feldspar, and more.
Because of the stone's exceptional resistance to weathering and durability, homeowners and interior designers across the globe contact the best stone exporter from India. They use the best quality slate for multiple indoor and outdoor applications like flooring, roofing, and paving. Now that we are discussing slate's uses, let us explore them in-depth.
Uses of the Natural Stone - Slate
Thanks to the properties and characteristics of slate, it has been a popular material in construction for centuries. The long and thick slabs of slate are used for architraves and jams, whereas the thinner ones are commonly used to cover the shower or make steps. Not only this, slate boards are also used in the manufacturing of home decor and furniture, like plates and chopping boards. Some of the most popular uses of this natural stone are.
As a Roofing Stone
Roofing is one of the most popular uses of slate. The lightweight sheets and resistance properties make it an ideal choice for roofs, especially in rainy and snowy regions.
For Flooring and Tiles
Slate stone is a popular choice for flooring. Slate is a strong natural rock used in the manufacturing of stone tiles and for several flooring applications in exterior and interior settings. Apart from being beautiful and adding elegance to the space, it is a sturdy material not prone to cracks, breaks, scratches, and impacts. It is perfect for walkways, pavers, patios, and even stone walls. Architects and interiors prefer using it for flooring in kitchens and bathrooms due to its strong moisture resistance capacity and durability.
Shower Trays
Shower trays are available in several materials; however, the slate shower tray is the best and most popular choice. Apart from looking classy, it delivers durability and resistance over time. As a result, you no longer need to worry about changing the shower trays monthly. Moreover, its sliding and smooth surface makes the tray easy to clean, which means less time and effort in maintenance.
Kitchen Countertops
Slate is also a perfect choice for kitchen countertops. It combines visual appeal and properties that ensure discoloration and staining are not a problem. Thanks to the stone's non-porous surface, it is an excellent alternative to marble and granite countertops.
Fireplace
Slate, as a natural stone, can withstand extreme temperatures and thus is ideal for those looking to have a fireplace hearth at their place. The rough and raw slate is polished and cut into even pieces to provide the fireplace hearth a refined appearance.
Window Sills
Slate is chosen for window sills because of its durability and aesthetics. Whether an older building or a contemporary modern house, it will surely enhance the appearance. One advantage of slate window sills is that they can feature drainage channels and be used outside and inside.
The Takeaway
Slate is known to add elegance and functionality to your space. It is more than just a material used in the construction field. Slate as a natural stone offers several benefits, including longevity, availability, environmentally friendly, and undoubtedly visually appealing. So, whether you are renovating your space or looking forward to building it from scratch, don't forget to source slate from the best slate stone manufacturer in the country.
About the Creator
StoneSenter is a leading manufacturer, supplier, and exporter of high-quality and durable natural stone products. We export natural stones to Europe, Australia, USA, Canada, Japan, and other countries.
Reader insights
Be the first to share your insights about this piece.
Add your insights