How To Clean Feet At Home | 13 - Winter Foot Care Tips & Home Remedies
How To Clean Feet At Home?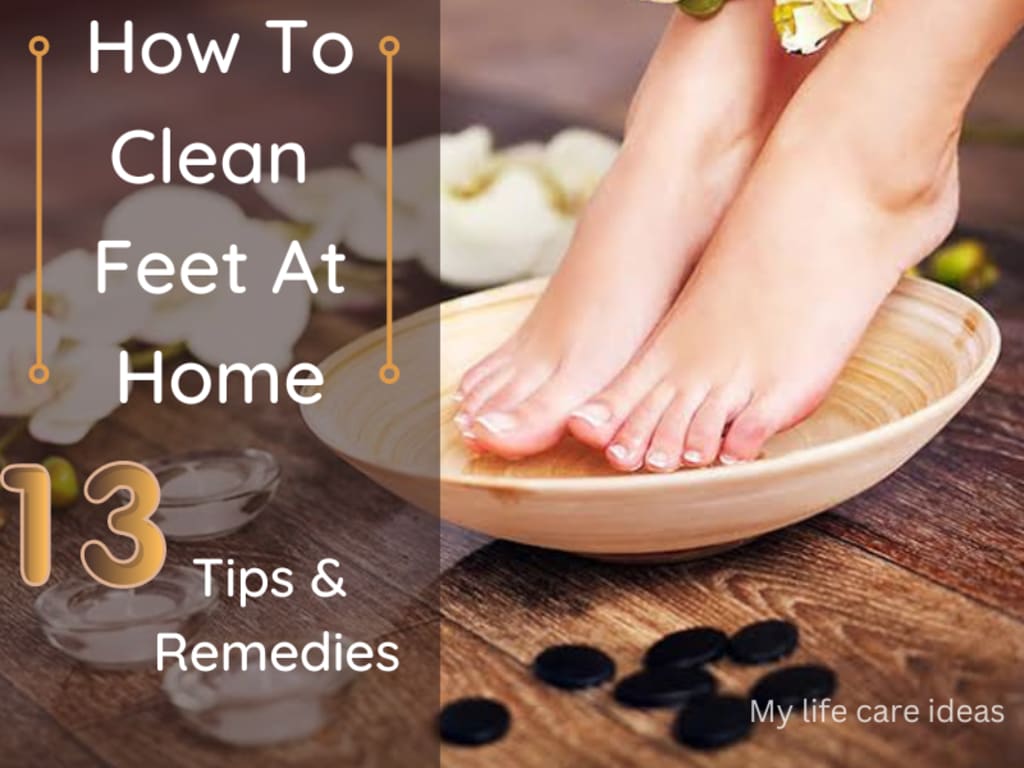 How To Clean Feet At Home?
The feet might become extremely dry throughout the winter and require special care. To refresh your skin, treat yourself to a weekly at-home treatment.
Or visit a salon every week for a pedicure or foot spa treatment. They are excellent methods for caring for the feet and avoiding dryness. The most soothing of these salon services is the foot massage.
Giving the feet daily attention and exfoliating the skin with lotions can avoid issues like damaged heels. After a bath, moisturize the skin while it's still wet. It aids in keeping moisture in.
Foot Care Tips & Natural Home Remedies:
Are you worried about how to clean your feet? How to keep your feet beautiful? So, don't worry here are some tips that help you to get a clean foot.
1- Keep It Clean
2- Warm Water
3- Keep Moisturized It
4- Oil Massage
5- Coconut Oil
6- Almond Oil
7- Apply Proteluim Jelly
8- Honey
9- Banana And Avacado Scrub
10- Coffee Scrub With Olive Oil
11- Milk And Strawberry
12- Use Baking Soda
13- Aloe Vera Gel
Are you ready??
1- Keep It Clean:
How to clean your feet? Simply always keep them clean. Make sure to thoroughly wash your feet with liquid soap after a bath. Make sure you are adequately cleaning the space between your foot fingertips and the soles of your feet because fungal diseases occur in poorly lit, hidden places.
Cleaning doesn't only involve soap and water. It's necessary to dry your feet while putting on a fresh pair of socks to prevent infections.
2- Warm Water:
Warm water soothes the dead skin layers on the surface of your feet, making it simple to scrape them off. By doing so, the skin's texture is improved and calluses are avoided.
3- Keep Moisturized It:
Moisturizing is very necessary to keep feet clean and nourished. Locking in the moisture that is lost while cleaning and exfoliating your feet is crucial. Apply a quality moisturizer or body lotion on wet feet after a bath so that it can absorb deep into the skin and maintain the moisture seal for a while. Our skin keeps losing moisture quickly in the winter, so this technique would undoubtedly aid in retaining it.
Cracked heels
4- Oil Massage:
Dry skin has long been treated with oil massage. It deeply moisturizes hard, dry, cracked feet to stop additional harm and hasten the healing process.
Additionally, topical stimulation enhances blood flow beneath the skin to reduce aches and pains brought on by fatigued feet.
5- Coconut Oil:
The recent increase in awareness of coconut oil has been an excellent cause. It not only has a lot of anti-inflammatory and antibacterial characteristics, which makes it ideal for promoting healing, but it's also amazing for retaining moisture in your skin. All you need is coconut oil and some salt.
How To Apply?
Add salt to coconut oil and massage them on your feet before bathing for about 20 minutes.
6- Almond Oil:
Sweet almond oil has a light, non-greasy texture that is excellent for moisturizing and enriching skin. Due to its high vitamin A content, it is excellent for both healing and "calming down" painful skin. All you need is almond oil and aloe vera gel.
How To Apply?
Add aloe vera gel into almond oil and apply on the feet and give a gentle massage on them. Lie down and calm down for about 20 minutes.
For More Read;https://mylifecareideas.blogspot.com/2022/11/%20How-To-Clean-Feet-At-Home%20.html
About the Creator
My Life Care Ideas is a place where you will find all types of health tips, beauty tips, food and drink recipes, and life care ideas.
Reader insights
Be the first to share your insights about this piece.
Add your insights