Everything You Should Know About Gold Bracelets
Gold bracelet things which you need to know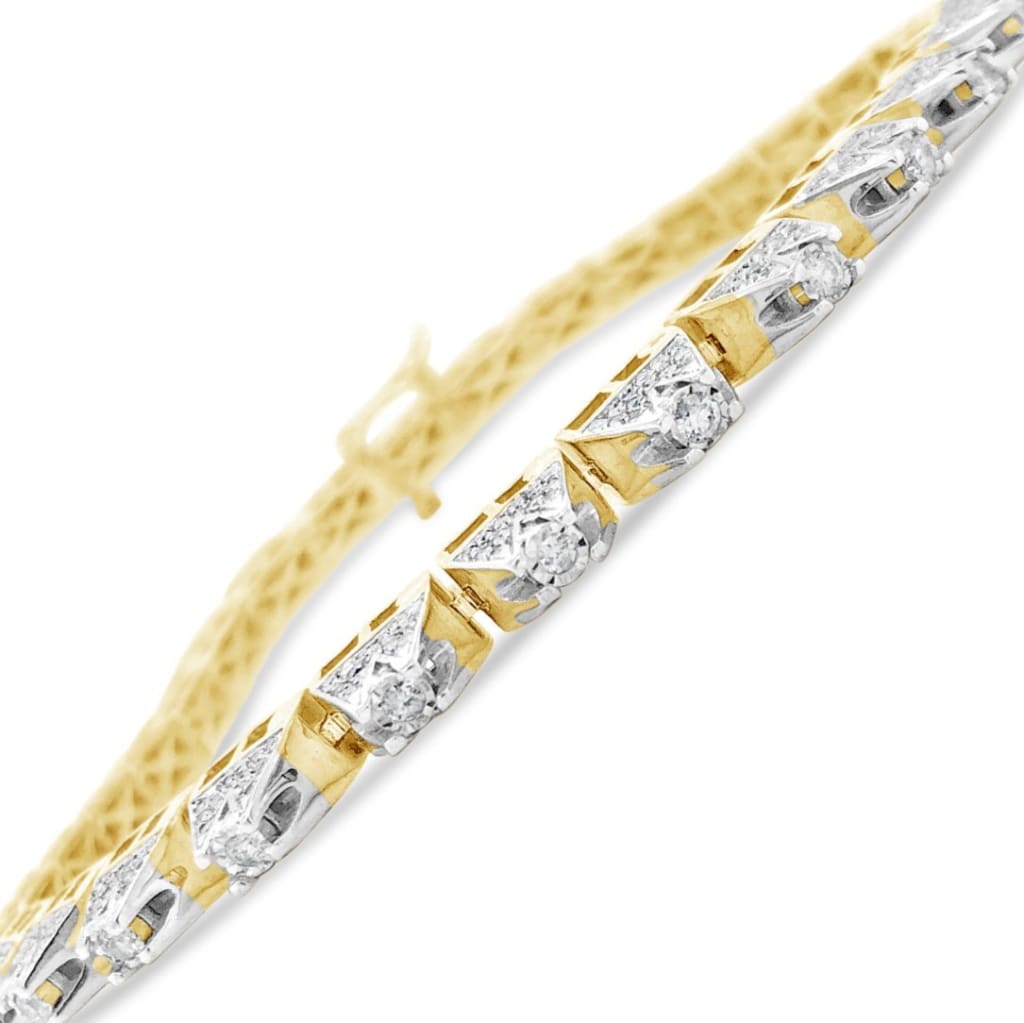 Gold bracelets are not only regarded as items of jewelry by women, but they also carry with them cultural sentiments. Married ladies have been wearing these lovely wrist pieces for ages and have progressed in their fashions. For decades, the iconic gold bracelet has been an element of every family, whether for marriage rites or family legacy jewelry. Gold bracelets come in a wide range of shapes, patterns, and sizes these days, and ladies are no longer limited to circular forms. But, in a society where gold is both an asset and a way of life, how can you be sure that you're getting the most incredible gold bracelets?
In this article, you will find everything you need to consider before purchasing a set of valuable gold bracelets for everyday use or as a wedding present for your loved one.
Background of Bracelets
Bracelets are a type of jewelry that has been around for a long time. Archaeologists have discovered evidence of these dating back to ancient times. They would have been created out of rudimentary resources in the beginning. The earliest bracelets were made of iron, copper, bronze, and even stone. Bracelets have been fashioned for the bicep and the wrist, and have even gone all the way up the arm in one piece. Some were purely aesthetic, while others had a range of purposes ranging from religious or ritualistic to slave control or prestige symbol at the highest echelons of society. This demonstrates the enormous variation of bracelets across time.
Gold was discovered approximately 800 BC and exported in 300 BC. Fancy Gold bracelets were worn by ancient Egyptians. High carat Gold, in fact, had a notable drawback over other jewels until the contemporary era: they were challenging to work with due to high malleability. As such, they were not as well-known as their colorful gem cousins. However, when more advanced technology became available, this changed. There is not much proof that gold bracelets were prevalent before that time. This would, thankfully, improve in the 16th and 17th centuries.
Types of Gold Bracelets
[1] The Classics
The bracelet, which was first released in 1970 and was inspired by ancient chastity belts, derailed the notion that jewelry should be slid on and off to complement an ensemble, and needed a special screwdriver to put on and detach.
[2] The Diamond-Centric
Who are we to criticize if your style involves a little luster? "Trimmed" implies various things to different individuals. Each of the diamond-adorned bracelets offers a subtle boost from your standard solid-gold bracelet.
[3] Modern ones
Although the architectural components and geometric designs in these sculptural pieces are enough to create a statement on their own, you can stack them for an even more robust look.
[4] The vintage-styled
Gold bracelets going back to 450 BC have been discovered, so there's no shortage of exquisite retro and antique-inspired jewelry to pick from. Each of these ageless ornaments has its tale to tell, with detailed intricacies
[5] The Multiples
The layered and interconnecting bracelets in this pair are meant to be stacked high. Taking into account the upper-body practice is a plus.
Things to consider before buying gold bracelets
(1) Examine the purity of the gold
The quality of gold bracelets is the most crucial factor to consider before purchasing them in a shop or online. We're dealing with gold, so you'd want to get the most fabulous gold for the highest deal, right? First, look up the current gold rate on the day you expect to purchase. It is preferable to be aware of the current gold rate to double-check the accuracy of your gold jewelry's cost. Assess the status of your gold bracelets after that. Inquire about the material, which is generally genuine gold or gold coated. 24-carat gold is too soft to the touch to be used for bracelets. Because they are combined with metals, anything less than 14 karats might cause skin discomfort. 14K gold has 59 percent pure gold while the remainder is commonly made up of copper, silver, nickel, zinc, or iron alloys. If these metals are used on a regular basis, they might cause dermatitis or allergy. 14K or less gold bracelets can also discolor easily with the period.
If you just intend to don them for gatherings or celebrations, 14K gold bracelets are a good choice. 18K and 22K gold bracelets are the most fantastic choices for everyday use. 18 Karat gold bracelets are made up of 75% pure gold, which implies they have a higher gold composition than 14K and do not cause irritation. Bracelets made of 22K gold are the superb option since they include the purest gold. These are suitable for daily usage and may be worn on several occasions at weddings and other events without causing allergy symptoms. As a result, it would be great if you decided deliberately and followed your consumption intentions. Don't forget to look for the BIS Certification on your bracelets to ensure their authenticity. It's usually printed on the inside of a bracelet.
(2) Select a type
The following action is to choose the style and kind of bracelets you wish to purchase. A Gold bracelet for men is available with a range of embellishments. Gold bracelets with diamonds, gold bracelets with stones like sapphires, rhinestones, or pearls, gold bracelets with diamonds and gemstones, and plain gold bracelets are just a few examples. If you choose to wear them all the time like necklaces, essential solid gold bracelets are ideal. For gatherings and big occasions, elaborate designs with diamonds and stones are a great match.
Gold bracelets with delicate diamonds or gemstones are a great addition to any outfit, formal or informal. They're also suitable for pairing with denim, gowns, tracksuits, and jackets. When paired with timepieces and modern clothes, these basic designs commonly function as wristbands. Aside from the traditional round shape, there are several shapes to choose from. You may choose from a variety of geometrical or oval bangles, as well as a cuff or open-top variety. Even gold bracelets with an opening mechanism or cufflinks that can be changed to fit you are available. Some of the most recent fashions include the half-bracelet look, which elevates the primary bracelet trend to a whole different height.
(3) Choose a design
After you've settled on a style, pick a design that you'd want to wear in numerous circumstances. Constantly maintain the goal of your gold bracelet purchasing while doing so. Consider why you're buying this gold bracelet. Is it meant to be worn regularly or only on special occasions? Would you wear it to work or just to hang out with your friends and relatives? Choose a design that is comfortable and practical. If you're looking for a set of gold bracelets to wear with your ensemble to a cousin's wedding, go for ones with diamonds or gems.
If you're planning to wear your gold bracelet daily, choose a simple, streamlined style in elemental gold. If you don't prefer to purchase in yellow gold, various gold colors such as white gold or rose gold are available. Choose basic yet beautiful gold bracelets that fit the newest clothing styles if you require a pair of trendy bracelets to wear to dinner events as well as workplace appointments. They're also pleasant to wear because you don't have to care about the fitting.
The Don'ts of Purchasing Gold Bracelet
Do not sell to other jewelers
Many people tend to swap old jewelry for fresh ones. It's advised not to sell your gold bracelet to anybody other than the shop where you purchased it. Most jewelers offer a buy-back agreement that assures you receive 100% of the gold's net worth. On the other hand, the manufacturing expenses will often have to be deducted from the sale price.
2. Don't buy jewelry without receipts
Purchasing a gold bracelet is a complicated process. You must pay taxes, and if your transaction exceeds 700 USD, you may be required to submit your NRI information. Therefore, many customers purchase jewelry without receiving a shop invoice. This can get you into problems, mainly if you trade or resell the jewelry.
BRACELETS SUGGESTIONS
Bracelets come in a variety of shapes and sizes. Consider the total weight of the bracelet while making your selection. Choose a slimmer one if your loved one doesn't like something too weighty or ostentatious.
Fit
When it comes to bracelets, it's crucial to know what length the user requires. For example, experts advise choosing a size that is not too tight on the wrist. When upright, it should rest gently on the top of your wrist to prevent it from falling off. The bracelet has to be a little slack at the exact moment not to irritate the skin.
The Best Price
Many variables must be considered to ensure that you are spending the correct amount on your bracelet. Make sure you go to a respected jeweler or merchant. Take a look at the standard price for gold of the specified grade and carat.
Assemble the bracelet with the same gold specs throughout. Keep in mind that the cost will vary depending on the grade, metal, and quantity of labor necessary. The cost of a bracelet differs significantly. To obtain a sense of reasonable pricing, look at comparable type bracelets.
The kind of stone, the number of stones, and the metal setting all influence the value of a gold bracelet.
Gold Bracelet Maintenance
You have to know how to maintain your yellow gold bracelet now that you've gotten it home. You shouldn't wear it during strenuous activity or tasks that involve a lot of wrist or hand mobility, in particular. To avoid missing your gemstones, you should get the prongs evaluated regularly as part of a proper maintenance program.
Cleaning Gold Bracelets
Washing with clean water and a soft microfiber will assist in removing daily accumulation. Alternatively, go to a store like a san Antonio jewelry store and get a jewelry cleaner. It should be branded as suitable for gemstones as well as your preferred metal. This approach can help eliminate dirt and stains when used in conjunction with a delicate bristle brush. If none of these methods work seek the advice of a reputable jeweler.
CLEANING GUIDELINES ON A REGULAR BASIS
Your gold bracelet is susceptible to skin oils, sweat, dust, cosmetics, and more when used daily. Wash your bracelet with a mixture of 10-parts hot water and 2-parts dishwashing liquid regularly to retain its luster. A few more further hints:
Immerse your gold bracelet for three hours before carefully scrubbing them with a very gentle toothbrush. Cleanse well with clean water and wipe dry with a clean towel. Extra heads up: following this, shine your bracelet with a jewelry microfiber cloth for an additional sparkle! Using a paper towel or tissue to clean your bracelet can damage it.
Wash with soap as required: wash your jewelry at your house if necessary, but don't overclean! Only clean your jewelry when it seems to be unclean or has developed a tarnish.
Other jeweler-recommended cleansers include rubbing alcohol for sterilizing, but avoid chlorine!
Keep an eye out for breakage: During your routine bracelet cleanings, keep an eye out for any damage. Cleansing damaged components can only exacerbate the situation.
Besides the points mentioned above, there are a few other aspects to consider before purchasing gold bracelets.
It's usually a good idea to buy bracelets that are a little bigger (half an inch to 3/4 inch) than your wrist length. It will be easier for you to put them on this way. If you're purchasing bracelets online and aren't sure what size to choose, go for the adjustable ones. They are available in a variety of sizes.
If you're looking for gold bracelets to wear daily, be sure the gold is of higher quality and class. Choose a setting that is both long-lasting and simple.
When choosing bracelet patterns and metal colors, remember that an excellent style will draw attention, but the color should also match your skin complexion. When acquiring gold bracelets, be sure you get a suitable storage box for them. A plush, high-quality case would protect the bracelets from harm.
Source: https://exoticdiamondsa.medium.com/everything-you-should-know-about-gold-bracelets-b82e929e9b11
Reader insights
Be the first to share your insights about this piece.
Add your insights