DIY Mason Jar Projects to Make Your Home Look Great
Mason jars are all the rage in home decor, why not make your own creations with them? These are the top DIY Mason jar projects to make your home look great.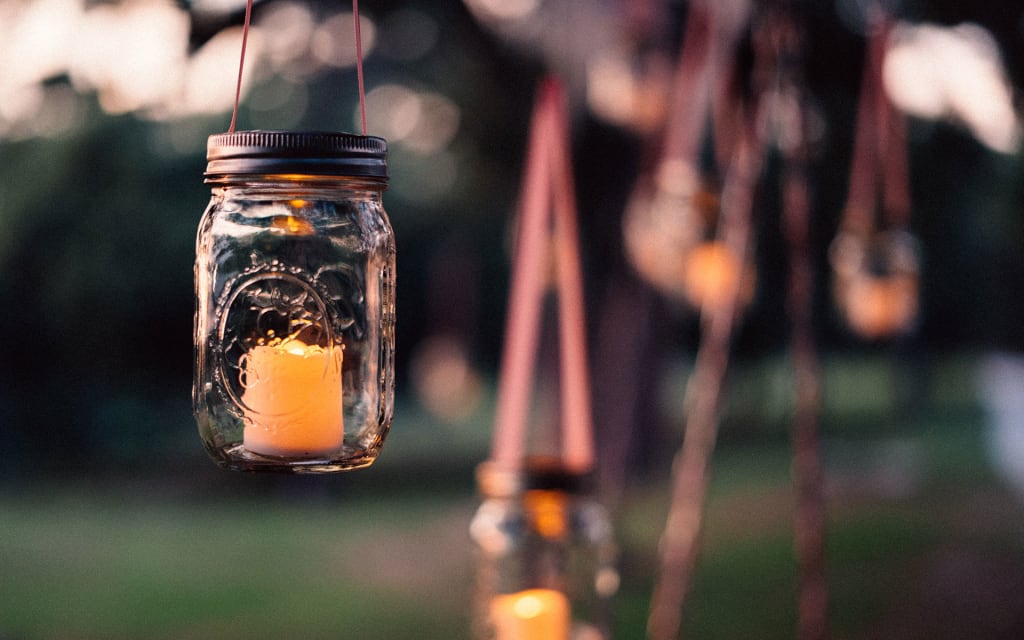 When it comes to finding your next DIY project, it can often be overwhelming by how many different options there are. That's why we have created a list of the best DIY Mason jar projects, to narrow down the possibilities.
These are some of the coolest ways to create classy, clean looking additions to your home decor, with the simple accessory of a Mason jar. From wind chimes to chandeliers, the options are limitless. Plus, they're super inexpensive home upgrades. Find the best for you home!
Beachy Mason Jar Terrarium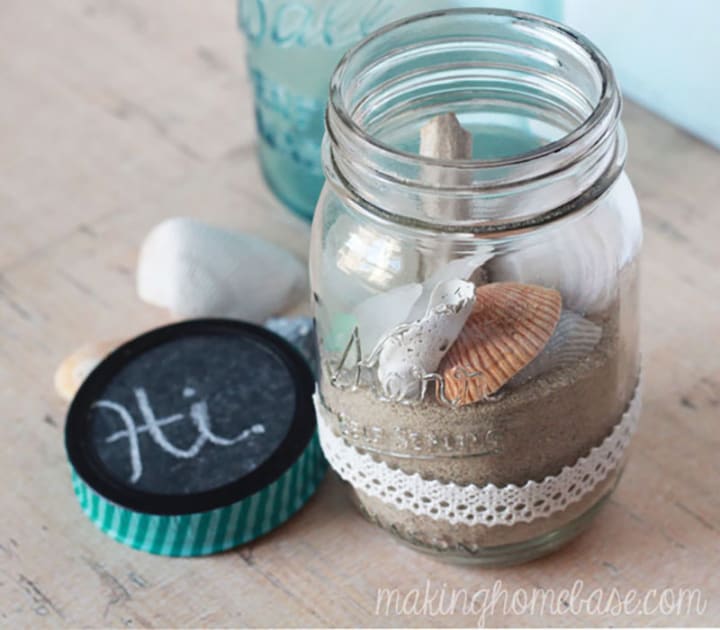 To start off our list of the best DIY Mason jar projects, we found this adorable Mason Jar Terrarium by Mom4Real. You'll need these supplies to get started: a Mason jar, seashells, sand, sea glass, and anything else your creativity will take you. The Mason jar should preferably be a screw-top, and you will fill the jar with sand to start, but not all the way to the top.
The rest is up to your creativity, and can even include a small polaroid of your vacation, or other memorabilia. Complete the project with a ribbon or some paint. Displayed on a bookcase or coffee table, this DIY will look elegant and fun, reminding you of your favorite beach spot with each glance.
Mason Jar Soap Dispenser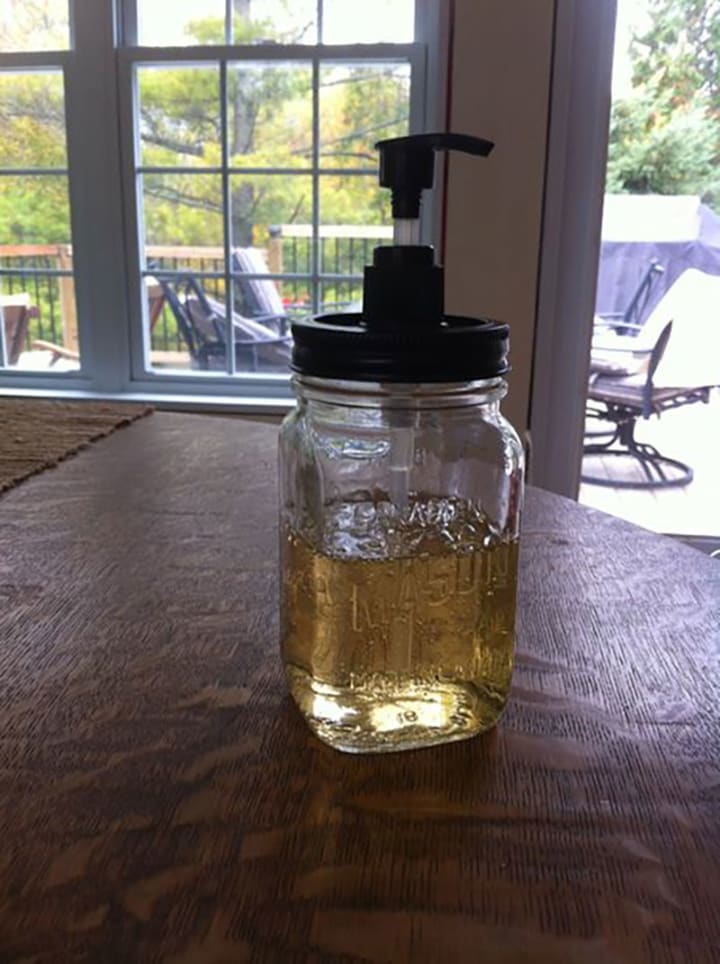 One of the most practical DIY Mason jar projects, this Mason jar soap dispenser by Instructables is an easy way to spice up your bathroom's aesthetic. Supplies you'll need include a Mason jar, an old soap dispenser, soap, hot glue gun, a drill, a hole saw, drill, cutting knife, metal file, and clamp.
Yes, it might be a bit extensive, but it would be a great project for people who love to DIY everything. And will last you a lifetime, as it is reusable. Once complete, add any soap you wish. Your visitors will love them, and you can boast that you created them yourself.
Mason Jar Wind Chime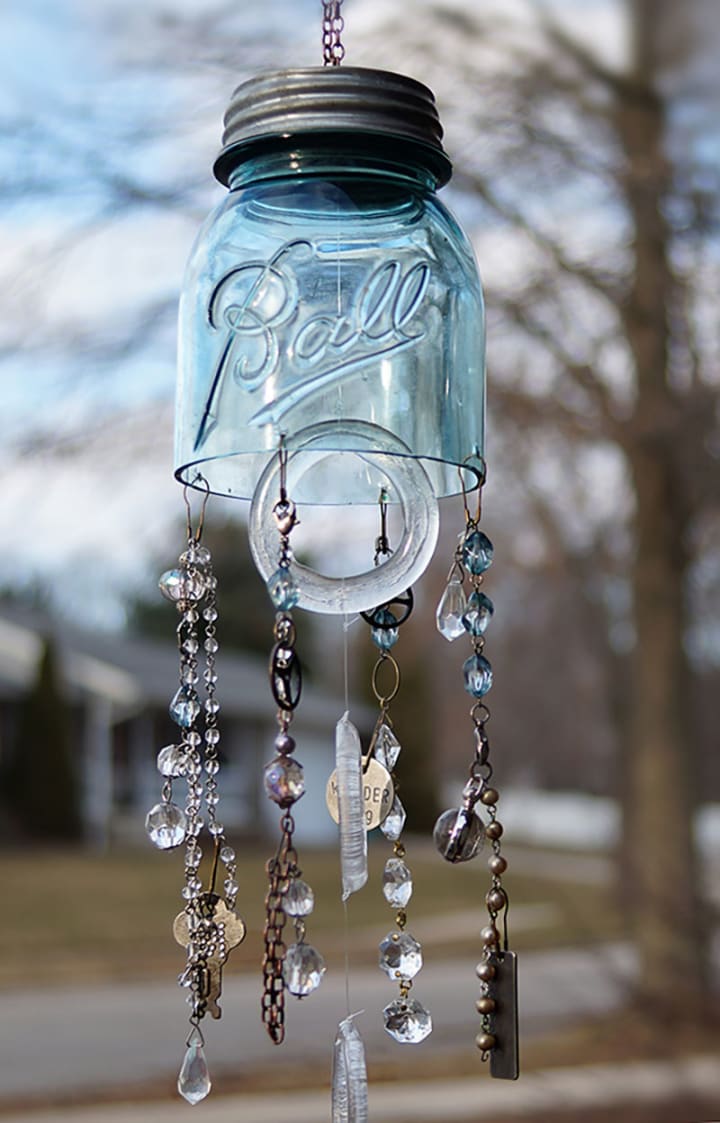 I think this is the coolest one on the list, appearance-wise. As a Mason jar wind chime, this outdoor accessory is crafty, fun, and beautiful. The discovery comes from SavedByLoveCreations, and is an incredibly creative DIY project.
You'll need a Mason jar with a lid, scrap wood, fishing line, scissors, beads, charms, a chain, two eye screws, a bottle cutter, a micro torch, and a drem tool with protective wear. Not your typical DIY project for beginners, but those who are pros, this will be well worth the time and effort.
Epsom Salt Luminaries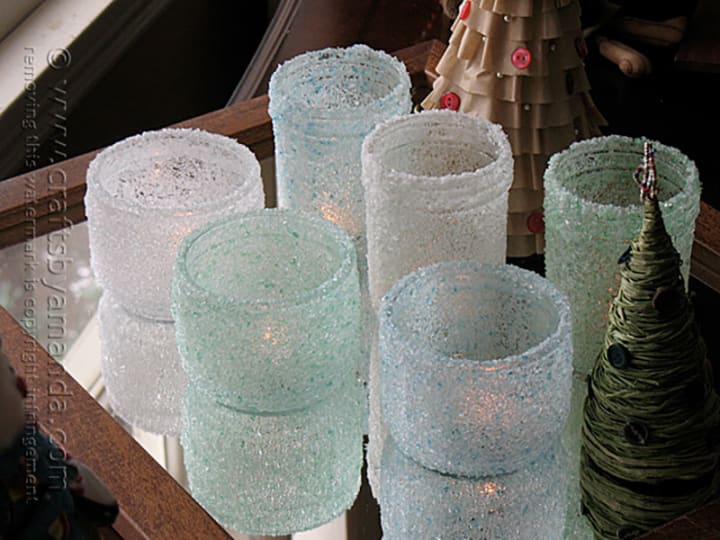 One of the most basic ways to spice up a Mason jar on the list, but still one of the best DIY Mason jar projects for your home, these Epsom Salt Luminaries by craftsbyamanda will look great on any table. You'll need: Epsom salts, jars, blue and green food coloring, paper plates, three bowls, mod podge, and clear gloss sealer.
Simply mix the food coloring with the Epsom salts in a bowl, use a paintbrush to coat the jar with Mod Podge and roll the Epsom salts on to get an even layer. The results are beautiful, frosty, candle holders that will look great around the house.
Mason Jar Sewing Kit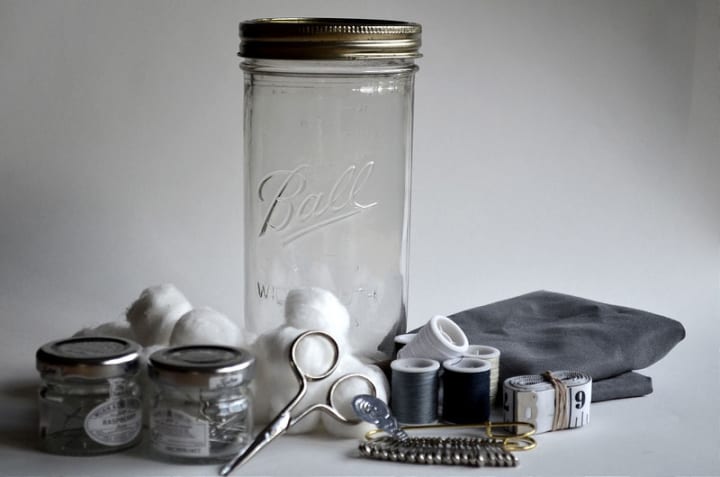 Looking to amp up your sewing supply storage? This is an incredibly creative way to incorporate a Mason jar into a sewing kit by Juliette Laura. You'll need a Mason jar, cotton balls, fabric, a hot glue gun, and your sewing supplies.
The fabric and the cotton balls will make a make-shift pin cushion for the lit of your jar. Juliette even took it one step further to add a few strings to wrap around the jar and added a cute "Sewing Kit" label.
Mason Jar Vintage Chandelier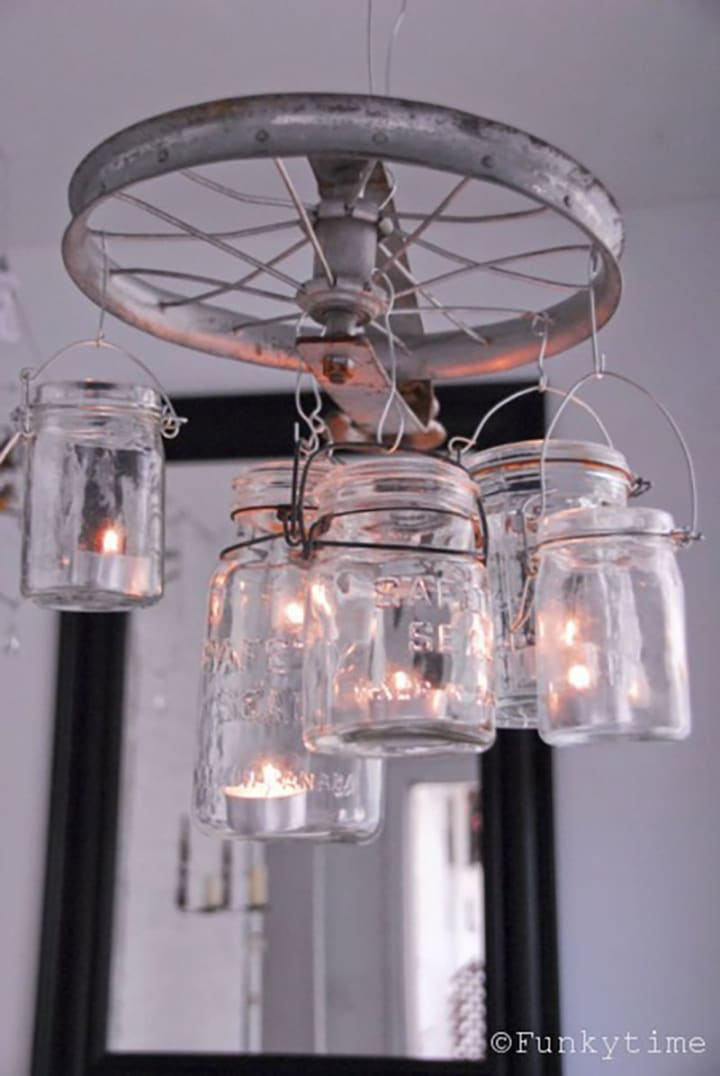 Made with a couple Mason jars, a vintage pulley, tealights, silver craft wife, and some magnetic crystals, this vintage chandelier is one of the coolest DIY Mason jar projects we've ever seen. Designed by Sibylle at blog.diy, after finding a vintage pulley, she decided that she need a new dining room chandelier, and incorporated some mason jars.
By drilling holes to screw hooks in, attaching long wires to the hooks, and using extra wire to attach each of the Mason jars to the pulley, the last step is to add some decorative crystals and add the tea lights to the jars. It an extremely unique take at a chandelier and will be a statement piece in any dining room.
Mason Jar Wall Planter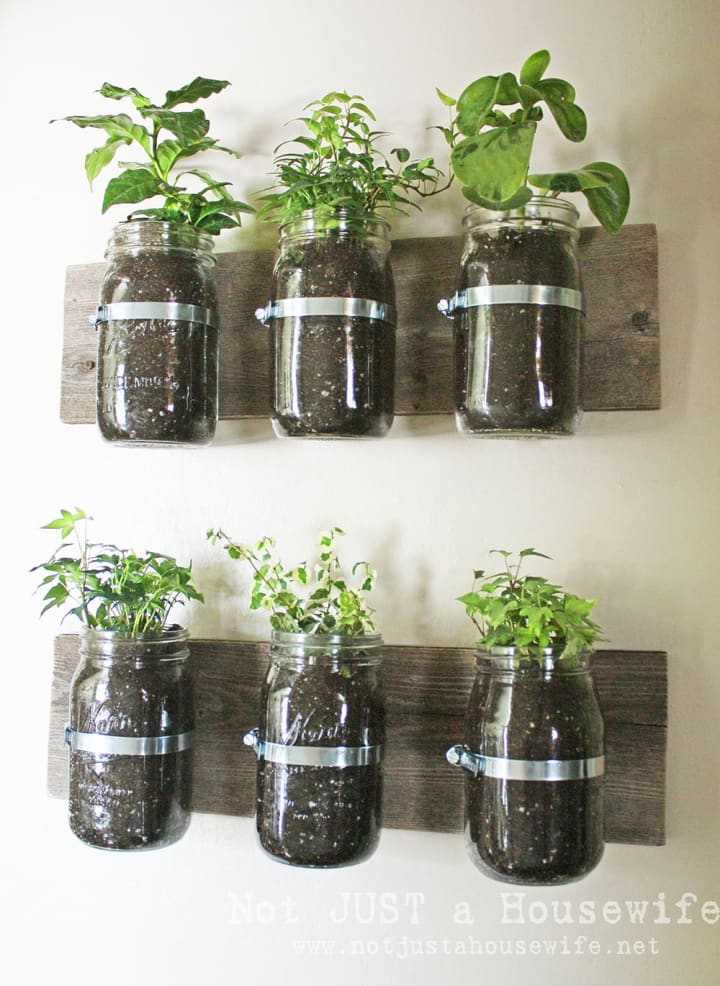 This Mason jar wall planet is a great decor piece that can be hung in the hallway, living room, or even the bedroom. As a practical way to display potted plants, these Mason jars are a unique and classy way to keep them out of the way. Supplies include quart Mason jars, boards, stainless hose clamps, potting soal, rocks, and of course, plants (of your choice.)
This design is created by notjustahousewife and they suggest to use Pothos or Philodendron, because they are easy to care for. First find a place in your home that has medium light, to ensure the plants will be getting sun. To complete, screw the clamps to a piece of wood, screw the board to the wall, add rocks, soil, and then the plant. Even the men in your life will love this DIY project.
Floating Candle Centerpiece
In need of a new centerpiece? Well, you can make one yourself by following the instructions by emmalinebride. She has created a beautiful approach at a Mason jar centerpiece, and has included floating candles. As one of the best DIY Mason jar projects, it's super easy.
All you'll need is a Mason jar (or multiple if you're using this idea for a party or wedding,) water, floating candles, and some decorative ribbon. Light the candles, and you have a beautiful, effortless centerpiece!
Mason Jar Tissue Holder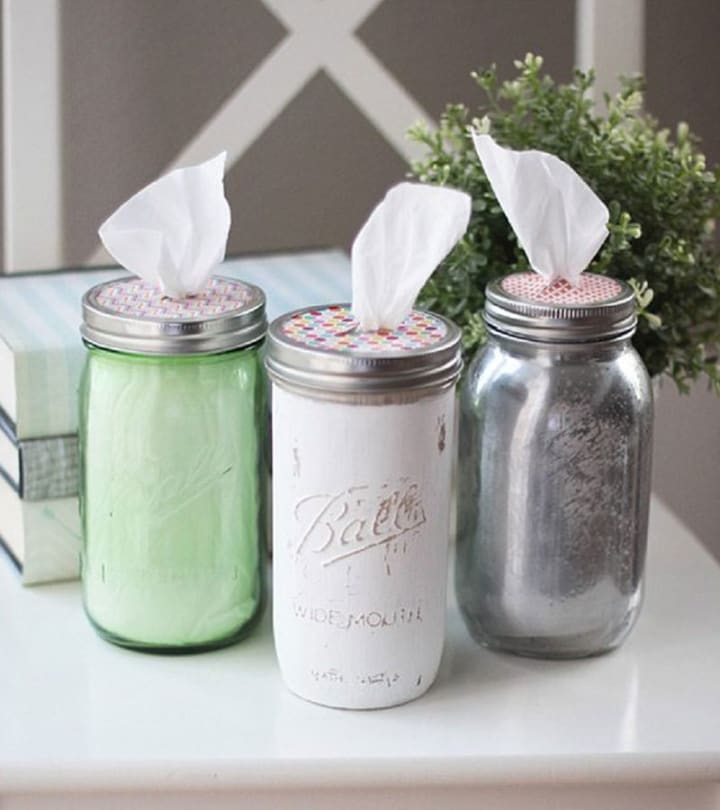 Say goodbye to your boring, sloppy looking tissue boxes. This tissue holder project incorporated Mason jars in a fun and original way. Created by LandeeseeLandeedo, the supplies only include a mason jar, scrapbook paper, an Exacto knife, scissors, and tissues.
Add tissues from a cardboard box into your jar, cut out a circle from your paper to cover the lid, cut an X in the middle, screw on the open lid, and you have a beautiful new tissue holder.
Mason Jar Monogram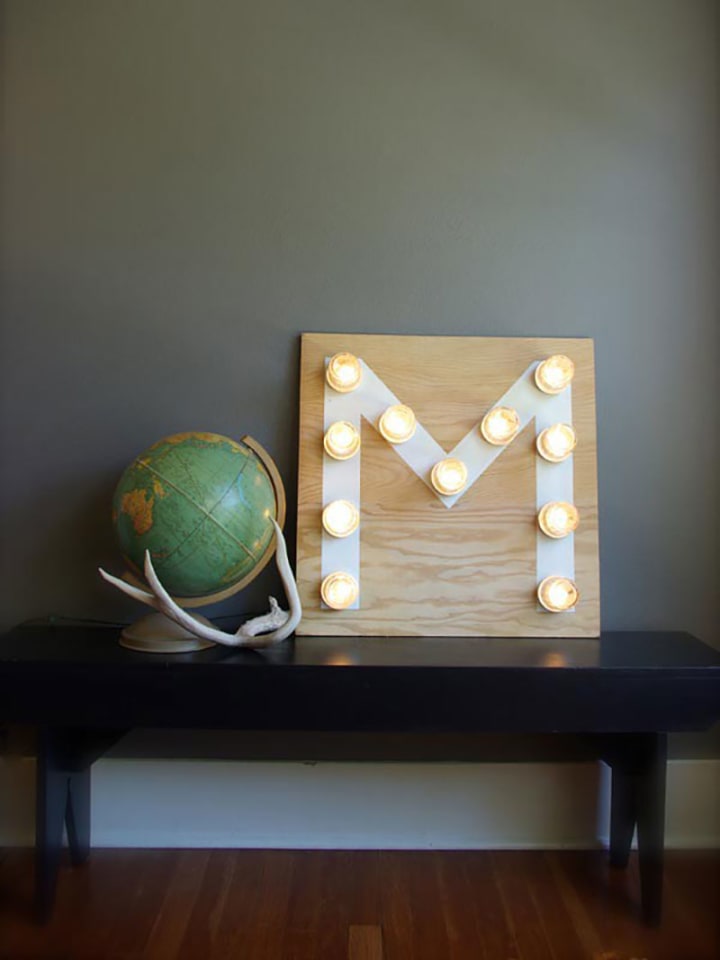 To complete our list of the best DIY Mason jar projects, this Mason jar monogram is unlike something you've ever seen before. Created by OleanderAndPalm, each of the "bulbs" on the monogram piece are Mason jars. Mounted on a square piece of plywood, each of the jars will be placed along the letter that you choose to paint.
The lights are strung through the back of the wood and the open lid of the jars are mounted to the letter with screws, then the jars are twisted on tight. Though it might seem complicated, they guarantee the process is fun. And the end result is awesome!