DIY Home Upgrades That Cost Less Than $100
DIY home upgrades don't require much skill, and these cheap and easy upgrades don't even cost lots of money to make happen.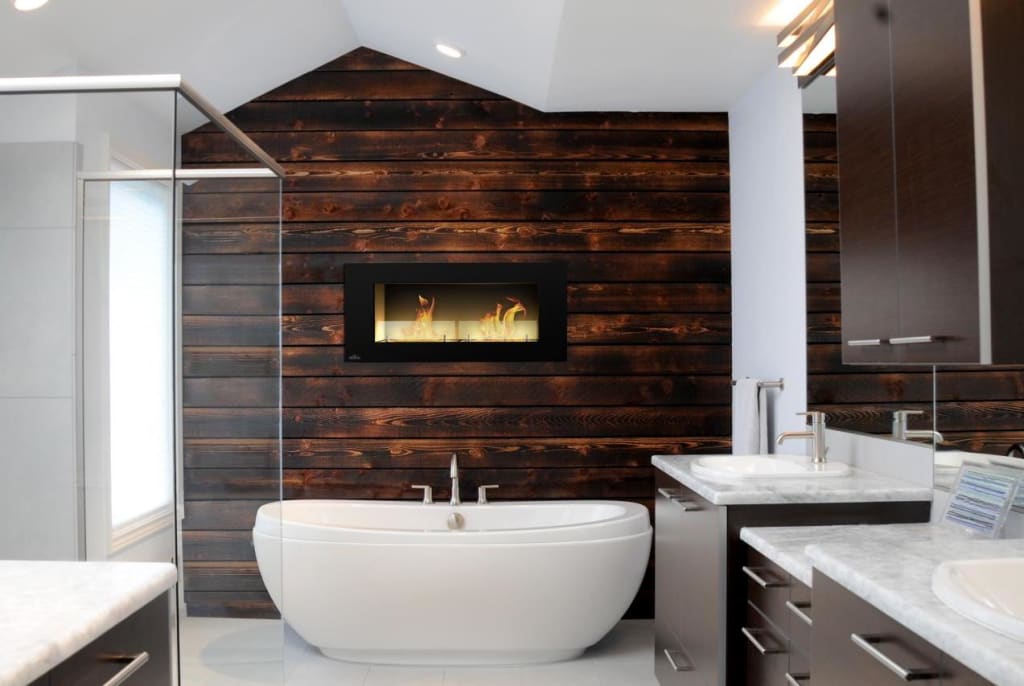 Pinterest has become infamous for starting a huge trend in DIY home upgrades - many of which might require you to have professional-level skills to do. If you're good at what you do, and don't mind shelling out a ton of money, those Pinterest-style DIY home upgrades and projects can be worth sharing and photographing.
But, let's be real, most people aren't Pinterest professionals. Thankfully, there are plenty of DIY home upgrades that cost less than a hundred dollars - and, they're easier than you'd think. Here are some of the easiest, cheapest home projects that you can do in a weekend.
Install Hooks In Your Kitchen, Foyer, And Closets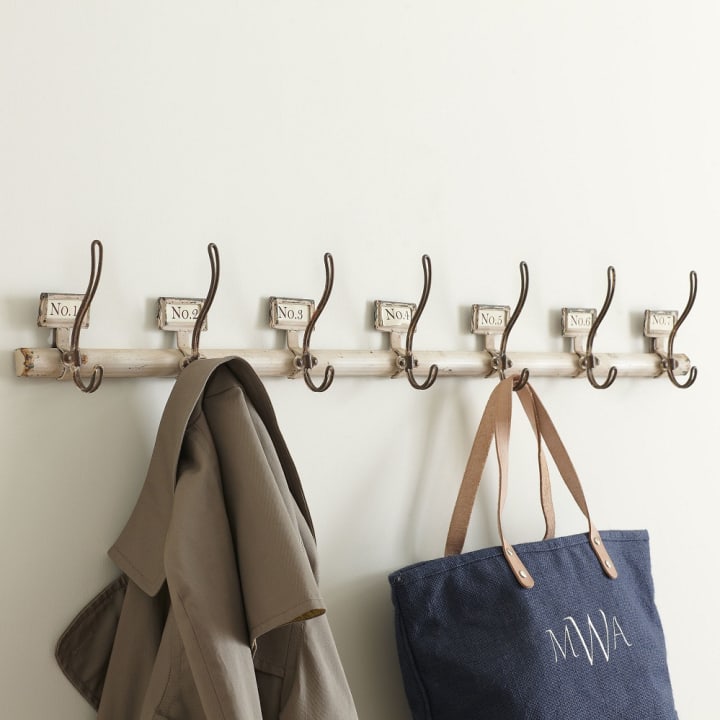 Let's just take a moment to appreciate how cheap yet useful wall-mounted hooks really are. They can hold coats, backpacks, purses, as well as dishtowels and measuring cups in a pinch. Utilizing them will also expand how much space you can use, which in turn makes your home feel larger.
A single wall-mounted hook can cost as little as $3, and can be installed within a matter of seconds. Seriously, if you're looking for a cheap home upgrade, adding a fistful of these tops the list of the easiest, most low-cost DIY home upgrades you can get.
Add Tab Curtains To Shelving
You know those giant wire cabinets from Ikea that you used to store kitchen goods? They're eyesores right now, but they don't have to be. Tab curtains allow you to cover them up in a stylish way, while still getting all the use you want to get out of them.
This tutorial here tells you where to get tab curtains, how to make your own, and how to install them in a cinch.
Spray Paint Your Fridge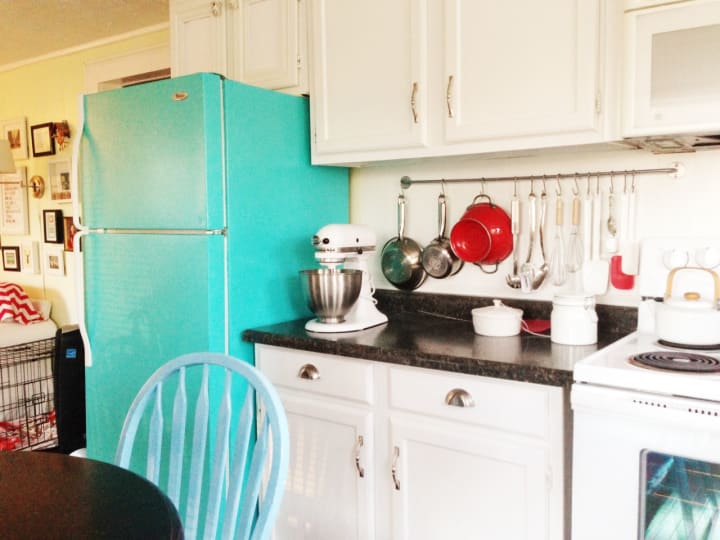 Sometimes, your actual kitchen needs a new breath of fresh air — especially if you live in an apartment where you can't paint floors, walls, or take out cabinets. The best way to do this, then, is to give your refrigerator a makeover via a quick 30-minute project.
In order to make this happen, you'll need some painter's tape, some sandpaper and some spray paint - that's it. (Oh, you might also need friends to help you move the fridge out so that you can spray it, too.)
Check out this tutorial, here.
Paint An Old Floor Rug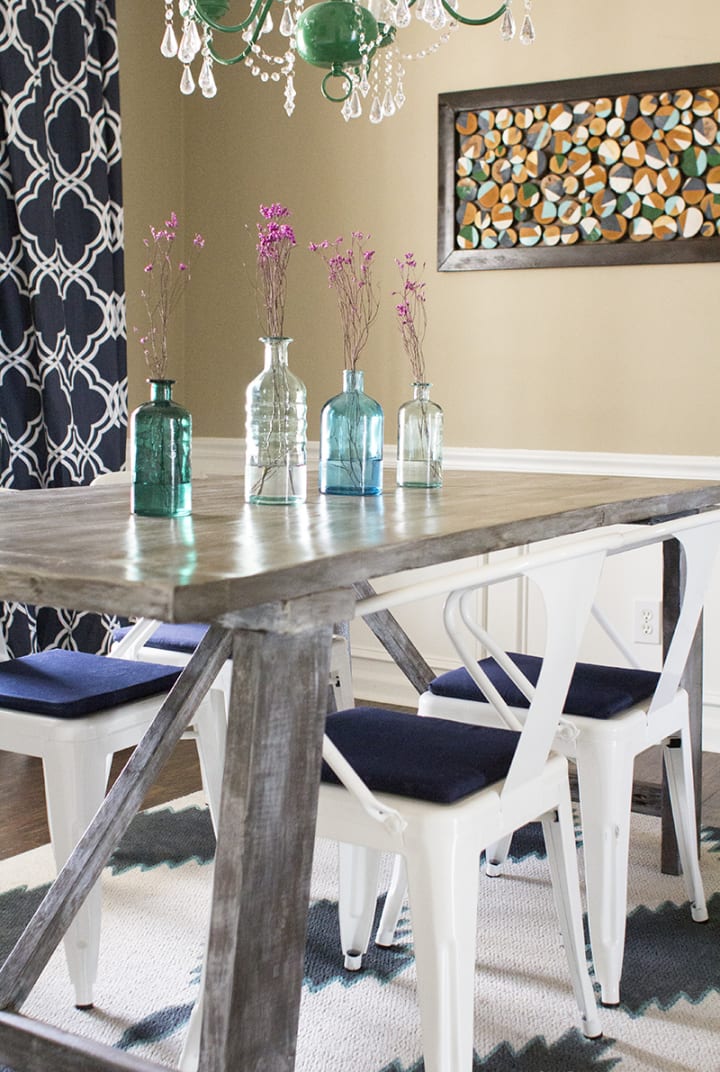 Okay, you shouldn't do this with wall-to-wall carpeting, but if you have a beat-up old rug, there's no reason to bin it. Why not give it a much needed facelift? Plenty of DIY home upgrades like this can be done with just a bucket of acrylic paint or two.
This tutorial shows you how to paint an old floor rug in the patterns you love. If you got a little bit of artistry in you, this could be an amazing project to try out.
Frame Your Flatscreen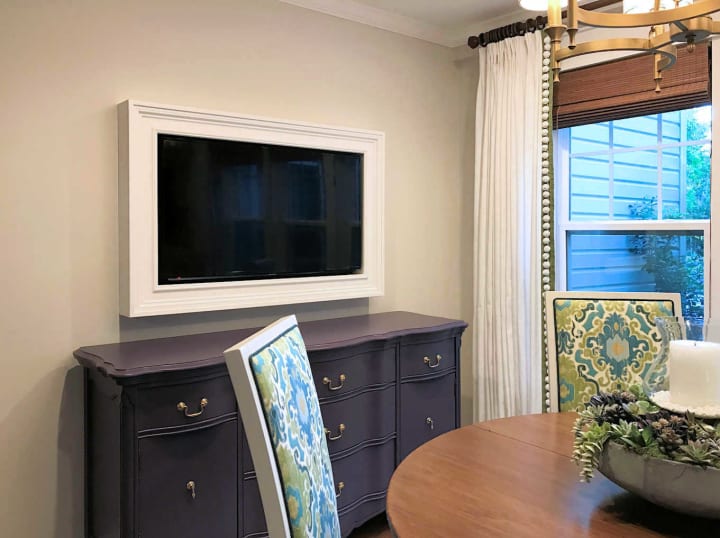 Flatscreen TVs may be a focal point in any living room, but that doesn't necessarily mean that they are aesthetically pleasing. So, why not make your room beautiful by adding a little frame (literally) to your flatscreen.
In terms of Pinterest, this is one of the most popular and showy DIY home upgrades you can do. Surprisingly, you don't need much money to actually make it work for your home. Check out some tutorials on how to add a frame to your flat screen here.
DIY Canopy Beds By Using Shower Rods On Your Ceiling
Love canopy beds, but can't actually afford one? Well, now you can. If you have installation equipment on your hands, just install shower curtain rods on your ceiling and hang some matching shower curtains over your bed.
Ta da! You now have a canopy bed without any poles on the corners. Here's the full DIY tutorial.
Create A Sink Top Cutting Board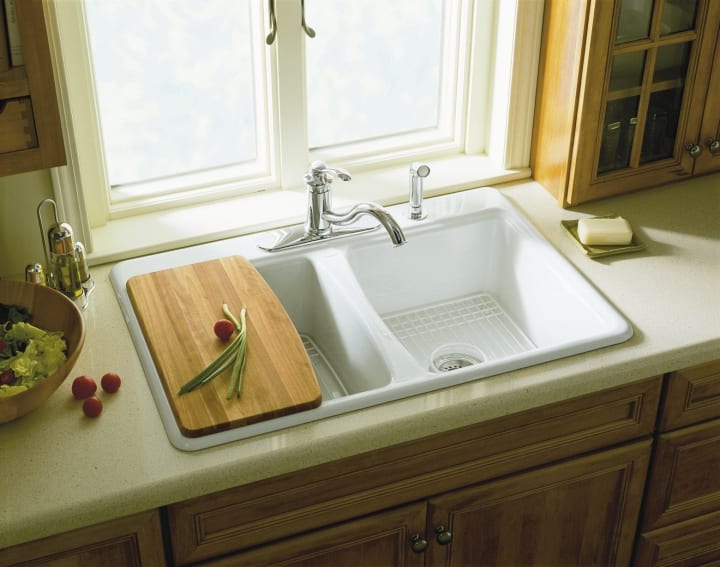 If you have an undermount sink, or a sink that has a little bit of a gap between the basin and the nearby countertops, you're in luck. You can bolster your kitchen space by adding a cutting board that fits squarely on top of the sink.
This is one of the best DIY home upgrades for people who live in homes with tiny kitchens. When you're done chopping goods up, you can free up space by removing the cutting board from its niche and hanging it on walls using hooks.
Here's a quick tutorial on how to do it.
Upgrade Your Light Switch Covers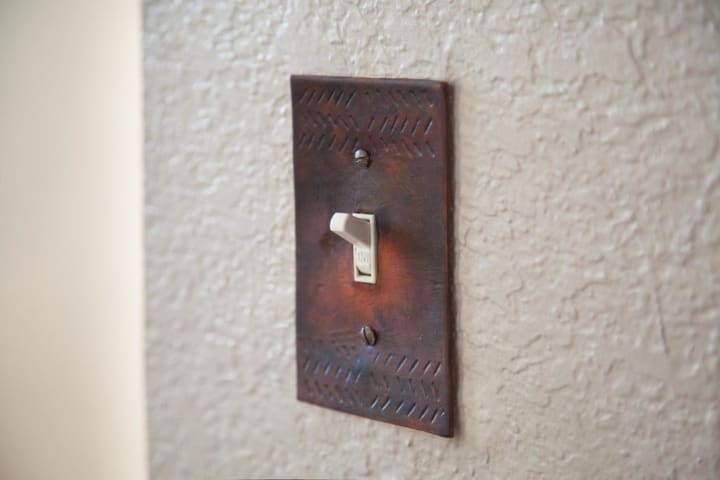 Lighting is everything in a nice home, and while installing a new lighting set may be awesome, it's often expensive. But, that doesn't mean you can't toy around with a few aspects of lighting.
The easiest and cheapest thing to switch up is your light switch covers. If you want to upgrade your light switch covers, just buy some cute switch covers, remove the current set on the wall by using a screwdriver, then replace them with the new ones.
Plank A Wall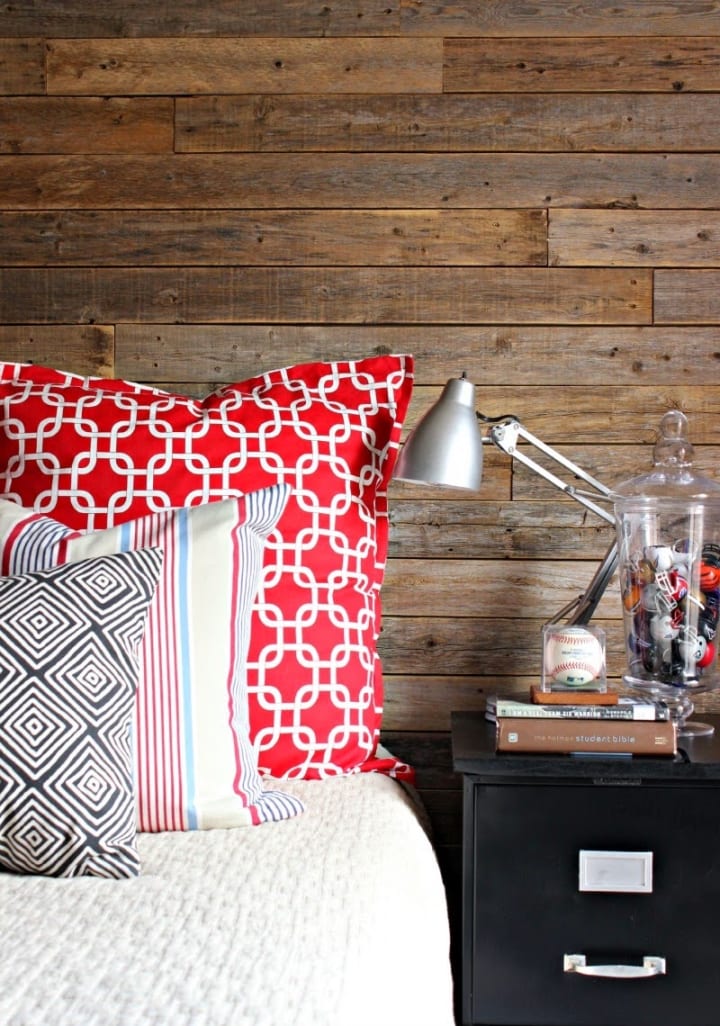 Planking is back - at least, if you're looking at DIY home upgrades. This quick project will make a wall look super rustic, at the cost of only $30 of wood. Country chic has never looked so good.
The entire project involves stacking wood to decorate a wall and gives your home the vibe of a small cottage in the woods. This tutorial here tells you how to plank a wall.
Additionally, if you have some leftover paint from other projects on this list, you can definitely get creative by having a colored planked wall. The sky's the limit!
Install A Medicine Cabinet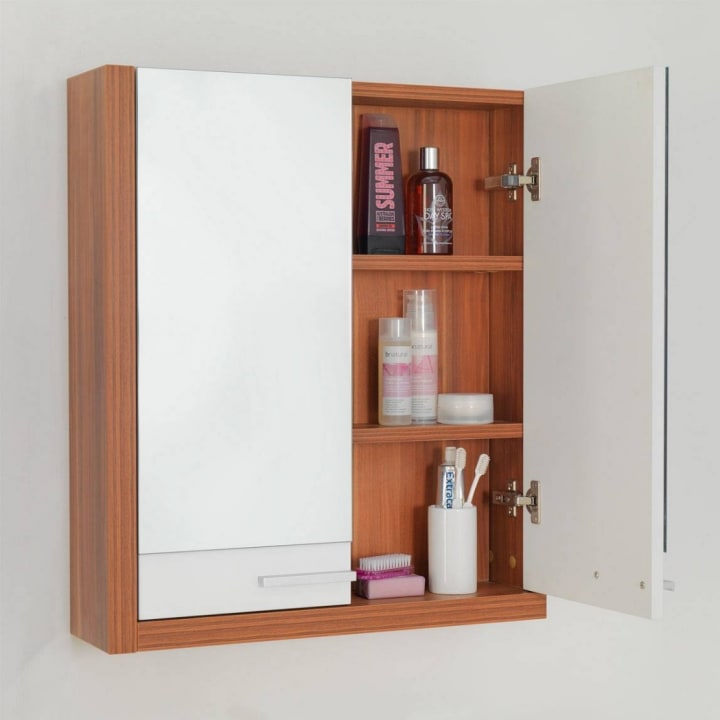 In almost every bathroom there should be a medicine cabinet that holds your nightly medicines, your contact lenses, and whatever other bathroom tchotchkes you have. If you don't have one, you're probably missing out on a lot of bathroom space.
When you install a medicine cabinet on your own, you get to design the cabinet that will be in your home forever. This tutorial shows you how to do it on the cheap, in a minimal amount of steps.
house
About the author
Just trying to take down the patriarchy while playing video games and eating too much pasta.
Reader insights
Be the first to share your insights about this piece.
Add your insights