I Tried Out the Eco-Friendly Buffy Comforter; Did It Live Up to the Hype?
Touted as "the most comfortable comforter in the world," I set out to find out if the Buffy comforter lived up to expectations. This is my review—and my cat's, too!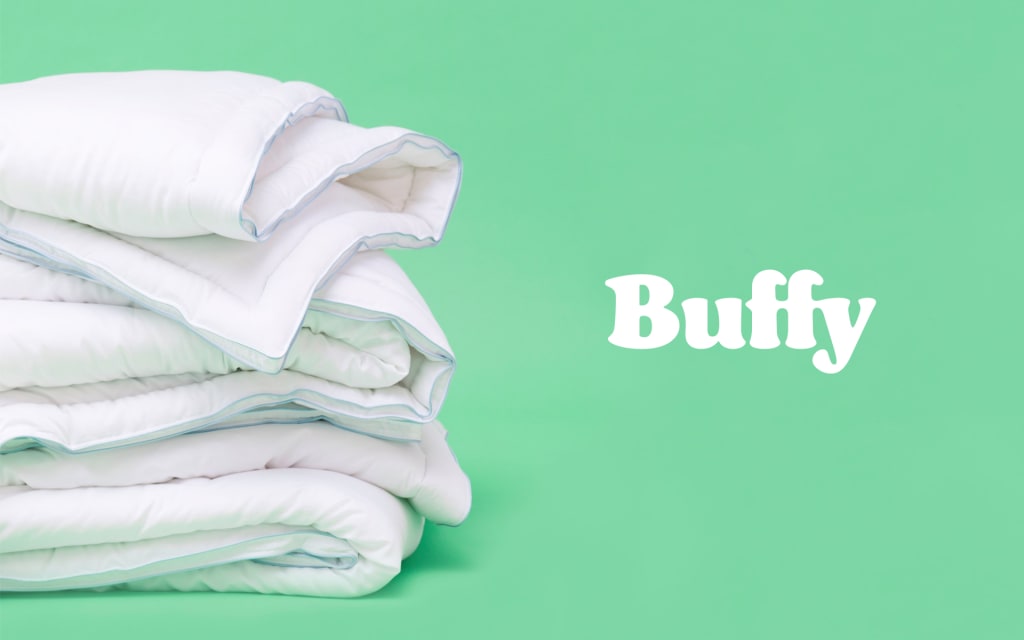 I always try to decrease my carbon footprint where I can. I recycle, I buy local produce, and overall try to be an eco-friendly consumer. I'm not perfect, of course, as a lot of products might be considered "better" for the environment, but... they don't always work the same. And they can be really expensive. I'm not made of money over here!
I've been in the market for a new comforter ever since I moved last year. Yes, I have gone that long without a comforter. No, I wasn't cold.
But my heating bill was high.
Anyway, with winter quickly approaching again, I decided I could not afford another season of over-the-top high heating bills, so I started the hunt for another comforter to keep me snuggly all winter long. It always had to be cat-approved, since my kitty Maya sleeps with me on the bed every night.
I had heard some buzz recently about a comforter going by the name of Buffy, so I decided to check it out. It's made out of eucalyptus fibers, apparently, and is made sustainably.
With a 30-day money back guarantee, I figured I'd give it a shot.
The Buffy came pretty quickly.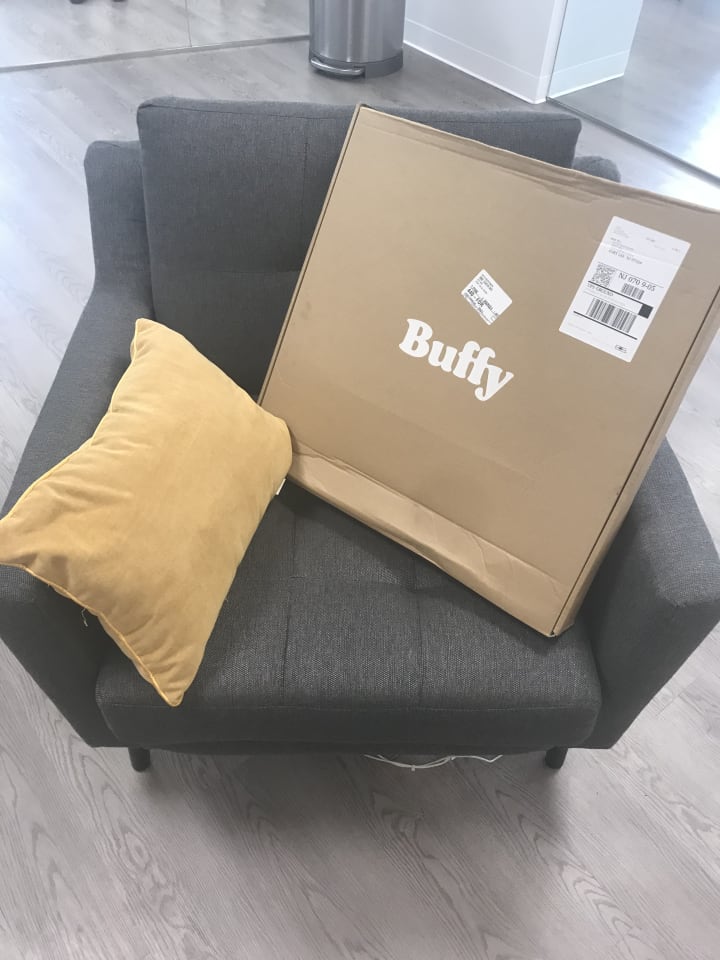 I ordered my Buffy on the evening of October 5th, and it arrived the morning of October 9th. Not bad at all for standard shipping, and that was over a weekend! I was too excited to wait until I got home to take it out, so I started unboxing it right at work where I had it delivered.
The box was surprisingly small.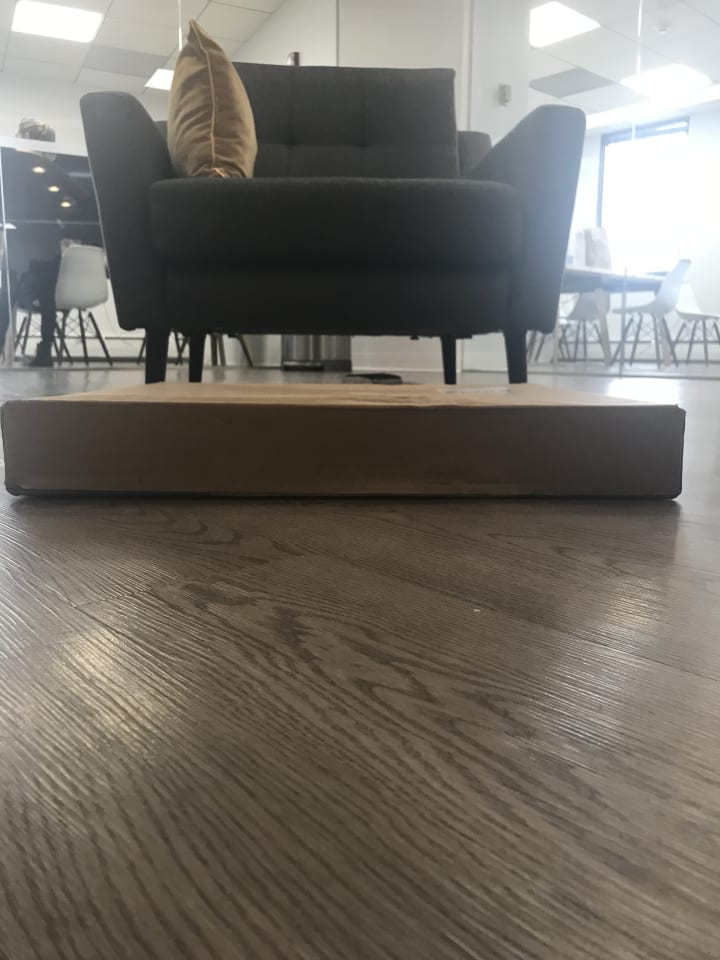 I mean, I ordered a queen sized comforter. I definitely expected the box to be bigger. It was pretty light, too! I was almost afraid that they sent me the wrong thing!
Fortunately, that was not the case.
The packaging was absolutely adorable on the inside.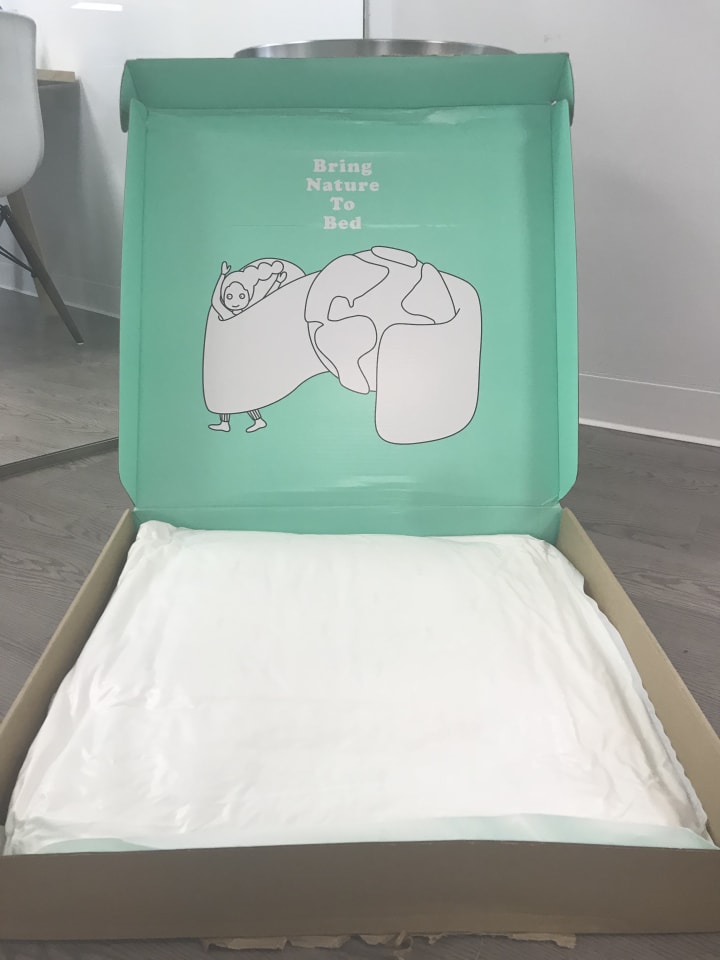 Look at that little Buffy hugging both a girl AND the earth! I, and several of my coworkers, let out an audible "aww" when I opened up the box. We were clearly very pleased. Plus the teal background color is really pleasing to the eyes; I felt like I was about to enter a world of comfort.
Under the comforter on the bottom of the box, there was a reminder of why the Buffy is so awesome; it's meant to be soothing on the skin, naturally calming, and earth-friendly. I was definitely looking forward to the comforter now. It had to check all three boxes in order for me to give it a passing grade; it had set up expectations and now it had to fill them!
The comforter itself was in a plastic wrap of some kind.
I hope the plastic that the Buffy came in was sustainably sourced, too. It didn't specifically say that, but I'm going to give them the benefit of the doubt here. It's also recyclable.
As soon as I took the Buffy out, it seemed to expand. I'm not sure how they fit this in there the first time, but it didn't look like I was ever going to get it back in the box. Again, it was surprisingly light and not too thick. So what better to do than wrap myself in it?
The Buffy was so cozy and white!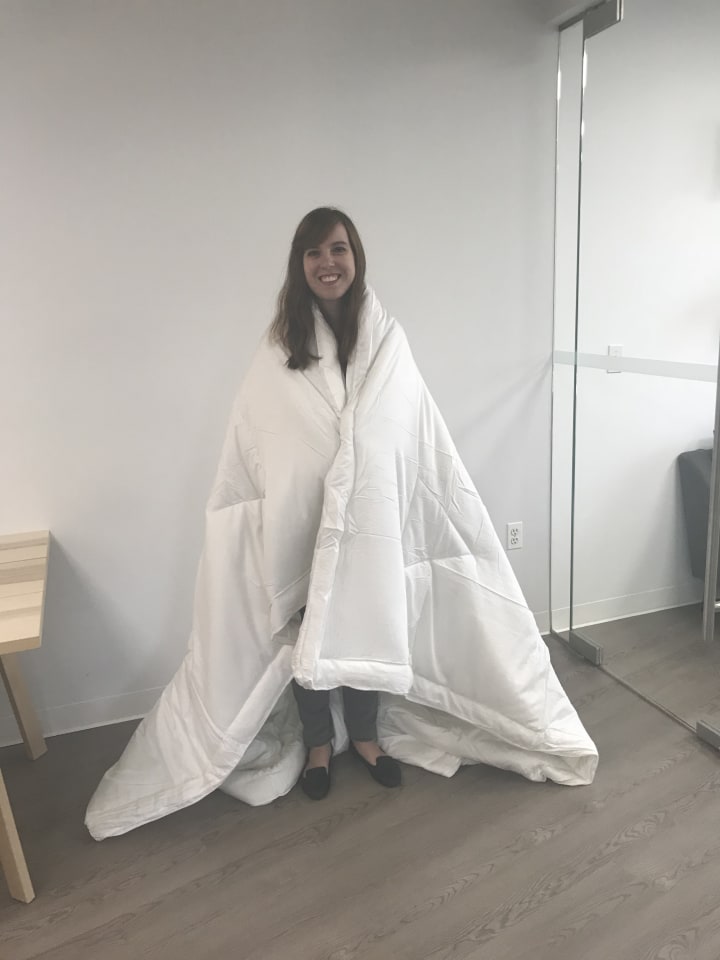 It draped over me like the cape I've always wanted. In all seriousness, I could tell this was going to be a comfortable comforter. I mean, they did say it was the most comfortable in the world.
I also nearly blended in with the white walls in the background with this thing wrapped around me! I was glad to see that even though everything was made out of recycled material, it was still white and beautiful like any other comforter I could buy at the store.
I have to admit the "whiteness" of it kind of scared me. Everybody knows white stuff gets dirty, and fast. Of course I could put a duvet cover on it, but I didn't want to have to buy something else. The comforter wasn't super cheap, so I didn't want to have to spend even more money.
There was no way I was getting it back in the original box, though.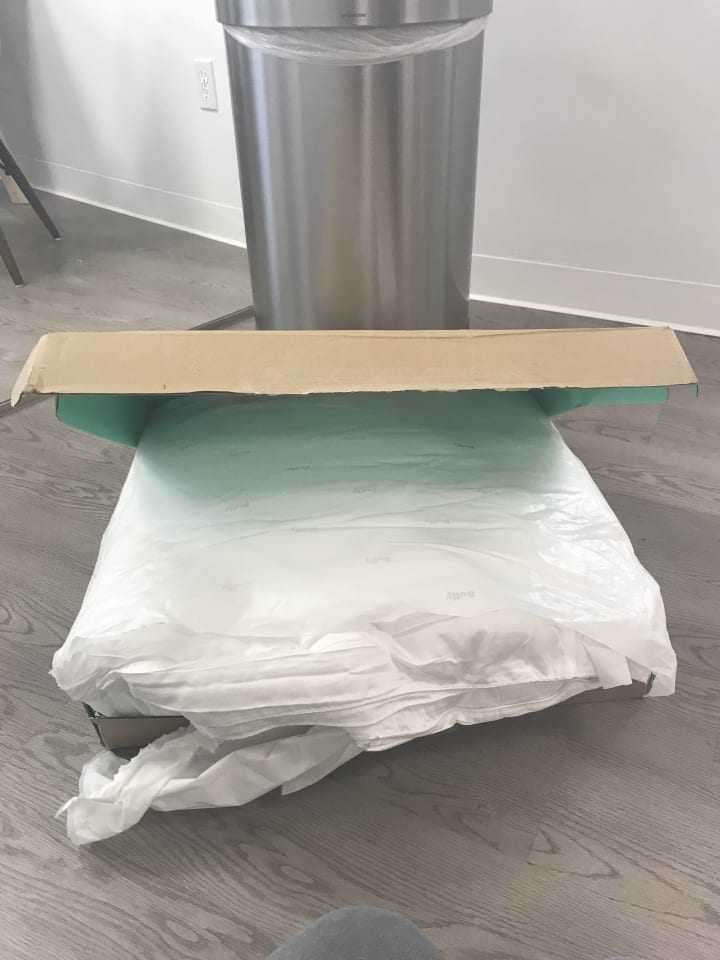 Trying to get the Buffy back in its original packaging reminded me of trying to fold a fitted sheet; someone could probably do it, but I definitely couldn't.
If you are going to return your Buffy, you're going to need another box. This one would just not close a second time, despite multiple attempts from both me and my coworkers. It made it pretty difficult to carry home.
At last, I set it up in my room!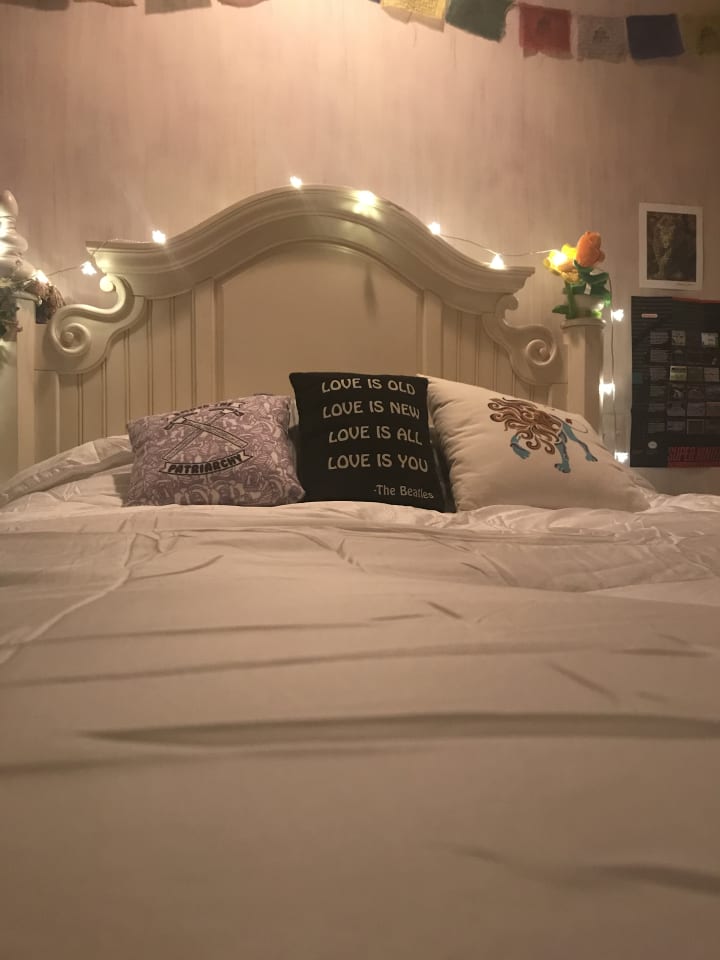 I must say, the white coloring does photograph nicely. And it matches with everything in my room. The Buffy was a little wrinkly from being wrapped up so tightly, and the wrinkles didn't really come out when I put it on the bed. That doesn't bother me too much, but it's something to consider if you're looking into getting one.
My cat immediately took an interest.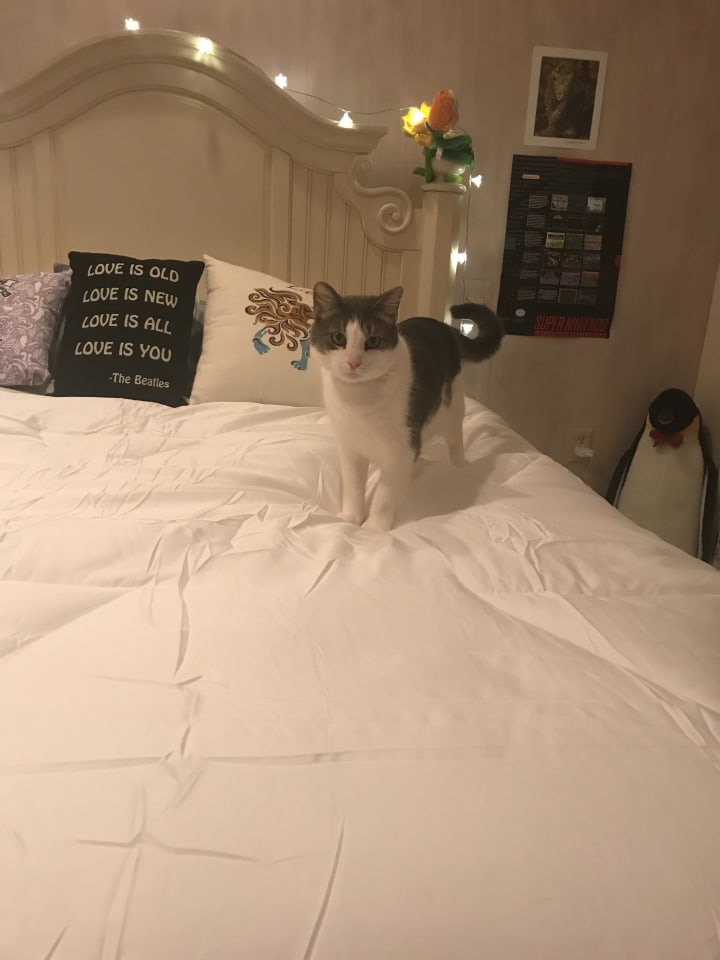 Like I said earlier, this comforter also had to be cat-approved. If Maya didn't like it, she wouldn't sleep at my feet at night like always, and I'd be sad, and return the thing.
So I was happy to see her jump up on the bed pretty quickly and start investigating. At the very least, it didn't bother her or anything.
Finally, we snuggled up in bed with our new Buffy.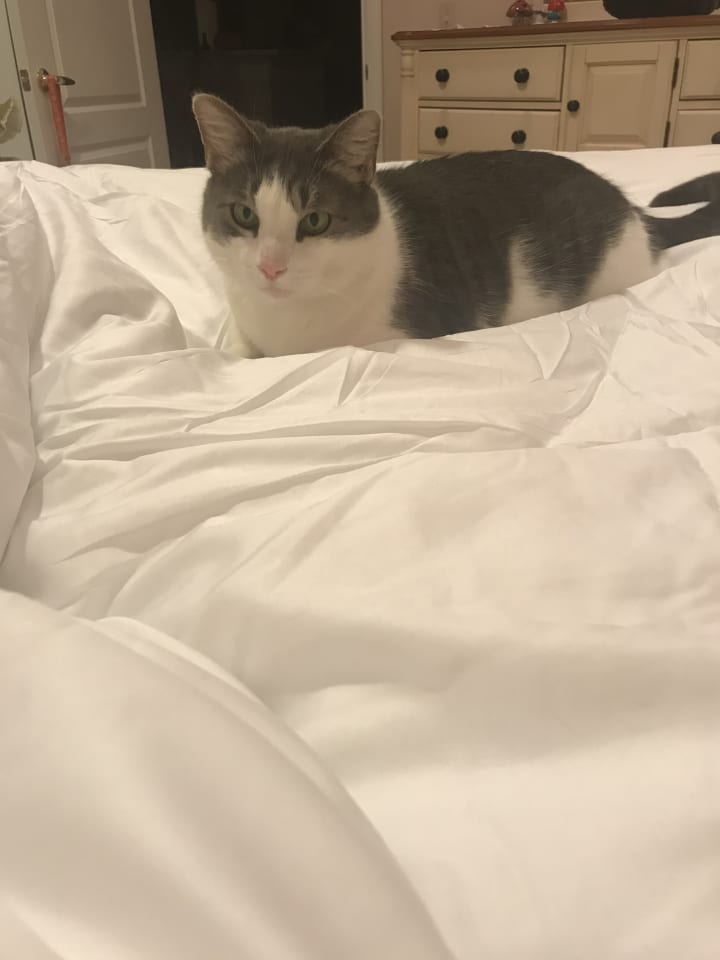 The first thing I noticed about the Buffy is that it reminded me of the comforters you get when you stay at a nice hotel. It was so soft but light. I love hotel comforters, so this was a great sign.
Maya's review of this comforter is simple: she likes it enough to sleep on. And that's a big compliment from a cat. So if you're wondering if it's picky-cat approved, fret not. She gives it 10 catnaps out of 10. 😻
But now it was my turn to review the Buffy, and there was no better way to review it than to sleep!
Well, I would've slept in it immediately if I didn't get so hot. The Buffy takes pride in having fibers that help keep you cool, but they didn't quite work for me. I didn't get as hot as quickly as a traditional comforter, but I was sweating a bit. So I stripped off one of the blankets below the Buffy (I had had 3, which now sounds pretty excessive) and it was much better.
So, did Buffy fill its promises? I'd say yes. I have somewhat sensitive skin, and the Buffy was soft, smooth, and comfortable.
It was also warm in the right way once I got the number of blankets right. I kept my house a little cooler than night and I stayed comfortably warm. I can imagine that I'd still be comfy with only one sheet and the Buffy as well; I just like being a little warmer than most people.
There was the issue of the Buffy only coming in white, though...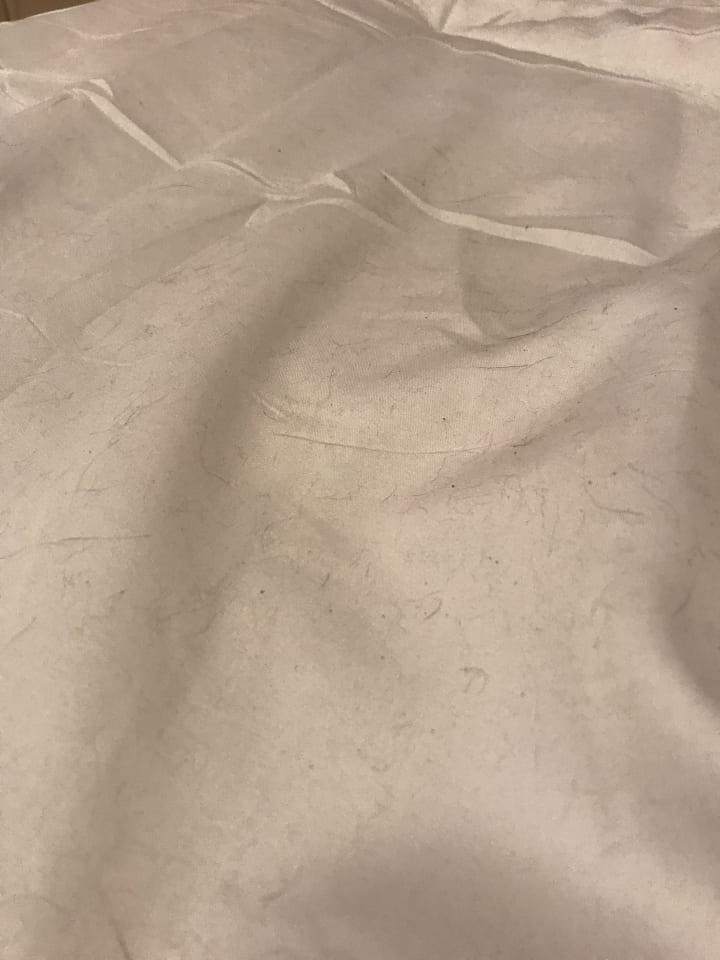 My cat is grey and white. She also sheds like nothing else. I have to vacuum a lot in order to keep my house clean. And nowhere was I reminded more of that then after a few nights with her sleeping on the Buffy.
As you can see, her hair is VERY visible. If you have a white cat, you'll be fine. If you have a cat (or dog) of literally any other color, you're going to notice their fur, and fast. I would've liked the option to buy it in another color besides white. I get that they were going for the "soft as a cloud" thing, but we all know clouds are just wet and not actually soft anyway.
Maybe that's a lifehack in that you know when it's definitely time to clean it off a bit huh?
Also, the Buffy is basically dry-clean only. It can be spot cleaned, but if you want to wash the whole thing, you're out of luck unless you own a "large industrial washing machine." The Buffy website suggests a duvet cover to make cleanup easier, but I was a bit annoyed that I couldn't just throw it in my normal washing machine.
So, would I recommend you buy a Buffy comforter?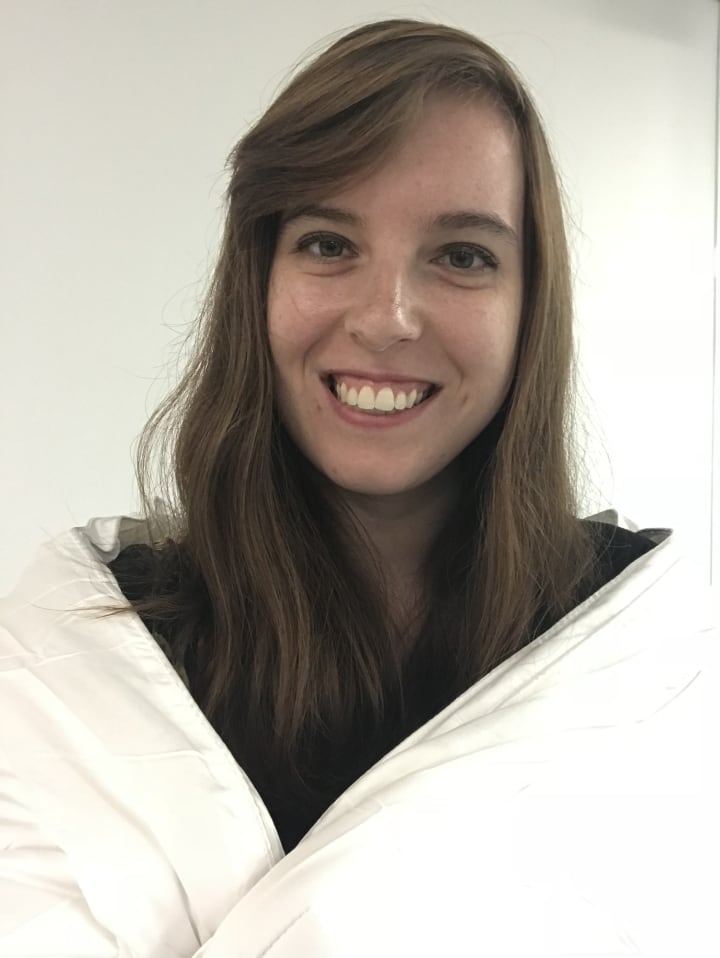 If you're looking for a soft, plush comforter that also helps you feel better about your carbon footprint, then yes, I say you should by the Buffy comforter. It's super fluffy and soft, great for people with sensitive skin. I also appreciate the company's efforts to be both earth-friendly and consumer friendly. I would definitely buy a comforter made out of eucalyptus leaves again, despite initially being a little suspicious of the concept.
If you're a very dirty person who spills things all over your bed, I probably can't recommend the Buffy. I suggest maybe cleaning up yourself first before you end up having to drag this thing back and forth to the dry cleaners...
With their 30-day try it policy, you are definitely at an advantage. You can figure out if you like it or not before you actually put down the cash. But I have a feeling you'll probably end up keeping it anyway as the winter rolls through and you just find yourself getting so warm and snuggly. Plus, you can sleep with ease knowing that your comforter was sustainably sourced, used far less water to create than traditional comforters, and no geese or ducks were harmed in the making. ❤️