Dental Extraction Forceps: Various Types for Atraumatic Extractions
Extraction Forceps: Types for Atraumatic Extractions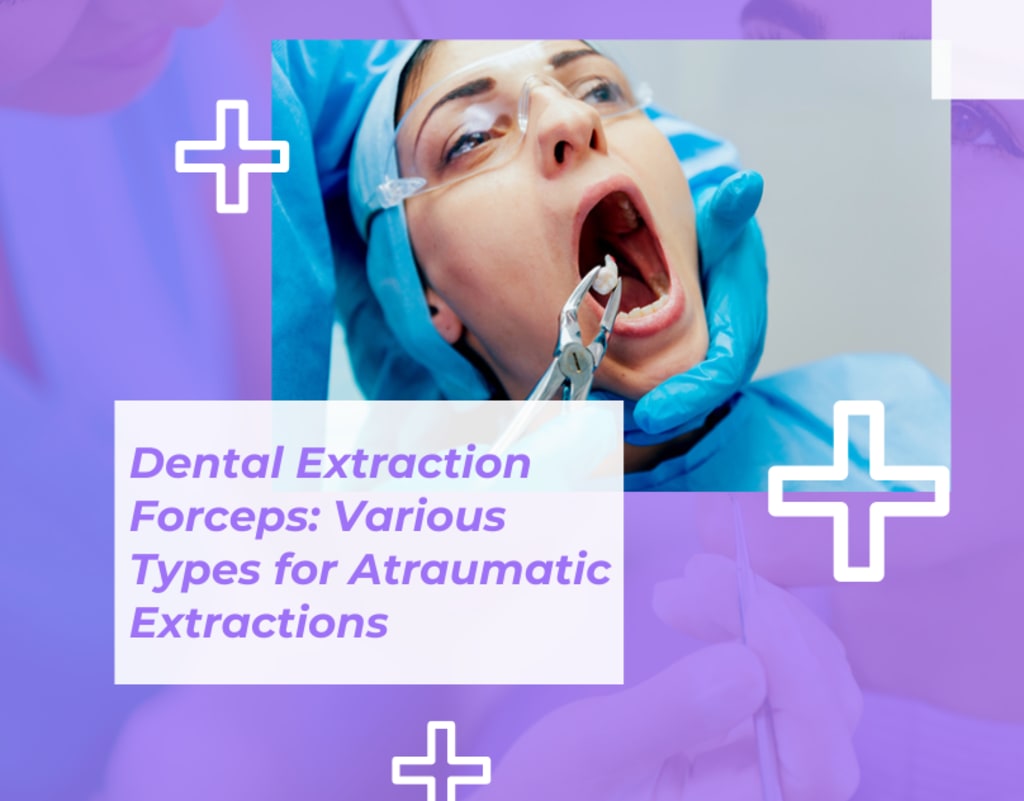 Dental extractions can be cumbersome for both dentistry practitioners as well as patients. This becomes even more daunting when it is about extracting the tooth with a coronal breakdown. It is because grasping such a tooth using traditional forceps is challenging and unsafe. Hence, a modern and standardized set of dental extraction forceps is required. These are designed to perform an atraumatic and hassle-free tooth extraction.
Extracting forceps are quite popular dental products in New York and it is because these are universal. Furthermore, most of these features are serrated and have unique beak designs. Consequently, it becomes simple to hold the tooth with firmness. Also, when paired with dental elevators, the entire extraction procedure becomes comfortable, stress-free, and safe.
So, let us talk about the different types of extraction forceps, their features, and how they are more beneficial than traditional ones. Thus, helping in transforming the practice and patient experience both.
Types of Dental Extraction Forceps
You can find multiple types of dental extracting forceps, depending on varying tooth concerns. The widely used and most common types are as follows:
Universal Forceps
These fall under the most versatile tooth extraction tools and are widely used to shape the outer teeth' surface. Thus, enabling an excellent tooth grip. Its serrated beaks easily fit around the tooth root and as close as possible. Constructed with high-quality stainless steel, the universal forceps also comprise a handle for a firm grip. All this not only ensures hassle-free treatments. Also, it enables easy and efficient repair or sterilization of the equipment.
Molar Forceps
These are intended exclusively for extracting molars, as the name implies. To provide you with extra leverage, they have handles and longer jaws. The molar forceps by their name itself clarify their use. It has long handles and jaws that help to remove the tooth molars with minimum trauma possible. Its use eases the cutting of alveolar bones or periodontal ligaments. Furthermore, its stainless steel body and serrated edges ensure maximum grip during the procedure.
Anterior Forceps
The jaws of the anterior forceps are small and thin. These make the tooth extraction process from the front of the mouth more comfortable. Such forceps are specially designed for secure procurement and optimal root arrangement with less force on the hands.
The majority of extracting frings have an auto-retractable construction. It makes it easier to open the forceps without using your fingers.
Lower Molar Forceps
Another dental extraction forceps design includes lower molars, comprising a serrated and angled beak. It is usually designed to treat the lower anterior teeth and ensure minimal damage possible. Furthermore, most of these molar frings comprise grooves and have a sleek design. All of this guarantees easy handling of the tool and efficient performing of the procedure.
Upper Universal Frings
Many reputable manufacturers supply dental products made from high-grade stainless steel, making it easy to handle the tooth treatment. These frings are robust and durable. Also, they have curved beaks that easily fit in the dentist's hands. Its aesthetically designed neck and beaks enable a firm grip for treating the posterior tooth. The best thing is such a tool is easy to handle using both left and right hands, thanks to its lightweight. feature.
Difference Between Modern and Traditional Dental Extraction Forceps
Traditional forceps comprise 2 hinged levers. These are connected with one hinge and used with consistent and firm force. Thus, allowing the dentists to lift the tooth out of the socket by easy pull and twist. Such a design results in increased chances of tooth breakage, especially when the concern is tooth decay.
However, modern forceps differ from those of conventional ones. It includes 1 lever allowing the steady pressure for extracting the tooth out of the socket or alveolar bone. You can also buy a dental instrument kit that comprises all other tools required for tooth extracting purposes. Besides, it comes with below-given amazing characteristics that differentiate it from conventional ones:
Serrated Beaks to Have Firm Grip and Practice Confidently: The common concern that dentists face with the forceps is their slippage. However, it is a thing of the past. Nowadays, all the extracting forceps manufactured come with a serrated beak design. It allows having a tight grip on teeth without lacking practice confidence. Furthermore, ease of tooth and equipment movements is possible with reduced chances of slippage.
Universal Design Makes It A Worthwhile Investment: Most dentists find themselves buying the instruments now and then. The reason can be not buying good quality tools. Here, you can rely on a set of extracting forceps, thanks to the stainless steel used to design them. Such material ensures longevity and ease of practising dentistry.
Conclusion
Hope this write-up has covered all the types of extracting forceps, how their use is vital in the dentistry field, and what difference they can make in oral care procedures. If you find performing extractions stressful or risky, you do not need to feel this way anymore. Buy the right dental supplies and transform the way you address your patient's oral health concerns. Thus, gaining confidence, and lowering the practice anxiety.
health
About the author
Cindy Wilkinson is an operational manager in "TBS Dental" which is a manufacturer and distributor company of high-quality dental instruments. She handles all the activities that are related to dental instruments and equipment.
Reader insights
Be the first to share your insights about this piece.
Add your insights